A hearty feta pasta salad with green peppers and tomatoes, pasta salad Greek style.
Pretty bow tie noodles, feta, fresh vegetables like tomatoes, green peppers and cucumbers and an olive oil and vinegar dressing, a Greek style feta pasta salad, a perfect potluck recipe.
FETA PASTA SALAD
One of the best things when being invited to a grill party (or inviting people to our grill parties) are the salads.
I like meat, but when it comes to grilling, there are really no surprise in Germany. You get the same every time: 2 sorts of bratwurst, finely ground and roughly ground bratwurst, steaks which everybody buys pretty much at the same butcher around here, pork "steaks" which are always marinated and Grillfackeln, which are some kind of pork belly grill sticks and which children enjoy a lot.
I do eat a steak or a bratwurst, but the thing I enjoy the most are the salads. Potato salad, noodle salad, salad "torte", tortellini salad... typical German salads that are always a part of a good party and which always taste great.
Unlike other people, who don't like change that much and stick to their trusted recipes, especially when other people are involved, I like to try different things every time.
If I have to make more than just one salad, I will usually choose a well-known one (probably potatoes) and a brand new one. And if I only have to make one salad, then I will definitely go for something new and leave the classics for the others.
It was the same with this Greek style feta pasta salad.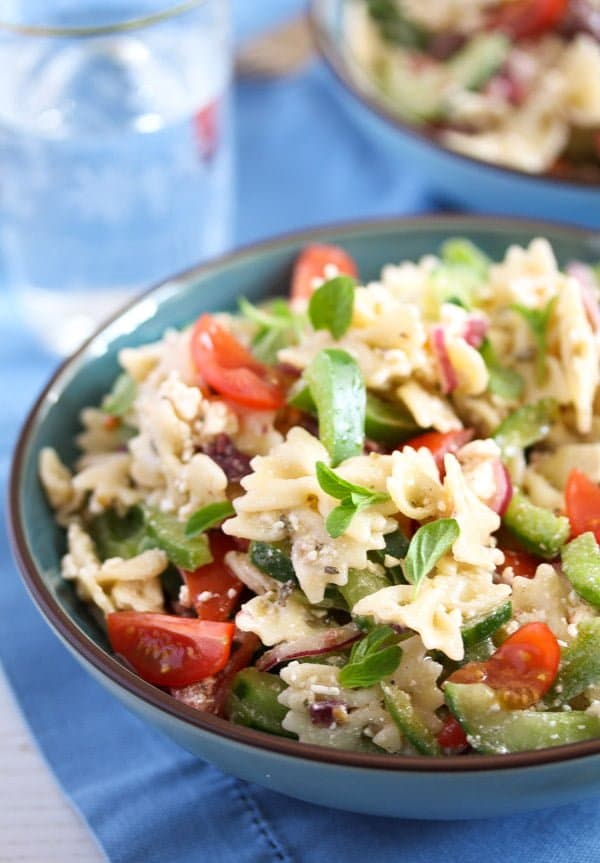 PASTA SALAD WITH FETA - GREEK STYLE
I chose to make this salad for a party organized by my friend only 2 weeks ago. She wanted me to make a Ramen Napa Cabbage Salad with Sunflower Seeds and Almonds, I told her to go ask the other neighbor for that, I wanted to make something else. She didn't protest, she knows that's useless... when it comes to food, I pretty much do what I want.
And why this Greek style feta pasta salad? Well, I recently had a classic Greek salad again, the one without the pasta and I just remembered how much I loved it. Greek salad was one of the first salads I have ever made when I have started cooking... we used to love it and I used to make it very often many years ago.
We must have had it dozens of times in a rather short period of time, but soon enough I really started to enjoy cooking and experimenting, always trying something new... so the old things kind of got forgotten.
But after watching a TV cooking show recently, where they've made this glorious Greek salad very similar to the one I used to make, I decided it was time to make it myself again.
One important thing I've learned while watching the show though, was that you should never make your Greek salad with red or yellow bell pepper, only the green ones will make this salad authentic. So, I switched to the green pepper, being happy to have finally found a way of using that darn green bell pepper.
Most of the times, we get the bell peppers in a mixed package of three: 1 red, 1 yellow/orange and 1 green. I can always use the red and the yellow ones, but we are not particularly keen on the green one. It mostly spends a longer time in the fridge than its siblings and gets thrown in a pot of stock eventually. It is nice to have a recipe now where the unwanted green bell pepper can actually shine. 🙂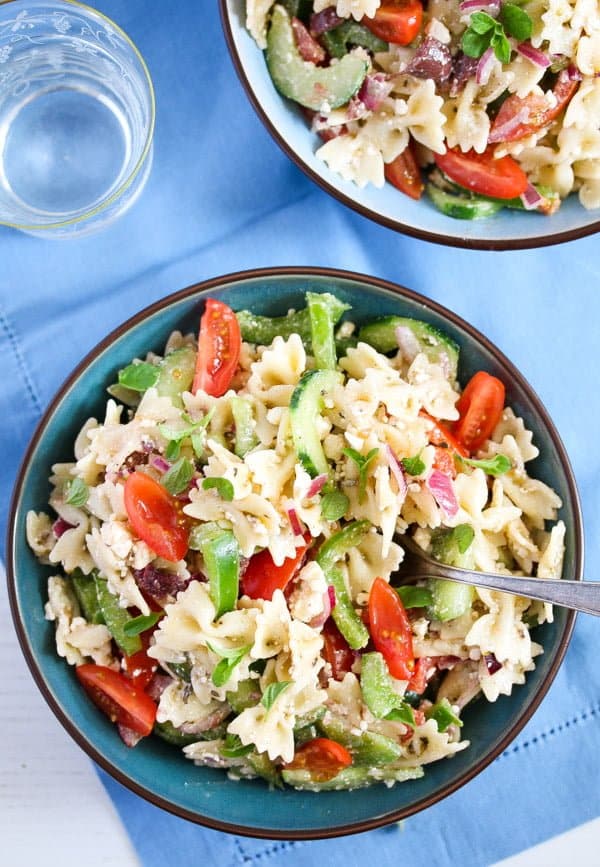 INGREDIENTS FOR THE FETA PASTA SALAD
Pasta:
When it comes to the pasta sort you should use, make sure it is a short kind of pasta. I used bow tie pasta because they look cute and I happened to have them in the house, but penne, macaroni or fusilli would be fine as well.
Vegetables:
Peppers: I have already mentioned the green bell pepper, which apparently is a must when it comes to Greek salad.
Tomatoes: Make sure you use ripe, tasty tomatoes for this salad, a watery, sour tomato would ruin the whole affair. If you cannot find really nice tomatoes, use cherry tomatoes instead, they are not traditional for a Greek salad, but they are tastier than a regular greenhouse tomato most of the times.
Olives: I love black olives that still have their pit in. I buy large packages in the Turkish store: deep black, wrinkly, bitter olives that we devour in no time, especially my daughter and I. It is a bit annoying when I have to pit them for a salad, but I think their taste it's worth it! An olive that still has the pit in tastes about a thousand times better than its soggy, watery and pitless version.
But, if you don't feel like pitting olives just for a salad, I totally understand, use your favorite brand of black olives that are already pitted instead.
Olive oil: Do make sure you use a good brand, one that is milder and really tastes good. I have made the mistake of not trying a new brand of olive oil when making a salad dressing sometime ago. The olive oil was actually a good one, from Sicily, but I didn't taste it before I put it into the dressing, I just assumed it was like the one I had before.
But it wasn't! It was way too strong for a salad, especially when used in such a large quantity and it ruined the entire salad. I almost cried when I had to throw everything away, such a waste of time and ingredients (good olive oil is never cheap and the rest of the ingredients had its price as well). So do make sure you know what kind of olive oil you are using!!!!!
Feta: I prefer a creamier sort of sheep feta cheese in brine that I also buy in the Turkish store. However, if that is unavailable, do use your favorite brand of feta cheese, preferably sheep.
Make the feta pasta salad at least 2-3 hours in advance, so that the flavors have time to mingle and the salad has enough time to chill. The pasta salad with feta keeps well in the fridge, I've made a double batch last time and it was way too much, after two days in the fridge it still tasted good.
Stir the salad before serving it and adjust the taste again, if necessary, with more vinegar, lemon juice, salt and pepper.
Other Mediterranean recipes:
Summer Pasta Salad with Tomatoes and Mozzarella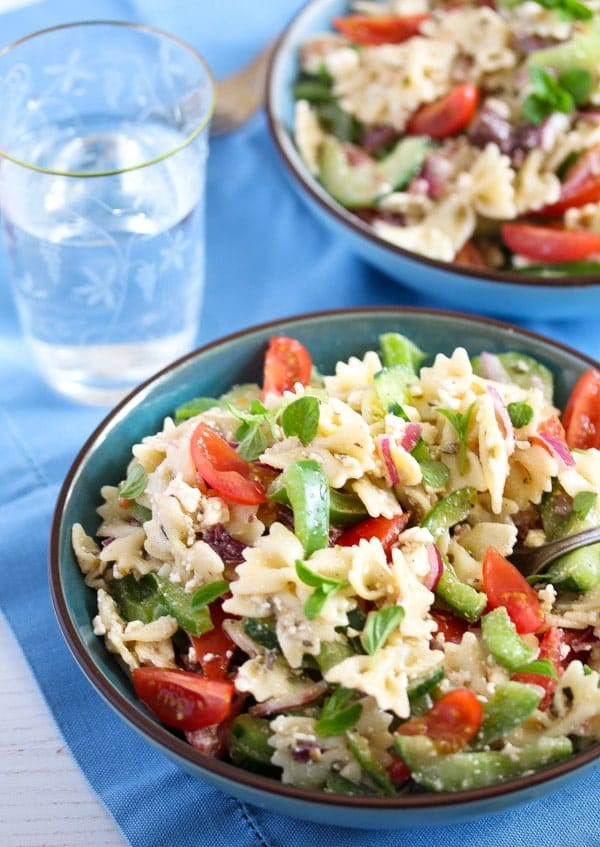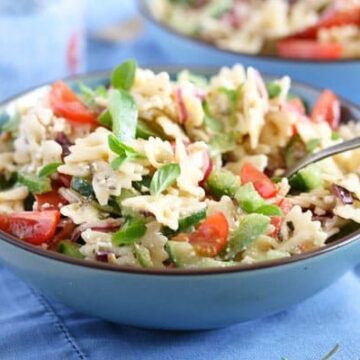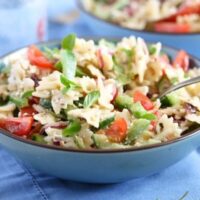 Feta Pasta Salad - Greek Style
A hearty feta pasta salad with green peppers and tomatoes, pasta salad Greek style.
Print
Pin
Share
Grow
Saved!
Rate
Ingredients
Pasta Salad:
2 ½

cups

bow tie pasta

or other short pasta, 9 oz/ 250 g

2

medium ripe tomatoes

or the equivalent amount of cherry tomatoes

½

cucumber

1

medium red onion

1

large green bell pepper

15-20

black olives

1

cup

feta

5.5 oz/ 150 g, crumbled (Note 1)
Pasta salad dressing:
3

tablespoons

red wine vinegar

more to taste

1-2

tablespoons

lemon juice

to taste

2

garlic cloves

2

teaspoons

dried oregano

½

cup

extra virgin olive oil

4 fl.oz/ 115 ml, (Note 2)

fine sea salt and pepper
Instructions
Cook pasta: Bring a large pot of water to a boil. Add salt generously and the pasta. Cook the pasta according to the packet's instructions. Drain well.

Prepare vegetables: In the meantime halve the tomatoes and cut them into thin slices, halve the cucumber and the red onion and slice them thinly as well. Quarter the green bell pepper and slice the quarters thinly. Pit the olives, if necessary, and slice them.

Dressing: mix red wine vinegar, 1 tablespoon lemon juice, grated garlic cloves and dried oregano. Slowly add the olive oil while whisking until the dressing emulsifies slightly. Add salt and freshly ground black pepper to taste. Add more vinegar and/ or lemon juice, if you feel it's necessary.

Combine the drained pasta with the dressing. Add the vegetables and mix carefully. Crumble the feta on top of the salad and mix gently again.

Refrigerate: Cover the salad and refrigerate until ready to serve, the salad should be made a few hours in advance so that the flavors have time to mingle.
Notes
Feta in brine, not pre-crumbled feta. 
Know your olive oil, make sure you use a sort that is appropriate for making salad dressings. If your olive oil is not of good quality or has too strong a taste, it will ruin the salad. Choose a good quality, mild sort of extra virgin olive oil and, if you are not familiar with the brand, always taste it before you add it to the salad.
Nutrition
Serving:
1
g
|
Calories:
246
kcal
|
Carbohydrates:
16
g
|
Protein:
5
g
|
Fat:
19
g
|
Saturated Fat:
5
g
|
Polyunsaturated Fat:
13
g
|
Cholesterol:
17
mg
|
Sodium:
511
mg
|
Fiber:
2
g
|
Sugar:
3
g