This is one of the best tortellini salad recipes. A typical German salad with tortellini, peas and mushrooms, often served at German grill parties in summer.

TORTELLINI SALAD RECIPE
One of the simplest tortellini salad recipes with lots of veggies like peas, mushrooms and peppers with a light vinaigrette dressing with herbs.
GERMAN SALADS
I hope you are enjoying this German salads series. I thought now that the weather is finally getting warmer, we would spend more and more days out in garden, in the sun, so this would be the right time to show you some typical German salads that accompany most grilling events, small or big, in the area where I live in Germany.
Salads like the super popular Napa Cabbage Salad with Ramen Noodles, the German Cabbage Salad, the German Potato Salad, or the German Noodle Salad with Sausage.
I am definitely not a grill person, I've never personally grilled anything until now, my brother-in-law is our Grill-Master here, but I do have to take care of all the rest: from getting the plates and glasses out in the garden to making the salads, bread and everything else.
So even if I cannot tell you much about the right grilling temperatures or times, I can tell you a lot about making delicious salads or dips, breads and so on.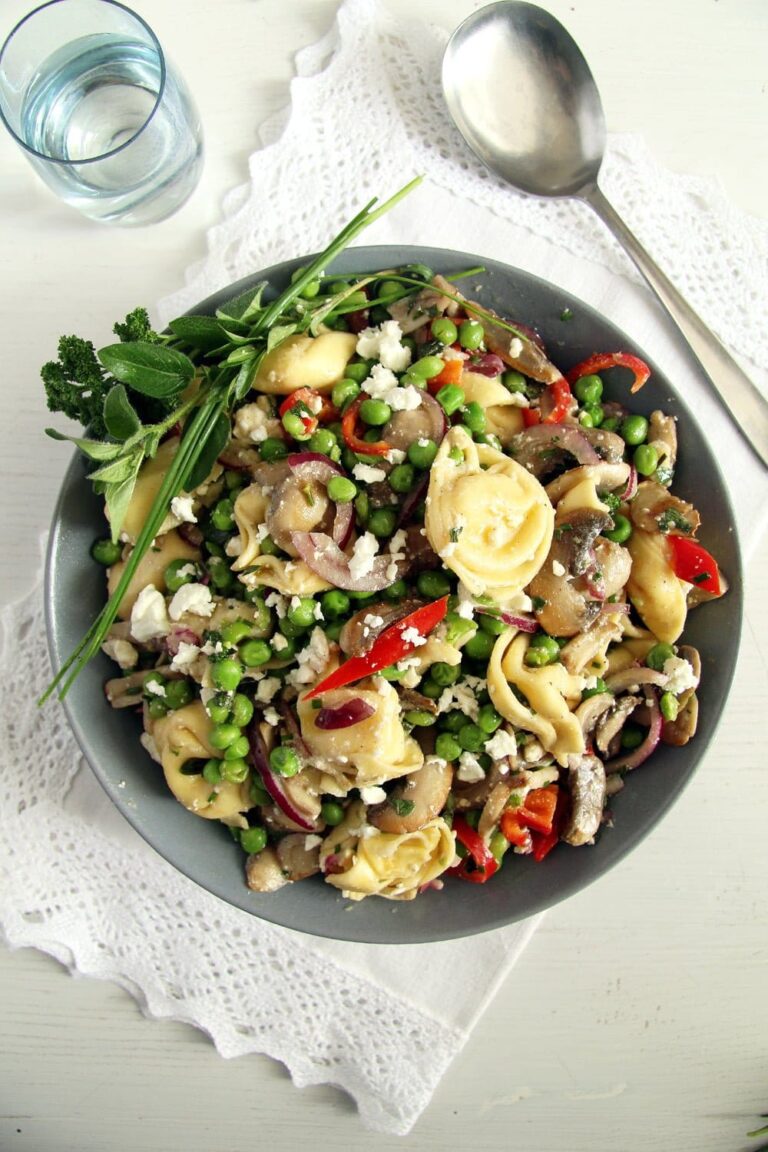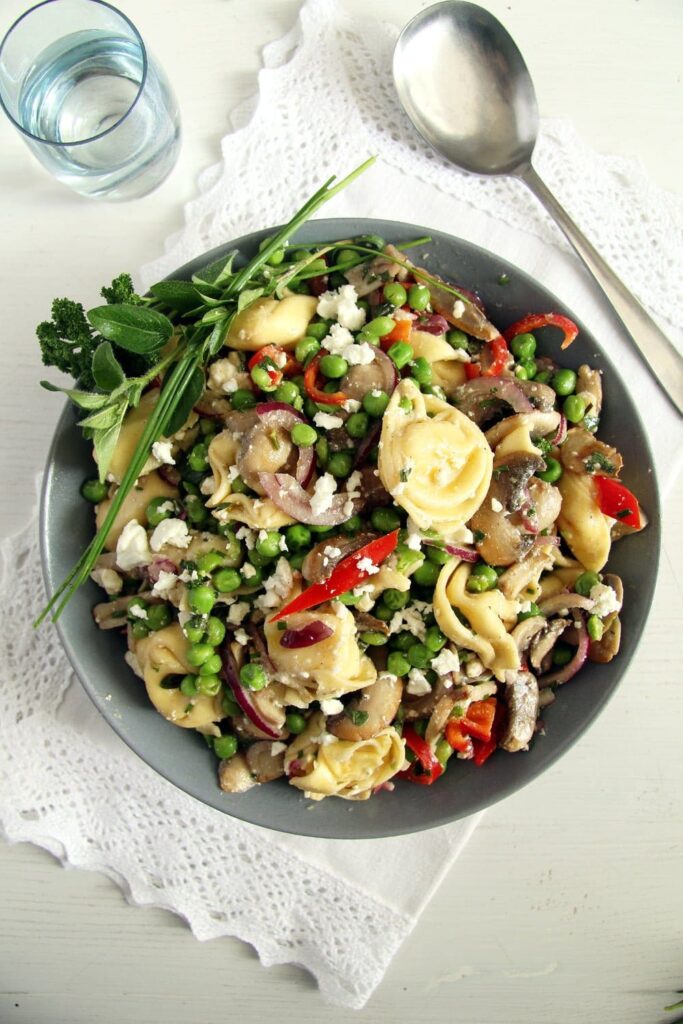 TORTELLINI PASTA SALAD
Another typical German salad is the tortellini pasta salad, you will find at least one version of it at every grill party you go to around here.
I had a few different versions of it during the past 12 years spent in Germany, but this one must be my favorite, the main reason for that being, it taking a bit of a pause from the usual dressings, which are over saturated with mayonnaise.
I like mayonnaise, but when you have 3 or 4 salads in front of you all featuring a jar of mayonnaise dressing, then you kinda start looking for something else... at least I do.
Don't get me wrong, the other salads with mayo are totally yummy as well, but I just prefer this lighter, fresher version of a tortellini salad. I feel that this tortellini salad recipe has enough "going-on" inside it as it is, the cheese tortellini are enough on their own, so who needs the heavy dressing.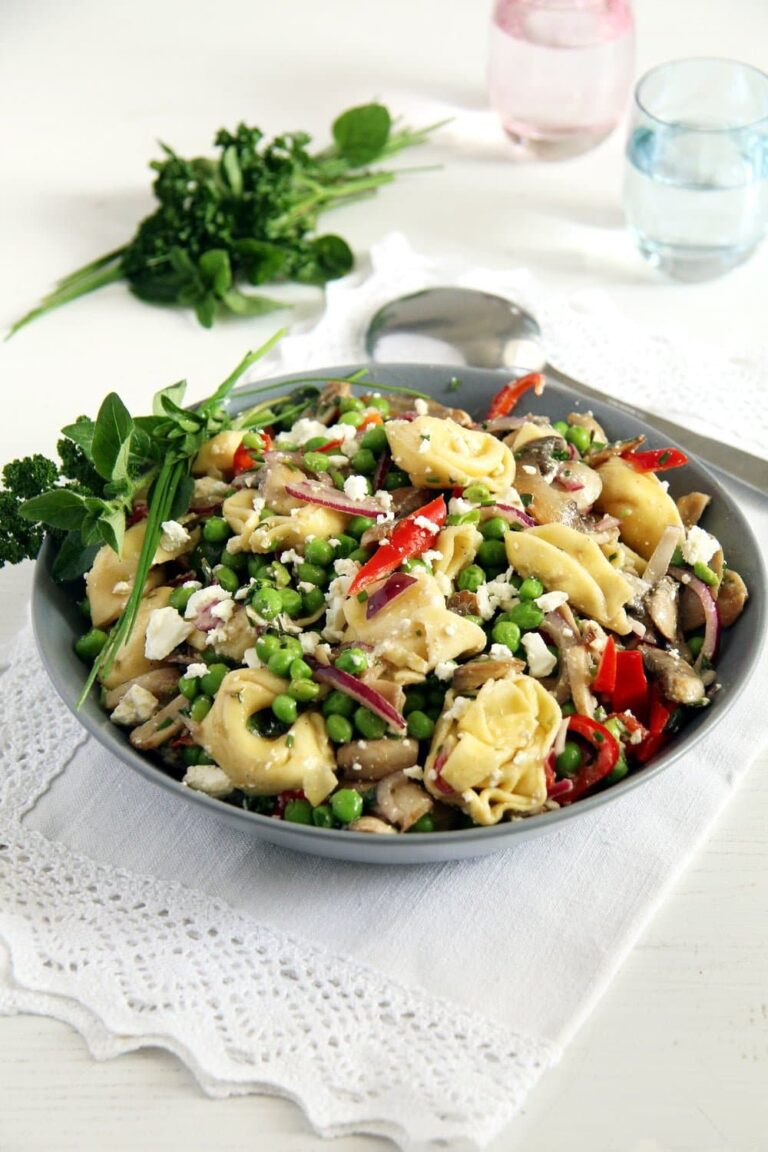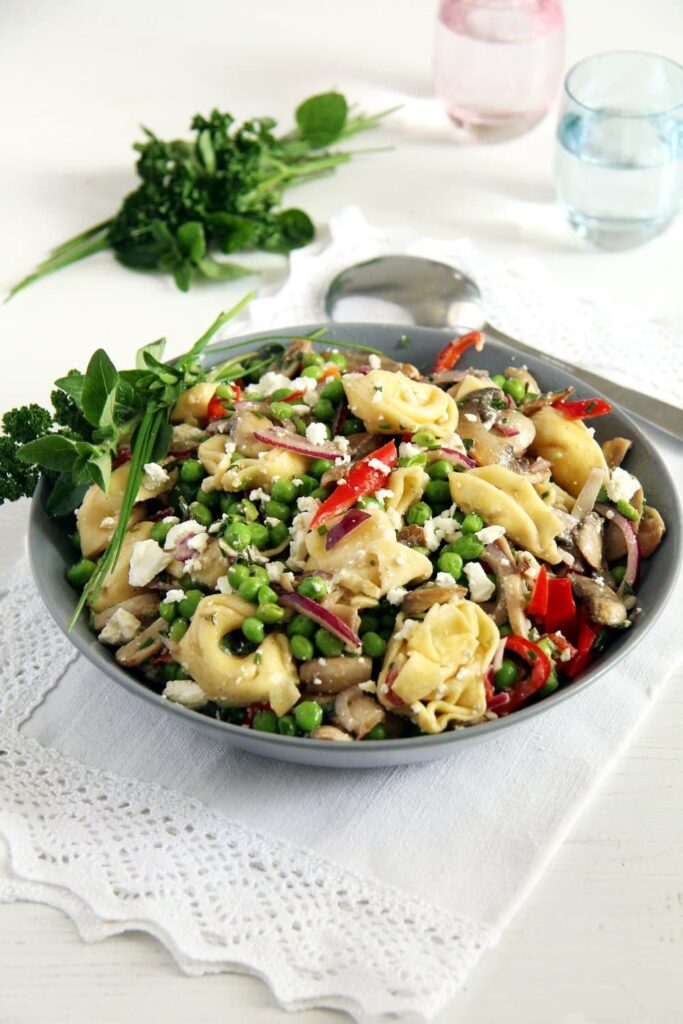 HOW TO MAKE A GERMAN SALAD WITH TORTELLINI?
Tortellini:
There are three sorts of tortellini you can buy in German supermarkets: meat tortellini, cheese tortellini and ricotta and spinach tortellini. I usually go for the cheese version, they really taste nice and cheesy, while the meat ones don't really taste like meat.
You can use any sort of tortellini you like for this dish, but I do recommend the cheese version.
The size of the tortellini is not important, I have already made this tortellini salad recipe using large or small tortellini, fresh or dried. Dried are OK, if that is what you have, but I think the fresh ones taste better.
Fresh tortellini have a very short cooking time, about 3 minutes, while dried tortellini need a longer cooking time. Always check the packet's instructions when cooking the tortellini.
If you use dried tortellini, you will need about 125-150 g/ 4.4-5.3 oz dried tortellini. Once cooked, they will weigh more or less 250 g/ 8.8 oz.
Vegetables:
Red onions, frozen peas, mushrooms and bell peppers.
Defrost the peas by adding them to the cooking tortellini towards the end of their cooking time and finely slice the onions, mushrooms and bell peppers.
The original version of a tortellini salad around here includes canned and chopped pineapple. You can use it, if you like it, but I am not a fan, that is why I prefer to leave it out. This allows me to top the salad with some extra feta cheese, which I feel would not suit the pineapple that much.
Raw or cooked mushrooms in the tortellini pasta salad?
You might wonder about the mushrooms not being cooked, but don't worry, fresh mushrooms taste wonderful when added raw to a salad.
However, if raw mushrooms are definitely not your thing, you can either add the sliced mushrooms together with the frozen peas to the cooking tortellini or fry the mushroom slices in a little olive oil for 3-4 minutes until their released juices evaporate.
Herbs:
As this German salad with tortellini is mostly eaten in summer, I get to use fresh herbs most of the time.
However, frozen herbs are a suitable replacement in winter. Dried oregano is fine as well, but don't be tempted to use dried parsley or dried chives, they are terrible and only taste of dust.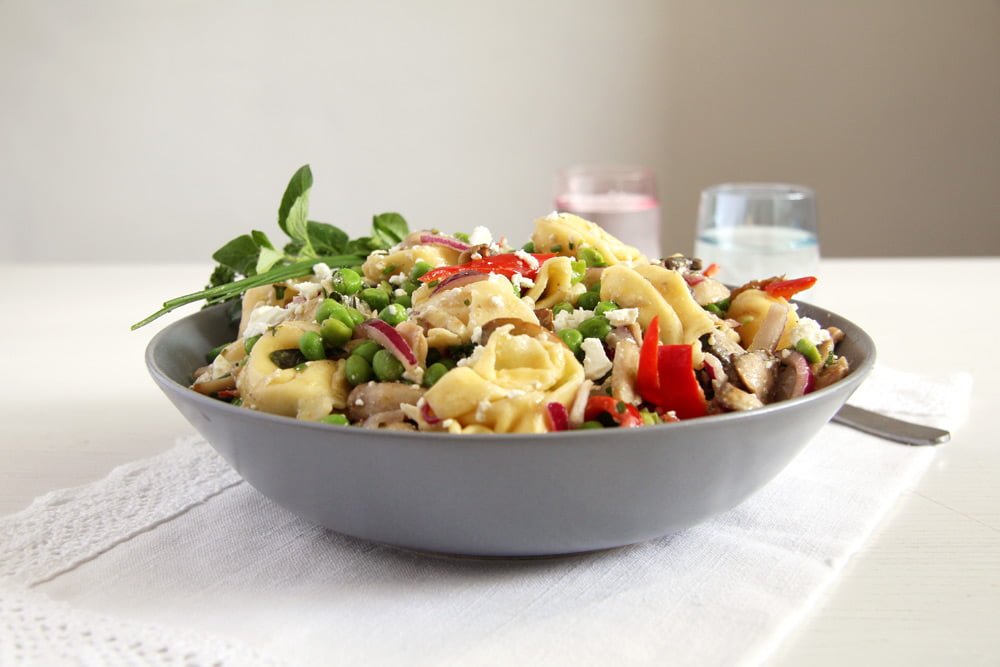 MORE TORTELLINI RECIPES?
PIN IT FOR LATER!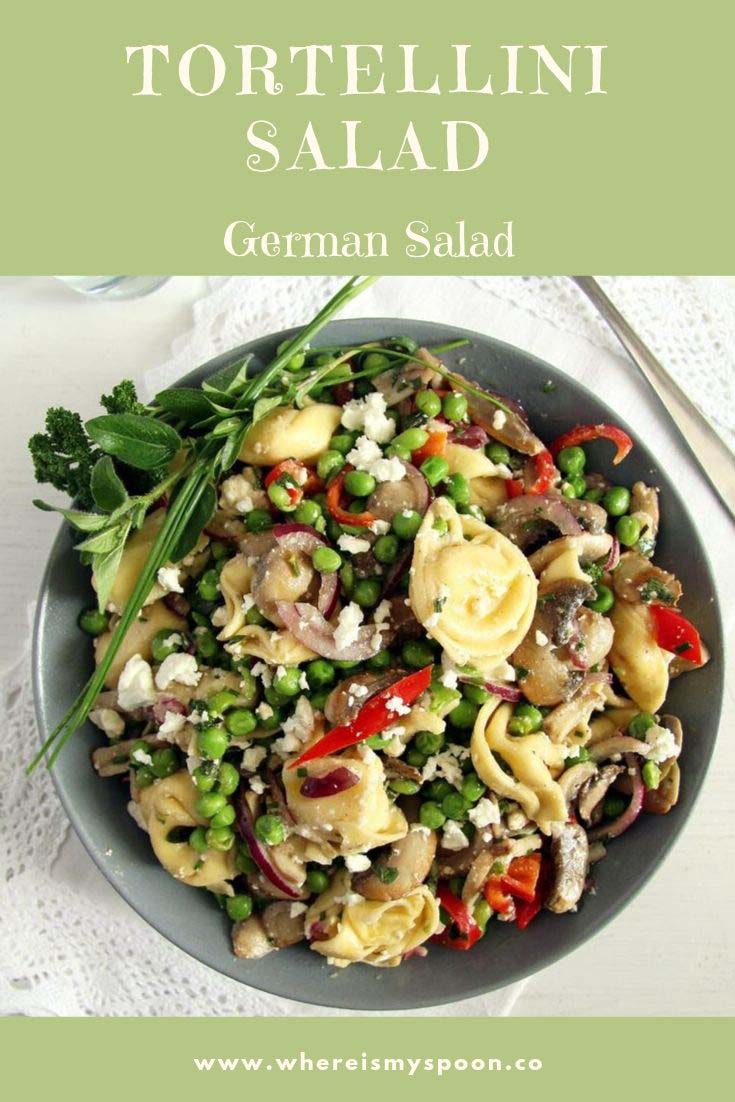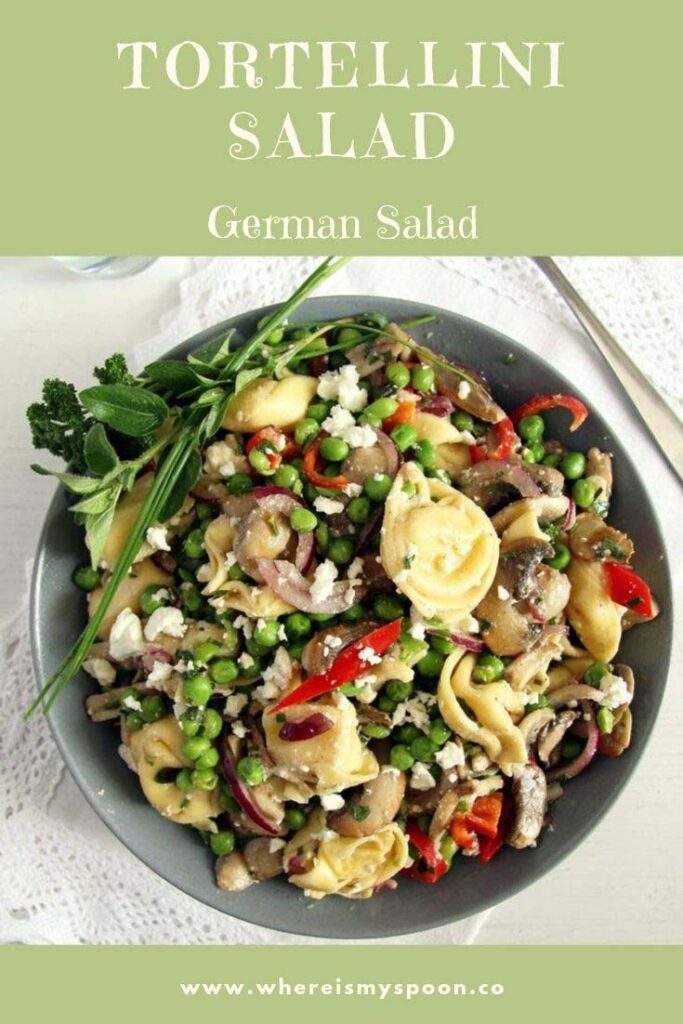 Tortellini Salad Recipe - German Salad
This is one of the best tortellini salad recipes. A typical German salad with tortellini, peas and mushrooms, often served at German grill parties in summer.
Print
Pin
Share
Grow
Saved!
Rate
Ingredients
250

g/ 8.8 oz fresh tortellini

filling of your choice (I prefer cheese)

150

g/ 5.3 oz/ 1 cup peas

frozen

1

bell pepper

red or yellow

1

red onion

250

g/ 8.8 oz mushrooms

lots of fresh herbs like parsley

oregano and chives

30

ml/ 1 fl.oz/ ⅛ cup herb vinegar

or regular white wine vinegar

1

teaspoon

mustard

1

garlic clove

grated

pinch

of sugar

100

ml/ 3.4 fl.oz/ scant ½ cup olive oil

100

g/ 3.5 oz/ 1 cup

crumbled feta cheese (See note)

fine sea salt and black pepper to taste
Instructions
Bring a large pot of water to a boil and cook the tortellini according to the packet's instructions, adding the peas during the last 2 minutes of the cooking time. Check that the tortellini are cooked through, take one out and cut it in the middle, you will see if the dough is cooked all the way through.

Drain well and place in a large bowl. Add 1 tablespoon of the olive oil, stir well and leave to cool while you prepare the rest of the ingredients.

Slice the bell pepper and the red onion into fine strips and slice the mushrooms. See the blog post, if you prefer to cook the mushrooms, but raw mushrooms in this salad taste great.

Chop the herbs finely.

Make the vinaigrette by whisking together the vinegar, mustard, grated garlic clove, sugar, and some salt and pepper.

Slowly add the remaining olive oil while whisking continuously until the mixture emulsifies.

Add the vegetables and the herbs to the noodle bowl. Add about ¾ of the dressing and stir well. Leave to marinate, in the fridge, for at least 2 hours.

Just before serving, add the rest of the vinaigrette, stir well and adjust the taste with salt and pepper.

Crumble the feta on top and serve.
Notes
Use feta from a block of cheese, don't use already crumbled feta.
Nutrition
Serving:
1
/6 of the salad
|
Calories:
354
kcal
|
Carbohydrates:
30
g
|
Protein:
11
g
|
Fat:
22
g
|
Saturated Fat:
6
g
|
Polyunsaturated Fat:
15
g
|
Cholesterol:
32
mg
|
Sodium:
433
mg
|
Fiber:
4
g
|
Sugar:
5
g