An amazingly decadent strawberry torte with a brownie base and a luscious filling made with vanilla pudding, sweetened condensed milk and cream.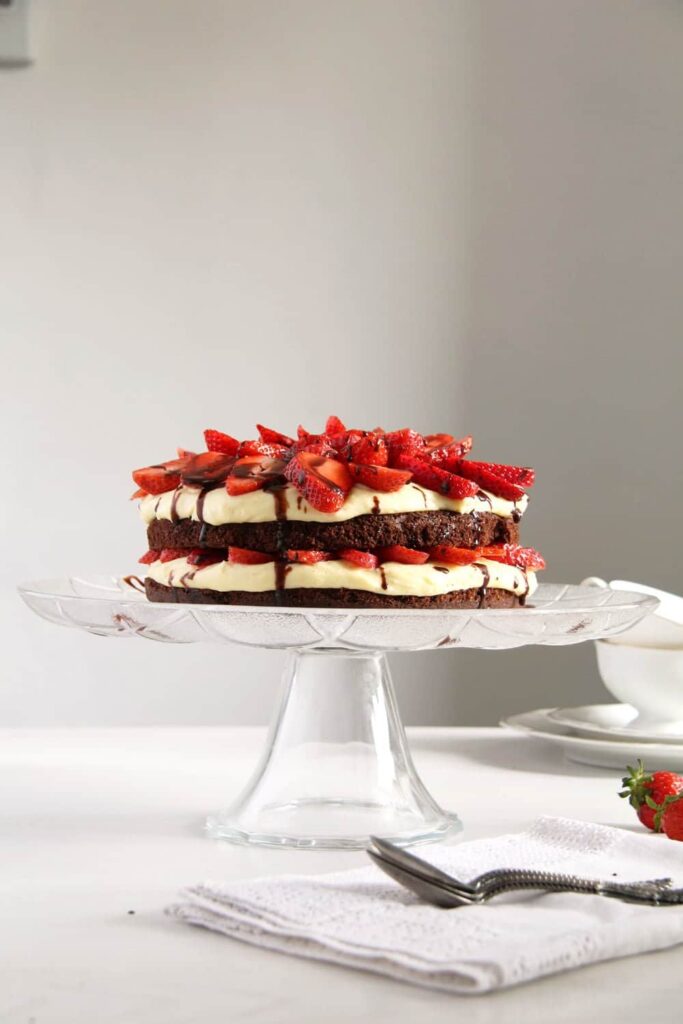 Secret Recipe Club time again and this time I was assigned Loving Life, a blog about Kirstin's life where she posts not only recipes, but as she says it herself – whatever goes through her mind. Kirstin lives in Washington State and has two beautiful, almost grown-up daughters. She's been blogging for almost 9 years now, so you can imagine, there is a lot to read on her blog.
I chose to make her Brownie Strawberry Torte and while searching for a fitting recipe for my strawberry theme, I found many other delicious ones, I have been pinning like crazy. Some of my favorites are the Mozzarella Sticks, Homemade Tortillas, Oven Baked Zucchini Fries, Spicy Sesame Udon Noodles with Chicken,  Stuffed Bell Peppers , Sticky Chicken and many many more.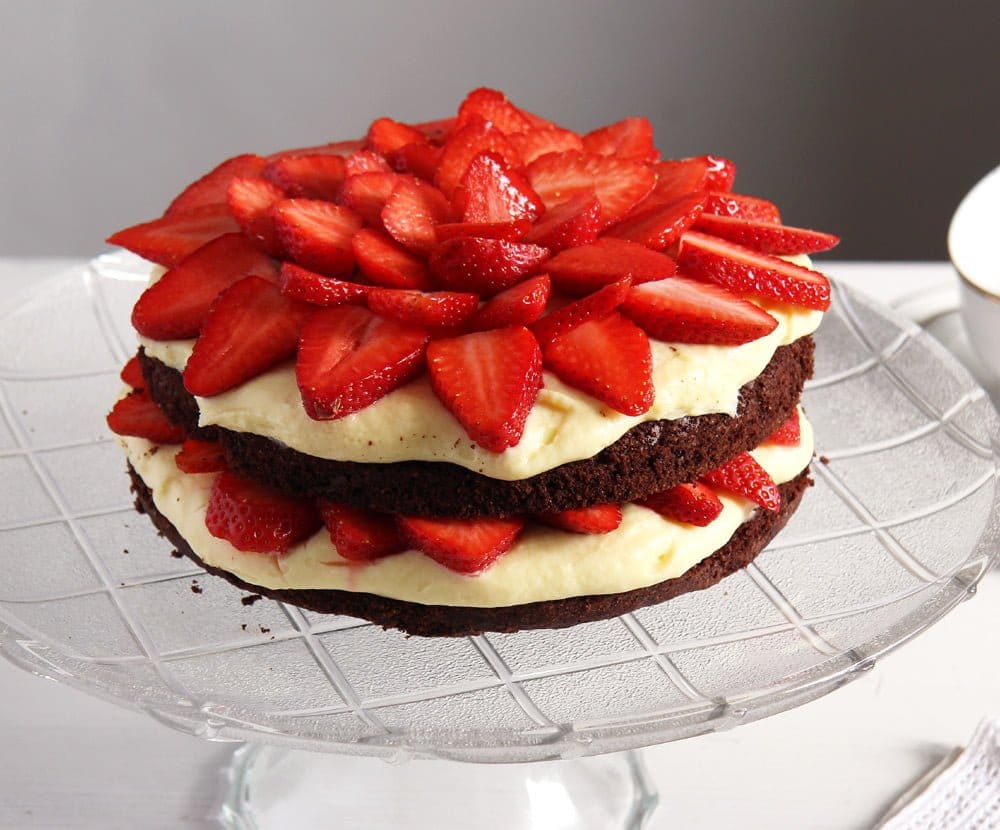 And what can I tell you about today's recipe? It is probably one of the best cakes I have made lately. Every single person loved it and it was gone in one go, so to say. My son ate two huge pieces of it in less than 10 minutes and he was reaching for a third one before I stopped him.
I changed the recipe a little bit, first of all due to the lack of the original ingredients. I wasn't sure about the instant vanilla pudding, but I chose something similar I could find here and it worked (thank God, I was a bit worried about that), then I took heavy cream instead of the cool whip, I imagined that would be more or less the same thing. And I didn't use a brownie mix, I preferred to make one of my quickest and easiest brownie recipes, it doesn't take much longer to mix the ingredients then it would take to make the cake from the box. I poured some chocolate glaze on top because I've made another chocolate glazed cake on the same occasion. It fit the strawberry cake well, but I wouldn't bother making some extra glaze just for the strawberry cake, it isn't really necessary.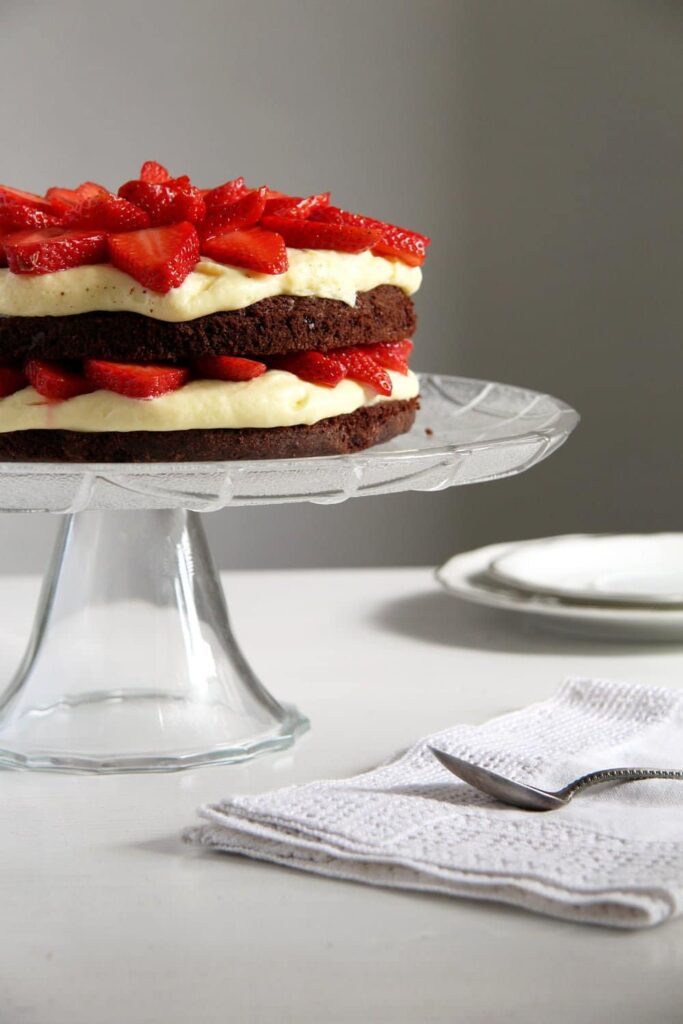 The end result was just amazing and the cake looks so beautiful, it is hard to believe it is so quick and easy to make. Give it a try, you won't be disappointed! And make sure to check the other Secret Recipe Club links, you will find many delicious recipes, for sure.
Rating 5.0 from 1 reviews
Prep time:
Cook time:
Total time: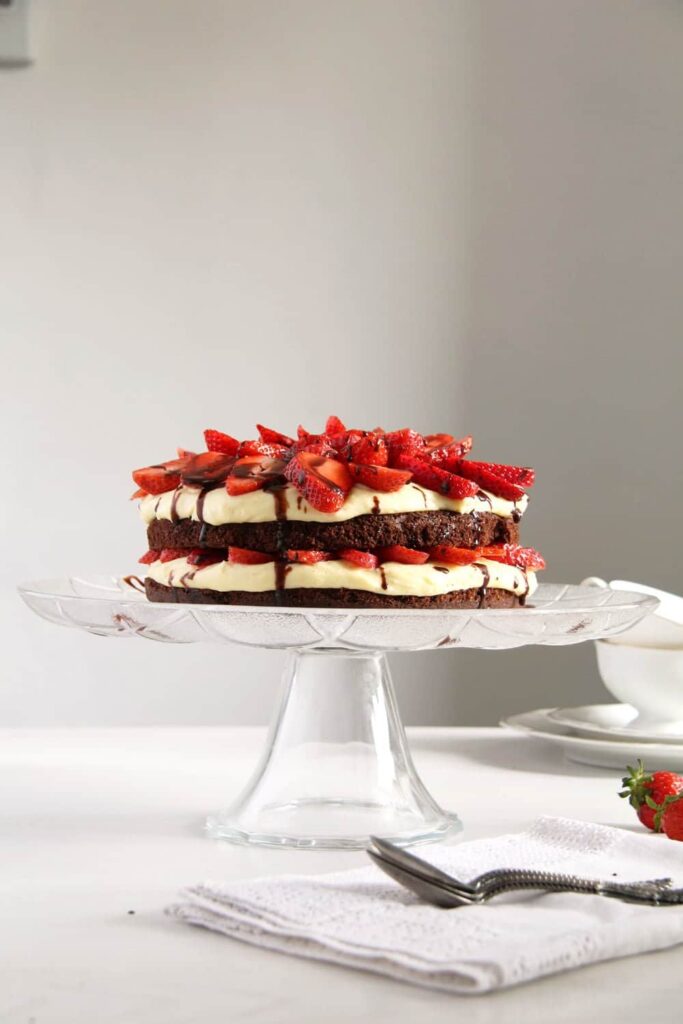 Ingredients
For the brownie base:
180 ml/ ¾ cup oil
1 teaspoon vanilla extract
250 g/ 1 ¼ cup sugar
3 eggs
90 g/ ¾ cup all-purpose flour
60 g/ ½ cup cocoa powder, unsweetened
scant ½ teaspoons baking powder
a pinch of salt
For the filling:
1 can sweetened condensed milk (14 oz/ 400 g)
1 package instant vanilla pudding (see note)
120 ml/ ½ cup cold water
200 ml/ 1 cup heavy cream
500 g/ about 1 pound strawberries
some chocolate glaze for garnish, optional
Instructions
Preheat the oven to 180 degrees Celsius/ 350 degrees Fahrenheit.
Grease a 24 cm/ 9 inch round spring form and line the base and the sides with baking paper.
Mix together the oil, vanilla extract, sugar and eggs and whisk until well combined.
Mix together the flour, baking soda, cocoa powder and salt and add slowly to the wet mixture. Combine well and pour the mixture into the prepared pan. Level the batter and bake for 25 to 30 minutes or until a toothpick inserted comes out with only a few crumbs. Leave the brownie base to cool completely.
For the filling mix together the sweetened condensed milk and the cold water in a large bowl. Beat in the instant vanilla pudding according to the package's instructions, I had to beat mine in for only 1 minute. Chill while you whip the heavy cream.
Whip the heavy cream until stiff and fold into the pudding mixture. Chill the mixture for about 10 minutes to allow it to thicken a bit.
Wash and dry the strawberries very thoroughly then slice them.
Cut the brownie base horizontally, using a long, jagged knife, to obtain two slices. Place one slice on a cake platter. Spread half of the filling and some of the sliced strawberries on top. Place the second brownie slice on top, press gently and top with the rest of the filling. Arrange the remaining strawberries on top. Drizzle with some chocolate glaze, if using any.
Chill until ready to serve.
Notes
I used 1 package Dr Oetker Galletta Instant Cremepulver for 500 ml milk.
Kirstin used 1 package instant vanilla pudding and pie filling (4 oz/ 120 g)
[inlinkz_linkup id=630396 mode=1]