Moist, dark brownies with a coconut cream topping – a sweet vegan delight to enjoy during the fasting weeks of the year.
I am back. In case you might have wondered where I have been for the past two weeks, well, I was here. No holidays or anything, still a lot of blog work but all of it behind the scenes. I hope you like the results, I know I do, I felt it was time for a change for a long time and I am happy it has finally happened.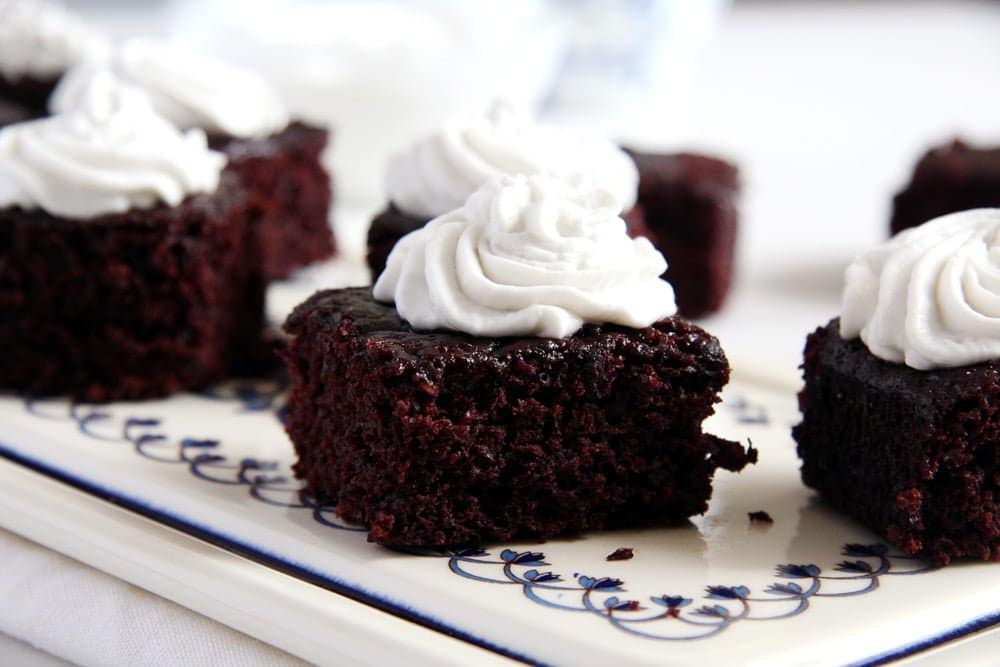 Before I stopped posting two weeks ago, I had actually started a new cauliflower series. I first thought of continuing that in March, but now I think it would be better to post that what I had already planned for March: fasting time recipes. The fasting time has already started, so there is no better time for that than now. I will keep the rest of those cauliflower recipes for the next months.
The Easter Fasting time are the weeks before the Easter celebration, which this year will take place on the 16th of April. The majority of Romanian people are Orthodox and I feel that in Orthodoxy the rules and the keeping of the fasting time are stricter than in the protestantism in Germany, for instance.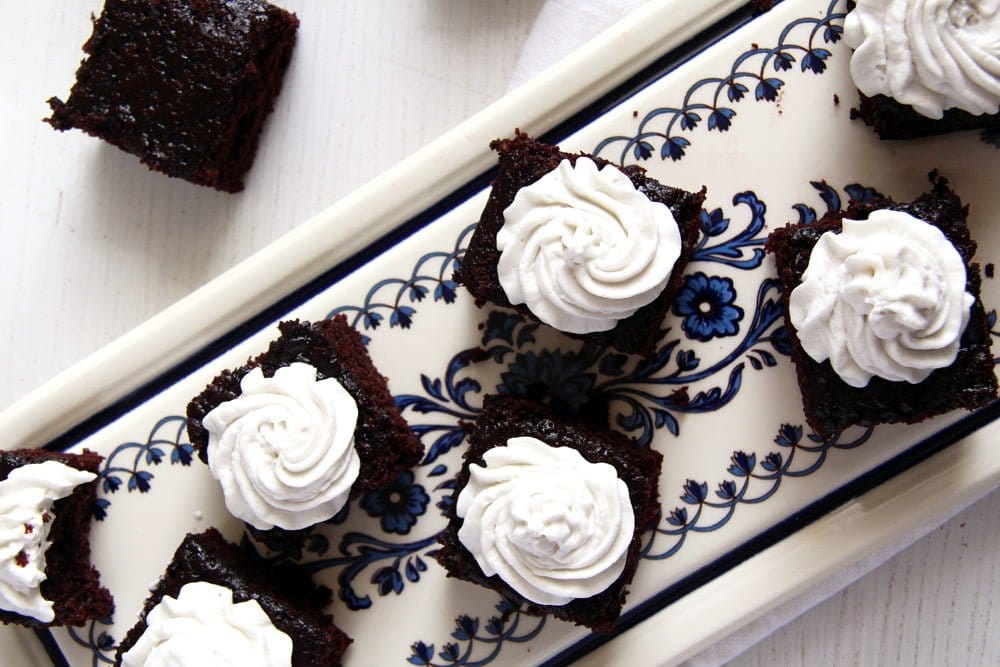 My grandmother used to (loosely) keep the fasting times, so as a child I used to keep that without even noticing it. If I wanted to eat meat my grandmother would make it for me most of the times, she never tried to force me to fast, I would just do it because I would eat what my grandma cooked and during these times it was mostly bean soups and vegetable stews, lots of potatoes, margarine and jam. The only time I would take an actual notice of the fasting time would be the so called Big Friday, the Friday before Easter when my grandma would keep the Black Fast Day, a day during which she would eat nothing at all. I've never did that, but I was always awed, almost frightened, only when hearing the name of this day.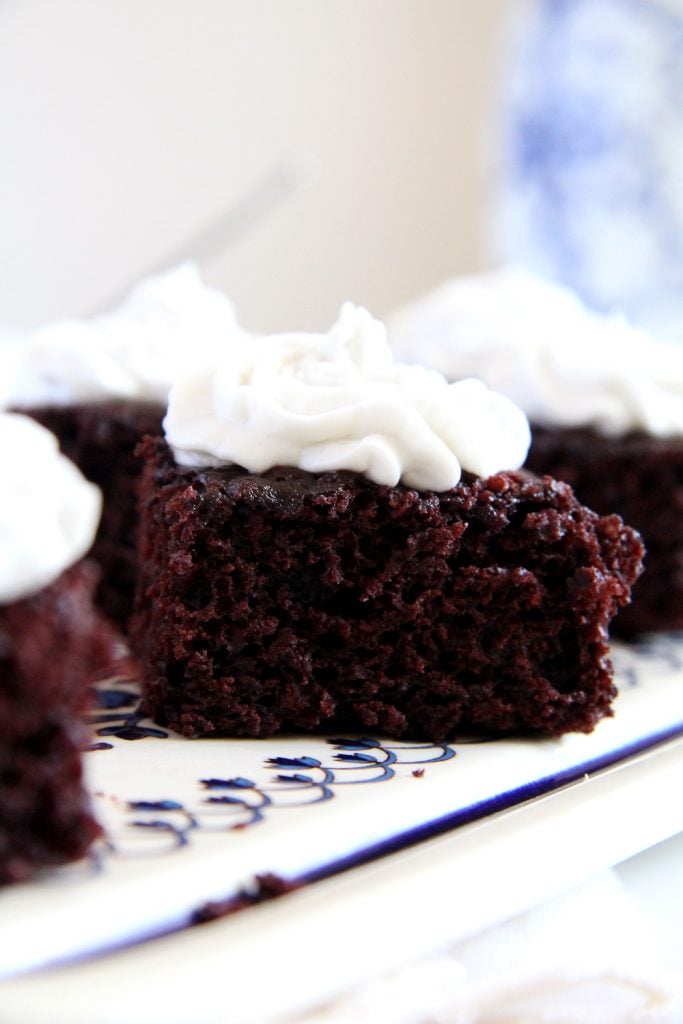 As an adult, I have learned the importance of introducing fasting times in your life, not only from a religious point of view, but mostly as a way of keeping your body and maybe mind healthy. Whether you are religious or not, I think, it can only be good for you to try to detoxify your body from once in a while and what better time than now, after the long winter months, when most of us tend to eat too much and too rich.
I will start with these Amazing Vegan Cocoa Brownies with Coconut Cream, which you might think are not exactly the best way of starting to fast, not with something sweet and quite decadent anyway. Don't judge me though, they are so good I just had to share them and most importantly, I wanted to celebrate the new look on my blog and what better way to celebrate something new on a a food blog that with a recipe for a delicious cake.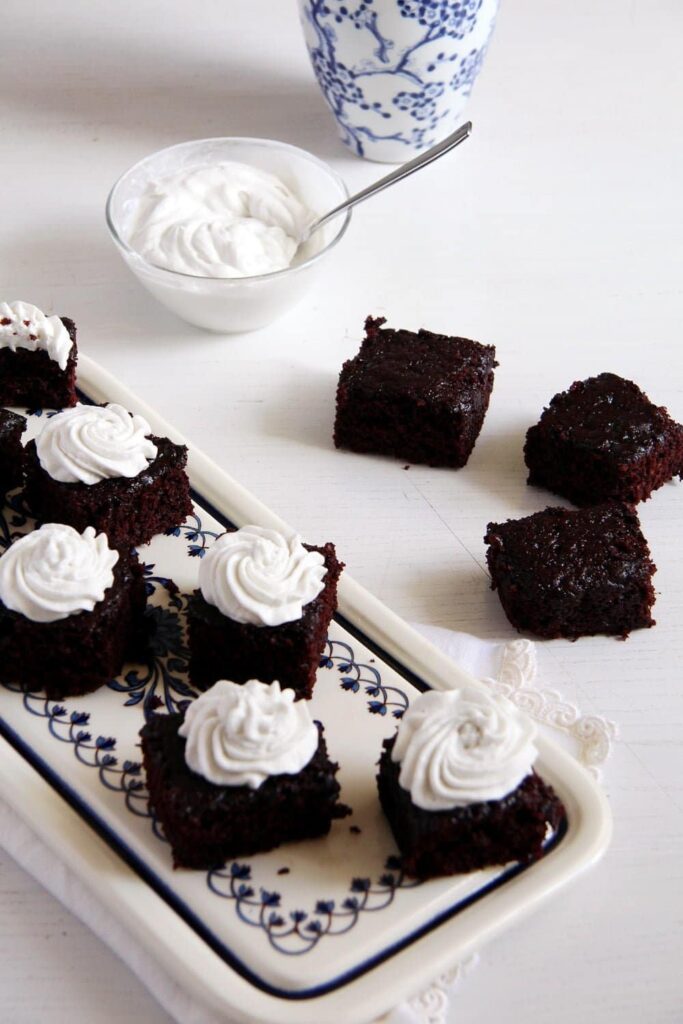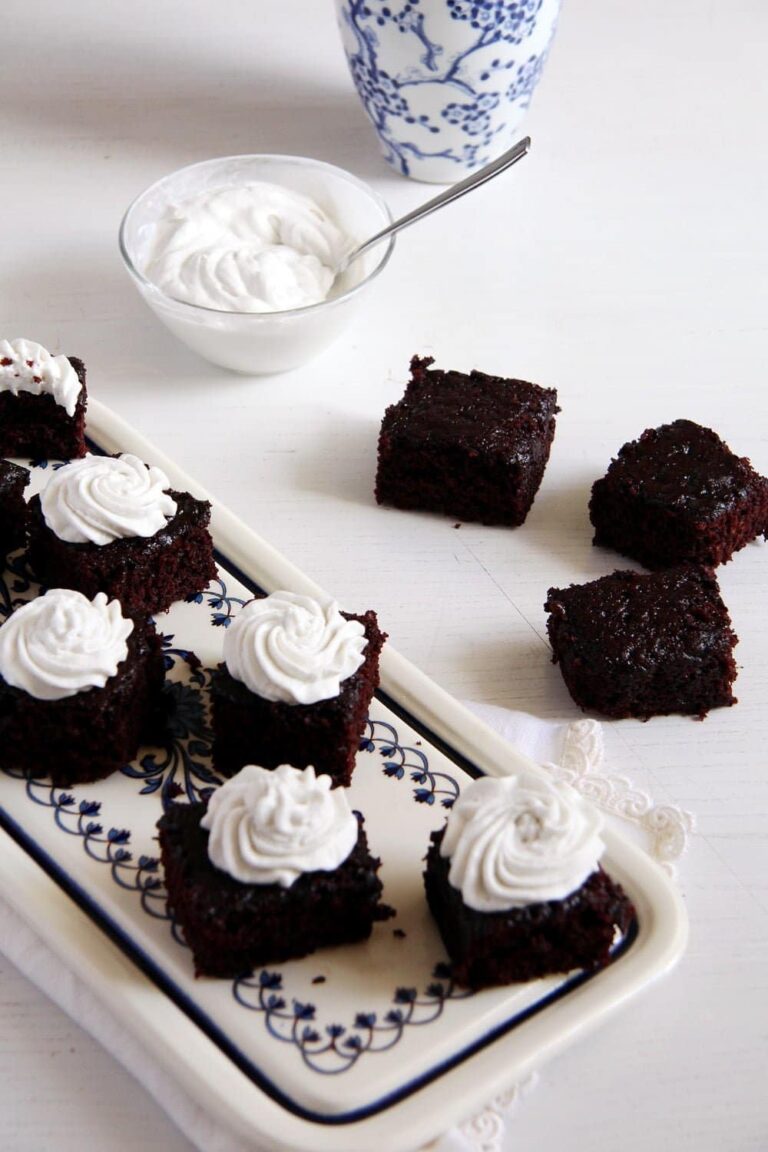 This is not a typical Romanian recipe, but still something I enjoy very much during the fasting time. We do have our particular brownie recipe in Romania, which in my opinion is quite different from the typical American brownie, but just as delicious as that. Our Romanian brownie is always covered with a sweet meringue topping and looks quite similar to this Amazing Vegan Cocoa Brownies with Coconut Cream . I slightly adapted this recipe found quite a long time ago on The View From Great Island and made it several times since. It is sooo good, you have to try it!!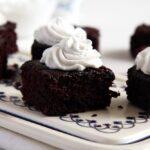 Ingredients
180 g/ 1 ½ cups all-purpose flour

200 g/ 1 cup granulated sugar

3 tablespoons unsweetened cocoa powder

1 teaspoon baking soda

½ teaspoon salt

240 ml/1 cup water

5 tablespoons vegetable oil

1 tablespoon white wine vinegar

1 teaspoon vanilla extract

1 can coconut milk, only the thick cream at the top of the can

3-5 tablespoons icing sugar
Instructions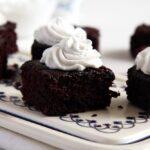 Place the coconut milk can in the fridge overnight or for at least 3-4 hours before using it. Make sure you do not shake the can at all, this will allow the cream to set at the top of the can.
Preheat the oven to 180 degrees Celsius/ 350 degrees Fahrenheit. Line a cake pan (about 20x20 cm/ 8x8 inch) with baking paper.
In a bowl whisk together the flour, sugar, cocoa, baking soda, salt, water, oil, vinegar and vanilla extract. Give the mixture to the prepared pan and bake for 30 minutes or until a toothpick inserted in the middle of the cake comes out wet but without batter sticking to it. Let cool completely.
To make the coconut cream frosting, carefully take the can out of the fridge and open it without shaking it at all. Spoon most of the thick cream at the top of the can. I place the rest of the liquid in another container and add it to a soup, curry or stew during the next couple of days.
Add about 3 tablespoons icing sugar and whip the cream until nice and fluffy. Taste and add more icing sugar if you want the cream to be sweeter or a bit stiffer. Cut the cake into squares and pipe some coconut cream on each square.
This post contains affiliate links. The price you pay as a consumer does not change, but if you make a purchase we will receive a commission which helps support the blog.

Others you might like: