These might become your favorite brownies: soft, squishy brownies with a cheese cake filling.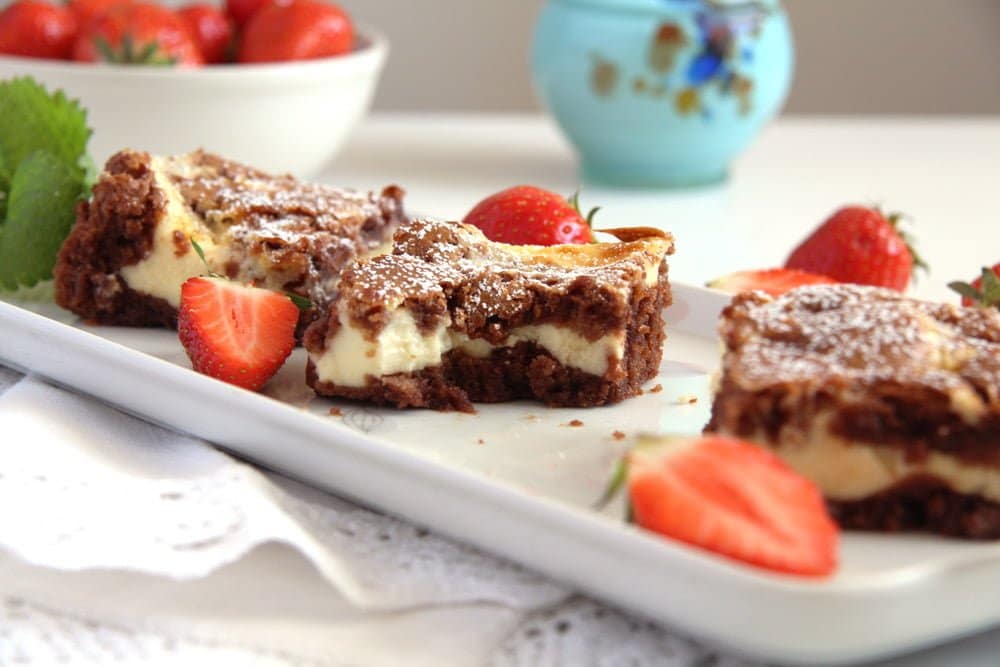 Another recipe that will add a few centimeters to your waistline just by reading the ingredient list. But not to worry, this is the last cheese cake for the time being and I promise to try to post at least a couple of skinnier recipes during the next series. 🙂
But in the meantime, I just have to tell you that these brownies are so good, your brain will just take a break from reality and not care about the calories anymore, you will just want to continue putting yet another piece of brownie in your mouth, tasting that chocolatey-cheesy deliciousness and feeling that incredible moist, sticky, squishy texture.
The recipe might take a few minutes more to put together than a regular brownie recipe would take, but it is all worth it. Otherwise it is pretty straightforward: melt some chocolate, make two mixtures instead of one and put everything in the tin – it couldn't be easier – just brownies, it can hardly get any easier. And the result is heavenly, I can barely imagine anyone not liking them. I slightly under baked the cake and liked that very much. It was just firm around the edges and quite gooey in the middle, so good!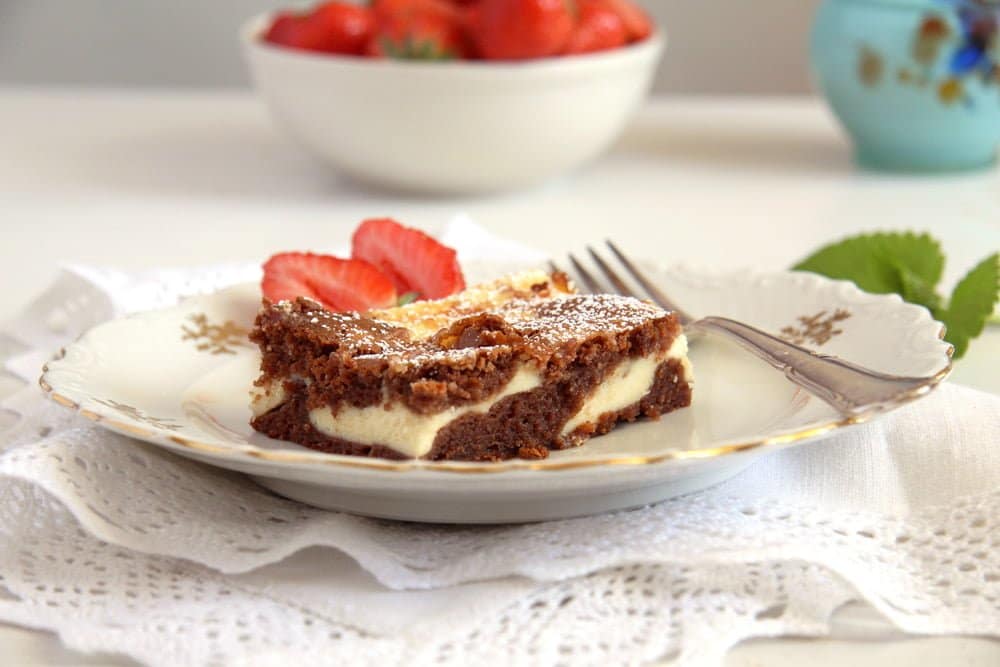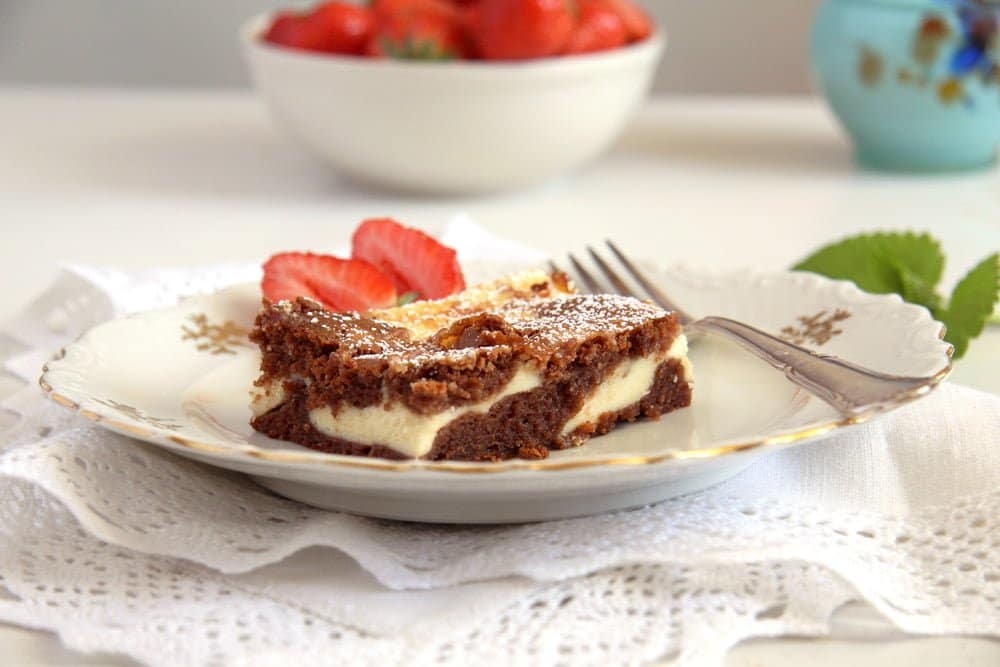 I got this recipe from an old issue of Good Food, a copied down recipe from the time I used to live in London. We had this coffee room at the work place where I would spend some of my breaks and there was somebody there who kept bringing older issues of the magazine, leaving them there for other people to look through. I loved it! I scribbled out one recipe or another every chance I got and this is one of those recipes, scribbled down over 8 years ago and only baked recently. What a waste of time! I should have done that earlier!!!
I hope you enjoyed this series, I know that my family and I totally enjoyed eating all these cheese cakes.
Prep time:
Cook time:
Total time: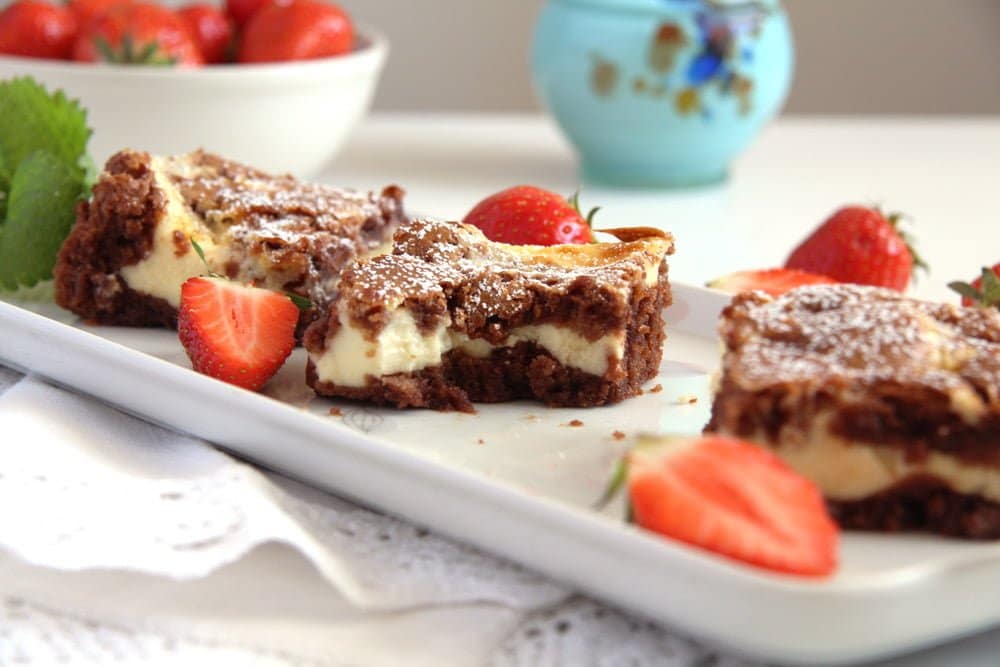 Ingredients
400 g/ 14 oz cream cheese (something like Philadelphia)
125 g/ 4.4 oz + 225 g/ 8 oz granulated sugar
1 teaspoon vanilla extract
2 + 3 eggs
200 g/ 7 oz plain chocolate
200 g/ 7 oz unsalted butter
125 g/ 4.4 oz all-purpose flour
Instructions
Preheat the oven to 180 degrees Celsius/ 360 degrees Fahrenheit. Butter and line a 20x30 cm/ 8x12 inch tin with parchment paper.
To make the cheese cake mixture beat together the cream cheese, 125 g/4.4 oz sugar and the vanilla extract until well mixed. Add 2 eggs, one at a time, and beat until smooth and creamy. Set aside.
To make the brownie mix start by chopping the chocolate finely. Place it in a small metal bowl, place the bowl over a pan with water. Make sure the water doesn't touch the bowl with the chocolate. Heat the water, but don't let it come to a boil. Melt the chocolate while stirring very frequently. Set aside.
In another bowl whisk together the remaining 225 g/ 8 oz sugar with the remaining 3 eggs until creamy. Slowly add the melted chocolate and whisk well. Sieve the flour and fold it in carefully. Pour about ¾ of this mixture in the prepared pan and level.
Spoon the cream cheese mixture over the brownie mixture carefully. Add the remaining brownie mix in dollops all over the place, level and marble the cake with help of a skewer.
Bake for about 35 to 40 minutes until just set in the middle.
Others you might like:
Zucchini Cashew Brownies
The Easiest Cake Ever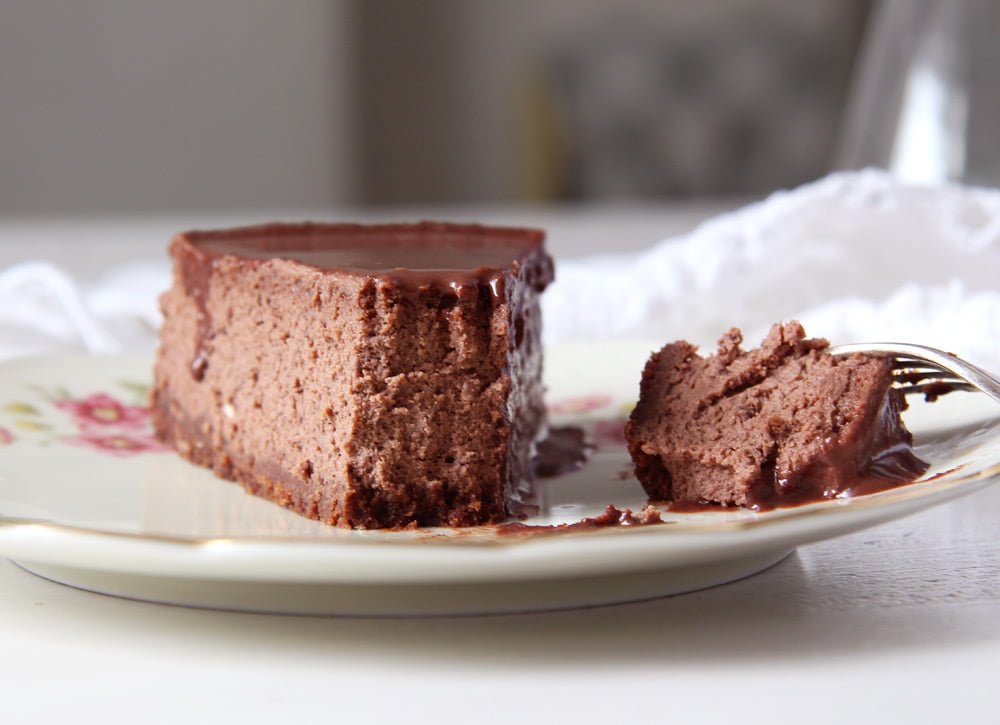 Chocolate Cheesecake