Last Updated on 24/03/2020 by Adina
Two main ingredients and 30 minutes of your time and there you have it: crispy, sweet and delicious puff pastry croissants with rose petal jam filling.
Another Polish dessert recipe today and a super easy and quick one, perfect for a lazy Sunday afternoon. Not that yesterday's Polish Crepes with Sweet Quark Cheese Filling – Nalesniki were difficult to make, they are very easy as well, but these Puff Pastry Croissants Filled with Rose Jam can hardly be topped when it comes to quick and easy dessert recipes.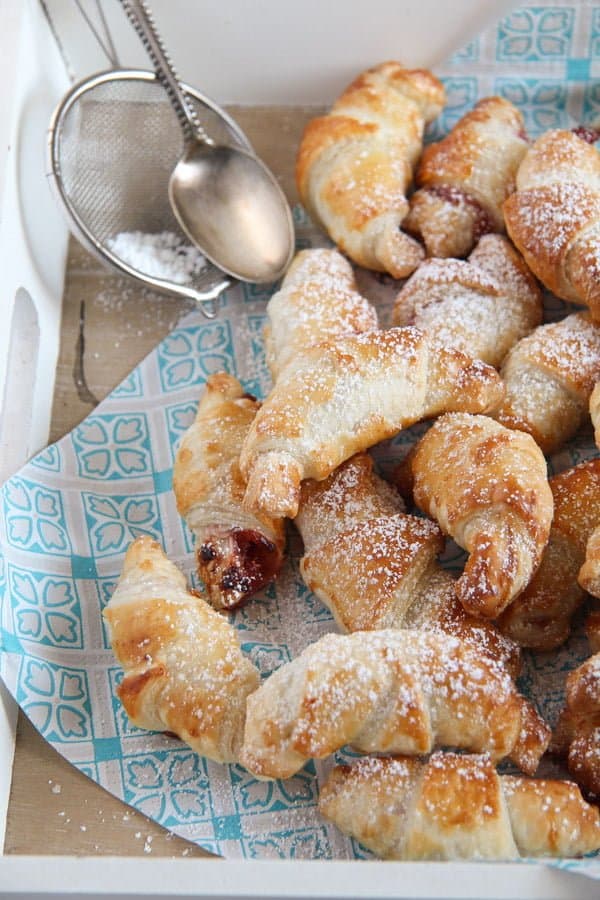 This is the only Polish recipe from this Polish food series on Where Is My Spoon that we didn't eat in Poland. I have this recipe, which can hardly be called a recipe at all, from the mother of my son's best friend. She was born and raised in Poland and visits her birth country from time to time.
Last time she was there she brought home a few huge jars of rose jam, which is very popular in Poland (and Romania as well) and not very well-known in Germany, not at all actually, the only place I managed to find rose jam here was in the Turkish store.
She gave me some of this rose jam as well and told me about these little puff pastry croissants her mother or grandmother used to make. And like the recipe addict that I am, the recipe stayed with me. I might need to hear somebody's name three times before I am actually able to remember it and my husband has to tell me every time how to connect the cables when the kids want to watch a DVD instead of TV, but when it comes to recipes that I find interesting, no problem, they are immediately imprinted on my brain.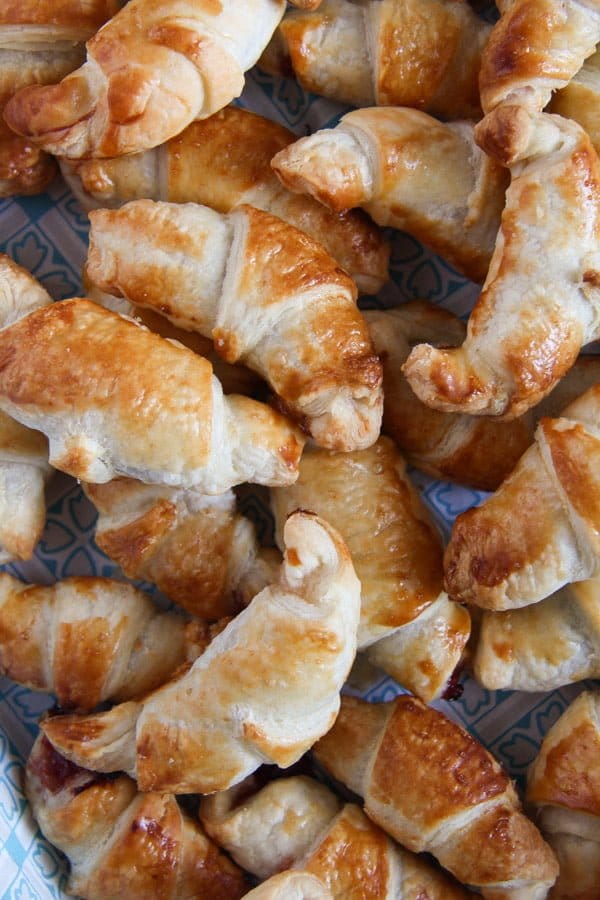 So, when we were in Poland, I wrote my friend and asked her where exactly I could buy this particular rose petal jam. She told me the name of the supermarket selling it and, lucky me, I found this place only 5 minutes away from the hotel where we were staying. I bought several jars, some for us and some to give away and recently I got the chance to make these delicious Puff Pastry Croissants Filled with Rose Jam.
I've actually made them for my mother-in-law's birthday in December and although there were several more impressive cakes on the table, everybody just loved these little thingies. They are just so cute and inviting and once you have one, you cannot stop anymore, you will keep reaching for yet another one every few minutes or so.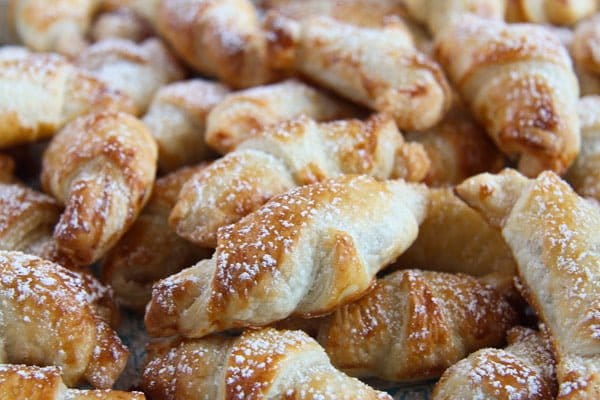 Notes on the Puff Pastry Croissants Filled with Rose Jam
I used ready bought and ready rolled puff pastry, which you can find in the refrigerator section of the supermarket. You could make it with homemade puff pastry as well, it would probably be even better, but I still haven't got to making my own puff pastry. Buying it is just so easy and it tastes so good… Frozen puff pastry can be used as well, just regard the packet's instructions concerning the rolling and the baking time of the pastry.
The quantities I used are not so important. Make as much as you want. Buy as much puff pastry as you need, open a jar of jam and keep going until you think you have enough.
I made the Puff Pastry Croissants Filled with Rose Jam with rose petal jam, because this is the way my Polish friend's family makes it and because I absolutely love rose jam, it has an amazing flavor that I cannot find in any other sort of jam. But, if you cannot find it or for some reason you do not like rose petal jam, you can definitely replace it with any other sort of jam.
The only thing I would have to say in this matter is that maybe you should go for a stiffer kind of jam, a runnier jam will create a bit of a mess as it will ooze out of the croissants during the baking process. I know that for a fact, as part of the croissants I have made were filled with red currant jelly. The resulting croissants were also delicious, but kind of messy and sticky due to that runny filling.
The baking time depends on the kind of puff pastry you use, just check the packet's instructions. Mine needed about 20 minutes, keep an eye on them, they should be deeply golden.
So, that was about it! I actually needed much more time to write this post than to bake the Puff Pastry Croissants Filled with Rose Jam. I hope you have a nice weekend!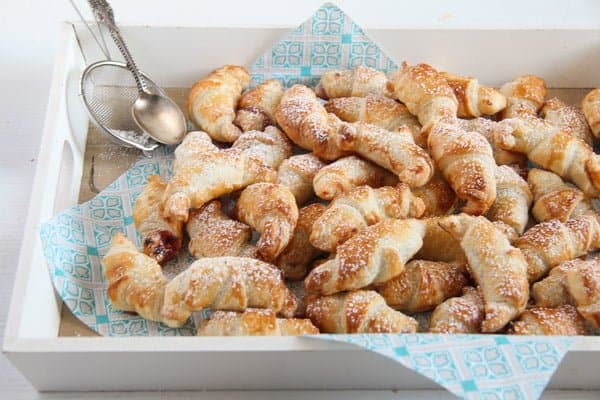 Other puff pastry recipes: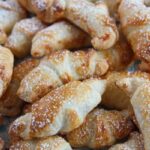 Ingredients
1 packet ready rolled puff pastry

rose petal jam (See note)

1 egg yolk

1 tablespoon milk

icing sugar for dusting
Instructions
You can use any other sort of jam instead, although rose petal jam really has a very particular, amazing flavor. Make sure you use a stiffer kind of jam, soft jam will ooze out of the croissants.
Preheat the oven to 200 degrees Celsius/ 390 degrees Fahrenheit. Line one or two baking trays (depending on how many croissants you are making) with baking paper.
The puff pastry I used is only refrigerated and already rolled. If using frozen pastry, let it thaw and then roll it to a rectangle.
Cut the rectangle in half lengthwise, then cut each rectangle into triangles.
Place about 1 teaspoon of jam at the base of each triangle and roll up the croissants starting at the base.
Place the croissants on the prepared baking tray with the seam facing down. Bend in the edges to create a crescent shape.
Beat the egg yolk and the milk in a small bowl using a fork. Brush the croissants with the egg mixture.
Bake for about 17 - 20 minutes or until deeply golden (check the packet's instructions regarding the baking time as well).
Let cool on a wire rack and dust with icing sugar just before serving.
This post contains affiliate links. The price you pay as a consumer does not change, but if you make a purchase we will receive a commission which helps support the blog.