Delightful raspberry roulade – a fluffy sponge roll cake filled with a decadent mascarpone, raspberry, and lemon filling. The perfect summer dessert!
Are you still looking for the perfect dessert to celebrate Mother's Day on Sunday? Look no further! Your mum and you will adore this simple raspberry roulade or cake roll! Not only it's delicious, but it's also super easy to make leaving you with more time for cooking lunch or for just having an extra cup of coffee with your mum.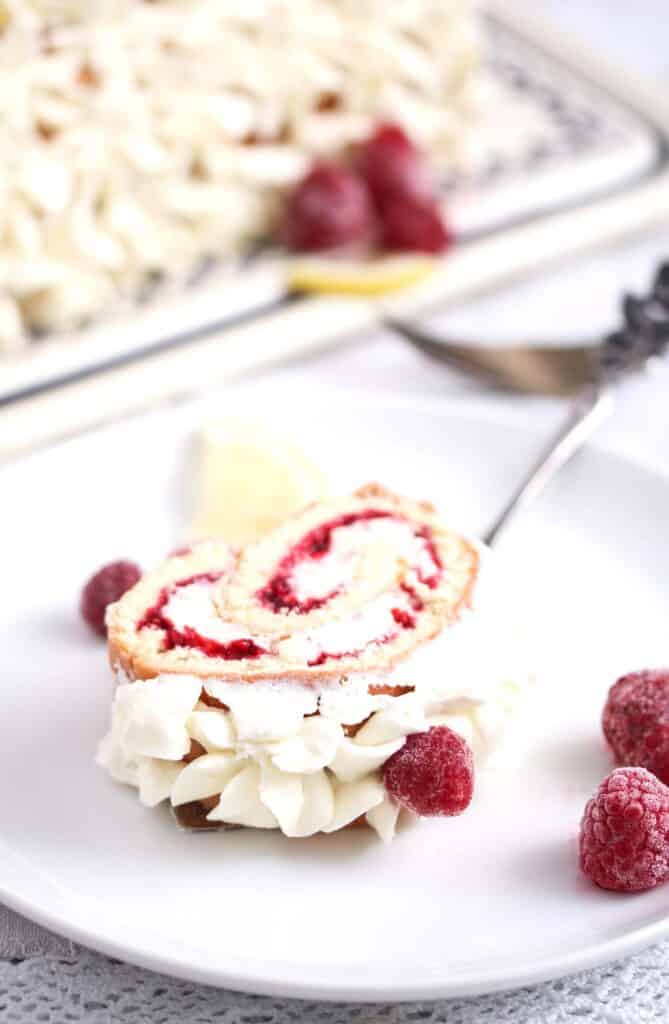 And what am I baking this weekend for my mother-in-law? This amazing Dobos Torte and a simpler Strawberry Rhubarb Bundt Cake. For more inspiration, have a look at these Cheesecakes for Mother's Day or these 12 Recipes for Mother's Day.
Raspberries and lemons are a match made in heaven! But if you would like something similar to celebrate the strawberry season, try this Strawberry Swiss Roll.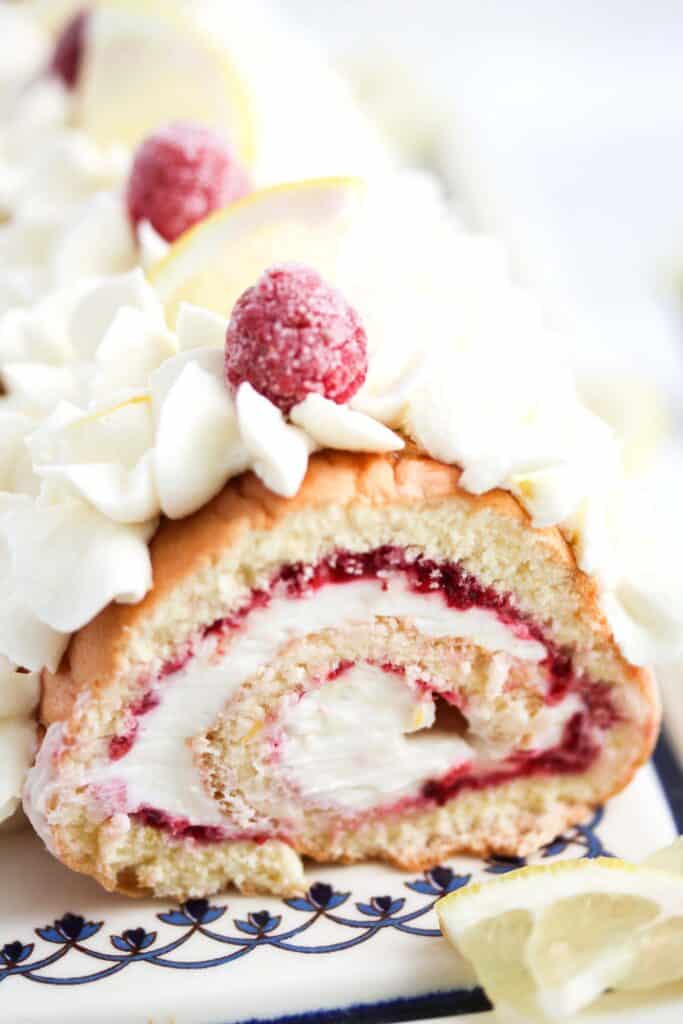 Ingredients for Swiss roll
Raspberries:
Frozen raspberries for the filling and fresh ones for the decoration. You can use all fresh, but they are rather pricey, so I prefer to use frozen most of the time.
Dairy:
Mascarpone and heavy cream.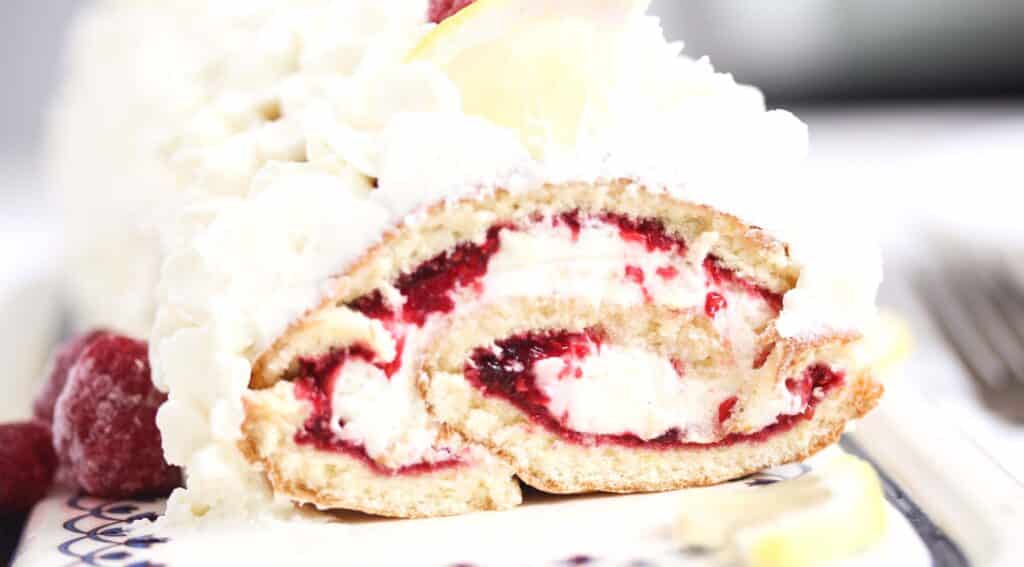 Lemon:
You will need lemon zest and freshly squeezed lemon juice; one lemon will be enough.
Make sure that the zest of the lemon is suitable for consumption if it's treated/waxed it will not be. This detail is usually indicated on the label.
Wash and dry the lemon thoroughly before zesting.
Flour:
I prefer to use cake/pastry flour for making most cakes, I think the resulting cakes are fluffier, softer. But if all-purpose is all you have, that will do as well.
Other ingredients: cornstarch, sugar, eggs, vanilla and lemon juice.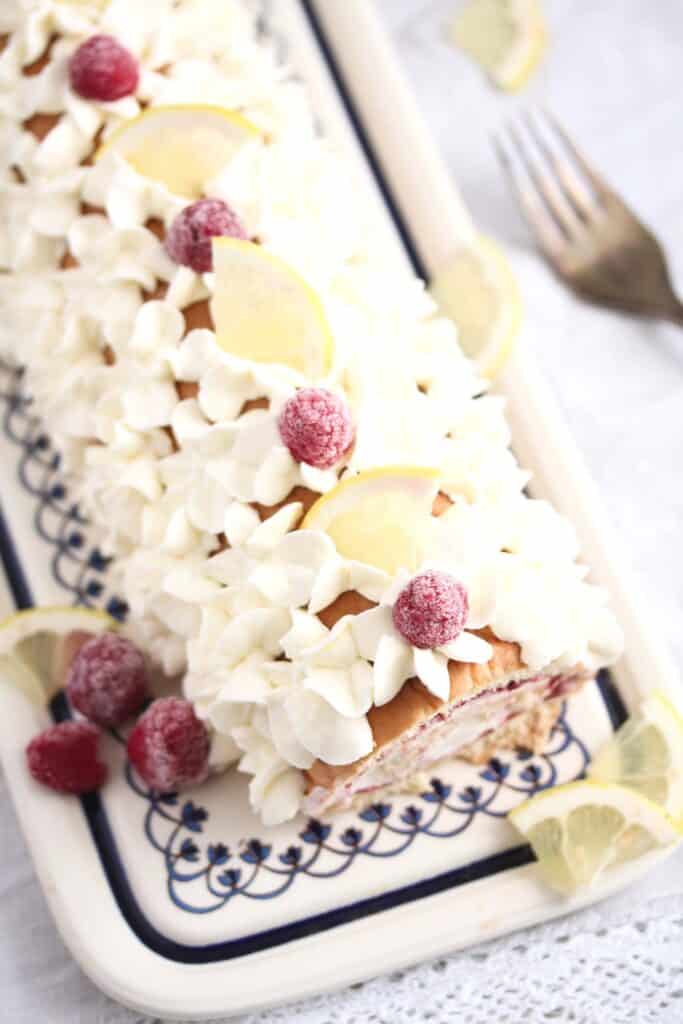 How to make a good sponge?
A sponge is probably the easiest cake base you could make. You will need only a few basic ingredients, a truly short baking time and it's low-fat on top of everything. But there are a few things you must know in order to make a good one.
I like to use this recipe for making cake rolls because this sponge never gets any splits when I roll it, which was not always the case with other recipes I've tried before.
Preheat the oven and prepare the baking tray before you start making the batter. It should not wait while your oven reaches the right temperature, it should be placed in the hot oven as soon as you mix it.
Separate the eggs. A sponge's main characteristic is that it is light and airy, that is why you must separate the eggs and beat the egg whites very well. Make sure that the eggs are at room temperature.
Usually, the sponge doesn't require baking powder, but I like to use just a tiny bit to help the cake reach its full airy potential.
Make sure to sift the mixed flour and cornstarch over the egg mixture, don't skip this step, otherwise, the cake will be too dense.
Once you've sifted the flour mixture onto the beaten egg yolks, fold them in very carefully using a spatula. Don't over mix.
Carefully pour the batter on the lined baking tray and spread it gently and evenly using the spatula or a spoon.
Bake immediately until nicely golden, about 8 to 10 minutes, depending on your oven.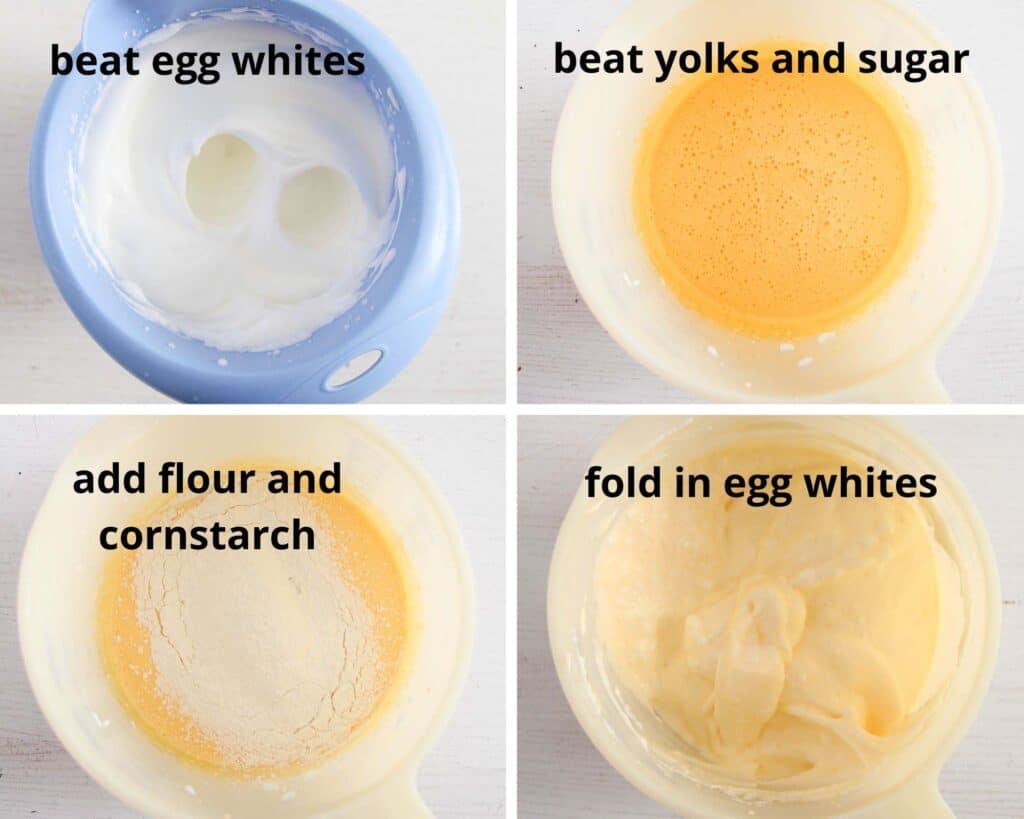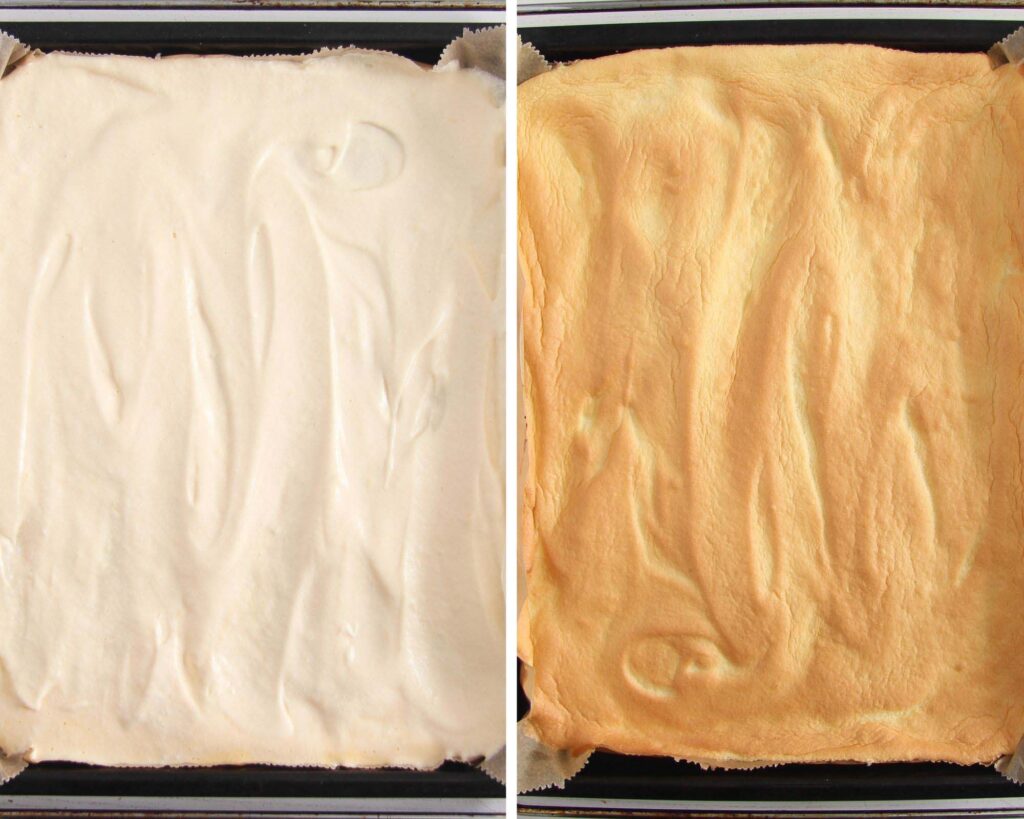 Assemble the lemon raspberry roulade
Lay a clean kitchen towel on the table, sprinkle it evenly with the icing sugar.
Remove the roulade from the oven and immediately turn it onto the prepared towel with the baking paper facing up. Carefully peel off the baking paper.
Roll the cake with the towel and leave it so until completely cool. This will not take long, about one hour. You can bake the sponge several hours in advance and leave it in the towel until needed.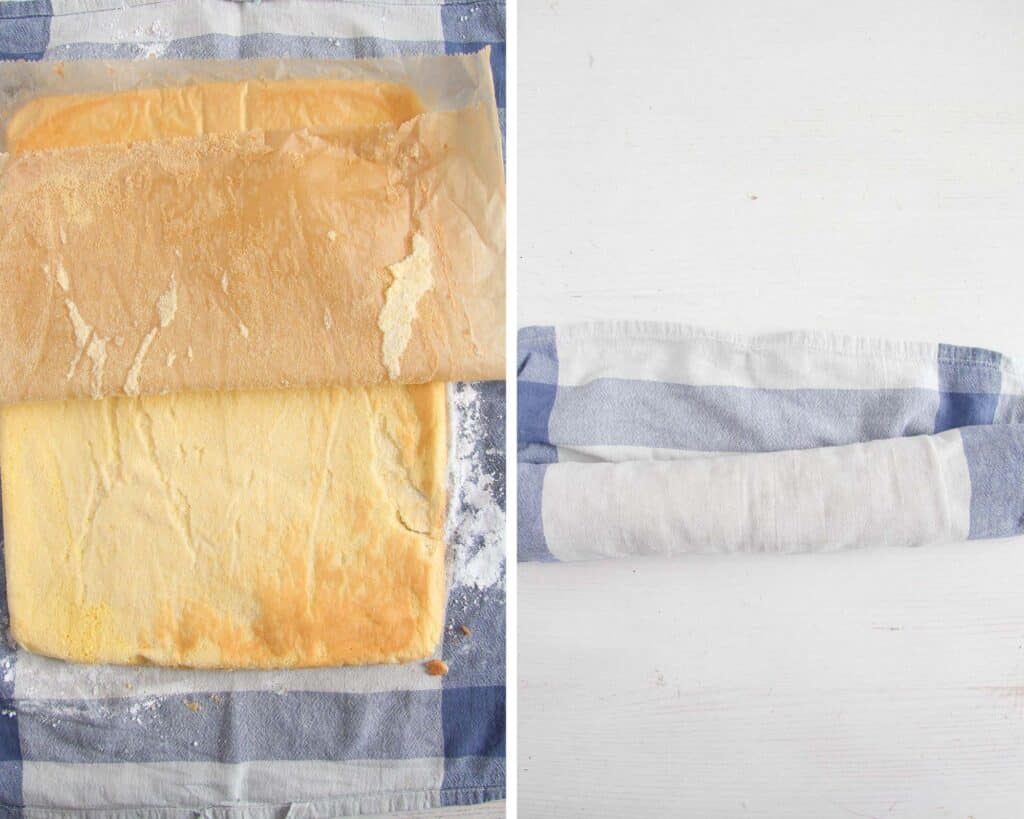 Spread the cooled raspberry filling onto the sponge, cover with mascarpone cream, and roll again.
Wrap the roll into plastic foil/cling film, place it on a platter, and then in the refrigerator. Leave it in there for 2-4 hours until set.
Remove the wrap, place the lemon raspberry roulade back on the serving platter.
Whip the cream needed for the decoration and decorate the Swiss roll using a piping bag with a nice nozzle. Add some fresh raspberries and thinly cut lemon slices on top.
Alternatively, don't use whipping cream and sprinkle the cake roll with a little icing sugar. Serve with more raspberries.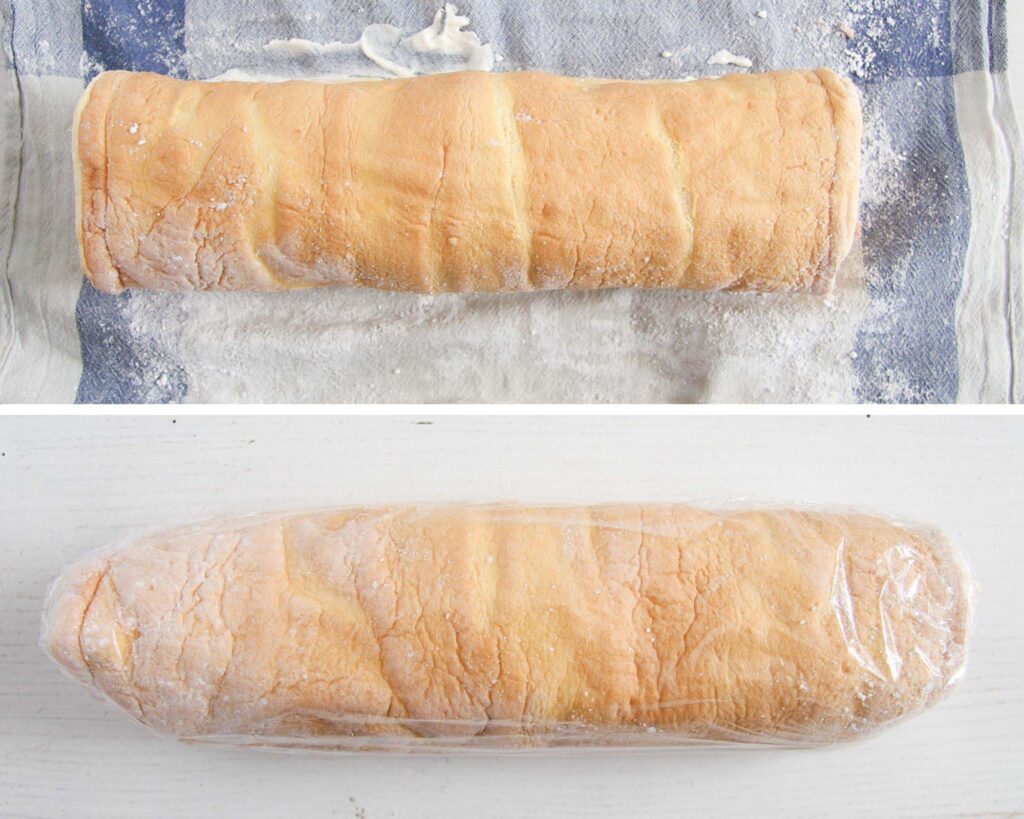 How to store the raspberry roll?
Keep it refrigerated, it is made with cream and that should not be left for long at room temperature. The raspberry roulade with lemon and mascarpone is best served on the day you baked it. However, it is still perfectly delicious for 1-2 more days. Keep refrigerated in an airtight container.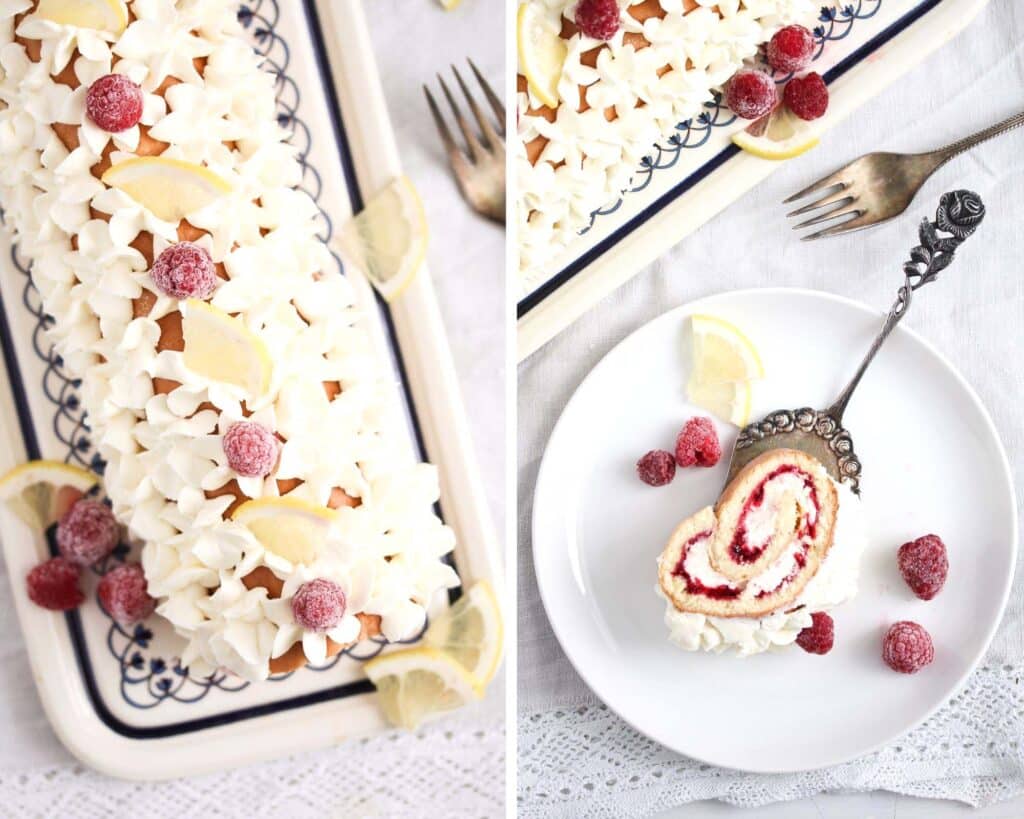 More sweet roulades and rolls: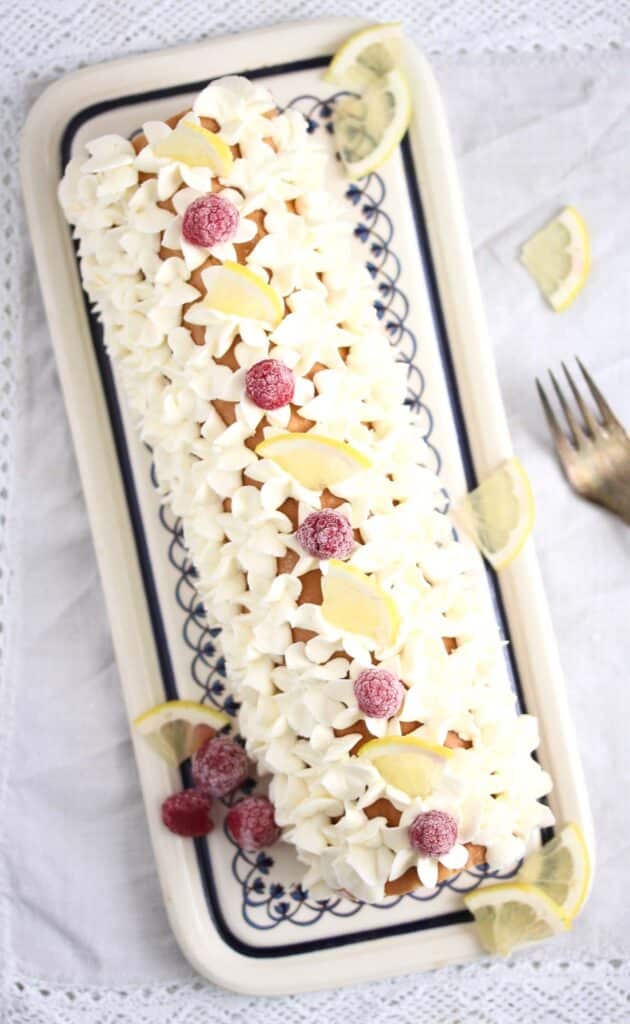 Savory roulades and rolls: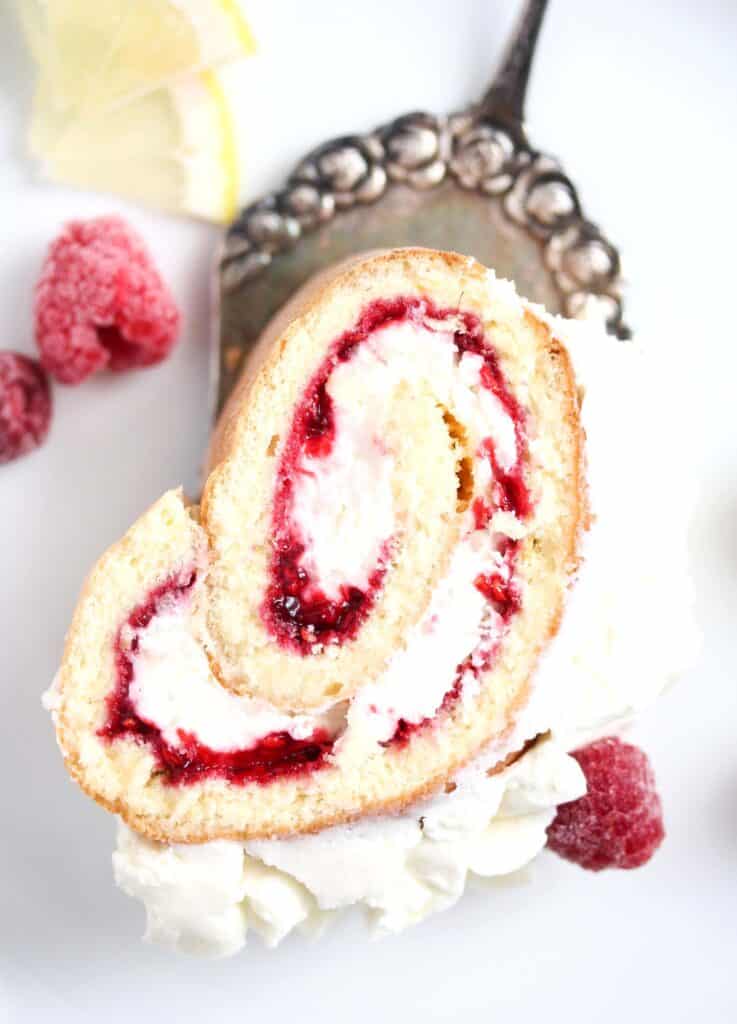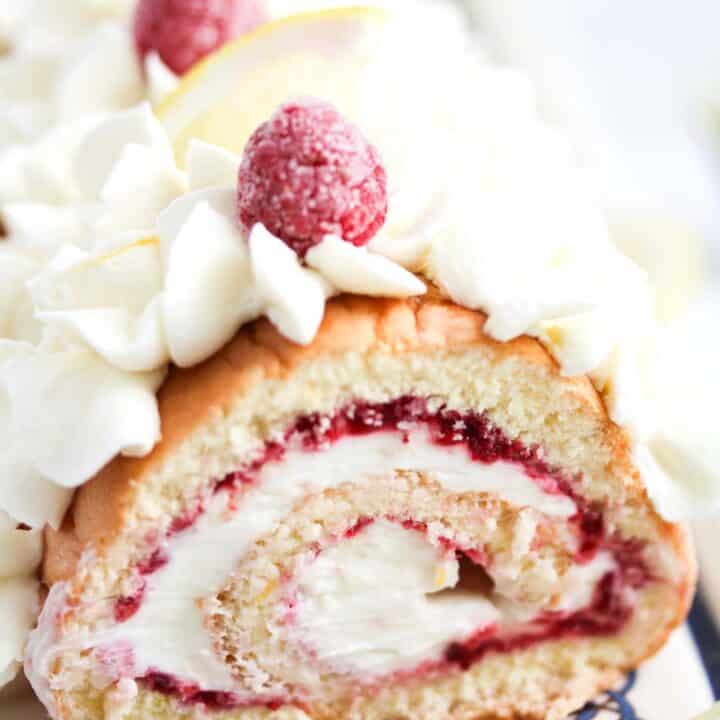 Easy Raspberry Roulade
Total Time:
1 hour
40 minutes
Delightful raspberry roulade – a fluffy sponge roll cake filled with a decadent mascarpone, raspberry and lemon filling. The perfect summer dessert!
Ingredients
Raspberry filling:
200 g/ 7 oz/ 1 cup raspberries (frozen are perfectly fine)
75 g/ 2.7 oz/ 1/3 cup + 1 tablespoon granulated sugar
Sponge:
4 eggs
4 tablespoons granulated sugar, divided
½ teaspoon baking powder
a pinch of salt
3 tablespoons cake/pastry flour (Note 1)
3 tablespoons cornstarch
1 teaspoon lemon zest
2-3 teaspoons icing sugar (for the towel)
Mascarpone filling:
250 g/ 8.8 oz/ 1 cup mascarpone
2 tablespoons granulated sugar
200 ml/ 6.8 fl.oz/ scant 1 cup heavy cream
½ teaspoon pure vanilla extract
2 tablespoons lemon juice
2 teaspoons cornstarch
½ - 1 teaspoon lemon zest, to taste
Decoration:
150 ml/ 5 fl.oz/ 2/3 cup heavy cream
1 tablespoon granulated sugar (Note 2)
2 tablespoons freshly squeezed lemon juice
¼ teaspoon pure vanilla extract
fresh raspberries
thin lemon slices
Instructions
Raspberry filling:
Start with the raspberry filling. Place the frozen raspberries and the sugar in a small saucepan. Mix and leave to defrost while you make the sponge. Once defrosted or almost so, turn on the heat. Bring to a boil and boil gently for 5 minutes, stirring often. Remove and leave to cool until needed.

Sponge:
Preheat the oven to 200 degrees Celsius/ 400 degrees Fahrenheit. Line a baking tray with baking paper.
Separate the eggs. Beat the egg whites with a pinch of salt until quite stiff. Gradually add 2 tablespoons of the granulated sugar and beat until glossy and stiff. Set aside.
In another bowl whisk together the egg yolks and 2 tablespoons sugar until foamy.
Mix flour and cornstarch. Sieve over the egg yolk-sugar mixture. Sprinkle 1 teaspoon of the lemon zest on top.
Add 1/3 of the egg whites and incorporate. Add the remaining egg whites and fold in gently.
Spread the batter onto the baking tray. Bake for 8 to 10 minutes until golden.
In the meantime, place a clean kitchen towel on the table and sprinkle it with icing sugar. Turn the cake onto the kitchen towel with the baking paper facing up. Carefully peel off the baking paper, then immediately roll the cake with the help of the towel. Leave it until completely cool, it should take about 1 hour.


Mascarpone filling:
Beat mascarpone, sugar, lemon juice, and vanilla extract until creamy.
Slowly start pouring in the heavy cream while mixing continuously.
After one minute, sprinkle the cornstarch and lemon zest over the mixture. Continue beating until the cream is nicely whipped and fluffy.


Assemble:
Unroll the sponge and spread the raspberry filling evenly onto it. Cover with the mascarpone cream.
Carefully roll the roulade again. Wrap in plastic foil/cling film, place on a platter, and keep refrigerated for 2 to 4 hours or until nicely set.
Remove the wrap.
Whip the heavy cream with sugar and vanilla extract. Pipe the cream onto the roulade.
Decorate with fresh raspberries and thinly cut lemon slices.

Notes
All-purpose flour is fine as well, but cake flour is slightly better for cakes, it makes them fluffier and softer.
The sugar and vanilla extract can be replaced with 1 tablespoon vanilla sugar.


Nutrition Information:
Yield:

10
Serving Size:

1 slice
Amount Per Serving:
Calories:

359
Total Fat:

26g
Saturated Fat:

16g
Trans Fat:

1g
Unsaturated Fat:

8g
Cholesterol:

148mg
Sodium:

187mg
Carbohydrates:

27g
Fiber:

2g
Sugar:

20g
Protein:

5g
Nutritional information is not always accurate.