One of the best lemon cakes ever: a soft sponge cake with an amazingly luscious and tangy lemon curd, raspberry and whipped cream filling!
This is one of my favorite cakes ever! EVER! EVER! I have been making this Amazing Cake with Lemon Curd, Cream and Raspberry Filling for years now, at least 7 or 8 and I never get tired of it. Actually, I don't even bake it as often as I wish to, because I know that when I have it in the fridge I cannot stop eating it…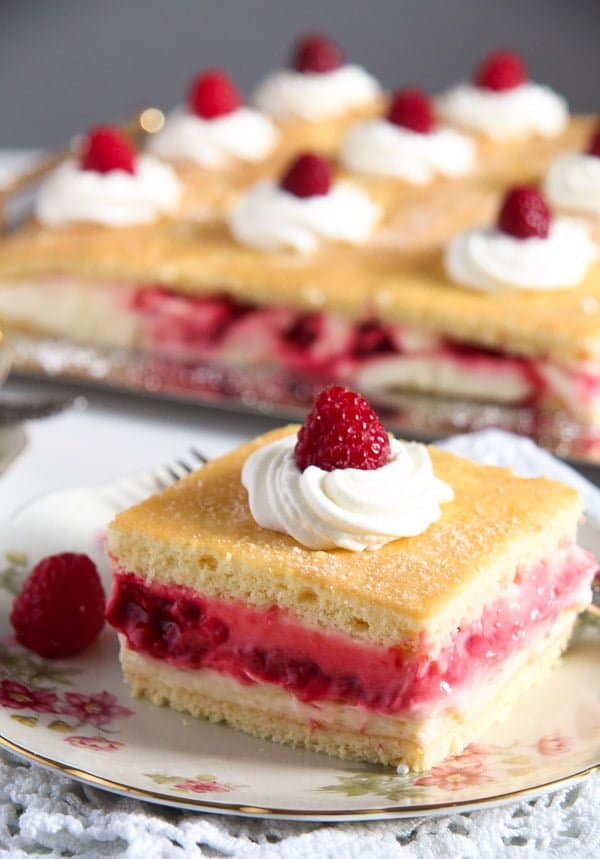 Amazing Cake with Lemon Curd, Cream and Raspberry Filling
And what makes this cake so great? That amazing combination of sweet-tangy and creamy lemon curd, softened by the addition of whipped cream and those flavorful, wonderful raspberries.
I love lemon cakes, lemon curd and anything that includes lemon curd. And I have some recipes on Where is My Spoon to prove it. Unfortunately the pictures in those blog posts are not so great, I posted those recipes years ago when I had just started with the blog and knew nothing about photography, I didn't even have a proper camera at the time…
But I am working on it, slowly but surely I want to replace some of the old photographs with new ones, it just takes a little time … However, even if the pictures are bad, the recipes are good, so take a look if you like: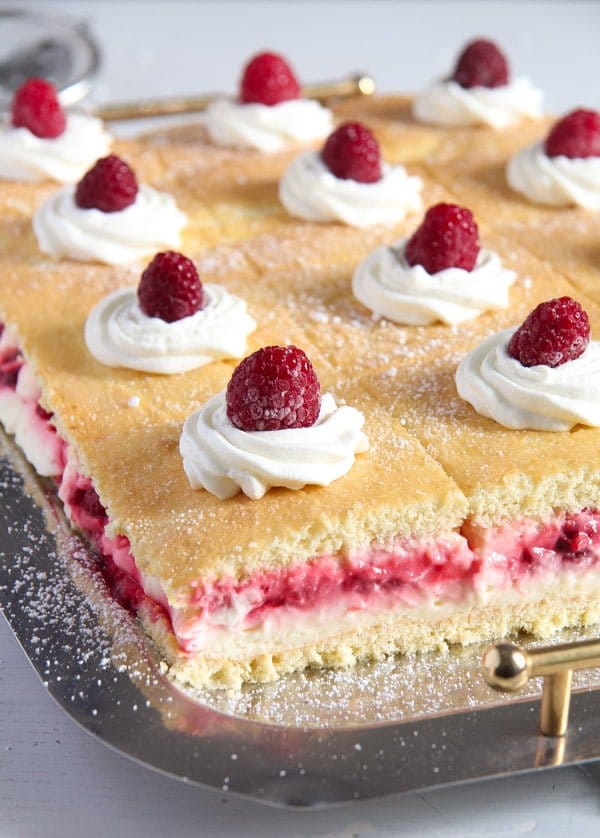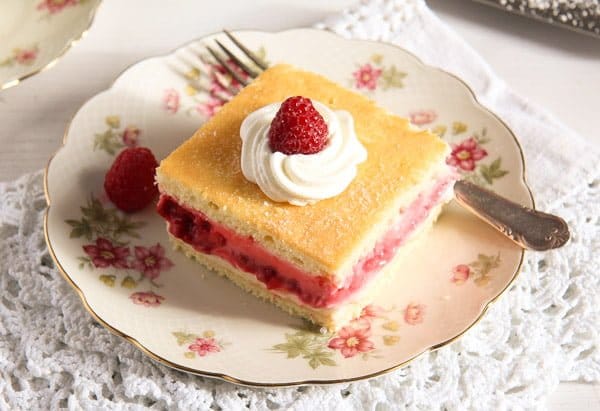 How to make the lemon curd and whipped cream filling:
It is actually very easy. No need for a double broiler like in many other similar recipes, just take a saucepan, give the lemon curd ingredients to it and whisk. That is the secret to obtaining a nice, clump-free and luscious lemon filling: a constant, vigorous whisking.
Do not let the saucepan unattended at any time and keep whisking, in about 5 minutes the lemon curd will be ready.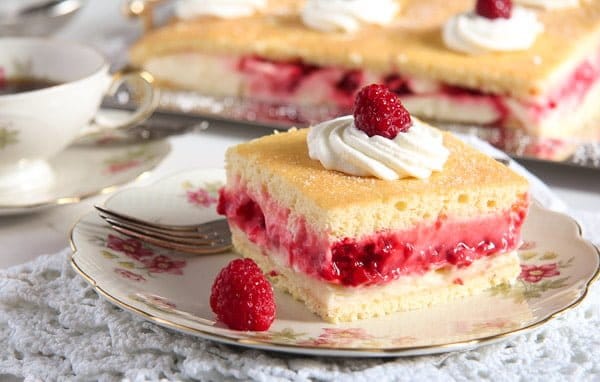 I usually use regular lemons to make this cake, but I have had it once or twice with limes as well and I can assure you that the combination is wonderful as well. In case you would like to try it with limes sometime, keep in mind that limes are smaller than lemons and use more of them accordingly.
Make sure to use organic, unwaxed lemons for this Amazing Cake with Lemon Curd, Cream and Raspberry Filling. You will eat the peel as well and you don't want all that bad stuff in your cake. Thoroughly wash and dry the lemons before zesting them.
When you zest the lemons make sure to finely grate only the yellow layer of the peel, the white parts are very bitter and they will spoil the cake.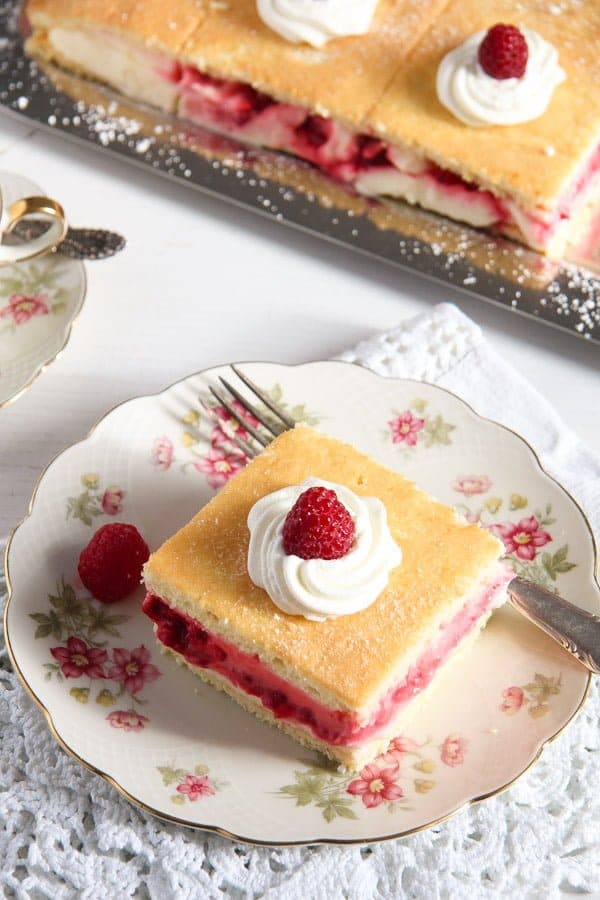 Use fresh raspberries, if possible. I try to only make this cake when I know for sure that I can get fresh raspberries. However, I had to bake it a couple of times when fresh raspberries were unavailable, so I used frozen raspberries instead.
In this case line a baking tray or a large serving platter with kitchen paper, give the raspberries in an even layer onto the paper and let them defrost at room temperature. The kitchen paper will absorb the extra water and will keep your cake from getting too watery.
I used frozen raspberries to decorate this cake I photographed because I have completely forgotten to set some of the fresh ones aside for decoration… It happens…
More berry cakes recipes: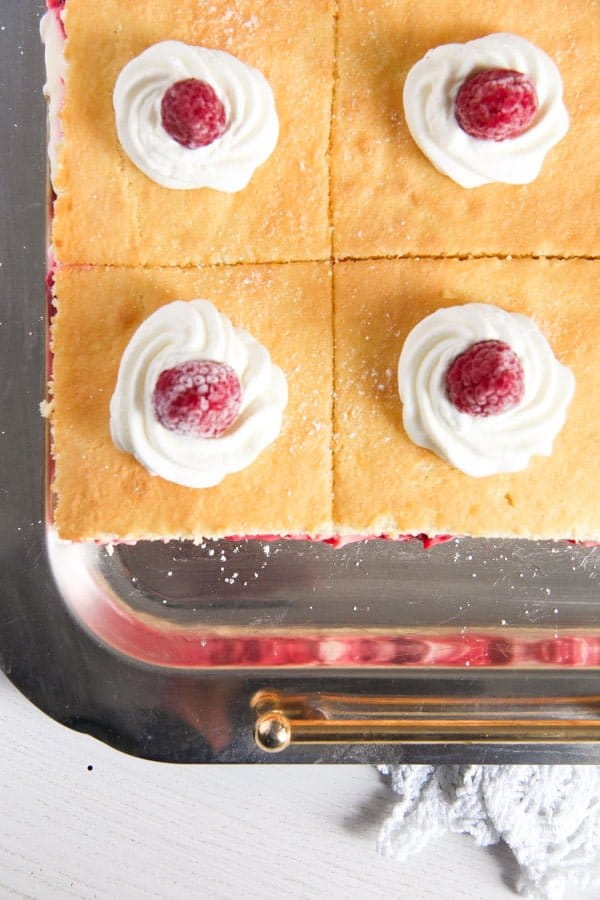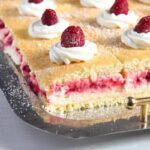 Ingredients
Cake base:

4 eggs (medium in Germany, large in US)

1 pinch salt

2 tablespoons water

75 g/ 2.6 oz/ ¼ cup + 2 tablespoons sugar

½ teaspoon vanilla extract

80 g/ 2.8 oz/ 2/3 cup all-purpose flour

Filling:

2 organic lemons

2 eggs (medium in Germany, large in US)

35 g/ 1.2 oz/ ¼ cup + 1 ½ teaspoons cornstarch

100 g/ 3.5 oz/ ½ cup sugar

200 ml/ 6.7 fl.oz/ ¾ cup + 2 tablespoons water

250 ml/ 8.5 fl.oz/ 1cup double cream

300 g/10.6 oz raspberries

some icing sugar
Instructions
Cake base:
Preheat the oven to 200 degrees Celsius/ 400 degrees Fahrenheit. Line a baking tray with baking paper.
Separate the eggs. Beat the egg whites with a pinch of salt until stiff. Set aside.
In another bowl, beat the egg yolks and water until frothy. Add the sugar and vanilla extract and continue beating until the mixture thickens, about 3 minutes. Carefully fold in the stiff egg whites. Sieve the flour over this mixture and fold in carefully.
Pour the batter on the prepared baking tray and bake for about 12 minutes or until golden.
In the meantime place a clean kitchen towel on the table and sprinkle it with some sugar. Carefully turn out the cake base onto this towel. Remove the baking paper. Let the cake cool completely.
In the meantime make the lemon curd.
Wash and dry the lemons and finely grate the zest, only the yellow part, the white is bitter. Juice the lemons as well.
Give the lemon zest and juice to a saucepan. Add the eggs, cornstarch, sugar and water. Bring to a boil while whisking continuously, it will take about 5 minutes. Let bubble for a couple of seconds, then remove from the heat. Place a piece of cling film directly over the top of the curd to avoid it from getting a skin. Let cool completely.
When the lemon curd is cold, whip 200 ml/ 6.7 fl.oz/ ¾ cup + 2 tablespoons of the double cream. Keep the remaining cream for decoration. Carefully fold the whipped cream into the lemon curd. Place the filling in the fridge for about 10-15 minutes.
In the meantime wash and dry the raspberries. Set a few nice ones aside for decoration purposes. Halve the cake base to obtain two equal parts.
Place one cake slice on a rectangular serving platter. Spread ½ of the filling on top and add the raspberries, cover them with the remaining lemon curd filling and place the second cake slice on top. Refrigerate for about 2-3 hours before serving.
Just before serving cut the cake into squares. Beat the remaining double cream, give it to a piping bag and pipe cream rosettes on the cake squares. Place a raspberry on top of each rosette. Sprinkle the cake with some icing sugar.
This post might contain affiliate links. The price you pay as a consumer does not change, but if you make a purchase we will receive a commission which helps support the blog.