Lemon curd tartlets: shortcrust pastry shells filled with lemon curd and topped with fresh raspberries, easy to make and so delicious.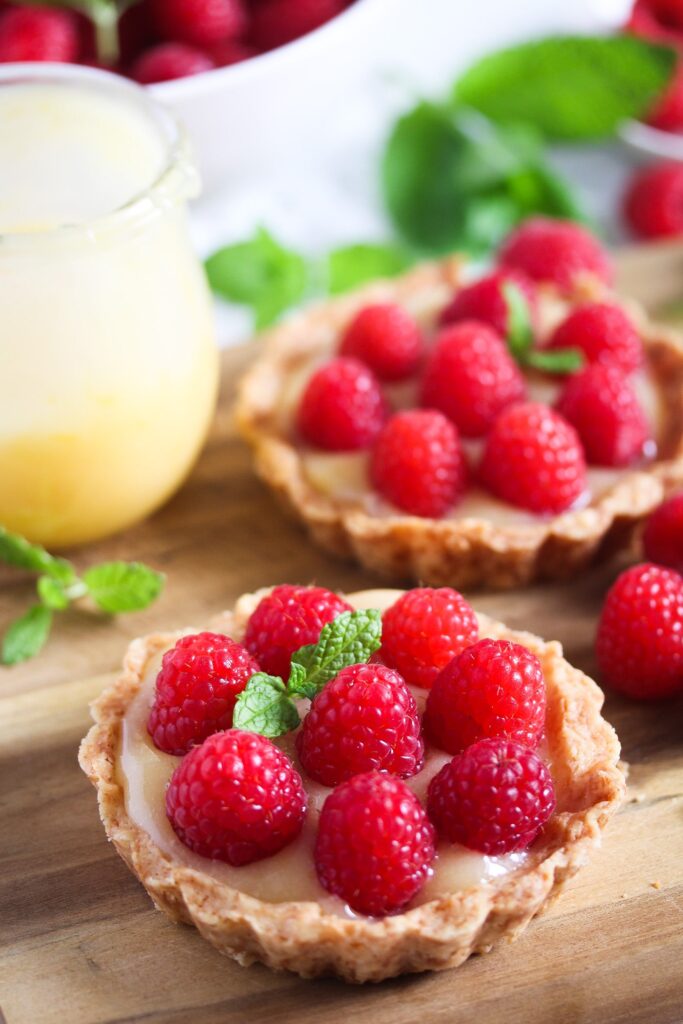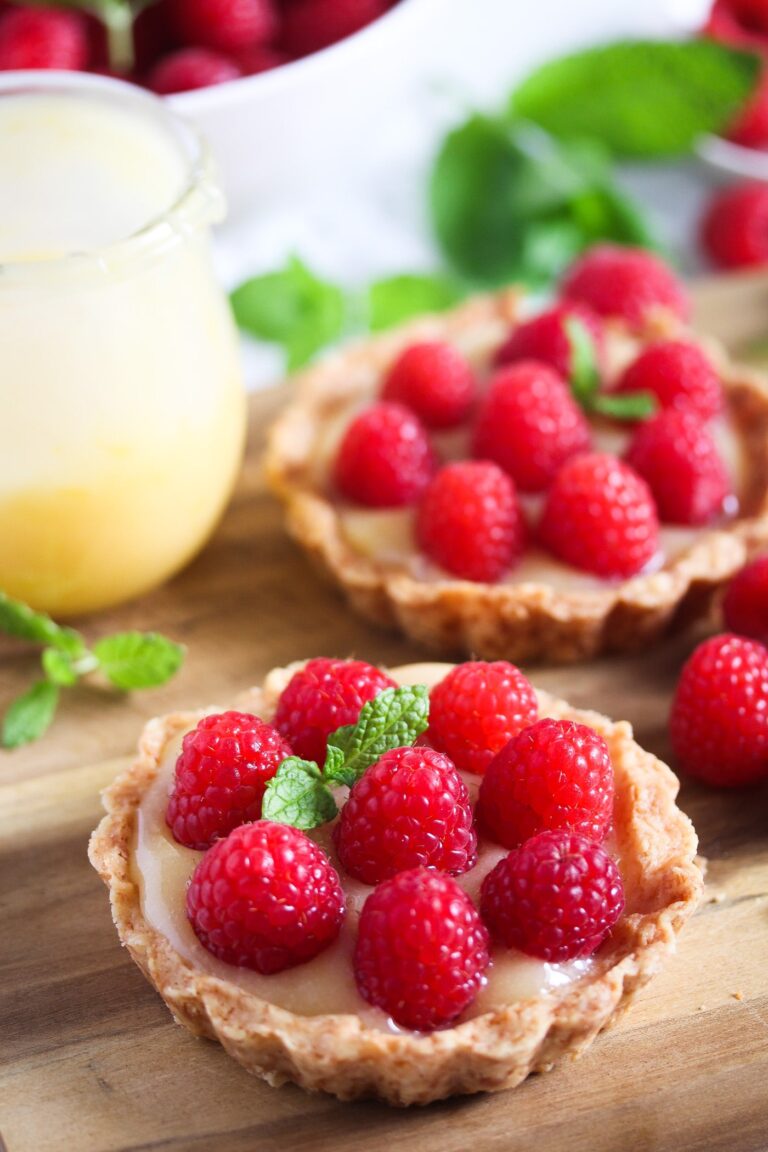 These lemon curd tartlets are one of my favorite desserts. Come to think of it, I think many of my favorite desserts are a combination of lemon and berries. For instance, this amazing Raspberry Lemon Curd Cake or this No-Bake Lemon Curd Cheesecake with Blueberries.
Not only are these lemon raspberry tarts incredibly delicious, but they are also very easy to make and that's always a good thing!
I came up with this recipe because I wanted to use a rest curd which was starring at me every time I opened the fridge and because there were still some nice raspberries hanging in the bush in my garden.
This is an updated post, the tartlets are one of the first recipes I've ever posted, many years ago... However, they are one dessert I make really often nowadays, we all love the tarts and they are such a great thing to serve to guests.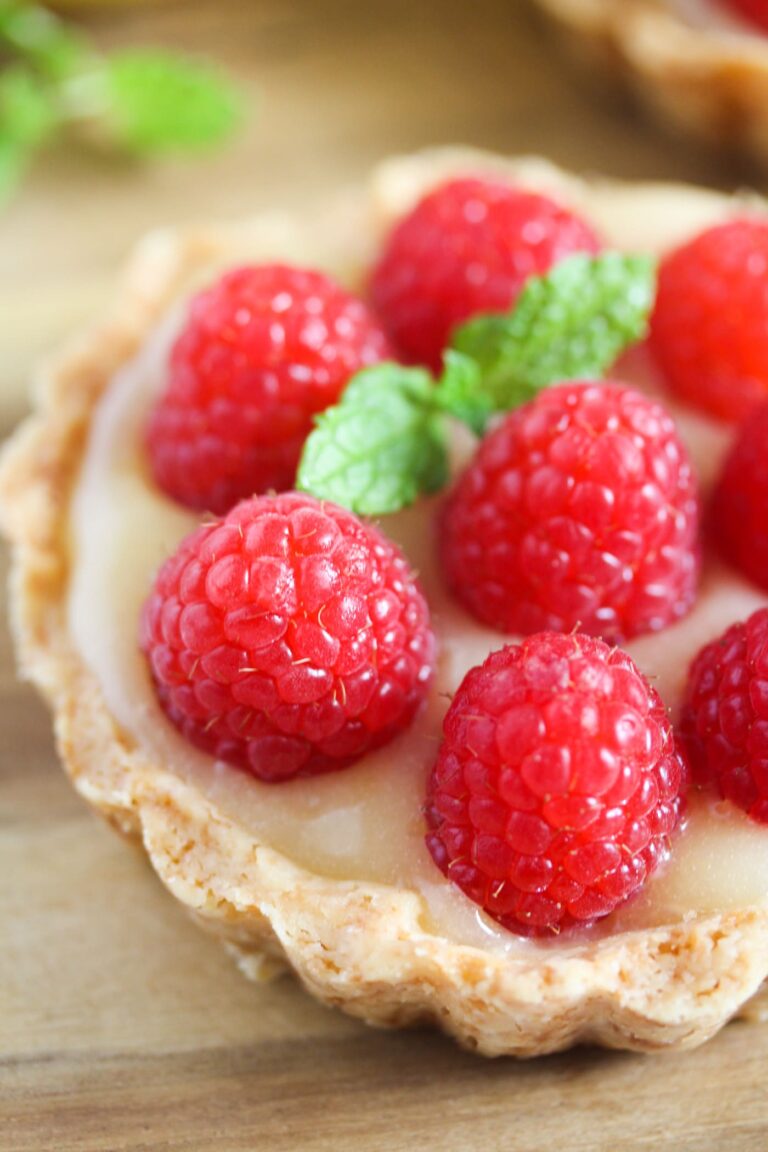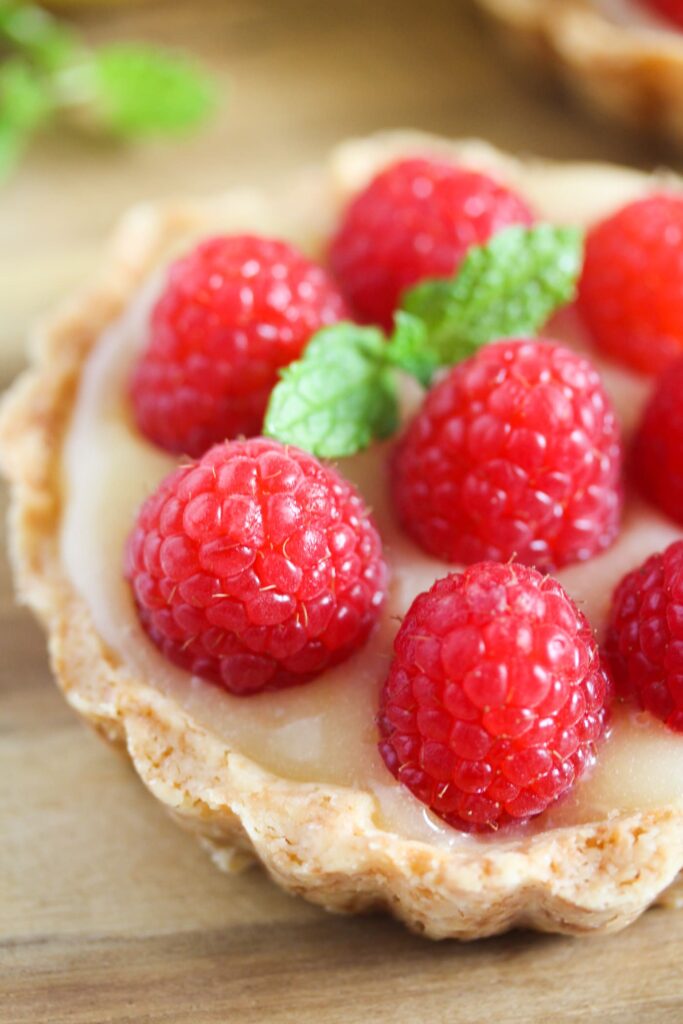 What do you need?
Pastry shells: flour, butter, and sugar.
Dried beans: for blind baking the pastry shells.
Lemon curd: you can buy a jar, make your own favorite recipe or try my Thermomix lemon curd recipe (in case you have a Thermomix).
I almost always make it myself, it goes so well and quickly with the Thermomix.
Curd from a jar works perfectly well, but such a jar is expensive and hard to find in Germany.
Raspberries: definitely fresh, beautiful raspberries.
Cheat's recipe!
Use ready-made pastry shells, fill them with lemon curd from a jar and top them with fresh raspberries.
Ready in 5 minutes.
Alternative berries
You can use other berries instead, although I have to admit that raspberries will always be my first choice in this combination.
However, blueberries or blackberries would make a nice change.
Or a combination of different berries.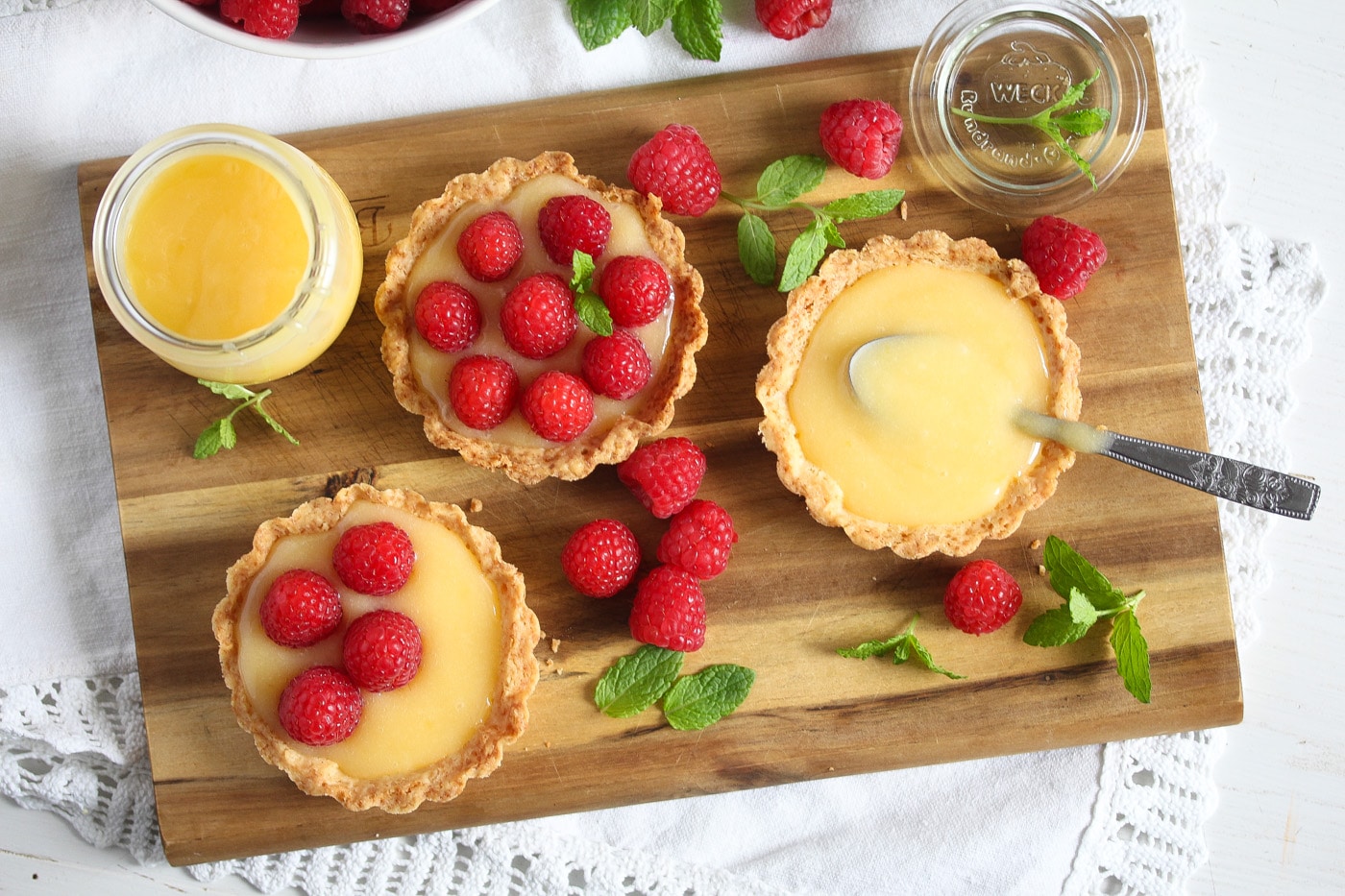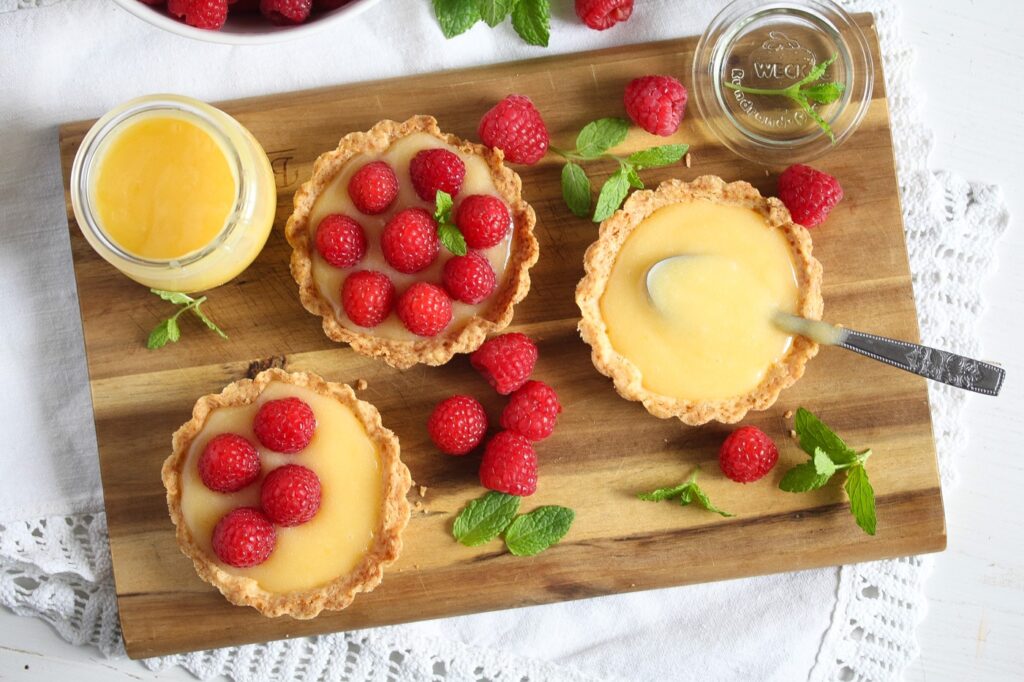 Pastry size
So not important!!
I had six small tins of 9 cm/3.5-inch diameter and two slightly larger silicone forms of 12 cm/ 5 inch. The baking time was the same.
You can use mini-tart tins or you can make the pastry shells in a muffin tray (see this recipe for pastry shells).
Or you can make one single regular-sized tart shell (23 cm/9-inch diameter), fill it with the curd and top it with berries.
How to cut the pastry?
The easiest way is to use a cutter slightly larger than the pastry tins.
I don't have one, so I always use a bowl. I have many different-sized bowls, and I just use the one that fits best.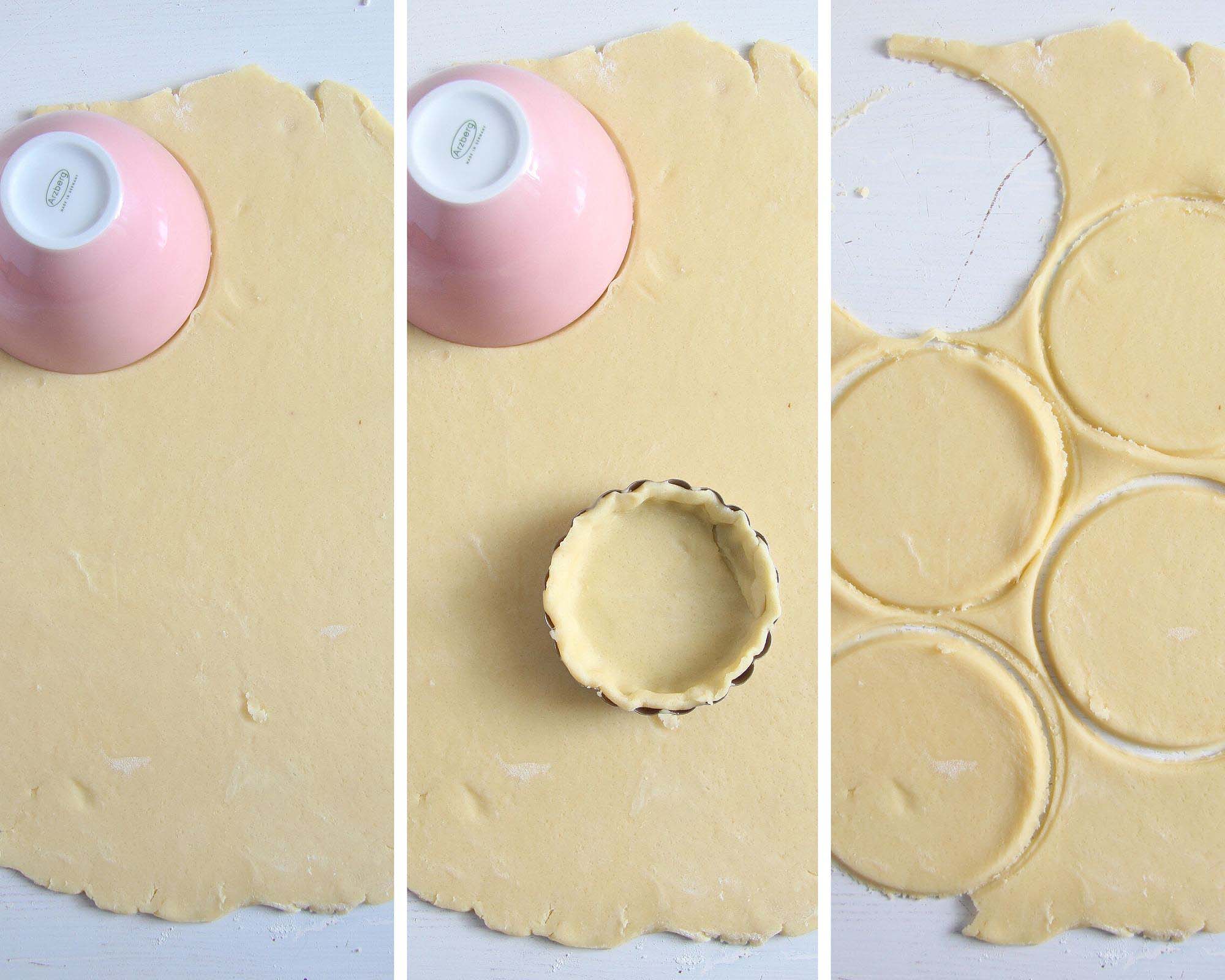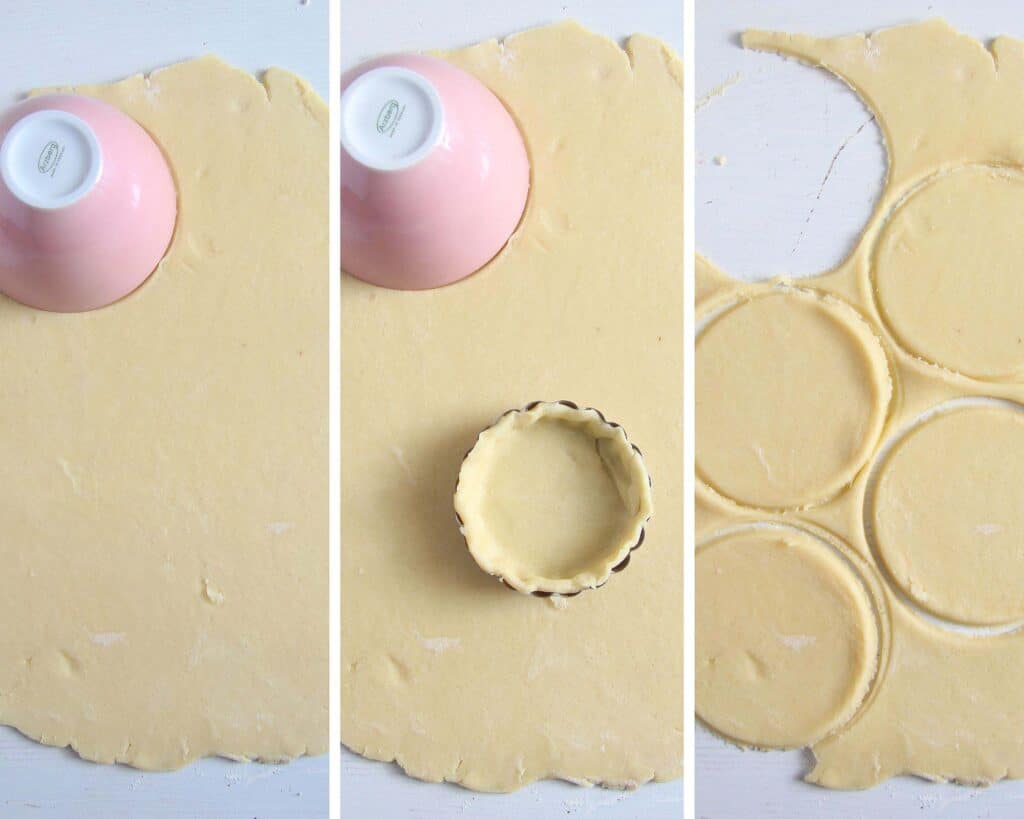 Blind-baking
Prevents the crust from puffing up.
Roll the pastry and place the dough circles in the tartlet forms.
Line with baking paper and fill the forms with dried beans. Bake as indicated.
Carefully remove the beans and the baking paper. The beans can be reused over and over again. Let them cool and keep in jar.
After removing the beans and the parchment paper continue baking the shells for further 3 to 5 minutes so that they are fully baked. They should have a light golden color and slightly brown edges.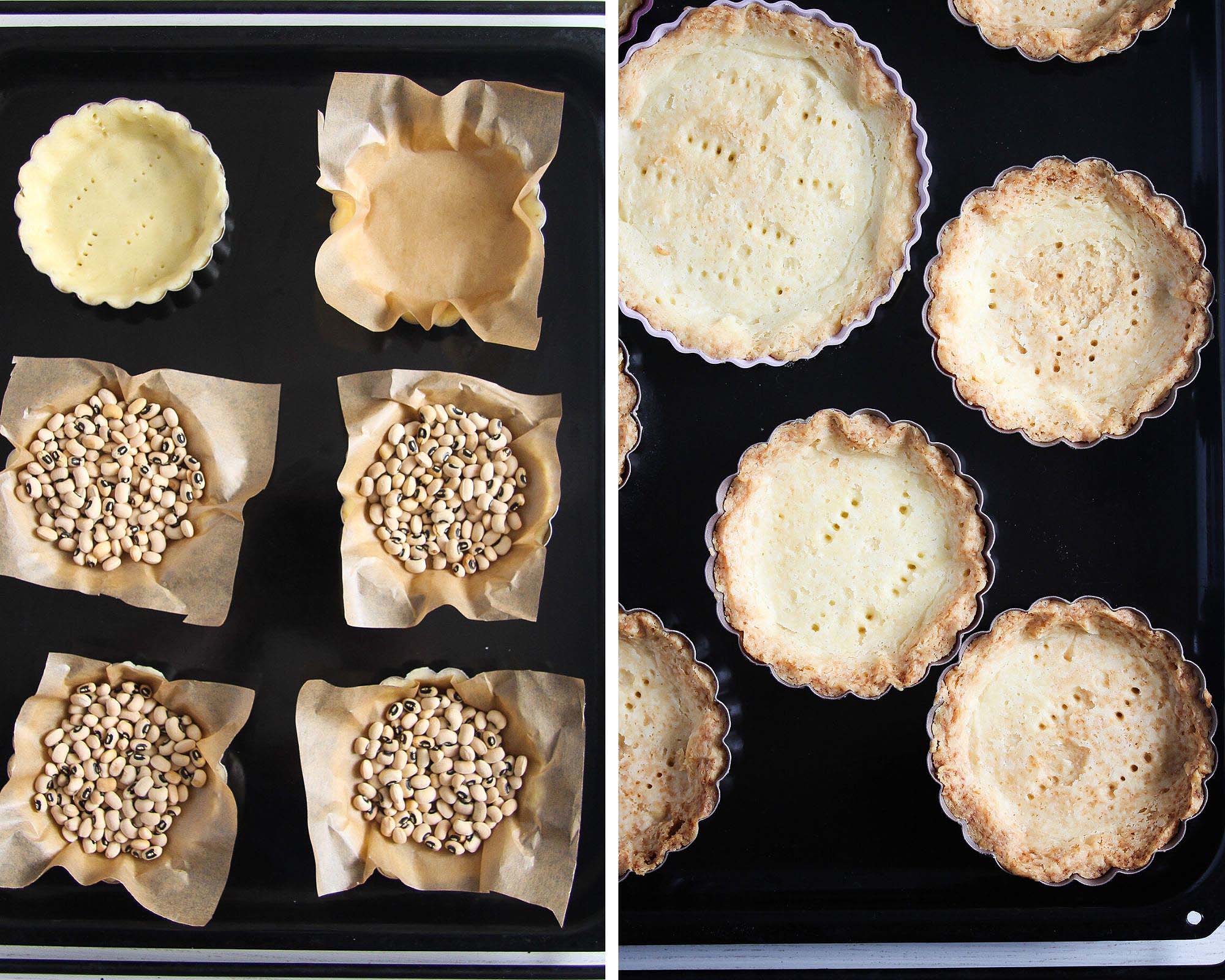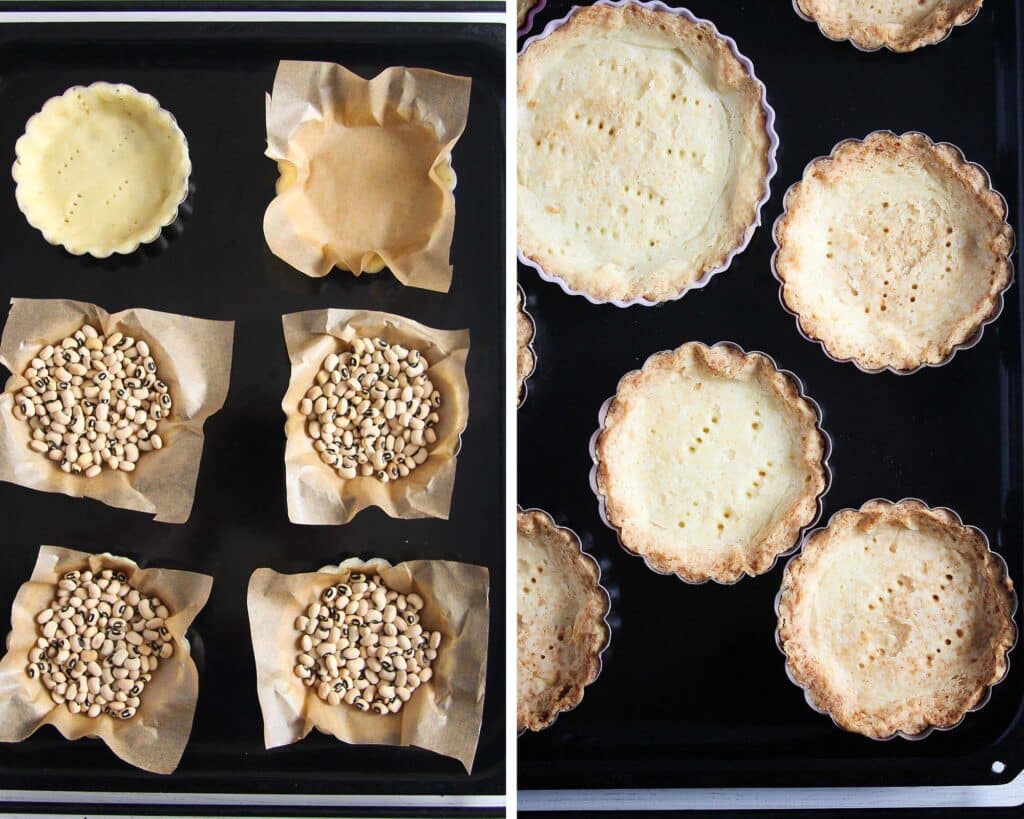 Tips
Make the tart shells a few hours in advance as they will need time to cool completely before filling.
You can also make the pastry shells the day before.
Once cooled, place them in airtight containers and keep them at room temperature for up to two days.
If making the curd yourself, make it a day in advance as well, it will need to cool and then set in the refrigerator.
You can make the curd well in advance, even a week before, if you like. It keeps very well in the fridge.
How to store?
The lemon curd tartlets are best served on the day you assembled them.
You can make the shells and the filling in advance, but only assemble the tarts a few hours before serving.
The refrigerated leftovers will still be delicious after a day or two, but the pastry will become a little soggy.
That never stopped us from devouring all the leftovers, and I only have leftovers when I make a double (or even triple) batch of the tarts.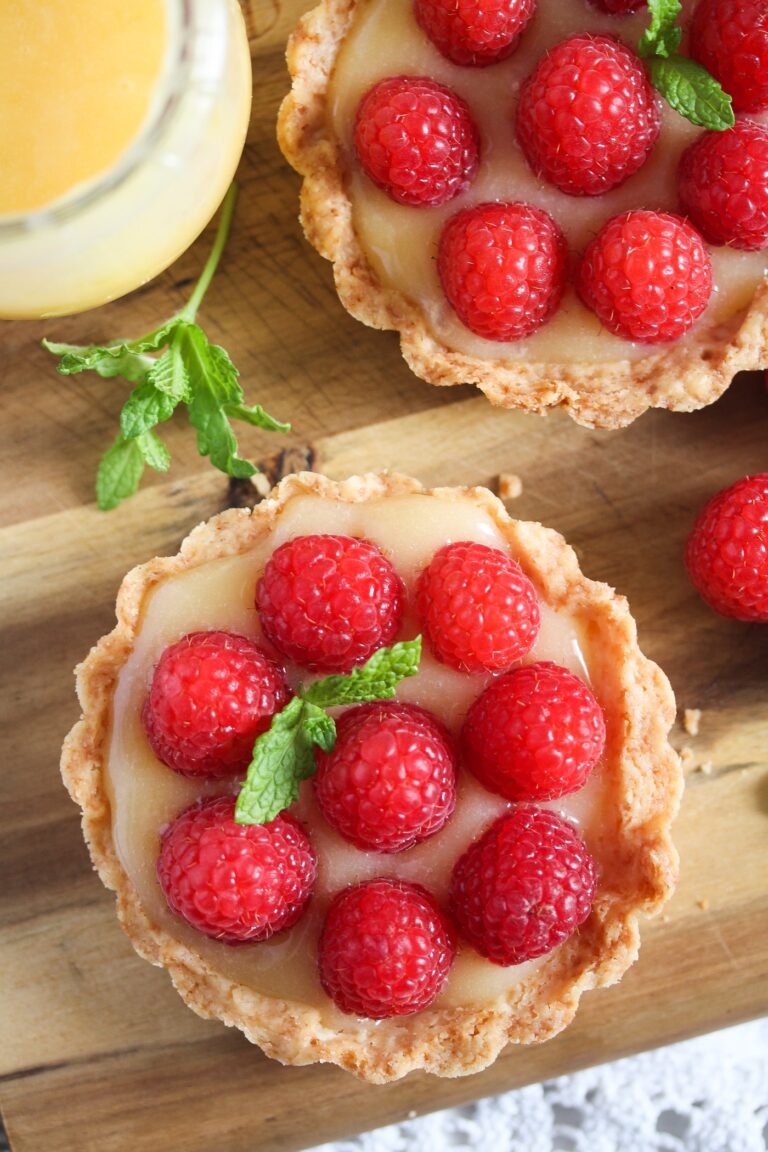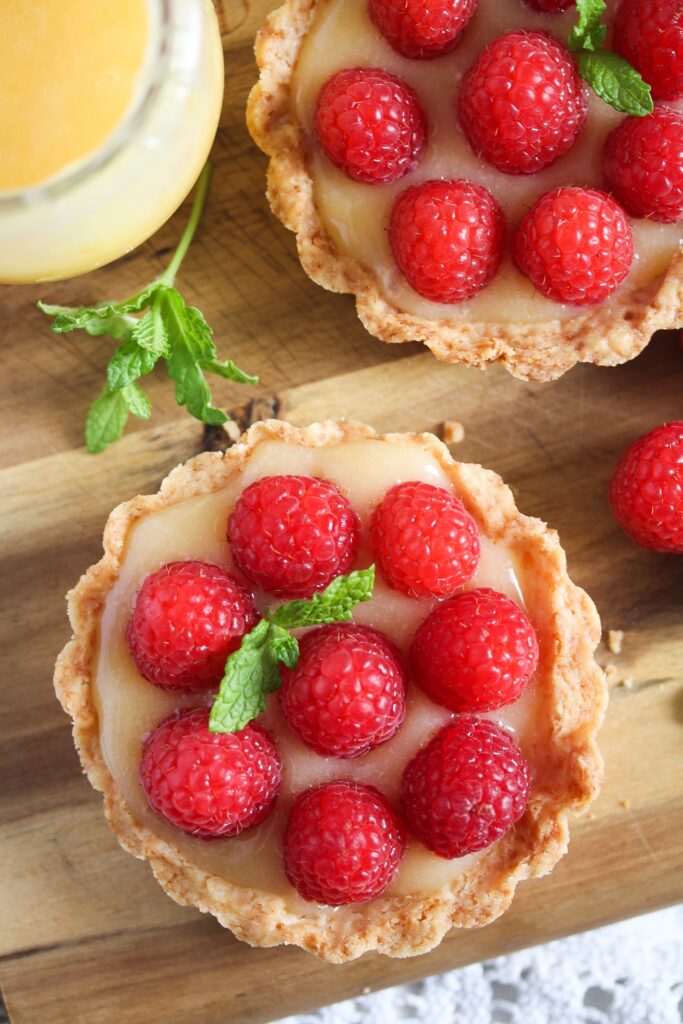 More lemon desserts:
Best Lemon Meringue Pie Recipe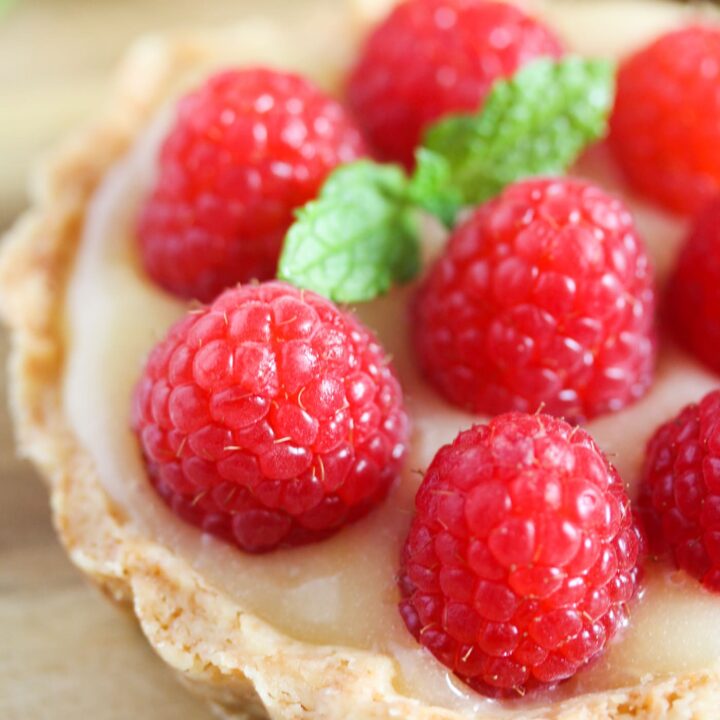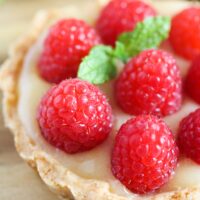 Lemon Curd Tartlets
Lemon curd tartlets: shortcrust pastry shells filled with lemon curd and topped with fresh raspberries, a beautiful dessert for guests.
Print
Pin
Share
Grow
Saved!
Rate
Ingredients
200

g/ 7 oz/ 1 ⅔ cup all-purpose flour

1

pinch

of salt

30

g/1 oz/ 2 ½ tablespoons granulated sugar

2-3

tablespoon

ice-cold water

100

g/ 3.5 oz/ ⅓ cup + 1 tablespoon cold unsalted butter

1

jar lemon curd

about 200 - 300 g/ 7 – 10.5 oz raspberries or other berries
Instructions
Wash the berries and let dry very very well on kitchen paper towels. Make sure they are completely dry when placing on the finished tartlets.

Brush your tartlets forms with some melted butter and place in the fridge.

Dough: Cut the butter into small pieces. Place the flour, salt, sugar, 2 tablespoons of ice-cold water, and butter in a food processor and mix until everything becomes crumbly. Empty the food processor on the table and knead the crumbs very quickly. If necessary, add another tablespoon of ice-cold water. Form a ball, wrap in plastic foil, and place in the fridge for half an hour.

Meanwhile, preheat your oven at 200 degrees Celsius/400 degrees Fahrenheit.

Roll out the dough and cut circles large enough to fill the tartlets forms, edges included, place in the forms. Pierce the dough all over with a fork.

Bake blind: Cut pieces of parchment paper a little bit larger than the forms. Place over the dough and fill in an even layer of dried beans. Bake for about 20 minutes. Remove the beans and the parchment paper. The edges should be golden brown; the bottom should be cooked through but not become too tough (it will still have a light color). If the base is undercooked, remove the beans and parchment paper and then bake the tartlets for another 3 to 5 minutes until very lightly golden.

Let cool in the forms for about 15 minutes, remove carefully and place on a wire rack to cool completely.

Fill: Stir the lemon curd with a spoon. Place a few spoonfuls on each tartlet, level, add some raspberries on top.

Garnish: You can garnish with whipped cream and tiny mint leaves if you like.
Notes
Always use a digital kitchen scale when baking, it yields the best result. Cup measuring is very imprecise.
I used 6 tart shell of 9 cm/ 3.5 inch and 2 of 12 cm/ 5 inches. The size of the forms is not very important, the baking time remained the same for both sizes.
You can also make the shells in a muffin tray and follow these instructions for making tart shells. Or you can bake one single large pie shell and fill it with lemon curd and raspberries.
Nutrition
Serving:
1
tartlet
|
Calories:
292
kcal
|
Carbohydrates:
38
g
|
Protein:
4
g
|
Fat:
14
g
|
Saturated Fat:
9
g
|
Polyunsaturated Fat:
5
g
|
Cholesterol:
60
mg
|
Sodium:
64
mg
|
Fiber:
3
g
|
Sugar:
16
g