Perfectly tender sweet rolls filled and topped with cinnamon sugar, try these cinnamon rolls while still warm with a cup of coffee. Heaven!
CINNAMON ROLLS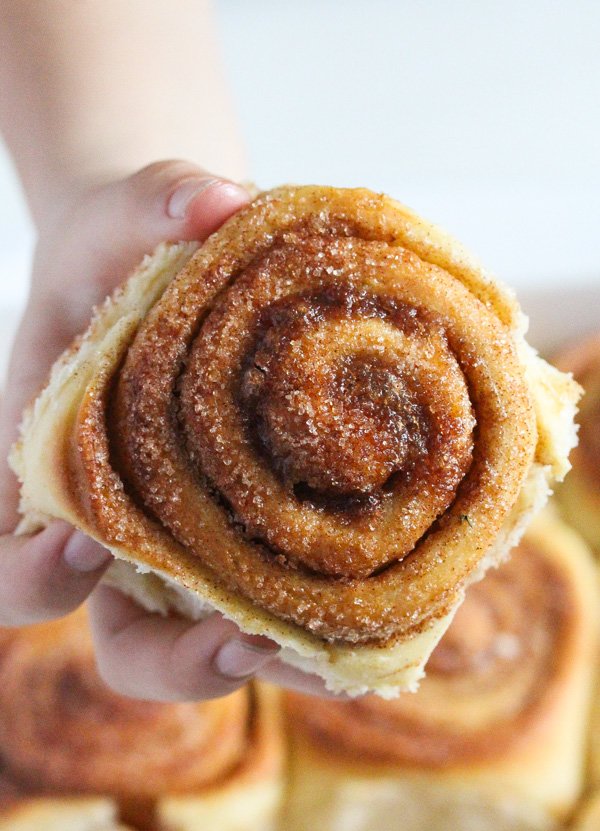 I love anything made with yeast. The comfort of the yeast good, the tenderness, the extra bonus when they are slightly sweet...
Yeast cake with nuts, Swedish cinnamon rolls, German yeast cakes with apples or plums... I do bake a lot with yeast...
Working with yeast is easy, much easier than people who never used yeast in baking think it is. The whole process of proofing the yeast, of kneading and of letting the dough rise might sound impressive, but it's really not.
Actually, if you've baked with yeast only once, you will realize that and you will end up doing it regularly.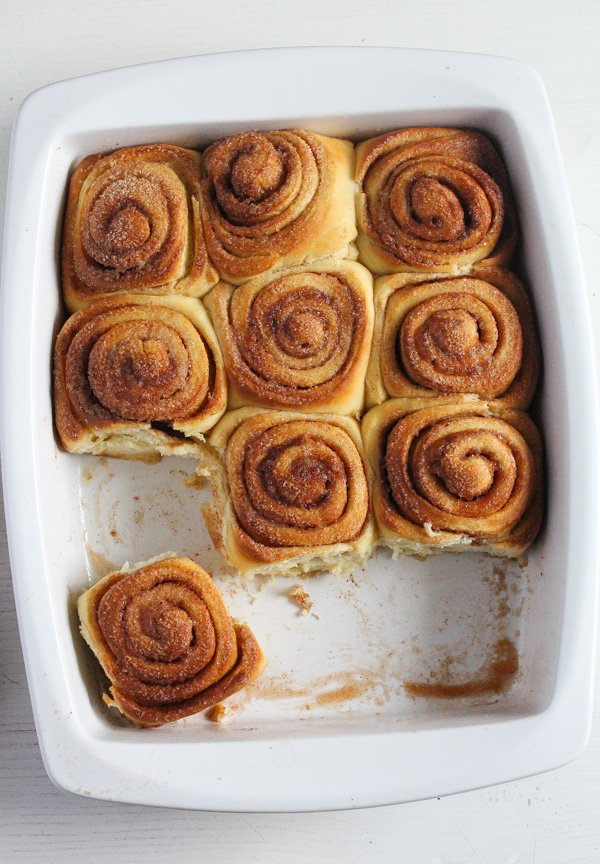 INGREDIENTS FOR SWEET ROLLS
Yeast:
There are two kinds of yeast: fresh and dry yeast.
And also there are two kinds of dry yeast: active dry yeast and instant yeast.
Fresh yeast:
This is the best kind of yeast you can use. Buying it in Germany is very easy, it is available in any supermarket and it costs 9 cents a cube. Fresh yeast bought at the baker's is even better.
A cube of fresh yeast weighs 42 g/ 1.48 oz in Germany and it is usually enough to bake a regular sized bread or to make the dough for a large yeast cake, for instance. However, always follow the quantities indicated by the recipe you are following.
For these sweet rolls you would need half a cube fresh yeast, so about 20 g/ 0.7 oz fresh yeast
But, fresh yeast is not easily available all over the world (I could never buy when I was living in the UK), so dry yeast is a good substitute.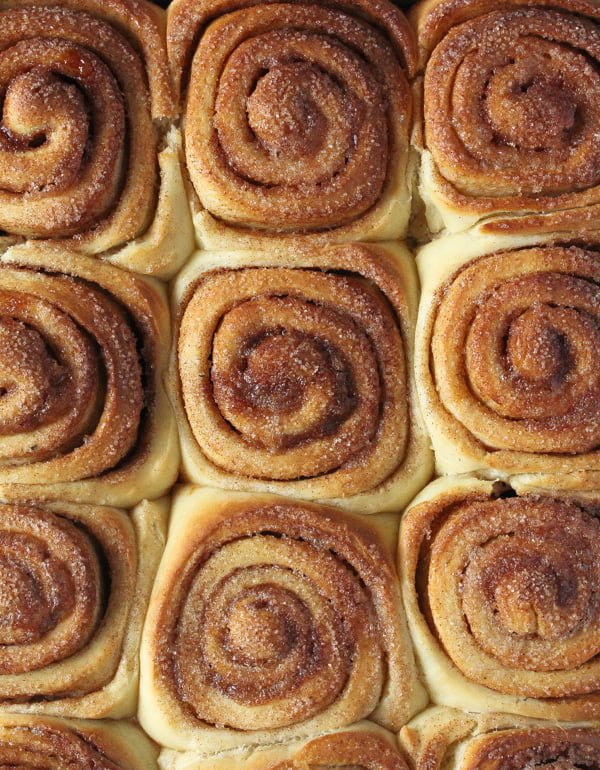 Active dry yeast:
It has larger granules and has to be dissolved in water before using.
Instant dry yeast:
The granules are finer and the yeast can be mixed with the dry ingredients before adding the milk (or water).
Both types of dry yeast are usually sold in small packages and, at least in Germany, one package is the equivalent of ½ cube fresh yeast. One package of dry yeast weighs 7 g/ 0.24 oz in Germany.
To make the sweet rolls with cinnamon with dry yeast, you will need 1 package active dry yeast or instant yeast.
For the yeast dough you will also need:
Sugar
Milk
All-purpose flour
Salt – never leave it out when making yeast dough, it doesn't only add flavor, but it helps the gluten develop and makes the dough robuster, the baked goods will hold their shape better. That is what the baker where I buy our bread told me.
Vegetable oil – neutral tasting oil.
Filling:
Unsalted butter
Brown sugar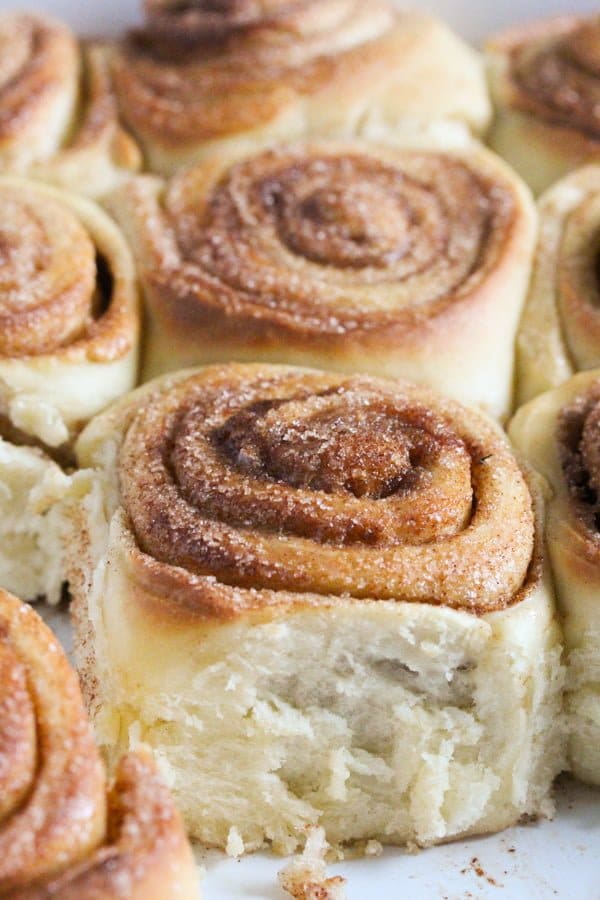 TIPS FOR MAKING YEAST DOUGH
Always use a digital kitchen scale for measuring the ingredients, cup measuring is super imprecise. Too much flour will make the sweet rolls with cinnamon dense and dry, but too little flour will make them spread in the oven instead of rising nicely.
The water needed to proof the yeast should be lukewarm, it should have body temperature, if the water is too hot it will kill the yeast.
Adding sugar helps the yeast to bubble, but salt can kill the yeast. Only add salt later, when you add the larger amount of flour.
Don't leave out the salt, it helps with the development of gluten and helps the baked goods keep their shape. It also enhances the flavor and the color.
A warm kitchen is always best when you are letting the yeast dough rise. If your kitchen is not warm enough, place the bowl with the dough in the oven and turn on the oven light. Only the oven light and not the oven itself. That will help with the rising of the dough as well.
Another method (just in case your oven doesn't have a light) is to place the bowl with the dough in the cold oven. Fill another small bowl with hot water and place it on the bottom of the oven. Close the door and let the dough rise.
The dough will have to rise twice. A long rise in the bowl, in this case about 2 hours or until the dough has doubled in size. A second, shorter rise after you have formed the sweet rolls and placed them into the baking dish. This second rise will help redistribute the yeast and make the baked goods rise more evenly and have a better flavor.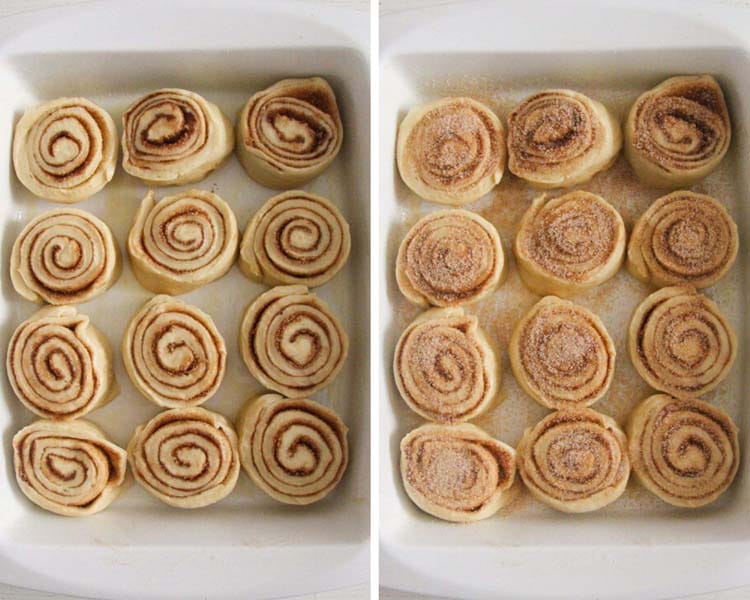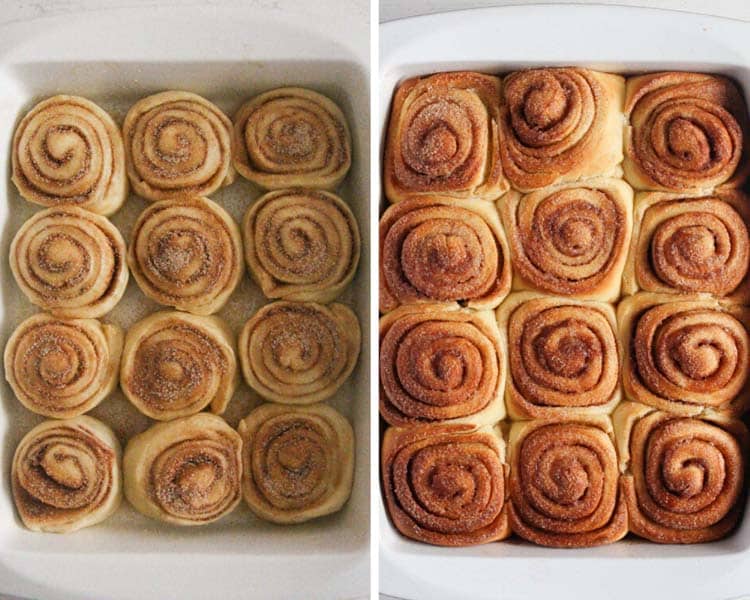 MORE YEAST RECIPES?
Pull-Apart Yeast Cake – this is one of my favorite yeast cakes: soft, comforting and covered in nuts.
German Plum Cake – Zwetschgenkuchen – a famous German cake, which you can buy in any bakery in autumn. A sweet yeast dough covered with lots of juicy plums.
Kanelbullar – the Swedish version of a cinnamon roll, slightly different than today's sweet rolls, but just as delicious.
Sweet Cheese Pies – traditional Romanian sweet rolls filled with cottage cheese and raisins, you will not be able to stop eating them.
Moldavian yeast pastries – another favorite Romanian recipe for sweet rolls, they are shaped like an 8, brushed with honey and sprinkled with ground walnuts. They are addictive!
PIN IT FOR LATER!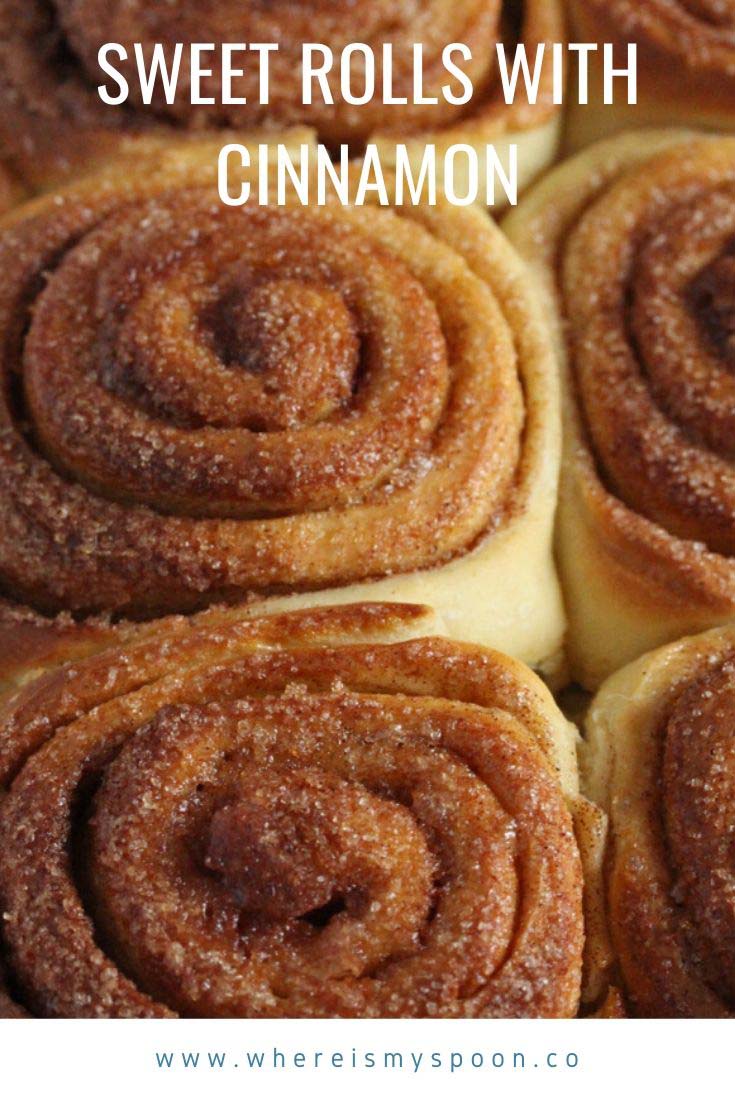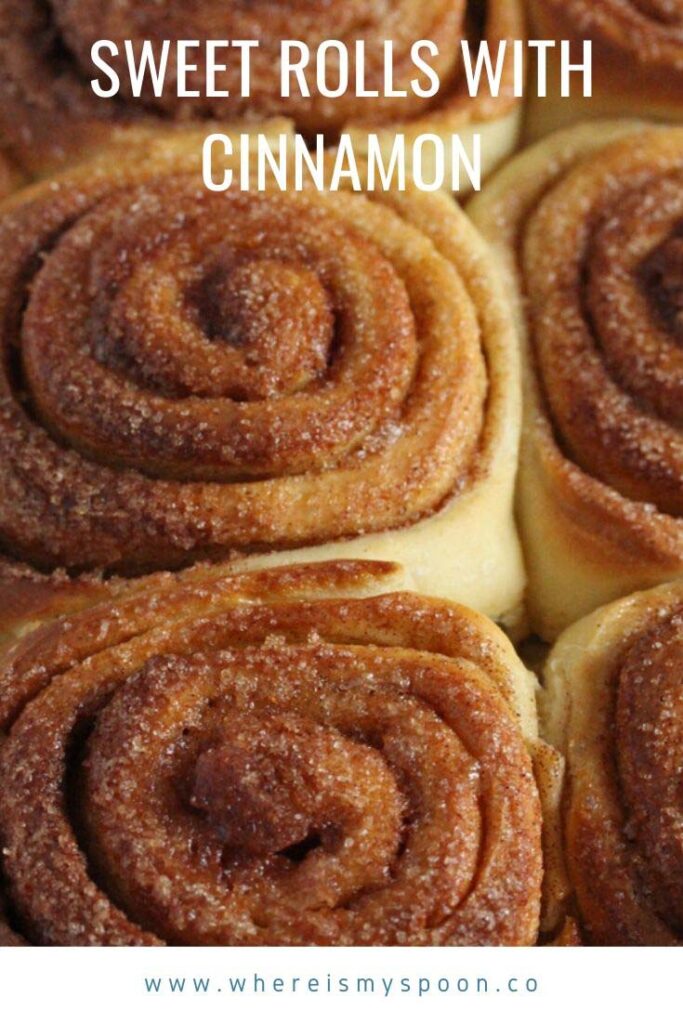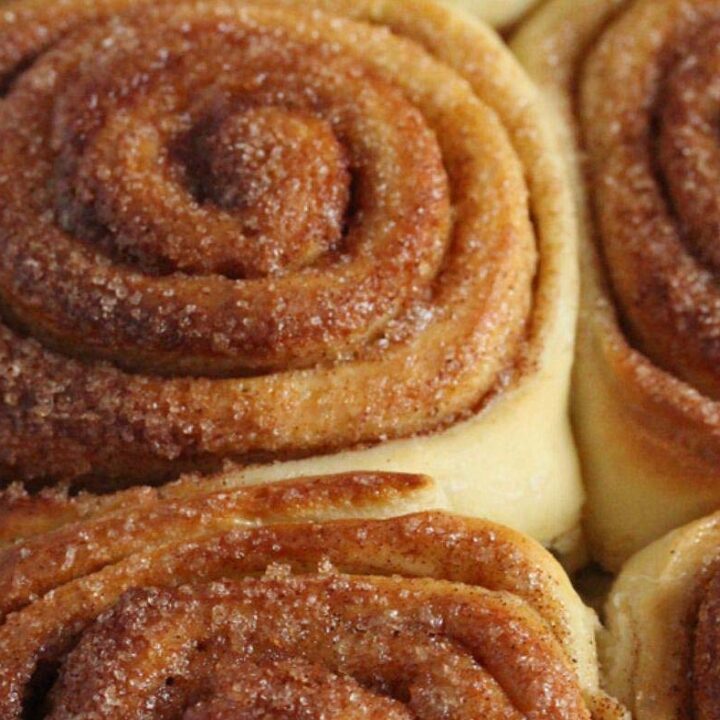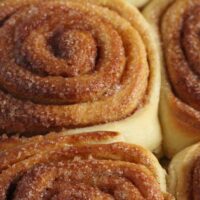 Sweet Rolls with Cinnamon Sugar
Perfectly tender sweet rolls filled and topped with cinnamon sugar, try these cinnamon rolls while still warm with a cup of coffee.
Print
Pin
Share
Grow
Saved!
Rate
Ingredients
Yeast dough:

100

ml

lukewarm water

3.4 fl.oz/ scant ½ cup

2 ¼

teaspoons

active dry yeast

(1 package 7 g/ 0.25 oz)

70

g

granulated sugar

2.5 oz/ ⅓ cup

200

ml

milk

6.7 fl.oz/ ¾ cup + 2 tablespoons

700

g

all-purpose flour

divided, 1 ½ lbs/ 5 ¾ cups

½

teaspoon

fine sea salt

2

eggs

70

ml

vegetable oil

2.4 fl.oz/ ⅓ cup

Filling:

80

g

unsalted butter

3 oz/ ⅓ cup

135

g

brown sugar

4.7 oz/ ¾ cup

2

teaspoons

cinnamon
Instructions
Yeast dough:
Proof yeast: Place the lukewarm water, yeast, and sugar in the bowl of the stand mixer fitted with a dough hook. Stir and let the yeast proof for about 10 minutes; the mixture should become bubbly.

Combine: Add the milk and about ⅓ of the flour. Stir with a spoon. Let rest for 5 minutes. Add the remaining flour, salt, eggs, and oil.

Knead with the dough hook on low speed until the dough is smooth and elastic.

Let rise: Cover the bowl with a clean kitchen cloth and let the dough rise in a warm place for about 2 hours; it should double in size.
Filling:
Melt the butter in a small pan. Use a small amount of melted butter to brush a large baking dish of about 30x20 cm/ 12x8 inches.

Cinnamon sugar: In a small bowl, mix the brown sugar and the cinnamon.

Roll the dough to a rectangle of about 40x50 cm/ 16x20 inches on a floured surface. Brush the surface of the dough rectangle with the melted butter. Sprinkle it evenly with ¾ of the sugar-cinnamon mixture.

Cut rolls: Roll the dough starting at one of the shorter ends. Cut the dough into 12 thick slices of about 3.5 cm/ 1.5 inches each. Place the sweet rolls in the prepared baking dish. Sprinkle with the remaining cinnamon sugar.

Let rise: Cover with the cloth and let rise in a warm place for about 20 minutes.

Bake: In the meantime, preheat the oven to 200 degrees Celsius/ 400 degrees Fahrenheit. Bake the cinnamon rolls for about 20 minutes until golden and cooked through. Serve preferably warm.
Nutrition
Serving:
1
sweet roll
|
Calories:
396
kcal
|
Carbohydrates:
63
g
|
Protein:
8
g
|
Fat:
13
g
|
Saturated Fat:
4
g
|
Polyunsaturated Fat:
7
g
|
Cholesterol:
47
mg
|
Sodium:
114
mg
|
Fiber:
2
g
|
Sugar:
17
g