Typical Romanian spinach soup with eggs and garlic. Have you ever had soup topped with a fluffy omelet?
Omelet Soup with Spinach
Spinach soup with eggs or, better said, with a fluffy dill omelet on top. Easy, healthy and so full of flavor. One of the best ways of enjoying fresh spinach.
This omelet soup used to be one of my favorite spring dishes as a teenager, but we would only have it once or twice every spring when the fresh spinach and dill were plentiful at the market.
The recipe is just delicious: the comforting spinach taste is there, uplifted a bit by the use of fresh lemon juice, the bacon gives it even more of a hearty flavor, the dill and the garlic ensure that you have enough aroma and the fluffy omelet on top makes everything even more interesting. One slice of bread on the side will make spinach soup a complete meal.
And should you want to try another seasonal Romanian soup served with an omelet, try this amazing rhubarb soup.
Ingredients
Spinach:
I used four large bunches of fresh spinach.
I weighed the spinach after removing the stalks and I had about 800 g/ 28 oz spinach left.
You could replace the fresh spinach with about 400 g/ 14 oz frozen spinach, but in this case, I must say that fresh spinach is the better choice.
If you use frozen spinach, choose a variety where the spinach leaves are left whole or are only roughly chopped.
Vegetables:
Carrots and celeriac.
If you cannot find celeriac, don't replace it with celery sticks, they don't really fit here. Use more carrots instead.
Bacon:
The bacon cubes make the soup nice and hearty, but if you want to keep this recipe vegetarian, you can definitely leave out the bacon.
Dill:
It is best to use fresh dill.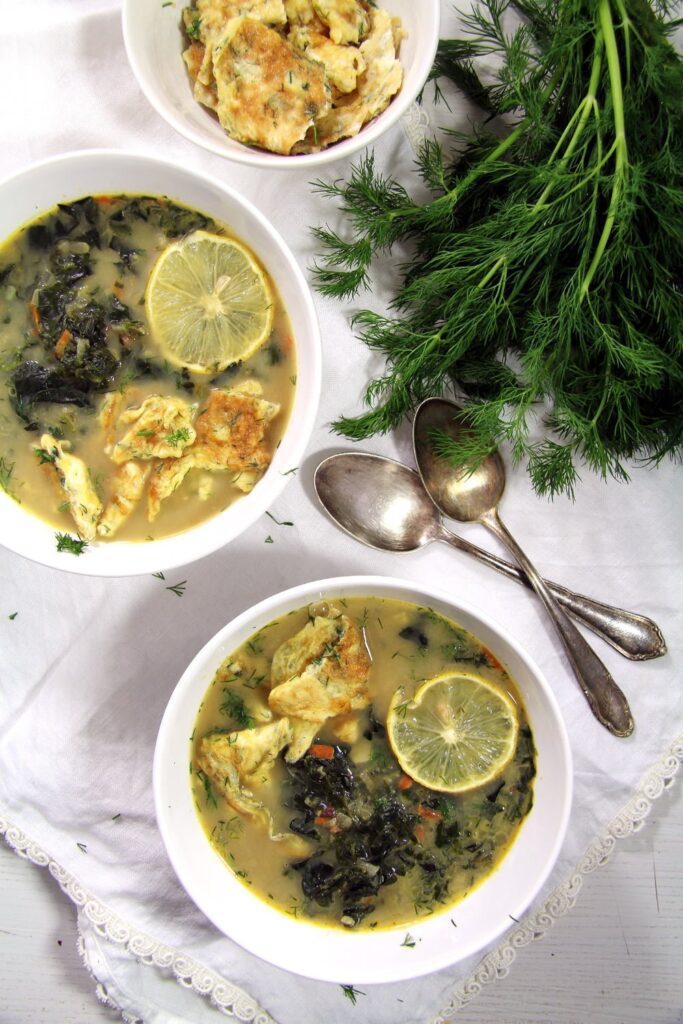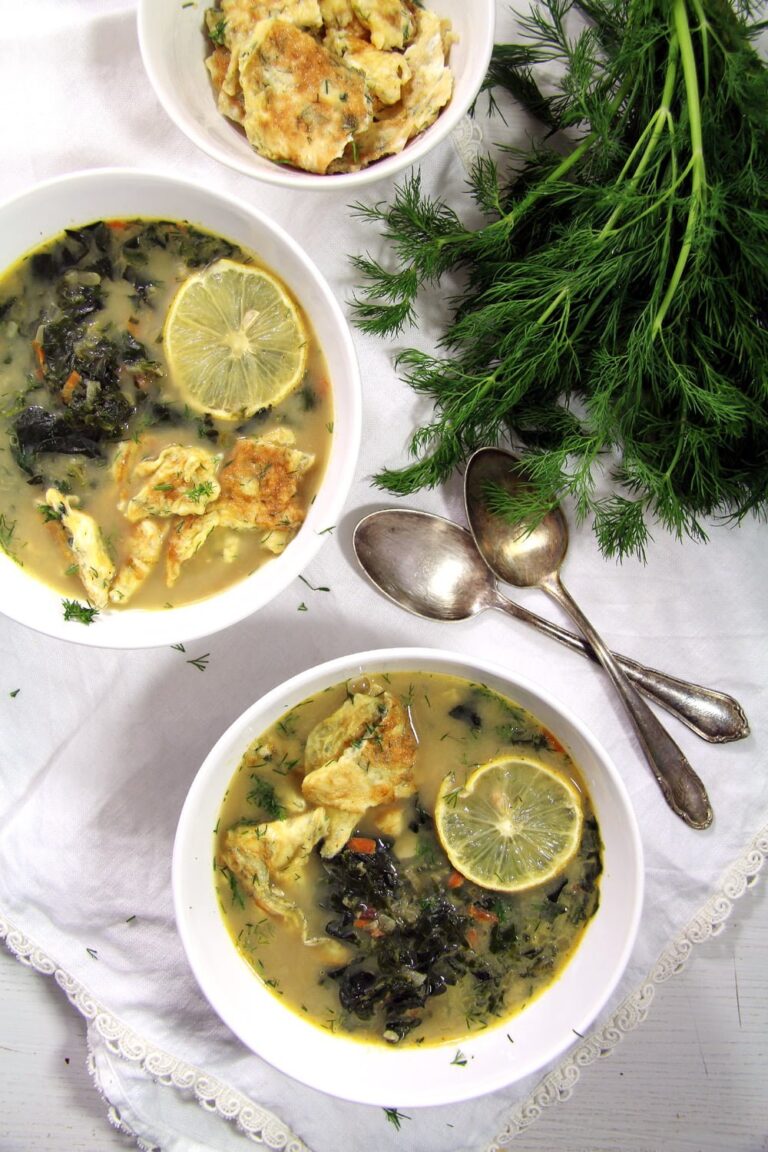 Tips making spinach soup
Use mature spinach with larger, firmer leaves. Baby spinach is not suitable for making this soup with eggs.
Don't replace celeriac with celery sticks, they would remain rather crunchy and present, while celery root is soft and more fitting here. If you cannot find it, use more carrots.
You will have to temper the egg yolk-flour-cream mixture before you add it to the soup, otherwise, the egg yolk will scramble.
To temper, slowly add one ladleful liquid from the hot soup, while whisking continuously.
Slowly pour this mixture into the pot, but don't let it come to a boil anymore.
Take care not to overcook the omelet, it should be soft and fluffy and not dry. I usually remove the pan from the heat shortly before the omelet is almost done, the residual heat from the pan will help it cook without letting it becoming too dry.
More Romanian soups?
Romanian Meatball Soup – Ciorba de perisoare – Hearty and comforting, and traditional, this is one of the most popular soups in Romania.
Vegetable Meatball Soup – This is one of my favorites!
Creamy Carrot Soup with Milk – My favorite creamy carrot soup made with milk, only a few ingredients, but so much flavor.
Romanian White Bean Soup – With tender spare ribs pieces, vegetables, and tarragon.
Semolina Dumpling Chicken Soup – The most cooked Romanian soup.
Pin it for later!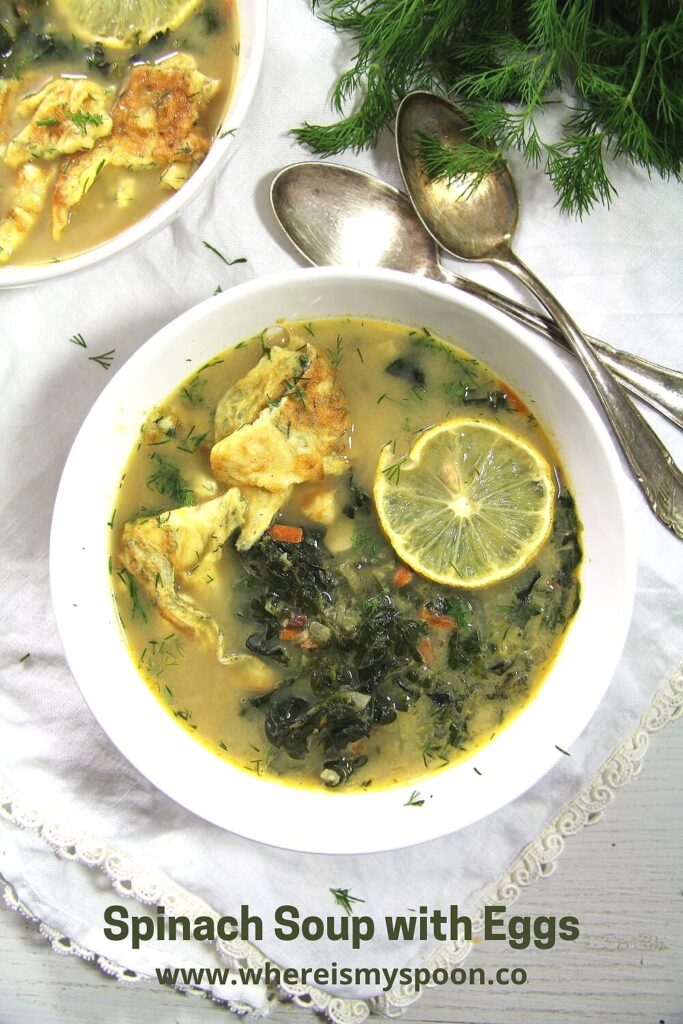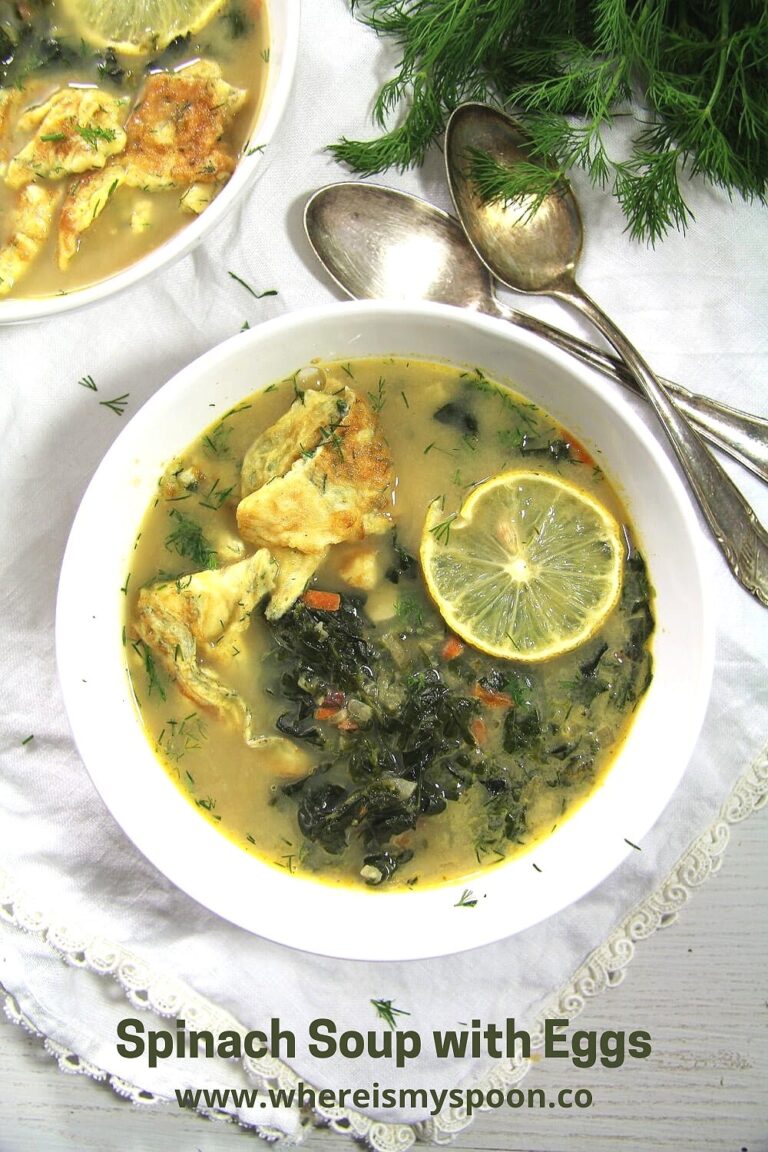 Romanian Spinach Soup with Eggs
Typical Romanian spinach soup with egg and garlic. Have you ever had soup topped with fluffy omelet?
Ingredients
1 kg/ 2.2 lbs fresh spinach (See note)
1 tablespoon olive oil
1 medium onion
75 g/ 2.6 oz bacon cubes
1 small carrot
1 small piece of celeriac, about 50 g/ 1.7 oz
½ teaspoon sweet paprika
1,5 liter/ 51 fl.oz/ 6 cups vegetable broth or chicken stock
3 large garlic cloves
50 ml/ 1.7 fl.oz/ ¼ cup heavy cream
1 heaped teaspoon all-purpose flour
2-3 tablespoons fresh lemon juice, to taste
1 handful dill
fine sea salt and pepper
4 eggs
1 teaspoon butter
Instructions
Soup:
Clean the fresh spinach, remove the stalks and chop the spinach roughly. You should have approximately 800 g/ 28 oz spinach left.
Heat the oil in a large pot. Add the finely chopped onion and the bacon cubes and cook for a couple of minutes or until the onions are translucent.
In the meantime roughly grate the carrots and the celeriac. Add both to the pot and stir for a couple of minutes more.
Add the wet spinach (or the frozen and thawed one) and stir for a few minutes until the spinach is wilted.
Add the paprika powder, stir a few times, then add the vegetable broth or chicken stock. Cover and cook gently for about 10 minutes. Add the thinly sliced garlic cloves and cook for 5 minutes more.
In the meantime, separate only one egg. Set the egg white aside and use it for the omelet.
In a small bowl, whisk together the egg yolk, cream, and flour. Add about one ladleful of soup to the mixture while whisking all the time. Take the soup off the heat and pour this mixture into the soup pot while whisking continuously. Do not let the soup cook anymore.
Adjust the taste with lemon juice, salt, and pepper. Stir about half of the chopped dill into the soup.


Omelet:
Whisk the remaining 3 eggs and the leftover egg white together. Add salt and pepper and the rest of the dill.
Melt the butter in a medium nonstick pan, pour in the eggs and cook the omelet.
Break the omelet into pieces and top the soup with it.
Serve immediately with bread.
Notes
If you use frozen spinach, choose a variety where the spinach leaves are left whole or are only roughly chopped. You will need about 400 g/ 14 oz frozen spinach, a bit more or less is fine.
Nutrition Information:
Yield:

4
Serving Size:

1/4 of the soup and omelet
Amount Per Serving:
Calories:

469
Total Fat:

26g
Saturated Fat:

9g
Trans Fat:

0g
Unsaturated Fat:

15g
Cholesterol:

233mg
Sodium:

1436mg
Carbohydrates:

31g
Fiber:

7g
Sugar:

10g
Protein:

31g
Nutrition information isn't always accurate.