Typical Romanian Spinach Soup with fresh spinach and garlic and topped with a deliciously fluffy dill omelet.
I hope you had a nice Easter. We definitely had, only the weather was not exactly what one could wish for when having so many days free and a couple of kids in the house. We would have loved to go for some longs walks around the fields and the woods around here, but… the weather was more suitable for Christmas than for Easter. In fact, it is snowing here right now… We woke up this morning and had a shock when looking out of the window and seeing the field covered in snow…
So, no wonder, I feel a bit ridiculous with starting a new Spinach series today! I mean spinach is all about spring for me, but like I've said, judging by the weather it could be the 18th of December today and not the 18th of April. However, let us hope that this is only a very very short intermezzo and that things will go back to normal soon. And until then, make some plans for some spring meals including spinach.
Spinach is another one of those vegetables many kids, mine included, have difficulties with accepting. I suppose is the bright green color that sends danger signals to their brains… no idea, I did not have that problem with spinach as a kid. I used to and still like spinach very much, but I have not cooked it much during the last couple of years, I am afraid, mostly because I just wanted to avoid some scenes at the table. My mistake, I should have done it more often, just avoiding one vegetable for a longer period of time, will not make things better, quite the opposite.
So, when starting cooking for this Spinach series I was a bit apprehensive, I feared stress and complaints and I have to say I wasn't "disappointed" when serving the first dish from this series, this Romanian Spinach Soup. The first thing I heard was "Spinach!!!! I am not eating that!" I was already on the edge, so I was glad that my husband was there and he, as a big spinach lover suffering under the lack of spinach during the last years, told them clearly that they will either try the soup or go to bed on an empty stomach. So they did try it, grudgingly, and thank God, they liked it. They ended up eating everything in their bowl and my daughter even asked for more. 🙂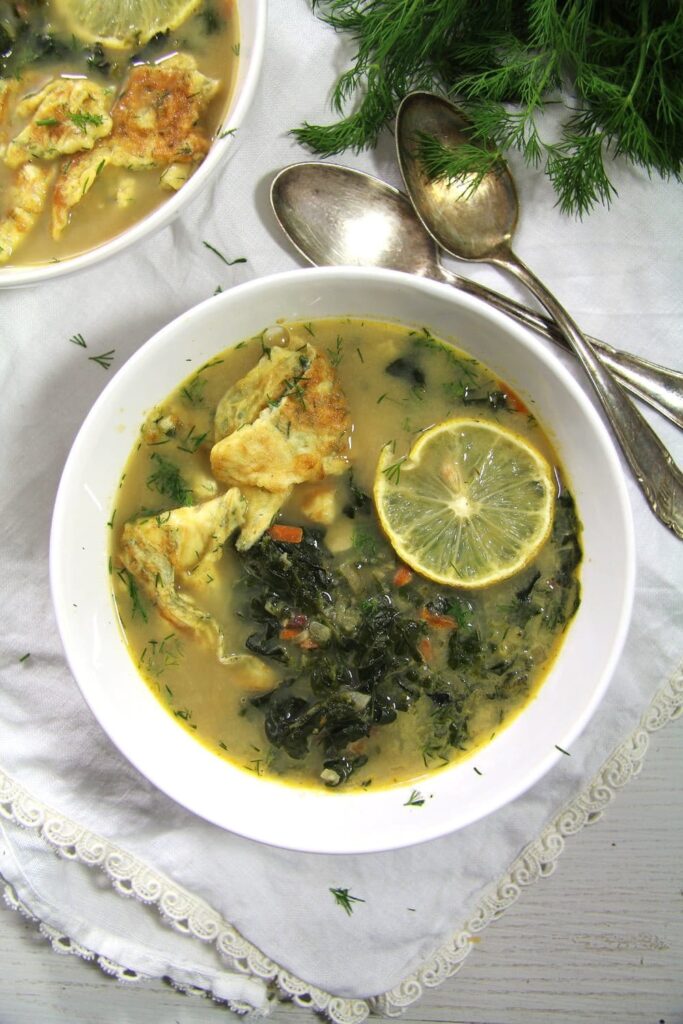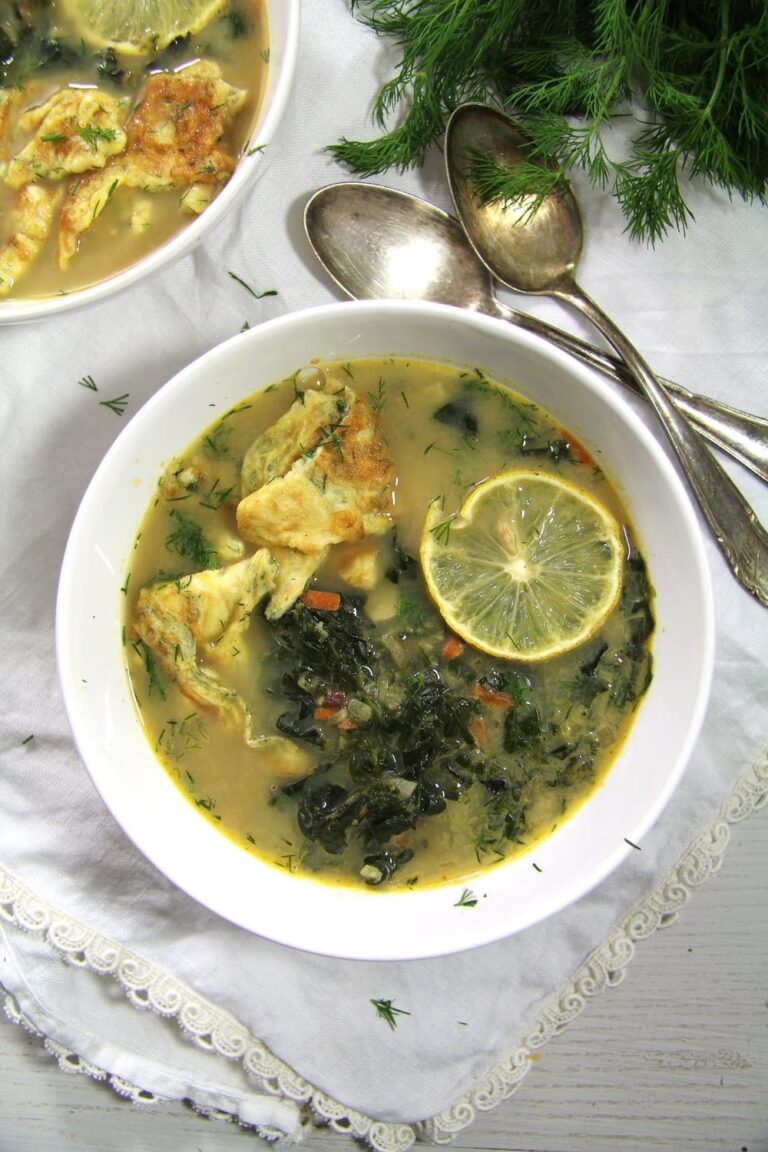 During this last month I must have cooked more spinach dishes than during the past couple of years put together and the spinach acceptance got better every time. My son can still be heard complaining from time to time "Ahh! Spinach again!", but still he eats. I suppose he complains out of habit, he has to save face probably. My daughter doesn't complain at all anymore (mind you, I only speak about spinach right now) and she eats every last leaf of spinach I put on her plate.
And what can I tell you about this wonderful Romanian Spinach Soup? First of all it used to be one of my favorite spring dishes as a teenager, we would only have it in spring when the fresh spinach and dill were plentiful at the market. Nowadays, you could make it all the time, frozen spinach would work just as well. The soup is just delicious: the comforting spinach taste is there, uplifted a bit by the use of fresh lemon juice, the bacon gives the soup even more of a hearty flavor, the dill and the garlic ensure that you have enough aroma and the fluffy omelet on top takes everything to a new level. One slice of bread on the side will make this a complete meal.
I used four large bunches of fresh spinach for this Romanian Spinach Soup. I weighed the spinach after removing the stalks and I had about 800 g/ 28 oz spinach left. You could replace the fresh spinach with about 400 g/ 14 oz frozen spinach. If you choose frozen spinach, choose a variety where the spinach leaves are left whole or are only roughly chopped. And if you want to make it vegetarian, simply leave out the bacon.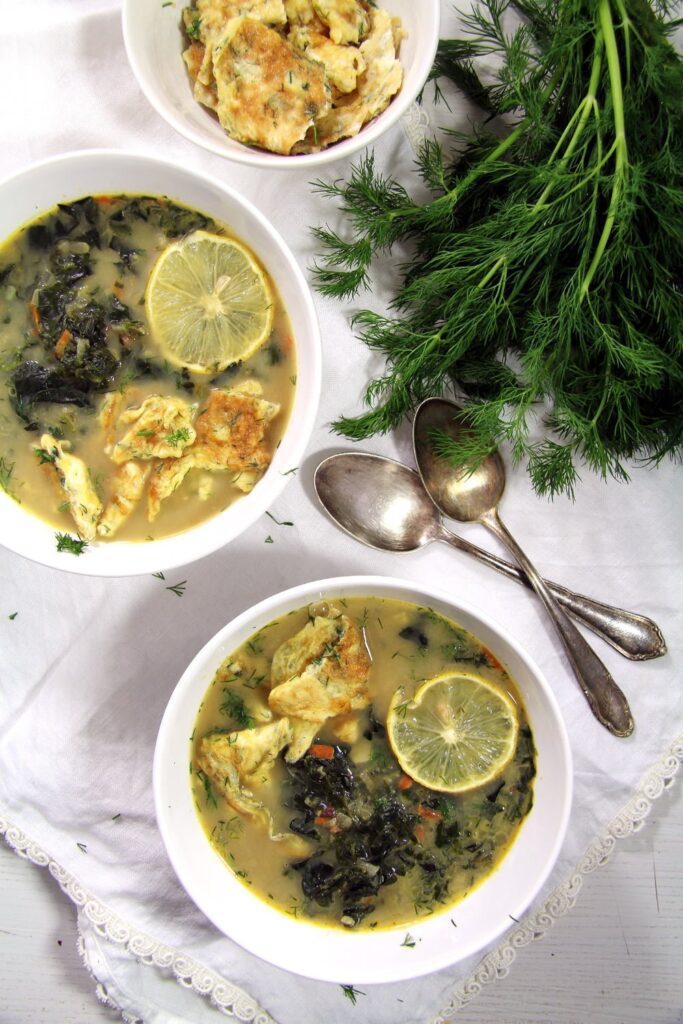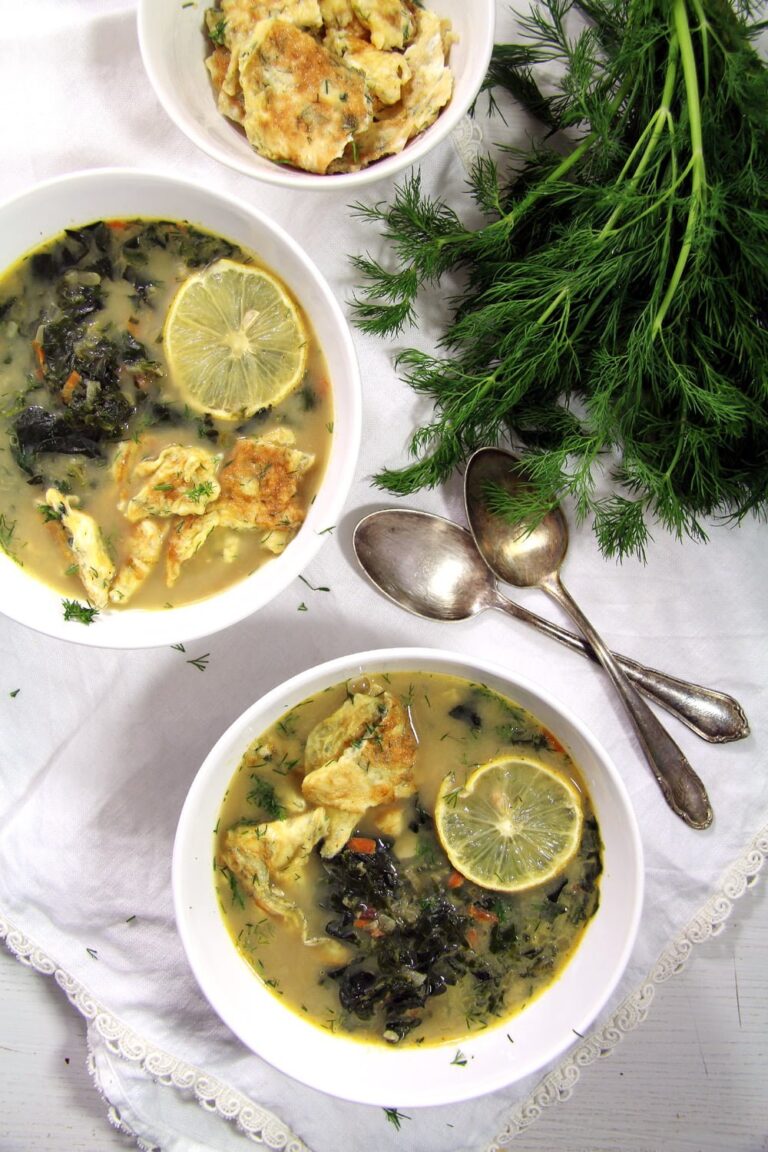 This post contains affiliate links. The price you pay as a consumer does not change, but if you make a purchase we will receive a commission which helps support the blog.
You might also like: