Spicy roast chickpea beetroot salad with served on yogurt, a delightful Middle East inspired vegetarian meal.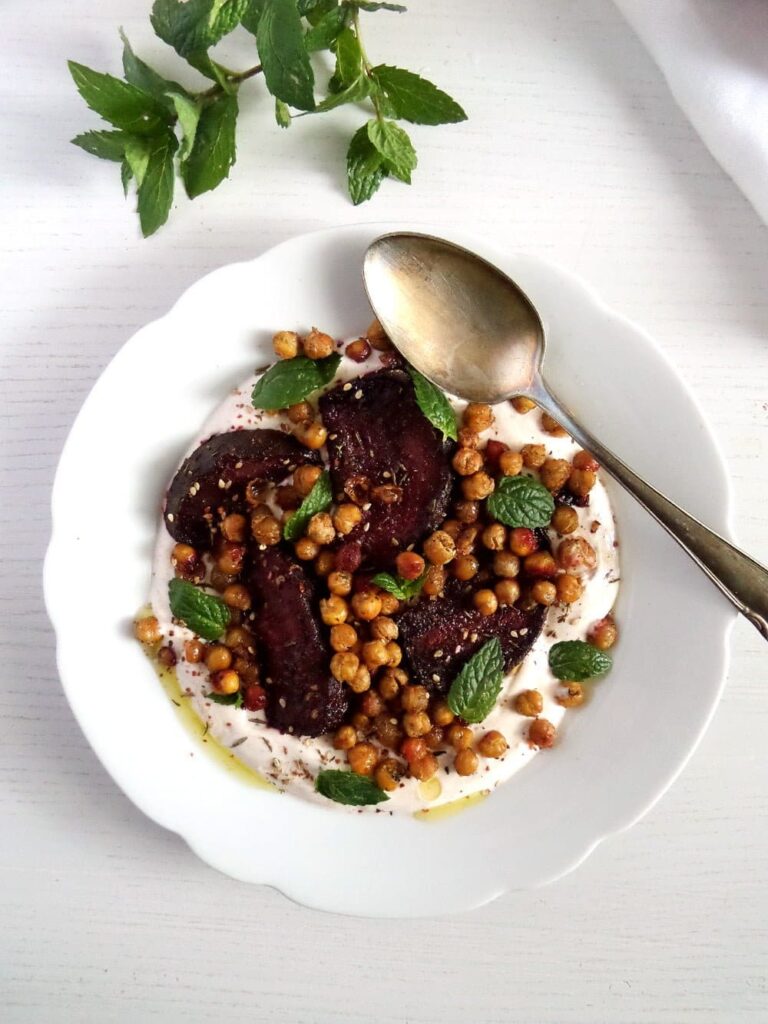 This chickpea beetroot salad is such a delight! I am not even sure if I can call it a salad as it doesn't include any green, leafy vegetables and that is what I normally associate with salad.
But as I cannot call it a dip or an appetizer either, I go for salad. It is a meal in itself, you will only need some good crusty bread on the side and you will be totally satisfied. A healthy, filling and incredibly aromatic meal for lunch or dinner.
But you could also have this roast beet salad with yogurt and crispy chickpeas as an appetizer at a fancier dinner party or as a snack with crispbread while watching TV, for instance.
I found the recipe in my absolute favorite food magazine Good Food. I started reading this magazine while living in London before the birth of my son and I just loved it from the very first moment.
I changed the recipe a bit, I am seldom capable of following a recipe to the letter. And I loved it. Nothing for the children, but I knew that from the start, so there was no disappointment there.
Sweet and earthy chickpea beetroot salad on a bed of creamy, hot and tangy yogurt and topped with super-crunchy and unbelievably tasty roasted chickpeas. Heaven!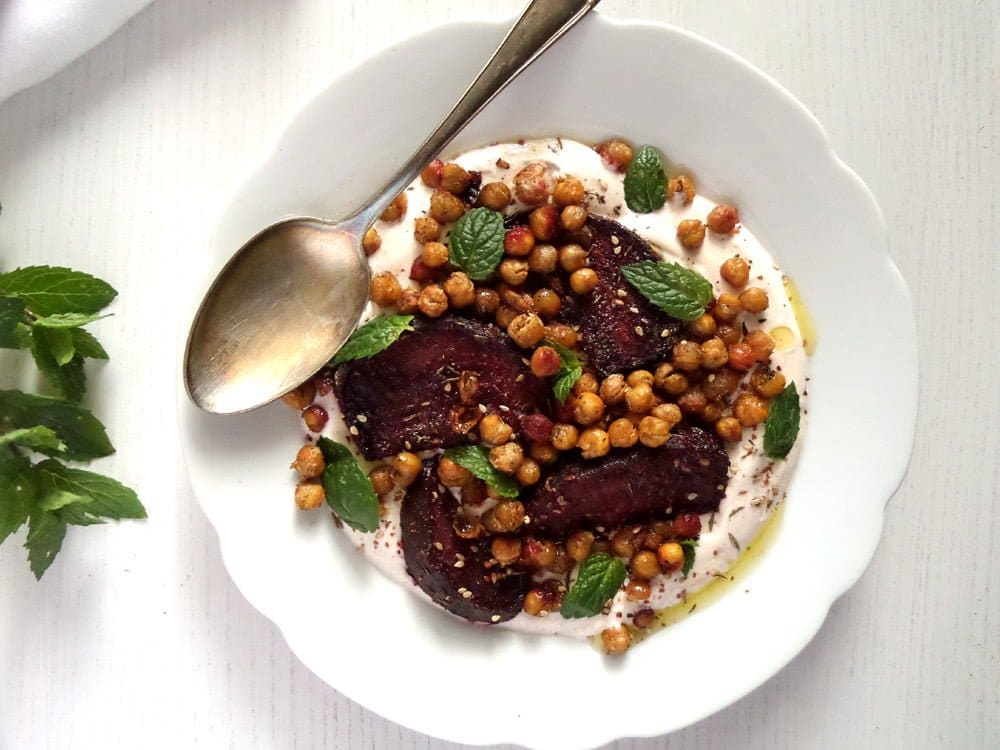 What do you need?
Beetroot:
Beetroots or beets are super healthy root vegetables packed with vitamins and minerals.
You will need 2 medium fresh beets for the salad. Mine were slightly smaller than my fist, but if yours are slightly smaller or larger, it will not matter.
Chickpeas:
A can of cooked chickpeas will be fine, but if you can cook the chickpeas yourself if you wish.
In this case, soak the chickpeas in plenty of water for at least 12 hours and cook them in fresh water until soft.
Most packages of dry chickpeas will instruct to cook the chickpeas for only one hour, but in my experience, chickpeas always need longer than that. Keep checking and cooking until the chickpeas are soft but not mushy.
Yogurt:
I used lower fat Greek yogurt (about 3% fat), but full-fat would be fine as well.
Sumac:
Sumac is a spice extensively used in Middle Eastern cooking. (Amazon affiliate link)
It is made by crushing the dried fruits of the sumac bush, has a bright red color and a tart taste.
It is great sprinkled over hummus or tabouleh, you can add it to salad dressings, roasted vegetables, you can use it to rub chicken or other meats before grilling or roasting.
You can substitute sumac with some lemon zest mixed with a little salt.
Harissa paste:
Harissa is a hot and aromatic chili paste used in North African (Tunisian) and Middle Eastern cooking. (Amazon affiliate link)
There are many versions of harissa, but they all contain more or fewer chilies, garlic, and spices like coriander, cumin, caraway, and some tomato paste.
It can be used (in rather small quantities) to add heat and flavor to rice or couscous dishes, soups, stews, salad dressings, and so on.
You will also need:
Sesame seeds (all Amazon affiliate links)
Lemon zest and juice
The spice mixture will be more than you need for this roast beetroot salad. You could make only half of it if you wish, but I wouldn't recommend it.
Make the whole batch and use the rest over the next weeks, either stirred into yogurt or in salad dressings or sprinkled on top of vegetables or soup or whatever you fancy. It tastes just great.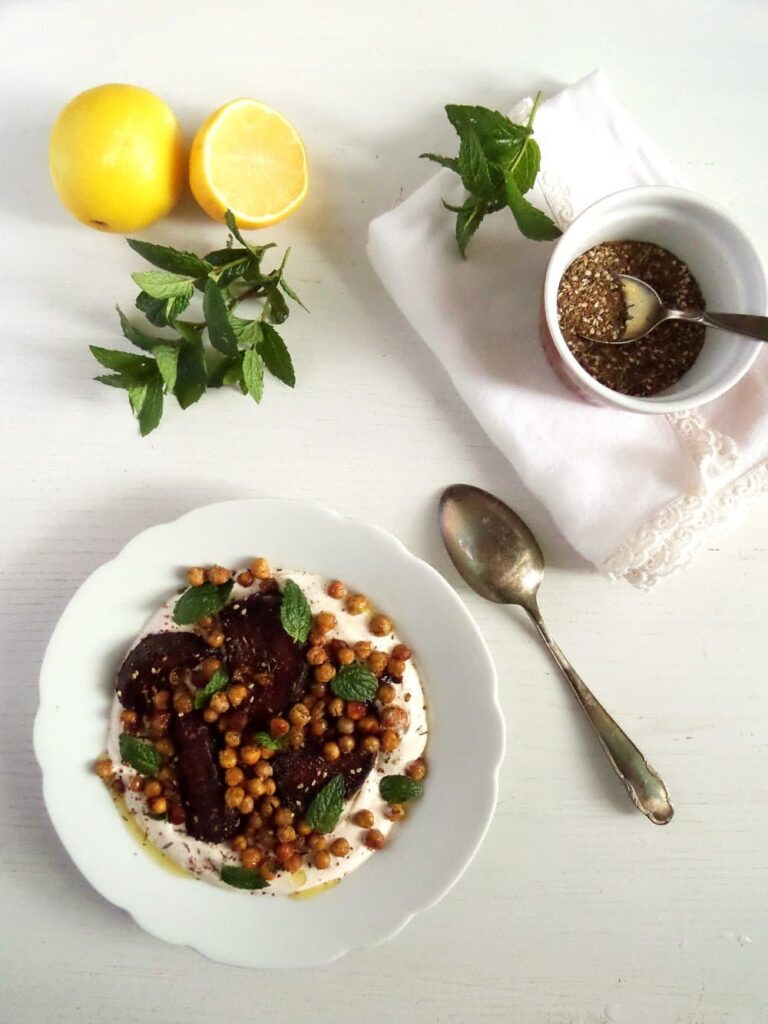 How to roast beets?
Clean them very thoroughly, they can be full of dirt sometimes. I normally scrub them with a small brush under running water. Dry well with a kitchen towel.
Cut them into wedges and place them on a baking tray.
Mix with the drained chickpeas, oil, and spices and bake until the chickpeas are crisp and the beetroot wedges softer.
The beet should not be totally tender, in this case, it's nice if they are still slightly crisp.
More beetroot recipes
Raw Beetroot and Feta Salad – a healthy raw beetroot and feta salad with apples, a crisp and delicious autumn or winter beet salad with a simple vinaigrette.
Salade Russe – Russian potato salad with beets, a very popular Eastern European salad, also known as Olivier Salad.
Beetroot Crepes – pink beetroot crepes with a savory filling made with cream cheese and herbs.
PIN IT FOR LATER!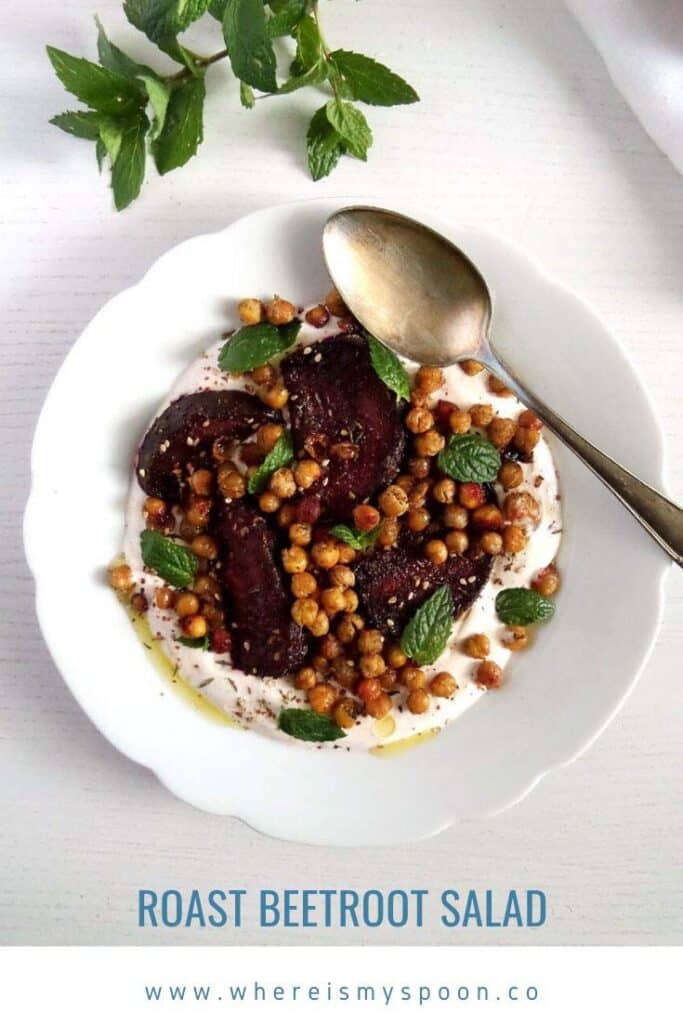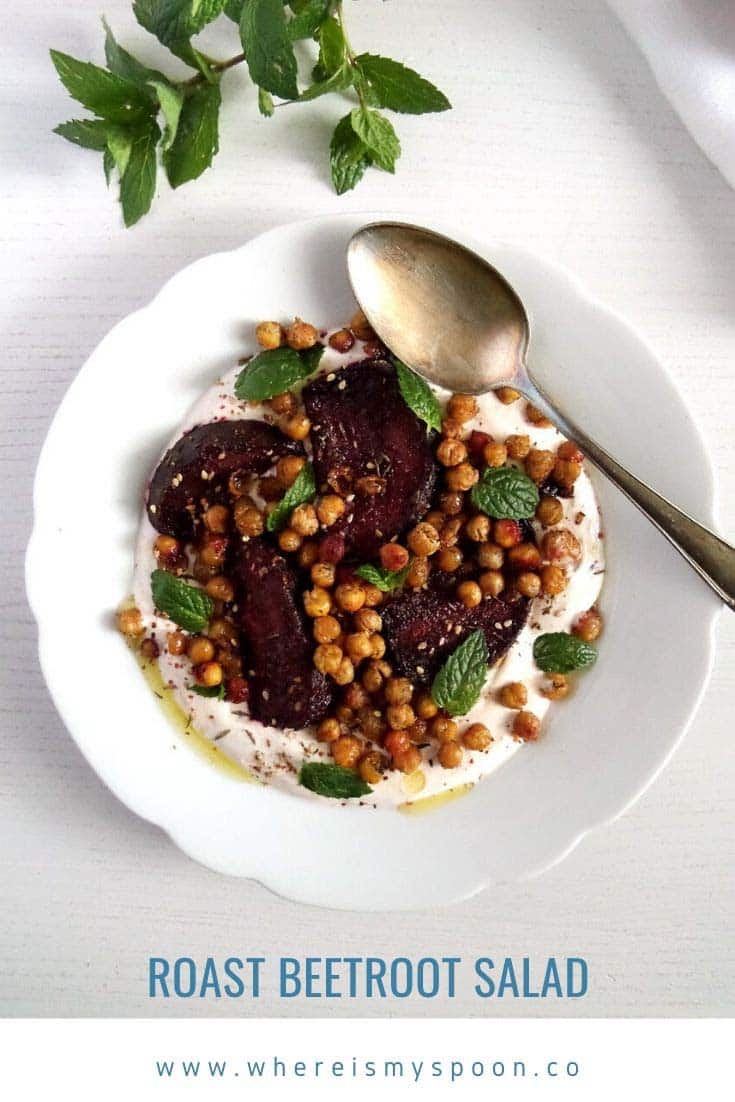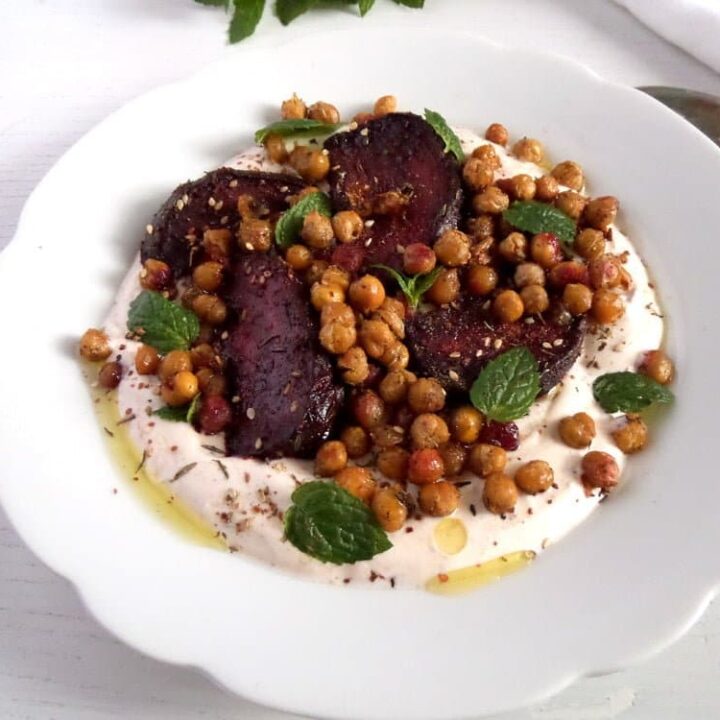 Roast Beetroot Salad
Spicy roast beetroot salad with crispy roasted chickpeas served on yogurt, a delightful Middle East inspired vegetarian meal.
Ingredients
2 medium beetroots (mine were just a bit smaller than my fist)
1 can chickpeas, drained and rinsed
2 tablespoons olive oil
½ teaspoon salt
250 g/ 1 cup Greek yogurt
1 teaspoon lemon zest
1 teaspoon lemon juice
mint leaves to garnish
olive oil to drizzle
Instructions
Preheat the oven to 220 degrees Celsius/ 430 degrees Fahrenheit.
Scrub the beetroots very thoroughly, dry them, and cut them into wedges. Spread the drained chickpeas and the beetroot wedges on a large baking tray, add the olive oil and mix well with your hands.
In a small bowl mix together the sumac, cumin, thyme, sesame seeds, and salt. Add half of this mixture to the beetroots and the chickpeas and mix again very thoroughly. Roast for about 25-30 or until crisp at the edges. Check towards the end of the roasting time, so that the chickpeas will not turn black. They should be nicely crisped and the beetroots should be a bit softer, but not really soft or mushy.
In the meantime mix the yogurt with the lemon juice and zest and about 1 teaspoon of the remaining spice mixture. Swirl the harissa through and spread the yogurt on a serving platter.
Top with beetroot wedges, chickpeas, and mint leaves. Drizzle a little olive oil on top and sprinkle with a pinch of the spice mixture.
Enjoy with some crispbread.
Notes
Read the blog post for more information on sumac and harissa.
The spice mixture will be more than you need for this dish. You could make only half of it if you wish or you can use the rest to add to other dishes. The mixture will keep well for several weeks.
Nutrition Information:
Yield:

2
Serving Size:

1/2 of the dish
Amount Per Serving:
Calories:

556
Total Fat:

28g
Saturated Fat:

4g
Trans Fat:

0g
Unsaturated Fat:

22g
Cholesterol:

6mg
Sodium:

1260mg
Carbohydrates:

53g
Fiber:

14g
Sugar:

15g
Protein:

28g
Nutritional information is not always accurate.