A delicious strawberry charlotte with a light mousse filling and sweet and crunchy ladyfingers. Just a few ingredients needed!
Easy Strawberry Charlotte Recipe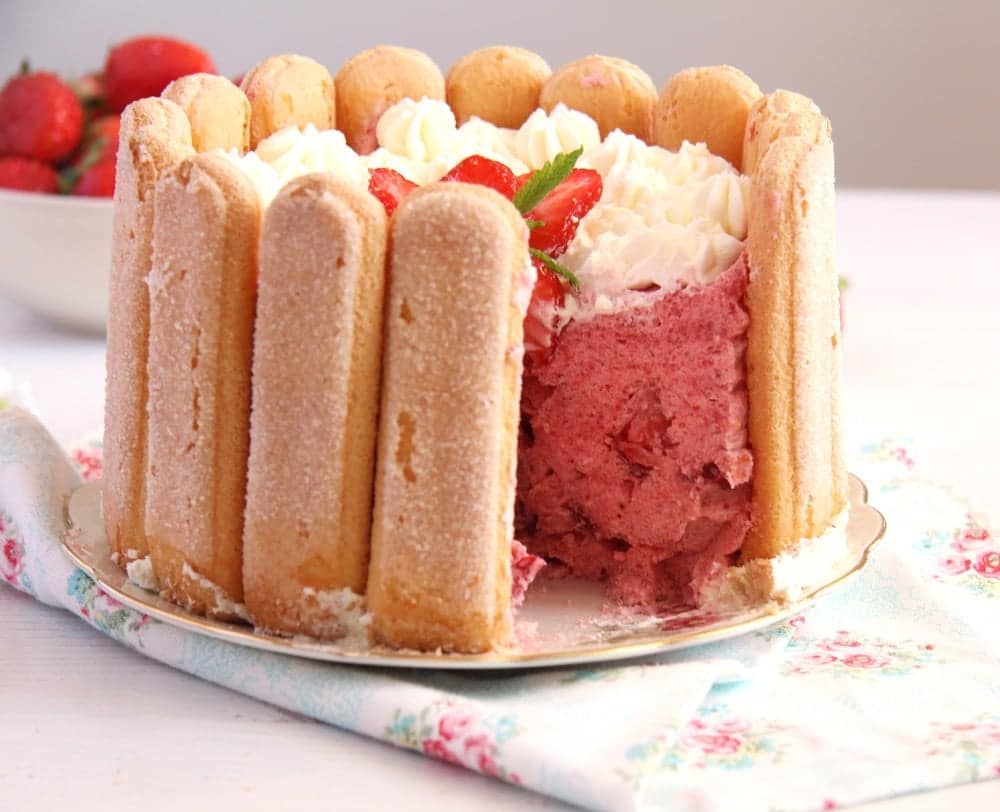 I have heard of a strawberry charlotte cake or a charlotte russe before, but mostly under the name of the Romanian Diplomat cake, which is mostly made with canned fruit and a custard filling. So good, you should try that as well!
And then I found the strawberry charlotte recipe in a quite old cookbook I bought at the flea market for about 2 Euro and it was love at first sight. I loved the overlarge and kitschy 80's style photograph and the quite short list of ingredients.
So, I try I might give it a try. I mean, strawberry mousse and ladyfingers, love them both!
I am really really into strawberries, I could eat them every day during the season, either fresh or in a cake, in the form of a sauce, as jam or whatever.
A classic way of eating strawberries is dipping them in either sugar or in whipped cream. This charlotte recipe includes all the classic ingredients: strawberries, cream, and sugar, and adds only the ladyfingers, which, in my opinion, only make things better.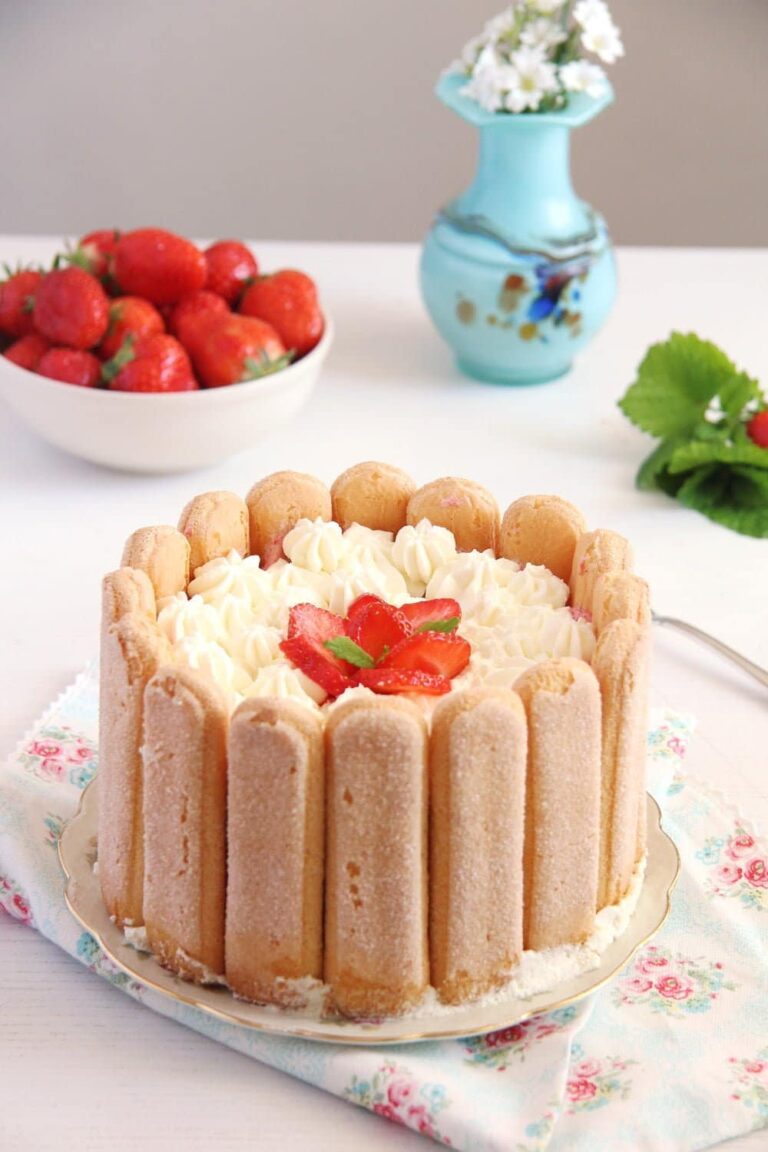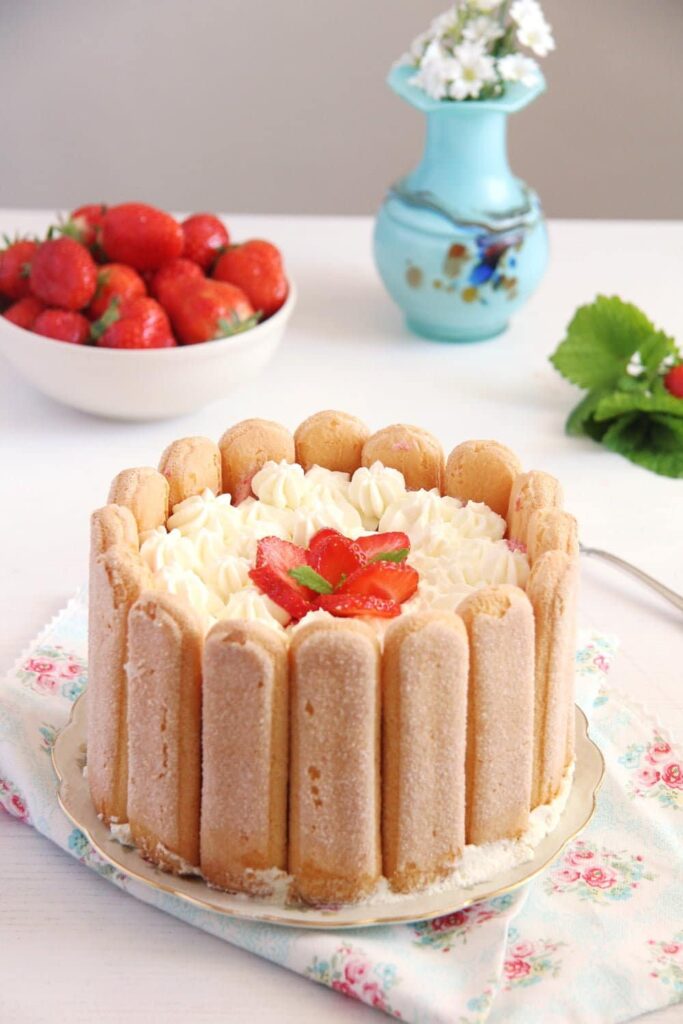 What is charlotte?
A charlotte is an English dessert or trifle, originally made in order to use stale bread.
Nowadays the charlotte is made with sponge or ladyfingers and it can be filled not only with strawberry mousse but with different fruit or berry purees mixed with whipped cream, custard, or Bavarian cream.
I think my next charlotte will include Bavarian cream as well, I wanted to keep it simple this time and only use whipped cream, which was perfect in this case, but I just remembered Julia Child's glorious Orange Bavarian Cream I made a few years ago... I just have to include that in a charlotte... soon... 🙂
Tips for making strawberry charlotte
Wash the strawberries before removing the hull. If you cut it off first, the strawberries will become watery.
And by the way, those hulls are edible, you could throw them in a smoothie, for instance.
Working with gelatin:
Working with gelatin is not difficult, but you have to do it a couple of times to become confident.
Just make sure that you read the packet's instructions before starting and that you follow them well.
Always read the packet's instructions, despite the instructions given by a recipe, the brands we are using might differ.
Dissolve the gelatin on very low heat and stirring all the time. The dissolving process will take seconds, so stay put and keep stirring.
NEVER let the gelatin come to a boil or simmer. If that happens, you can throw it away and start again. Better to do that than to use the boiled gelatin anyway and hope for the best, the filling will not set properly.
Add the strawberry puree only little by little to the gelatin, one tablespoon at a time. Only add the next tablespoon when the previous one has been fully incorporated into the mixture.
After adding about half of the strawberry puree to the gelatin in this slow manner, you can start adding a little more of the puree to the mixture, like 2-3 tablespoons at a time.
The gelatin-strawberry puree filling will need to start to set in the refrigerator before you add the whipped cream. This time will always differ from recipe to recipe. Some recipes will need only 5 minutes, some will need 20-30 minutes.
Today's strawberry mousse will need about 20-30 minutes in the fridge before adding the whipped cream.
However, make sure you check repeatedly before that time is up, start after 5 minutes already. It will all depend on the gelatin brand and on your fridge settings as well. The mixture should only begin to set, if it is too set when you add the cream, it will not be that smooth anymore.
The charlotte cake needs to set completely before serving, so allow at least 4 hours in the refrigerator once the cake is fully assembled.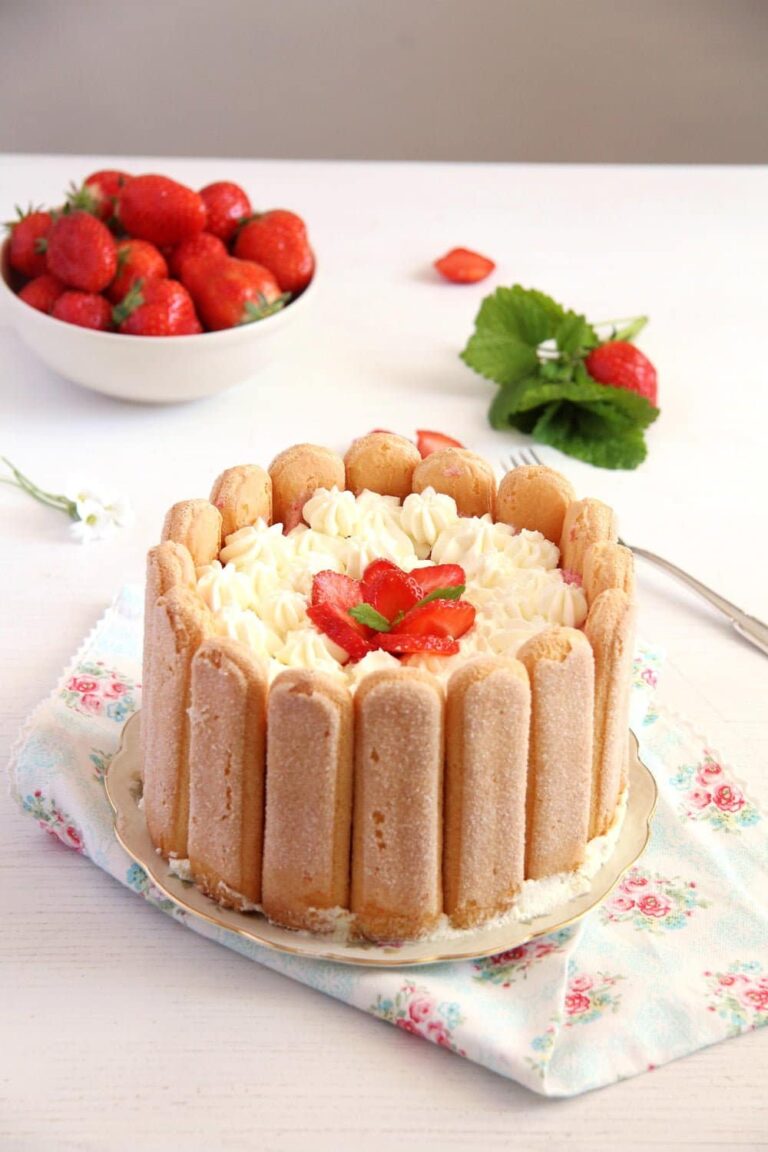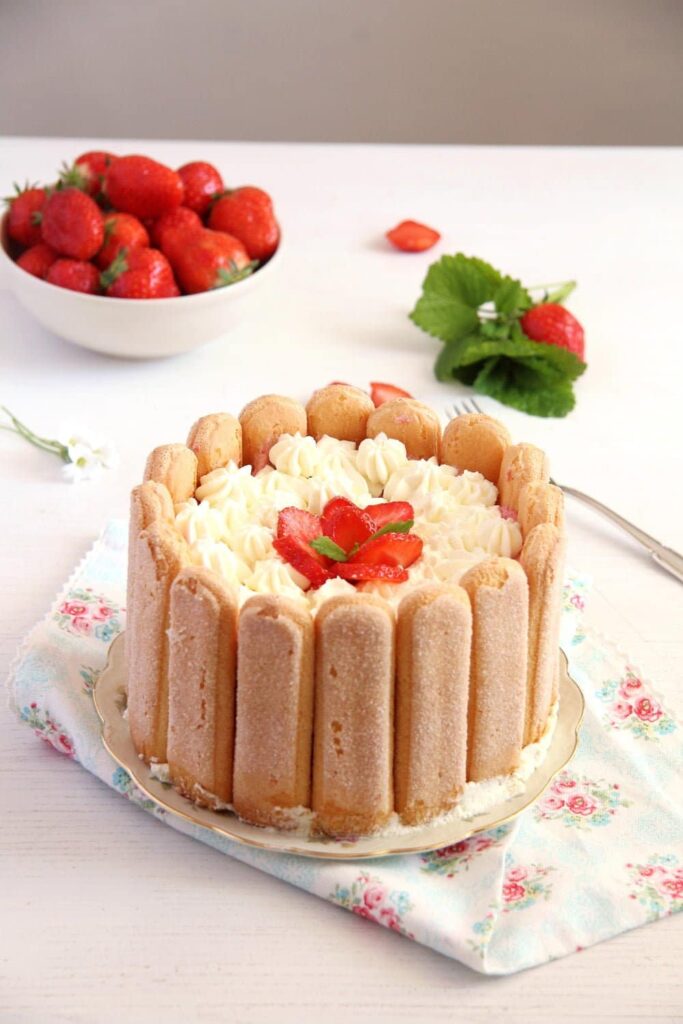 More strawberry cakes?
Strawberry Yogurt Cheesecake - One of the best cheesecakes ever!
Cream Roll with Strawberries - Probably one of the easiest and most delicious ways of enjoying strawberries this spring.
Strawberry Rhubarb Cake - A soft and moist strawberry and rhubarb bundt cake.
Strawberry Brownie Cake - An amazingly decadent brownie cake with a luscious filling made with sweetened condensed milk and cream.
Pin it for later!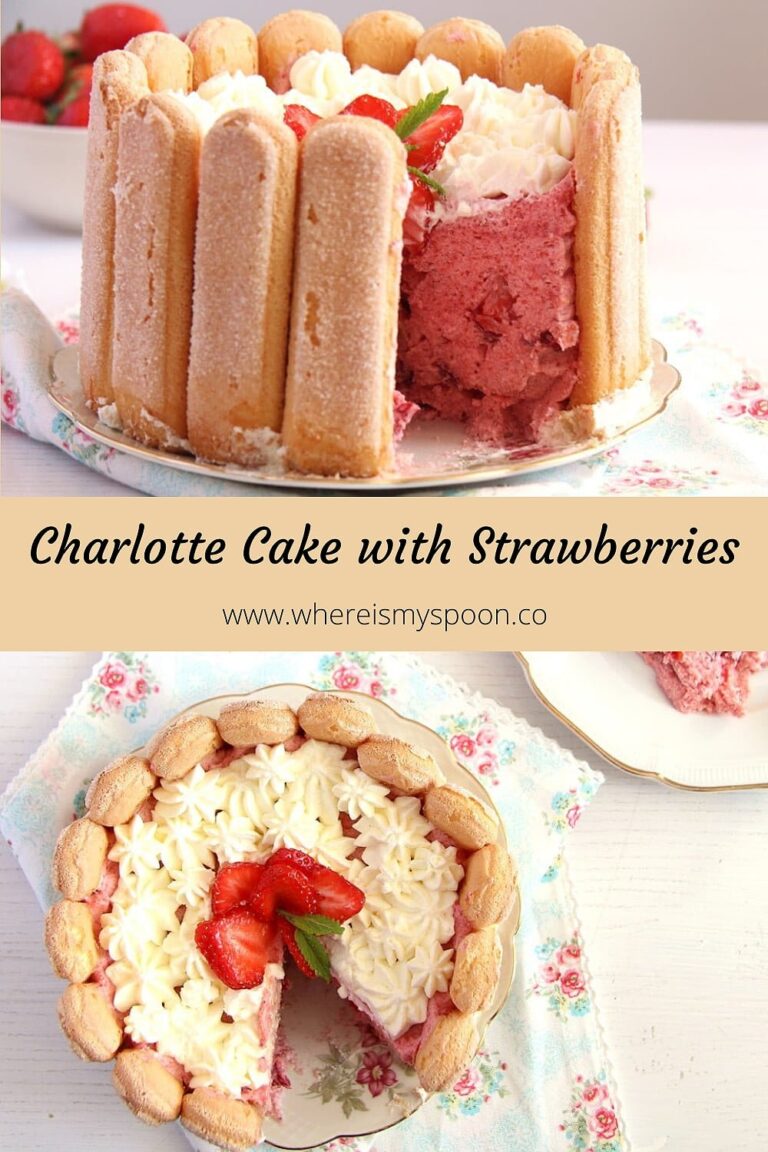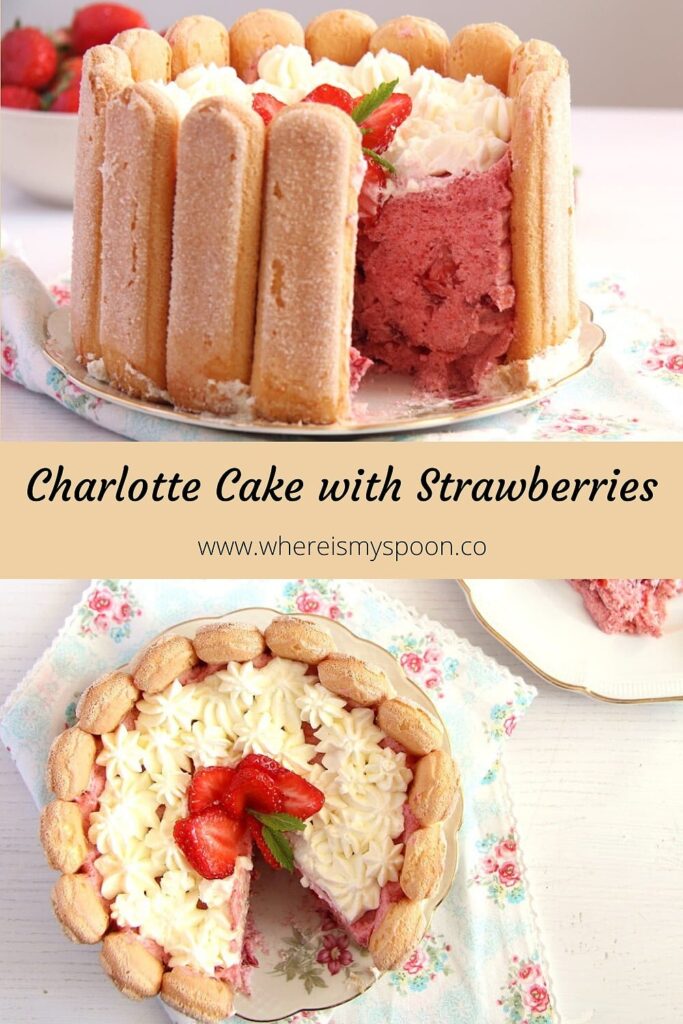 First published: April 25th, 2016.
Last updated: April 27th, 2020.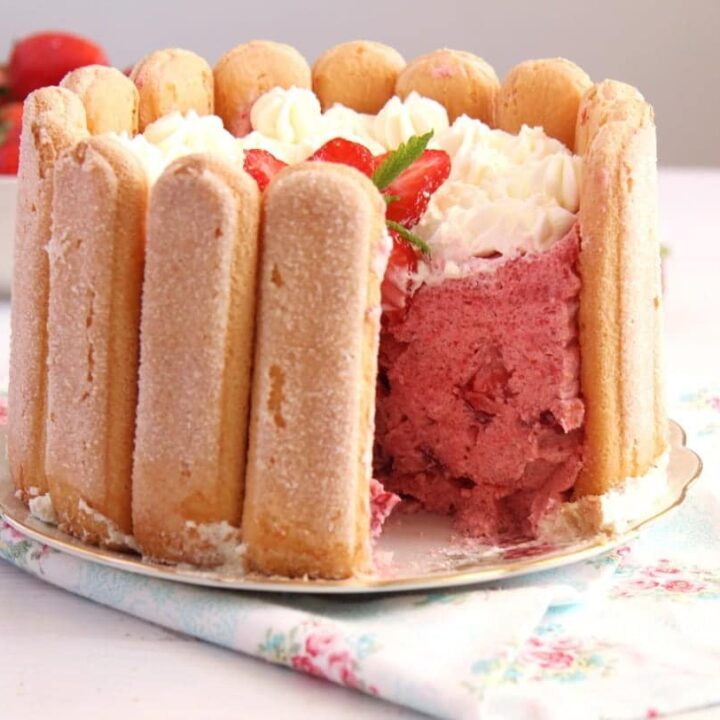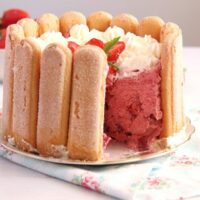 Strawberry Charlotte
A delicious strawberry charlotte with a light mousse filling and sweet and crunchy ladyfingers. Just a few ingredients needed!
Print
Pin
Share
Grow
Saved!
Rate
Ingredients
750

g

strawberries

1.7 lb

8

leaves

gelatin

4

tablespoons

granulated sugar

500

ml

heavy cream

divided, 17 fl.oz/ 2 cups

2

tablespoons

vanilla sugar or 1 teaspoon vanilla extract

150

g

ladyfingers

as needed, 5.5 oz
Instructions
Soak the gelatine leaves in cold water according to the packet's instructions (I soak mine for 8-10 minutes).

Prepare strawberries: Clean the strawberries. Chop about ⅓ of the strawberries and set them aside. Keep about 2 or 3 for decorating purposes, if you wish. Puree the rest of the strawberries together with the sugar.

Dissolve gelatine: Squeeze the gelatin gently to remove excess water. Place the gelatin leaves in a saucepan and dissolve over very low heat. Do not overheat the gelatin, and do not let it start to boil. Dissolving the gelatin will take a very short time, not even a minute, so stay close and keep stirring.

Add strawberry puree: Take the saucepan off the heat and start mixing in the strawberry puree a very little at a time. Start by adding one tablespoon puree, incorporate it well, then add another tablespoon. After adding about ⅓ of the puree, you can start adding more than just one tablespoon at a time but keep stirring well and continuously.

Refrigerate: Place in the fridge for about 30 minutes or until just starting to set (it might take less time than that, depending on your fridge, so start checking after 5-10 minutes already, the mixture should not set too much).

Whipped cream: Whip 375 ml/ about 1 ⅔ cup of the heavy cream and vanilla sugar. Fill a little bit of it in a piping bag and pipe an edge on the bottom of an 18 cm/7-inch springform. Take the strawberry puree out of the fridge and fold in the chopped strawberries you set aside before and the whipped cream.

Assemble: Place the ladyfingers with the sugared side on the outside inside the pan to form a tight ring around the springform base. Fill the mousse into the prepared form.

Refrigerate for at least 4 hours or until the strawberry mousse is set.

Decorate: Whip the remaining heavy cream and decorate the cake. Slice the leftover strawberries and use them to decorate the charlotte as well.
Nutrition
Serving:
1
slice
|
Calories:
362
kcal
|
Carbohydrates:
26
g
|
Protein:
10
g
|
Fat:
25
g
|
Saturated Fat:
15
g
|
Polyunsaturated Fat:
8
g
|
Trans Fat:
1
g
|
Cholesterol:
113
mg
|
Sodium:
59
mg
|
Fiber:
2
g
|
Sugar:
13
g