Amazing Mexican chorizo tostadas with kidney beans and cheese. With instructions on how to bake tostada shells.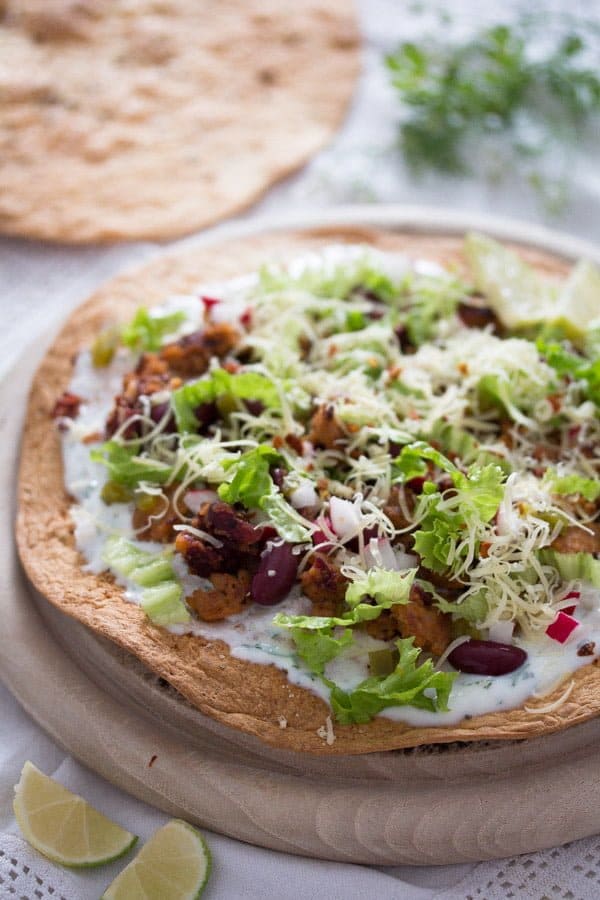 One of our favorite Mexican recipes, these chorizo tostadas, are so full of flavor and comfort. A crispy shell topped with spicy sausage, soft beans, and crispy vegetables. And if you are looking for more Cinco de Mayo recipes, have a look at this Tres Leches Cake.
Jump to recipe
What are Tostadas?
Tostadas are very popular in Mexico and probably the US as well. Tostada means "toasted" and refers to a tortilla that is deep-fried or toasted or to a dish where different ingredients are piled on a toasted tortilla. Making tostadas was originally seen as a way of using stale tortillas, which would be too old to be used for tacos.
The tortillas usually used to make tostadas are corn tortillas, but wheat tortillas can be used instead. Of course, I had to use a wheat tortilla; I have never even seen a corn tortilla around here... But corn or not, my wheat tortilla tostadas were beyond good.
The combination of that spicy and hearty chorizo, mixed with the soft, crushed beans, the super crispy tostada shell, and the crunchy fresh ingredients on top and then the cheese... it can hardly get any better. One of my favorite quick meal discoveries this year.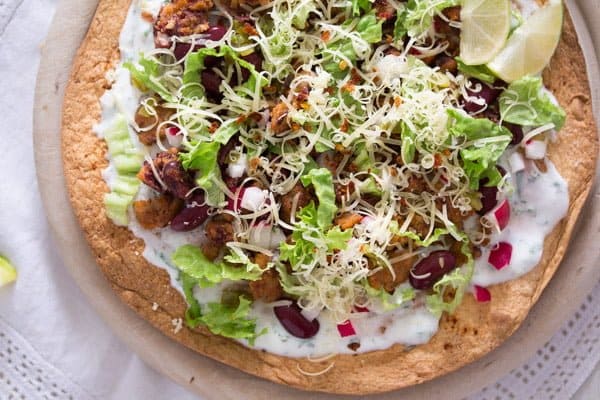 How to bake tostada shells?
That was what worried me the most at first. I have read about tostadas and looking at the pictures, I've always noticed that the tortillas looked rather stiff. I had made tostadas only once before, but in that recipe, the tortillas remained as they were, and that was soft.
I had just placed them on the baking tray, topped them with the rest of the ingredients, and put them in the oven. Delicious, but not the way I wanted to make them now.
So, how to get those tortillas crispy? I imagined that people were able to buy them in that crispy state and almost gave up on the recipe. And then, I found a way to make the tostada shells at home. So easy!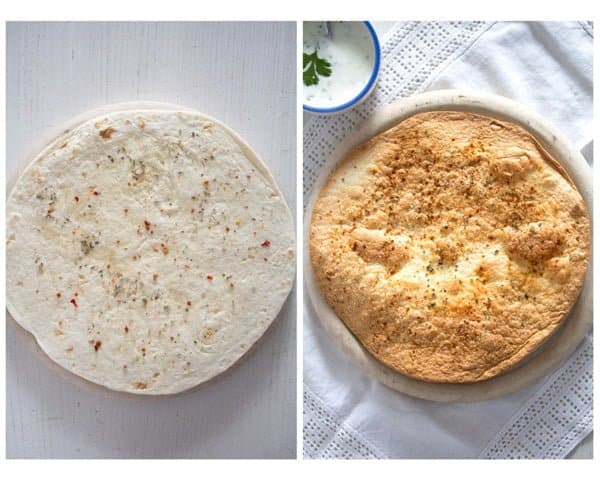 Brush the tortillas with a little oil, salt them and add more spices if you want, and bake them for quite a short time until nicely browned and crispy. Perfection! They were even superb on their own, without any topping at all, just the spices.
I made a bit too many the first time because the first batch came out darker than I had wished for.
We broke those tortillas into pieces, made guacamole, and ate the crispy pieces with guacamole the next day.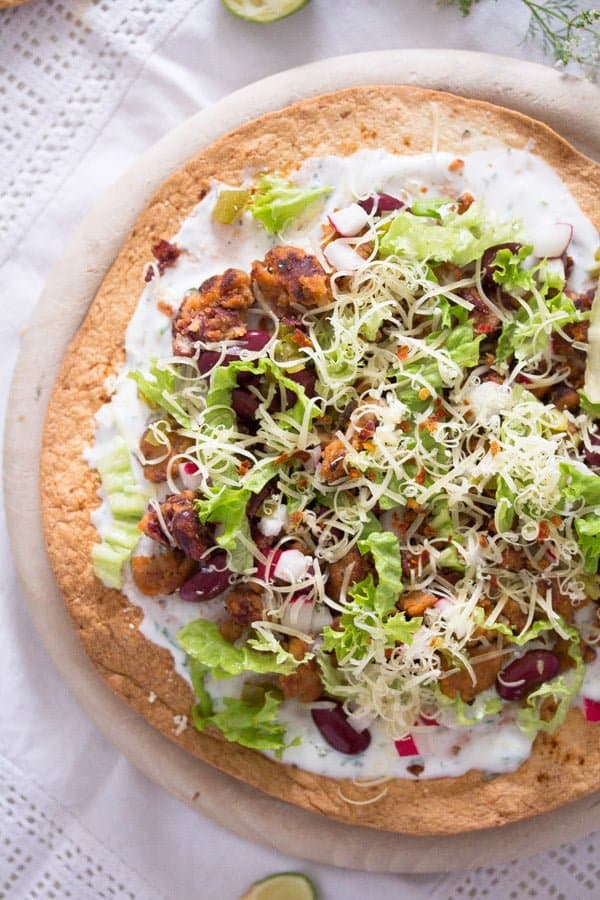 How to store the shells?
You can eat the tostadas immediately, or you can store them for later use in an airtight container at room temperature. They will keep for up to 3 days.
You can also freeze them for up to 3 months. When ready to serve, let thaw and heat them up at 200 degrees Celsius/ 400 degrees Fahrenheit.
How to top tostadas?
Use your imagination and top the tostadas with whatever you like.
I topped the tostadas with some spicy Greek yogurt, a mixture of chorizo and crushed kidney beans, radishes, salad, and grated cheese.
And not to forget the jalapeňos, they've made the whole thing really spicy!!!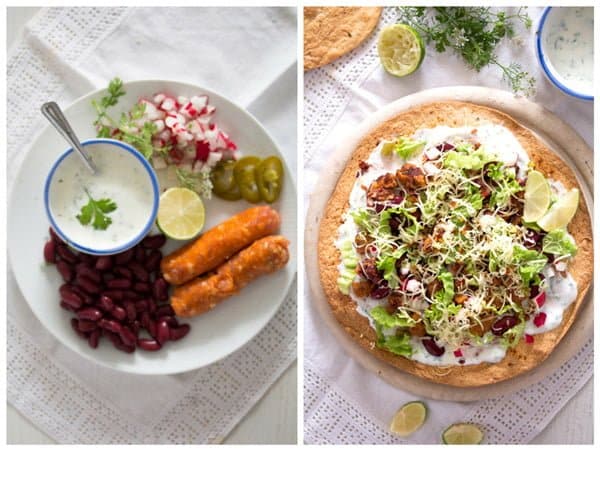 Otherwise, there are dozens of things you could top your tostadas with. Start with some yogurt or sour cream, preferably mixed with some spices like ground cumin, ground coriander, and chili. You could add some herbs as well. Then go on with beans, refried beans, for instance.
You could leave this tostada recipe vegetarian by leaving out the sausage and adding some avocado pieces, sauteed peppers, zucchini, or other fresh or sauteed vegetables you like instead.
If you would like to add some other protein, chicken tostadas are just amazing! Ground beef makes a delicious tostada as well, and although I have never tried that, I am sure that some nice sliced steak pieces would be very tasty as well.
What I did try and liked just as much as today's chorizo tostadas were tostadas with an egg on top. In my case, I prefer a poached egg, but my husband loves to top his tostada with a fried egg. And if you have some chorizo left over, you might want to try this delicious Chicken and Chorizo Stew.
A bit of spicy salsa would be the perfect closure!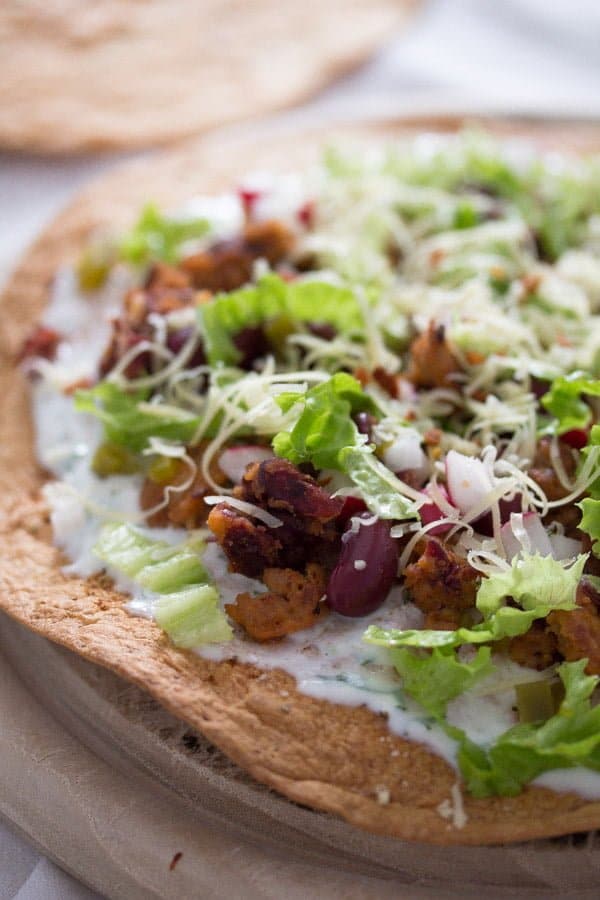 More Mexican recipes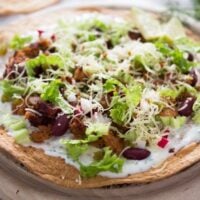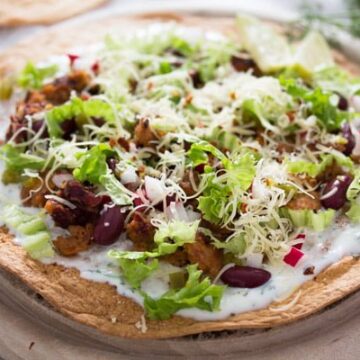 Mexican Chorizo Tostadas
Amazing Mexican chorizo tostadas with kidney beans and cheese. With instructions on how to bake tostada shells.
Print
Pin
Share
Grow
Saved!
Rate
Ingredients
Tostada shells:

4

large tortillas

See note 1 and note 2

2

tablespoons

olive oil

some chili flakes

some dried oregano

salt

Tostadas:

½

cup

Greek yogurt

125 g

¼

teaspoon

fine sea salt

2

teaspoons

chopped coriander

or parsley

1

organic lime

2

chorizo sausages

each weighing about 125 g/ 4.4 oz

½

cup

kidney beans

100 g

2

small fresh jalapeňos or 6-8 pickled jalapeňos pieces from a jar

to taste

8

radishes

4

crispy salad leaves

1

cup

g/ 3.5 oz/ 1 cup grated cheese

100 g, See note 3

some chili flakes

salt and pepper
Instructions
Tostada shells:
Preheat the oven to 200 degrees Celsius/ 400 degrees Fahrenheit. Line two baking trays with baking paper.

Season: Place the tortillas on the baking trays. Brush them with olive oil and sprinkle them with salt, chili flakes, and dried oregano.

Bake the tortillas for 4 minutes. Turn over and bake for about 3 minutes more or until crisp and lightly browned. Remove from the oven.

See above for tips on storing the tostada shells.
Tostadas with chorizo and beans:
Stir the yogurt with salt and fresh herbs. Wash and dry the lime. Add the zest and the juice of ½ of the lime to the yogurt, stir well. Set aside. Keep the other half of the lime for later, cut it in wedges, and serve the wedges with the tostadas.

Sausages: Remove the chorizo casings. Heat a nonstick pan and add the sausages, breaking them into pieces with a wooden spoon. Fry over medium-low heat for about 3 minutes, breaking all the lumps with the wooden spoon.

Add the kidney beans and some salt.

Cook: Use a potato masher to roughly mash the chorizo and bean mixture. Cook until cooked through and rather crispy, about 7 minutes or so. Adjust the taste with more salt and some pepper, if necessary.

Prepare topping: While the sausages are cooking, shred the salad leaves, finely dice the radishes and finely chop the jalapeňos. Grate the cheese.

Top tostadas: Spread some yogurt on top of the tostadas. Divide the chorizo and bean mixture between the tostadas. Top with the shredded salad, radishes, jalapeňos and sprinkle with the cheese and chili flakes.

Serve immediately with lime wedges.
Notes
The tortillas I used had a diameter of ca 22 cm/ 8.6 inches, but you can use smaller ones, if available, and make more tostadas).
I had wheat tortillas, but corn tortillas can be used instead.
I used Gouda, but you can use another cheese if you like. For example, you could use Mexican cheese, if available.
Nutrition
Serving:
1
g
|
Calories:
674
kcal
|
Carbohydrates:
41
g
|
Protein:
31
g
|
Fat:
43
g
|
Saturated Fat:
16
g
|
Polyunsaturated Fat:
25
g
|
Cholesterol:
81
mg
|
Sodium:
1460
mg
|
Fiber:
5
g
|
Sugar:
3
g