Last Updated on
One of the easiest tarts or cakes you can imagine: a quickly made cake base, vanilla pudding and fruit or berries.
This is one of those cakes you can be pretty sure that anybody will like. It is so simple, uses such common ingredients and it is so delicious, I can hardly imagine anyone not loving it. I have a few more of those on my blog, for instance this Easy Fresh Blackberry Cake with Whipping Cream or this Easy Fresh Peach or Nectarine Cake or one of my favorite cake discoveries this year: The Easiest Fresh Apricot Cake. All super easy to make cakes, full of fruit, just the way I like them!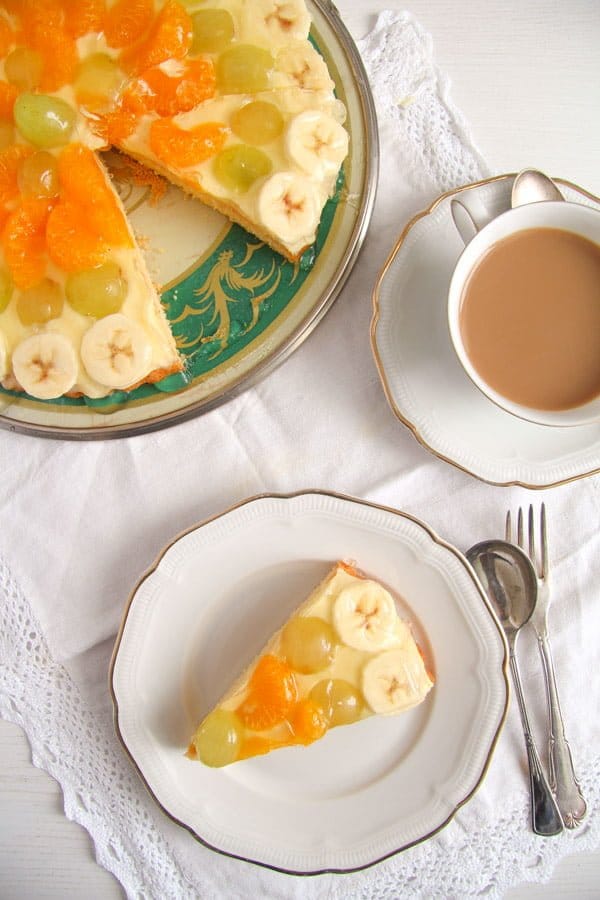 The Easiest Fruit or Berry Tart with Vanilla Pudding was my grandmother's cake. THE cake! The only one I ever remember her making, except the traditional Cozonac – Romanian Sweet Bread with Walnuts. She started making this when I was about 10 or 11 years old, so after the fall of communism in Romania, when we finally had access to such "exotic" things as canned fruit and Dr. Oetker vanilla pudding powder. And ready made cake bases.
Yes, you read that right: ready made cake bases! My grandmother never ate any cake at all and she never baked anything, except cozonac, which she only baked twice a year (for Easter and Christmas) as well. And because she didn't eat cake, she never had any interest in learning how to bake even the simplest cake base. So, imagine her joy when she discovered that there was such a thing as a ready made cake base.
Not that she would use that often, but at least now she could make me a cake on my birthday. So, like I've said, when I was about 10 or 11 she started baking this tart once a year for my birthday on the 4th of April. And for me, that was really the highlight of my birthday. She did that for many many years, I don't really recall when she stopped, but I think I was already past 20 years old, shortly before I left Romania.
To this day, The Easiest Fruit or Berry Tart with Vanilla Pudding remains one of my favorite cakes and although I bake a lot, lots of different and delicious cakes, this one is a favorite for my entire family as well. Really, what is there not to like? A tender base, covered with sweet vanilla pudding and fruit or berries. You cannot go wrong with this!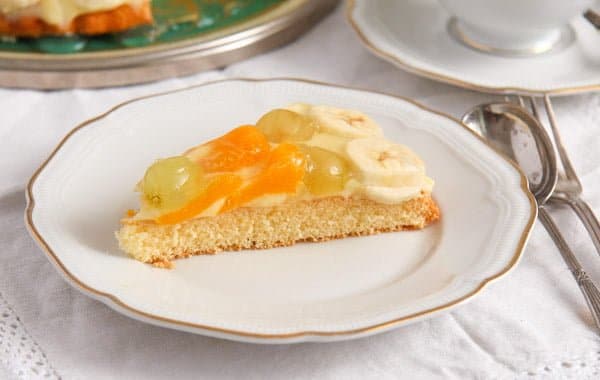 Notes on The Easiest Fruit or Berry Tart with Vanilla Pudding
The tart I took photos of is made with fruit, the way my grandmother made it most of the times. My birthday is in April and this month is not exactly famous for an abundance of fresh fruit. So, she mostly used bananas, kiwis and canned mandarins. In the earlier years, when she was fitter, she would make this tart with frozen berries we had in our freezer, but later on, she stopped picking berries in summer, so bananas, kiwis and canned mandarins were all that was left. But, you can top The Easiest Fruit or Berry Tart with Vanilla Pudding with whatever fruit or berries you like or happen to have, either fresh or frozen or canned or whatever.
And, most importantly, I make my own cake base today, I would never use a ready made base, to tell you the truth. The ones my grandma used were OK, because they were the only thing I knew and didn't know the difference. But now I know the difference and I could never go back. This cake base I use is so easy and quick to make, you will probably only need 5 extra minutes work + the baking time compared to opening a packet with a bought cake base. And those extra 5 minutes are so well worth it!
I use Dr. Oetker vanilla pudding powder, which is cooked with milk. One whole pack of vanilla pudding is too much for The Easiest Fruit or Berry Tart with Vanilla Pudding, you will only need half of it. You can only cook half of the packet, but I don't bother weighing the powder, I just make a whole batch, put half of it on the cake and let my children take care of the rest. They are always happy to help me there. 🙂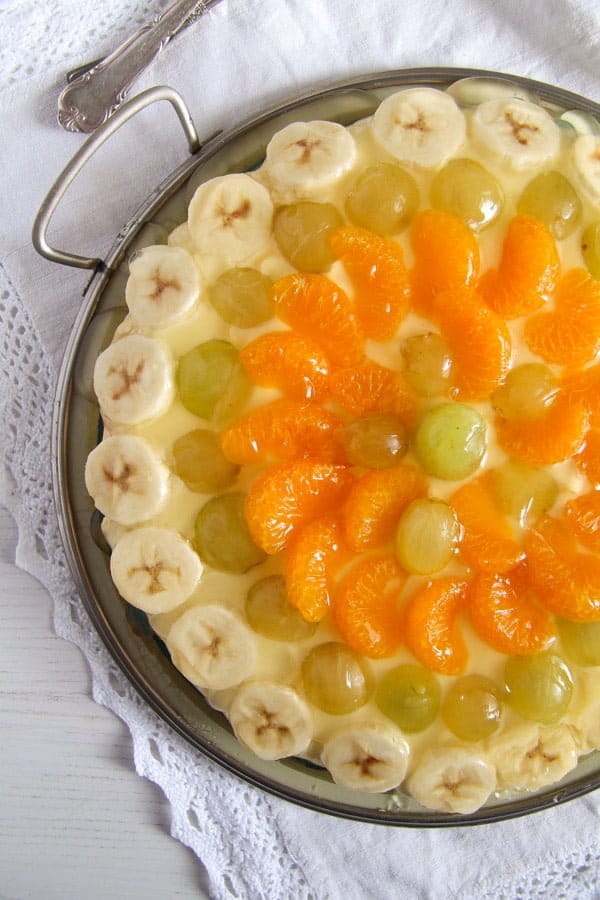 More fruit cakes: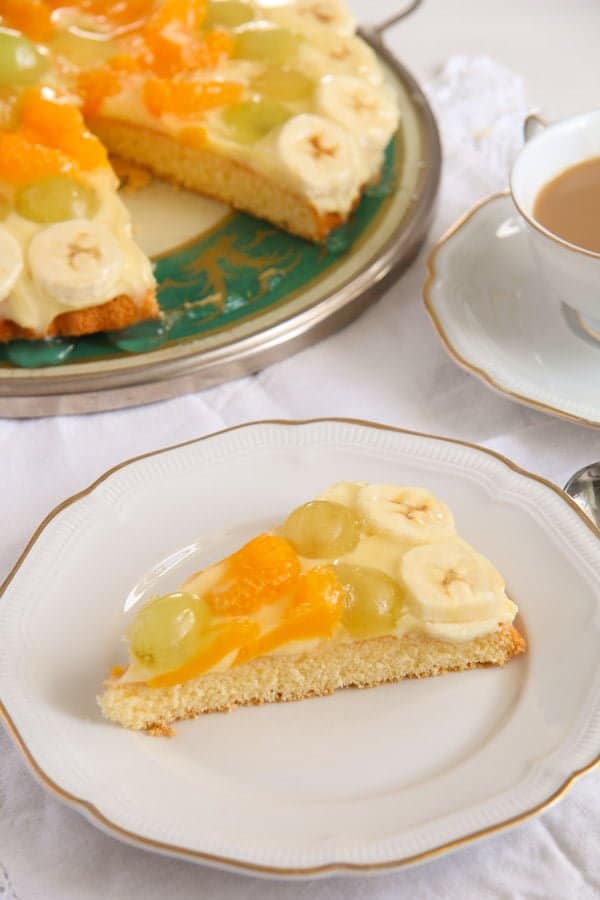 Ingredients
For the cake base:

80 g/ 2.8 oz/ 2/3 cup all-purpose flour

75 g/ 2.6 oz/ 1/3 cup + 1 tablespoon sugar

6 tablespoons vegetable oil

3 eggs

1 packet vanilla sugar

2 teaspoons baking powder

For the topping:

½ packet Dr. Oetker vanilla pudding powder

250 ml/ 8.5 fl.oz/ ½ cup milk

2 tablespoons sugar

fruit (bananas, kiwis, canned mandarins, grapes etc) or berries of choice

1 packet Dr. Oetker fruit tart glaze

1-2 tablespoons sugar

250 ml/ 8.5 fl.oz/ ½ cup water or diluted fruit juice (half juice, half water)
Instructions
Cake base:
Preheat the oven to 180 degrees Celsius/ 360 degrees Fahrenheit.
Grease a tart form and sprinkle it with flour. Shake well to coat the form with the flour, then pat the form gently to remove the excess flour. Set aside.
With a hand held mixer whisk together all the ingredients needed for the cake base. Pour the batter into the prepared form and bake for about 20 minutes or until golden and baked through. Set aside and let cool completely.
Topping:
Prepare the pudding according to the packet's instructions. That is: take a few tablespoons out of the milk and give them to a small bowl. Bring the rest of the milk to a boil. In the meantime whisk together the remaining milk, the sugar and the Dr. Oetker vanilla pudding powder.
When the milk comes to a boil, remove from the heat and whisk in the pudding and milk mixture. Place back on the heat and bring to a boil again while whisking all the time. It will only take a moment or so. Set aside and let cool for about 20-30 or until cooler but not set. Place a piece of cling film directly on the surface of the pudding to prevent it from forming a skin.
Place the cake base on a cake platter. When the pudding is cooler, slowly pour it onto the cake base. Let it set well on the cake before topping it with the fruit or berries.
When the pudding is set, arrange the sliced fruit or berries on top.
To make the glaze follow the packet's instructions as well. That is: give the glaze powder to a small pot. Slowly add the water or diluted juice from the canned fruit (half juice, half water) while stirring all the time to avoid the formation of clumps. Place the pot on the heat and bring to a boil stirring continuously. When it boils remove from the heat immediately.
Give the glaze over the fruit using a spoon and starting in the middle of the cake. Let the glaze set completely before slicing the tart.
This post contains affiliate links. The price you pay as a consumer does not change, but if you make a purchase we will receive a commission which helps support the blog.