A spicy, delicious and healthy soup recipe with turkey (or chicken) stock and turkey or chicken leftovers, buckwheat, lots of spices and vegetables.
Another super easy to cook and delicious soup for you today. I made this a few months ago with leftover turkey after making this Oven Roasted Turkey Drumsticks Recipe with Vegetables. There was a fair amount of meat leftover, so I was able to make not only this Healthy Turkey or Chicken Buckwheat Soup with Vegetables, but also these Yufka or Filo Rolls with Chestnuts, Leftover Turkey and Herbs, plus a few sandwiches with roasted vegetables, chili sauce and turkey meat.
I used the last pieces of meat I was able to scrape from the bones to make this soup and used the bones to make a delicious stock, the way I do it all the time, either with leftover chicken or duck bones or with the leftover goose bones I get from my mother-in-law's Christmas goose every year. I would not consider throwing even one bone away, there really isn't any stock or broth you could buy that tastes as good as homemade stock.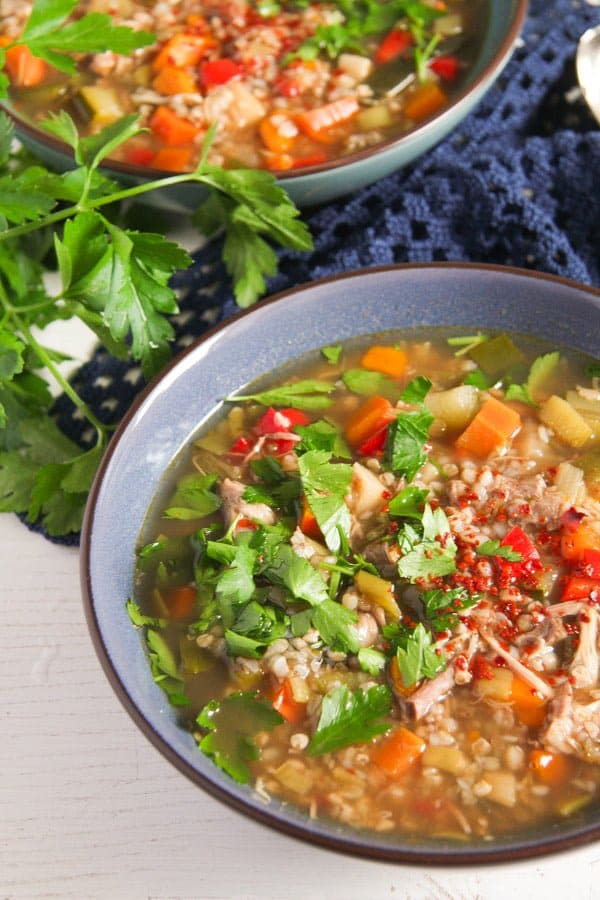 If you are interested into making your own stock, broth or bone broth, have a look at some of the following recipes, once you start making your own stock, you will never look back:
Concerning the vegetables used for making this Healthy Turkey or Chicken Buckwheat Soup with Vegetables, well, the ones I mentioned are not exactly mandatory. I would definitely take carrots, bell pepper and some celery, but all the rest can be replaced with something else. If you don't happen to have a leek in the fridge, use some onions or green onions instead and if you don't have parsnip or parsley root, chop a larger piece of celeriac, for instance. The pumpkin or squash could be easily replaced with a small sweet potato or you could add a couple of regular smaller potatoes to the soup.
You could even add or replace some of the veggies with cauliflower or broccoli florets, kohlrabi or a small piece of chopped white cabbage. Really, use what you have, you will love the result.
And the buckwheat Roasted Buckwheat Kasha, Buckwheat Groats, Kosher 2 lbs (Pack of 2)
. It is a rather new discovery for me, I have never had that as a child, didn't even heard of it until a few years ago. However, since buying it for the first time, I always seem to have an open bag in the pantry. I haven't experimented much with it until now, my favorite way to enjoy it is in a soup. I love its texture and taste, it makes any soup so comforting and filling and delicious, you should definitely give it a try.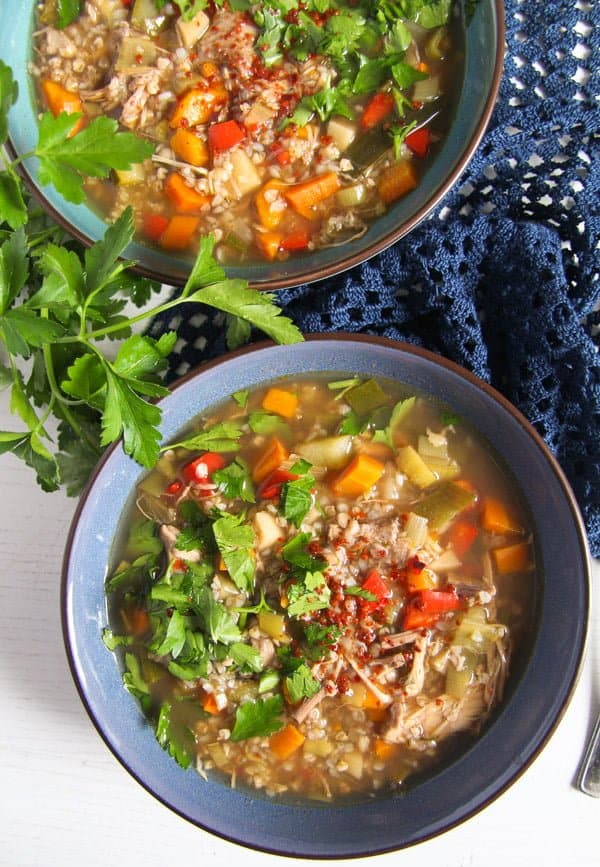 This post contains affiliate links. The price you pay as a consumer does not change, but if you make a purchase we will receive a commission which helps support the blog.