Last Updated on
Cinnamon spiced carrot cupcakes with a soft and creamy buttercream blueberry frosting.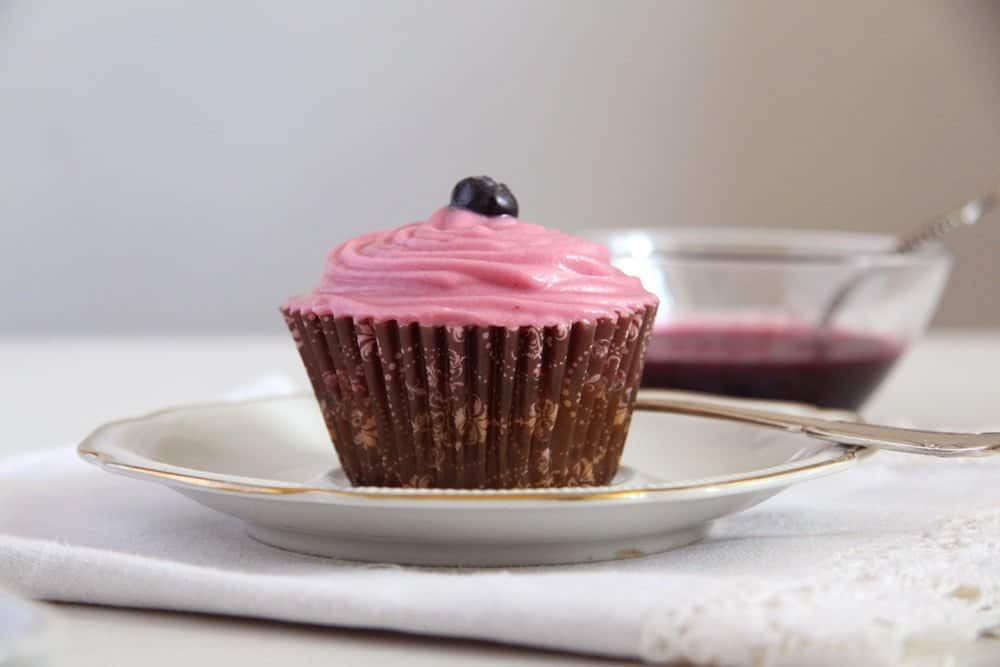 One of my best friends ate one of these cupcakes and the only thing she was able to say between two bites was "Megageil", which you could approximately translate as mega awesome, mega sexy, mega attractive or, better, a mixture of all these words together. 🙂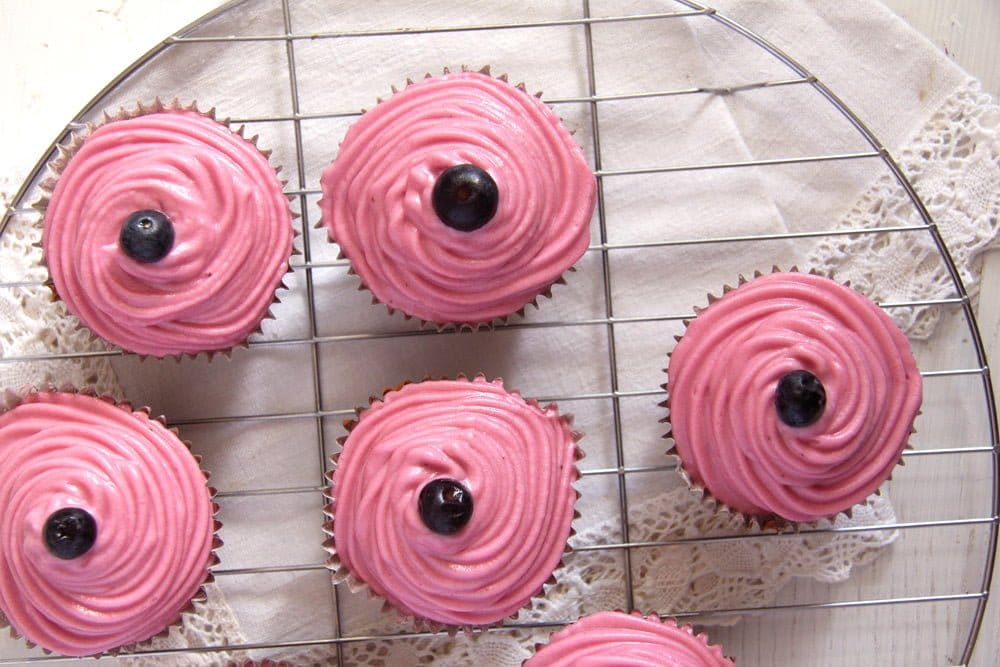 I never would have used this word to describe the muffins myself, but as soon as I heard it, I thought that they describe these cupcakes better than any other words I could think of. The matching between that robust muffin, deliciously spiced with cinnamon, nutmeg and ginger and the soft, creamy and sweet blueberry frosting, then the brown-orange manly body of the cake and the feminine pink of the topping, really a match made in heaven, attractive, sexy, luxurious, seductive … all words connected with the word "geil". Trust me, you don't want to miss these cupcakes in your life.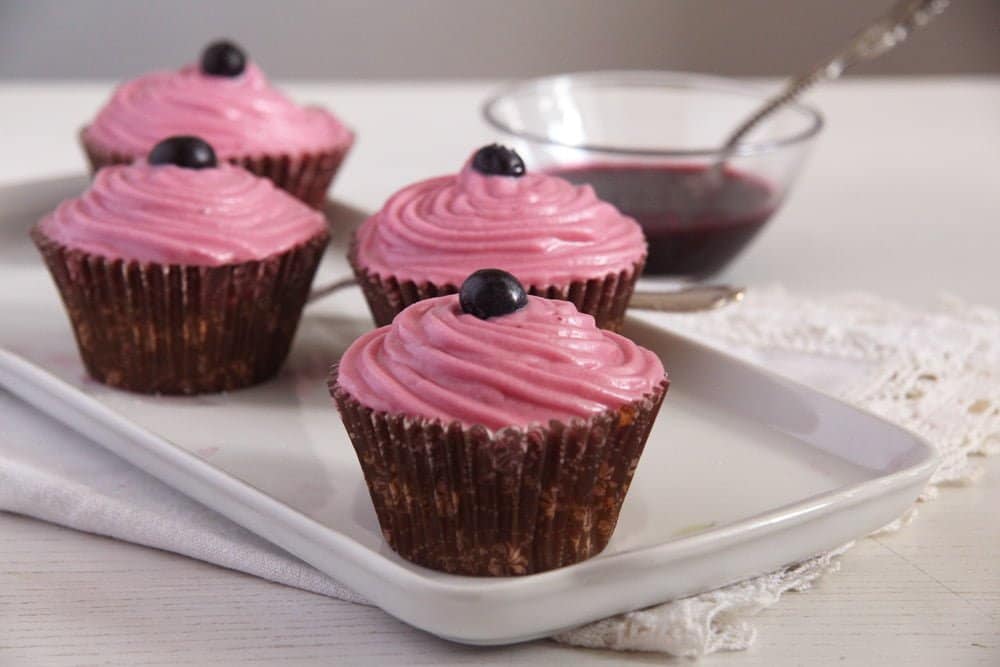 So, as I am still on holiday I will keep it short today as well. Make these cupcakes, they are so geeeeeeil!!!!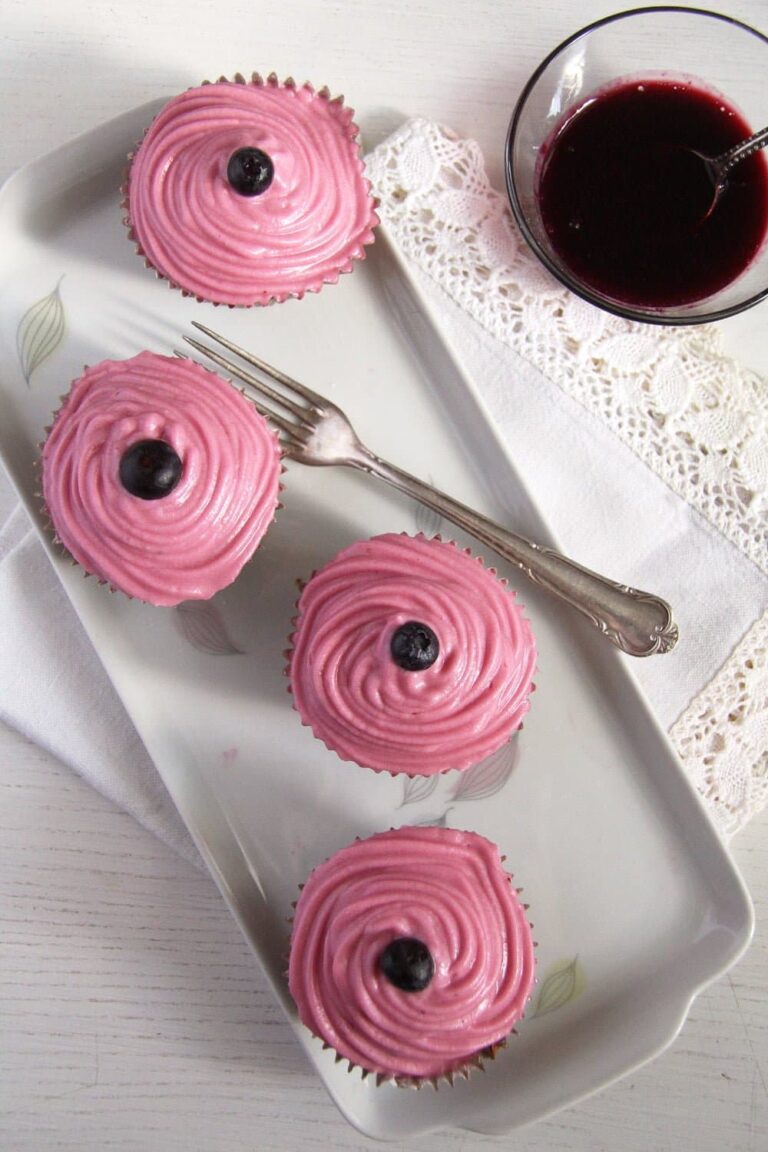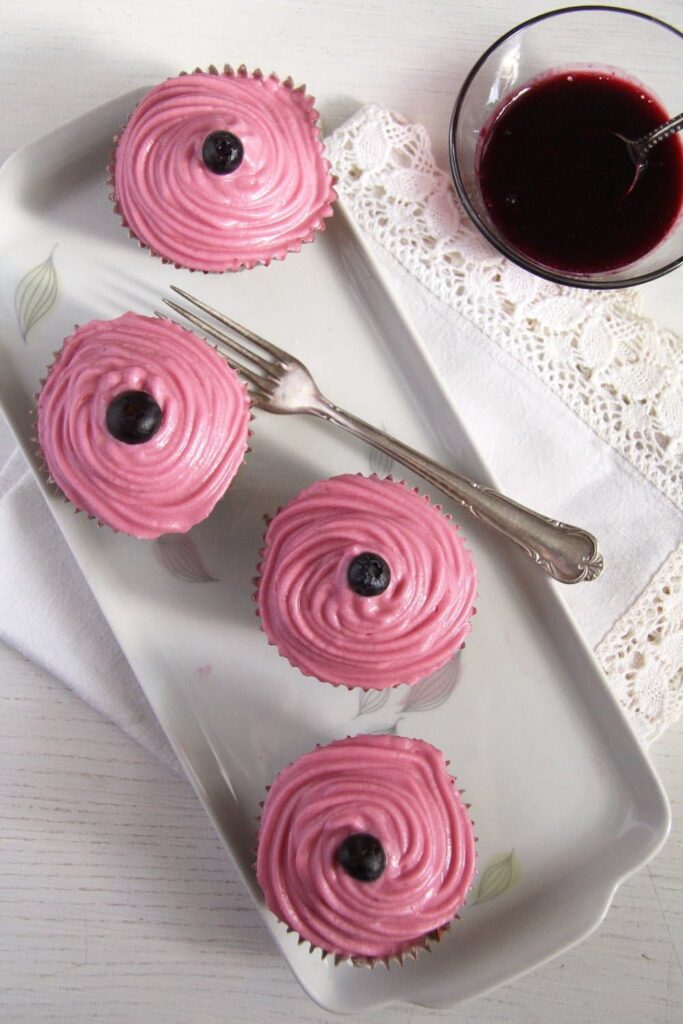 Rating 5.0 from 1 reviews
Prep time:
Cook time:
Total time: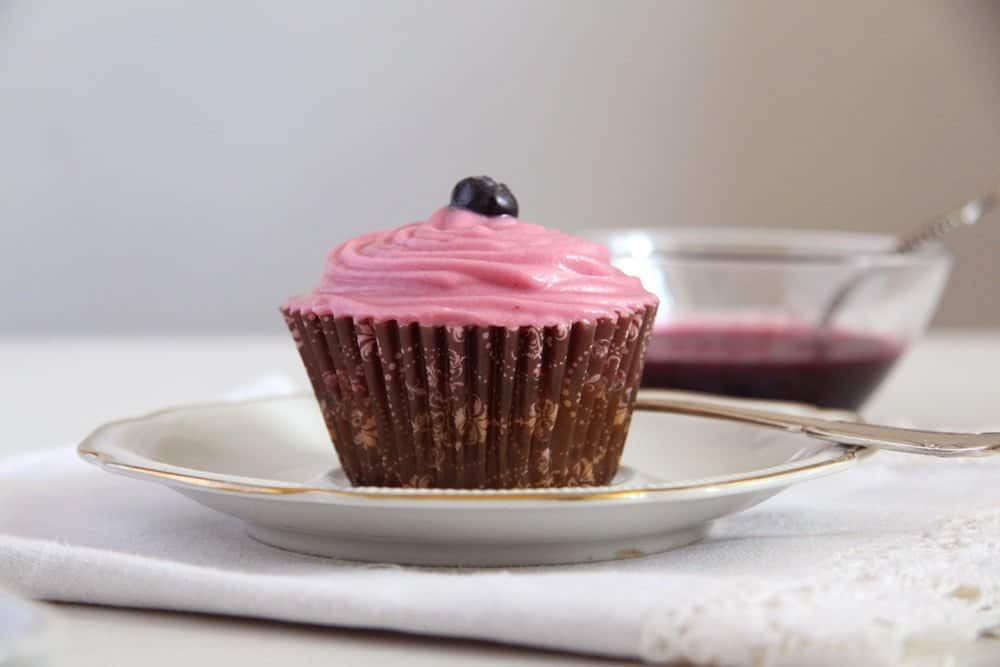 Ingredients
For the muffins:
150 g/ 5.3 oz carrots
2 eggs (medium Germany, large US)
100 g/ 3.5 oz cane sugar
100 g/ 3.5 oz butter
200 g/ 7 oz all-purpose flour
1 teaspoon cinnamon
½ teaspoon nutmeg
a pinch of ginger powder
1 teaspoon Dr Oetker baking powder
For the frosting:
60 g/ 2 oz blueberries
2 tablespoons water
¼ teaspoon corn starch
1 tablespoon sugar
300 g/ 10.5 oz soft butter
350 g/ 12.3 oz icing sugar
a pinch ground vanilla
a few drops of lila/purple/pink food coloring, optional
Instructions
Preheat the oven to 180 degrees Celsius/ 360 degrees Fahrenheit. Place 10 cupcake liners in the muffin tin.
Grate the carrots finely.
Beat the eggs and the cane sugar together until frothy. Melt the butter, add it to the mixture and mix well. Fold in the grated carrots.
In another bowl mix the flour, spices and baking powder. Fold them in the egg-butter mixture. Divide the mixture in the muffin tin and bake for 20 minutes. Take out and leave to get cold.
To make the blueberry sauce start by setting aside 10 nice blueberries for the decoration. Place the rest in a small pan together with the water, starch and sugar. Bring to a boil and simmer shortly on low heat until it thickens slightly. Pass through a sieve and set aside to get cold.
To make the buttercream whisk the butter until very fluffy. Add the sieved icing sugar in two or three batches and beat well. Add the ground vanilla, 2 tablespoons blueberry sauce and the food coloring if you want to obtain a more intensive color. Mix well. If the frosting is too soft, place it in the fridge for a while. You could add more icing sugar to make it stiffer if you wish, but I don't like that option, the frosting is sweet enough as it is.
Place the frosting in a piping bag and decorate the muffins. Add a blueberry on top of each and place in the fridge until ready to serve. Pour some of the blueberry sauce over the cupcakes and serve.
Others you might like:
Blueberry Curd Meringue Cupcakes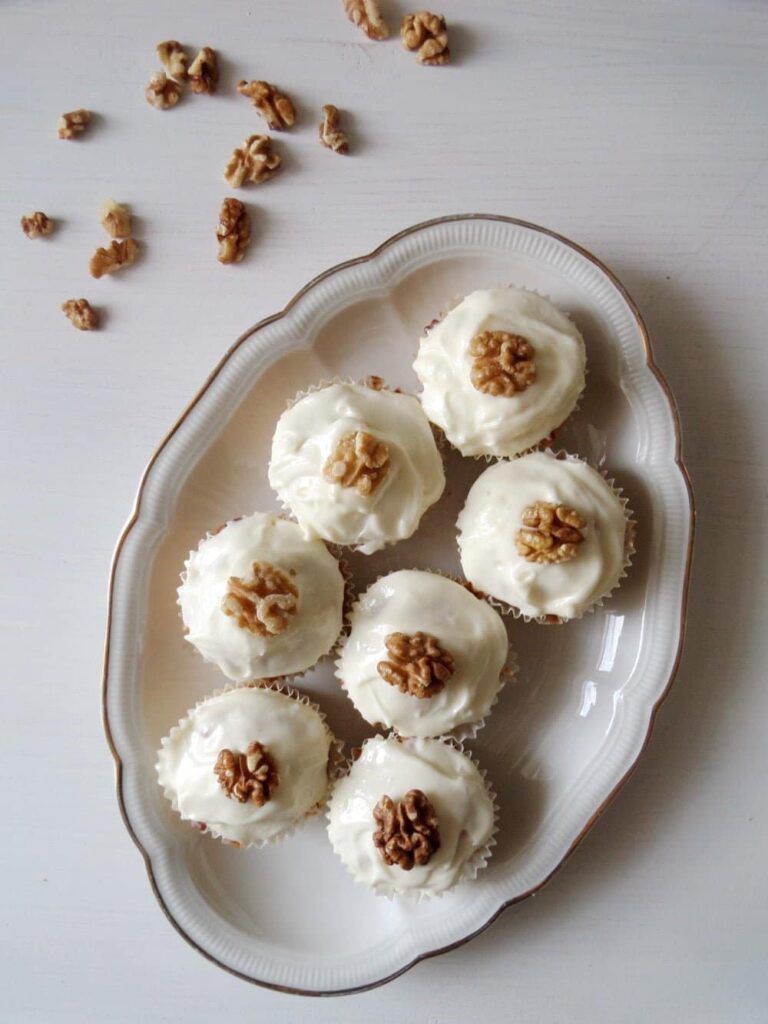 Carrot Cupcakes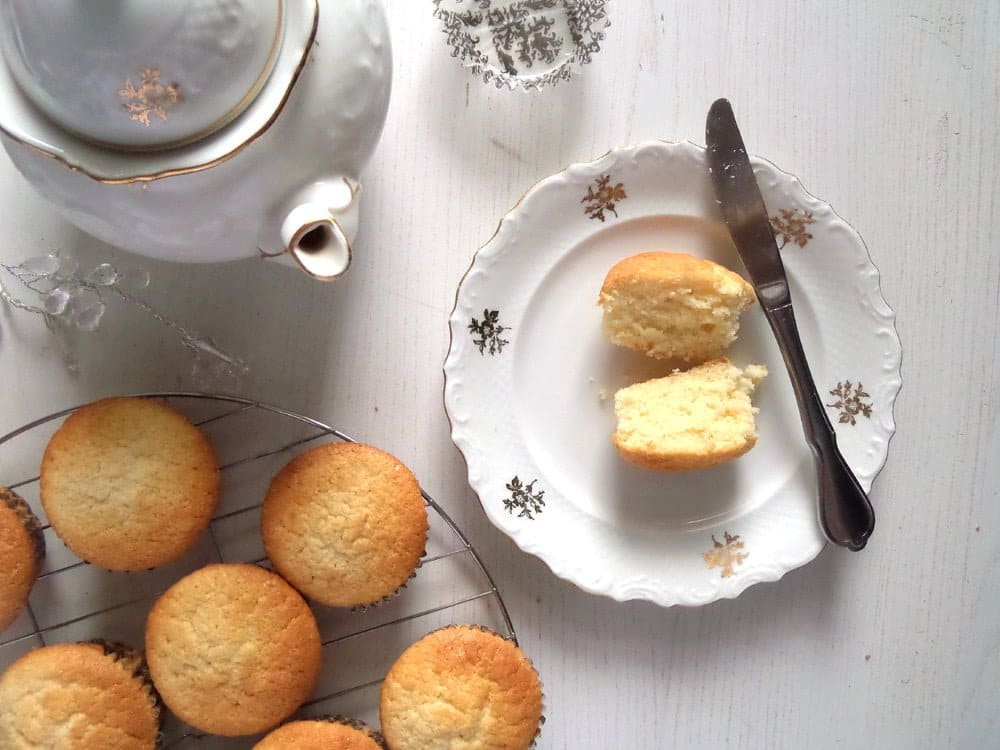 Sour Cream Muffins