Carrot muffins with cinnamon, topped with a creamy blueberry frosting.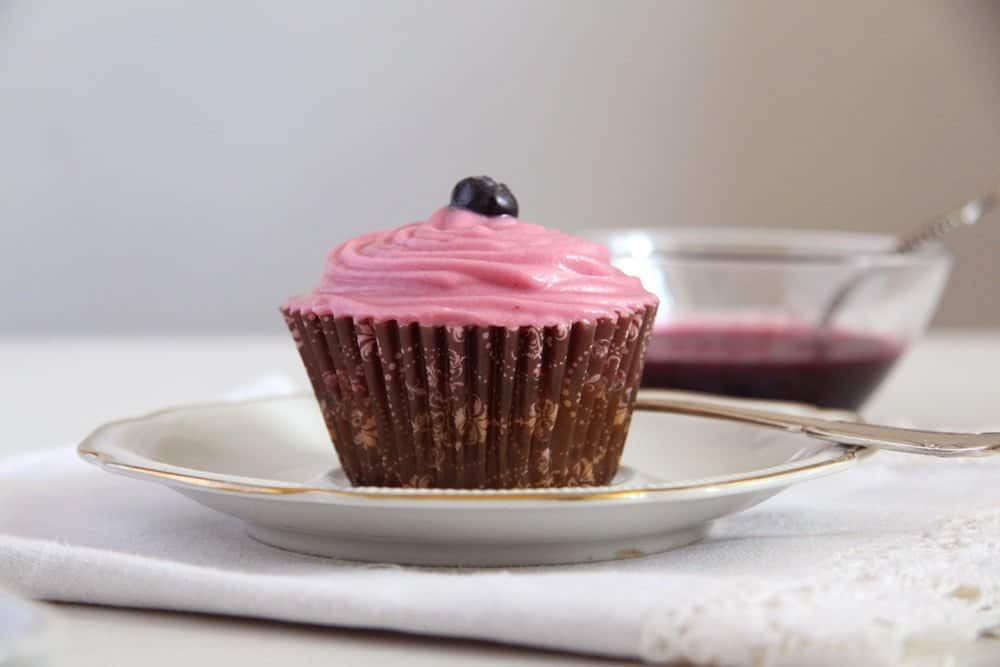 These cinnamon-spiced carrot muffins with a soft and creamy buttercream blueberry frosting are some of our favorite muffins. And if you like them, be sure you would love Nigella's carrot cupcakes or these simple sour cream muffins.
One of my best friends ate one of these cupcakes and the only thing she was able to say between two bites was "Megageil", which you could approximately translate as mega awesome, mega sexy, mega attractive or, better, a mixture of all these words together. 🙂
I never would have used this word to describe the muffins myself, but as soon as I heard it, I thought that they describe these muffins better than any other words I could think of.
The matching between that robust muffin, deliciously spiced with cinnamon, nutmeg and ginger and the soft, creamy and sweet blueberry frosting, then the brown-orange manly body of the cake and the feminine pink of the topping, really a match made in heaven, attractive, sexy, luxurious, seductive … all words connected with the word "geil". Trust me, you don't want to miss these muffins.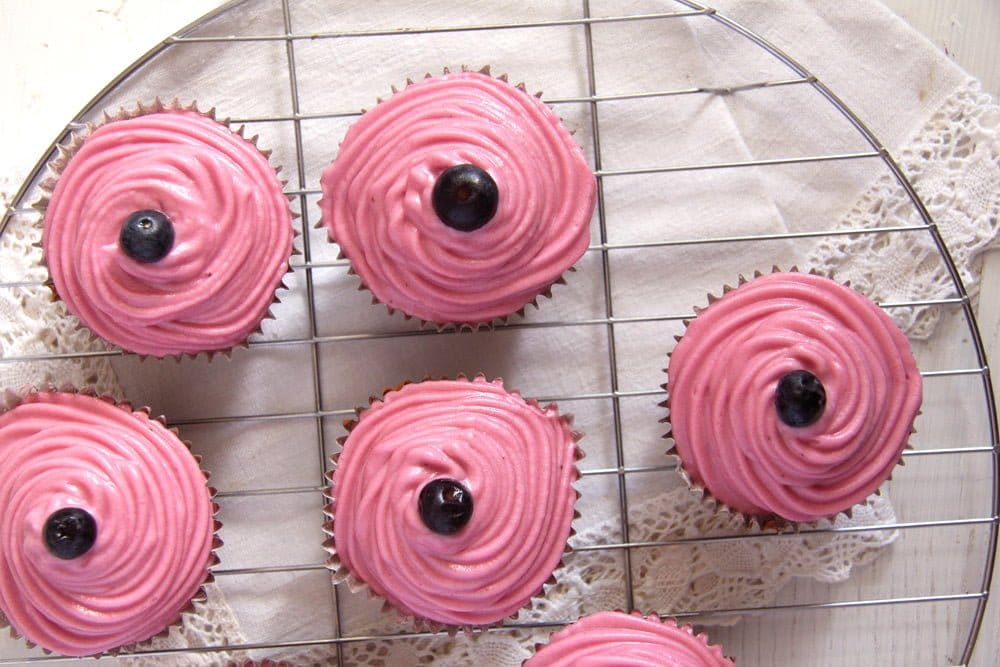 Tips for making carrot muffins
Use fresh carrots, which you will shred yourself. Pre-shredded carrots are not moist enough for making cakes and you will notice that in the finished product.
You can add 2 tablespoons raisins or chopped walnuts to the batter. Fold them in together with the flour.
Don't overwork the batter or the muffins will lose their fluffiness. Fold the dry ingredients gently into the wet mixture and don't fold in for too long. Don't stir at all.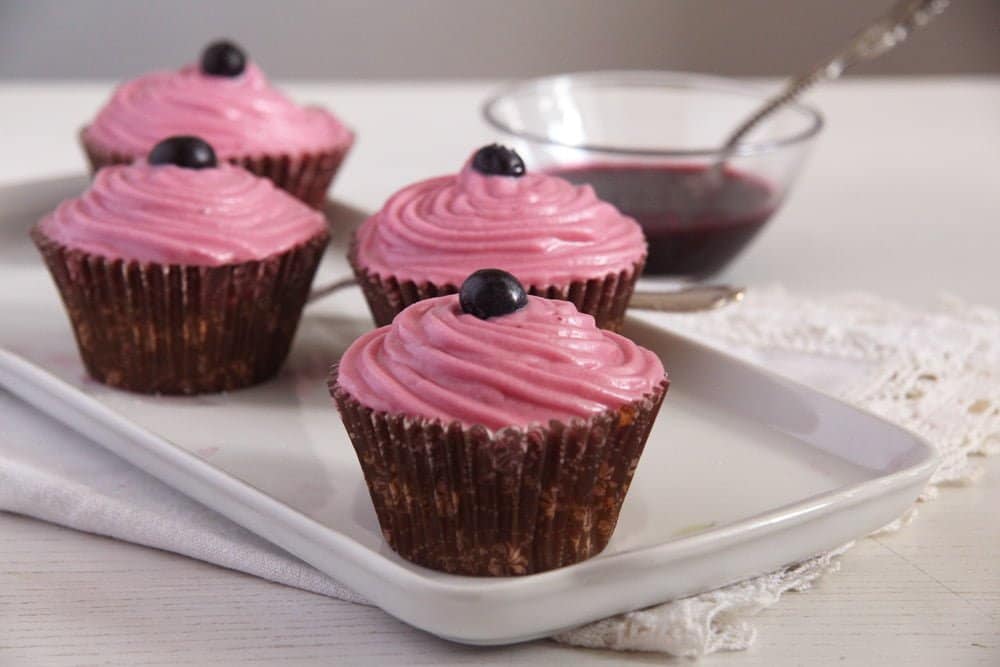 Tips for making the blueberry frosting
You will have more blueberry sauce than you need for making the frosting, but making even less sauce than it already is, is difficult.
Use the remaining sauce to pour over the carrot muffins when serving.
If you still have leftovers, they will keep well in the fridge for several days. You can add them to porridge or müsli in the morning, stir it into yogurt or pour over waffles, pancakes, or crepes.
Make sure you beat the butter for the buttercream until very fluffy.
You will get the best results when using a stand mixer, but a handheld mixer is fine as well as long as you are patient enough to hold it as long as it takes the butter to get really light and fluffy at least 5 minutes.
Always sift the icing sugar when making buttercream.
Don't be tempted to stick your finger into the buttercream, lick it, and then stick it again. This might cause the buttercream to curdle.
If the buttercream is too soft after adding the blueberry sauce, you can add more sifted icing sugar and beat again.
However, I prefer a softer consistency in this case. I usually just refrigerate the frosting for a while until it is stiffer.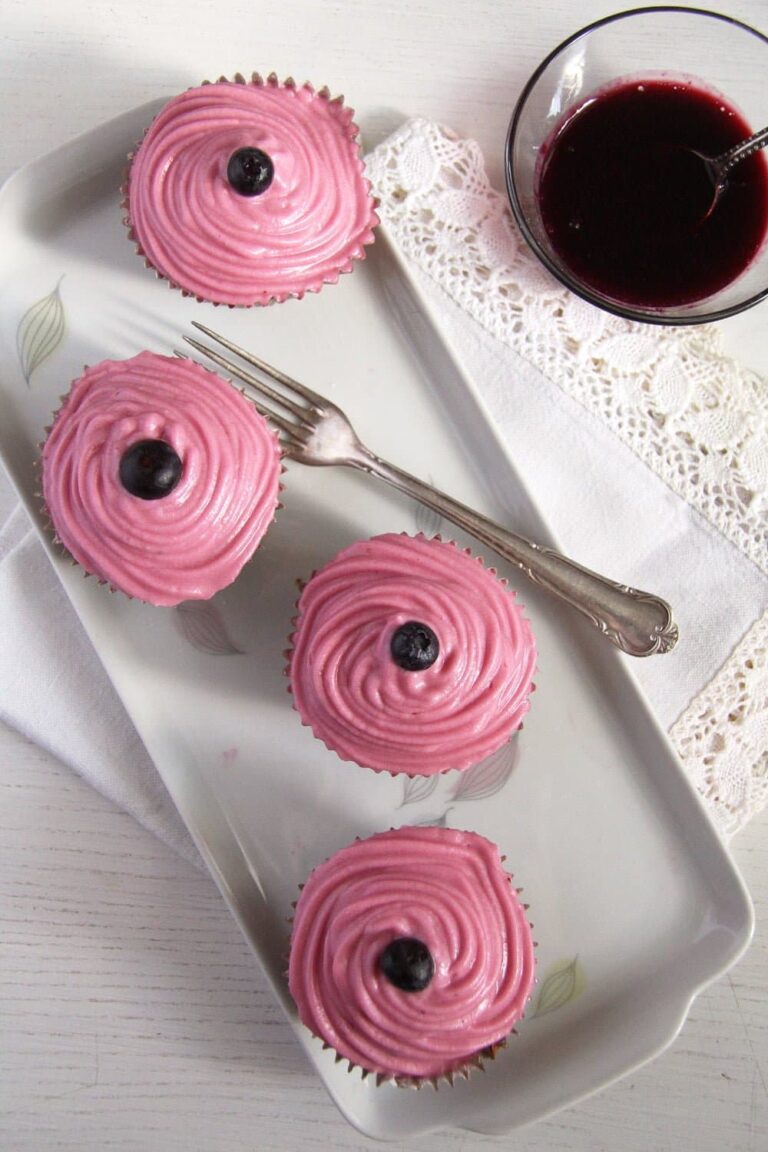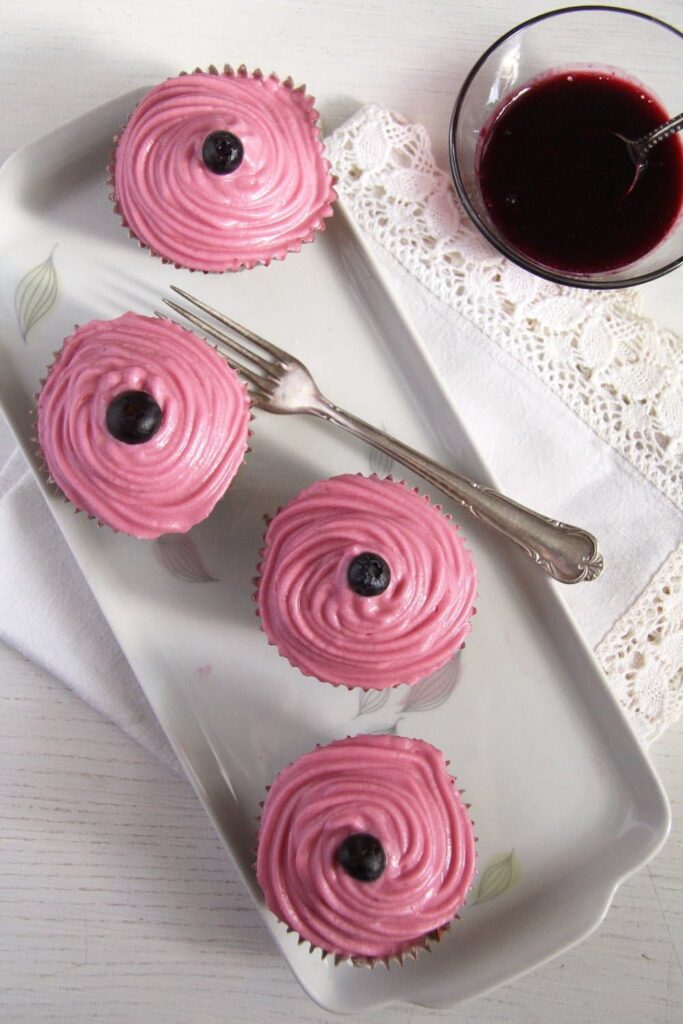 How to keep?
The unfrosted carrot muffins will keep well in an airtight container for about 3 days at room temperature and about 5-7 days in the fridge.
You can also freeze them when unfrosted, they will be fine for up to 3 months.
The frosted muffins need to be refrigerated and they will keep for 2-3 days. I would not freeze them.
More carrot cakes and muffins:
Nigella's Carrot Cake Cupcakes or Muffins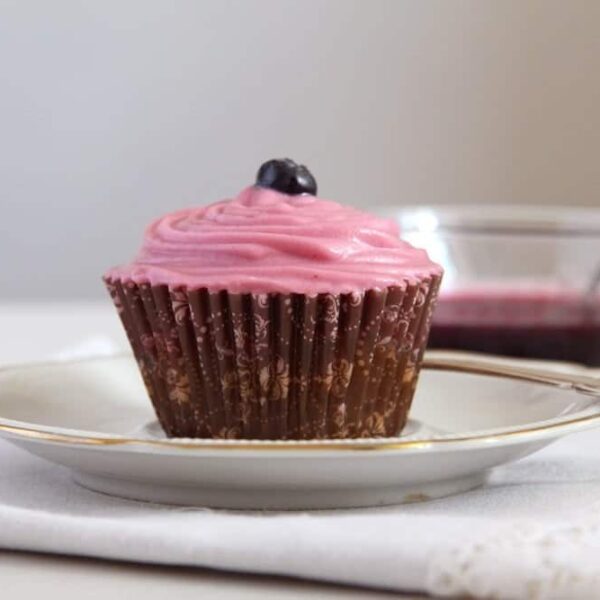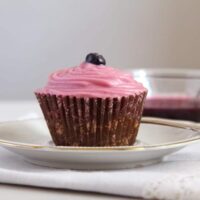 Carrot Muffins with Blueberry Frosting
Carrot muffins with cinnamon, topped with a creamy blueberry frosting.
Print
Pin
Share
Grow
Saved!
Rate
Ingredients
Muffins:

150

g

carrots

5.3 oz

2

eggs

medium Germany, large US

100

g

brown sugar

3.5 oz/ ½ cup

100

g

unsalted butter

3.5 oz/ ⅓ cup + 2 tablespoons

200

g

all-purpose flour

7 oz/ 1 ⅔ cup

1

teaspoon

cinnamon

½

teaspoon

nutmeg

a pinch of ginger powder

1

teaspoon

baking powder

Frosting:

60

g

blueberries

2 oz/ generous ½ cup

2

tablespoons

water

¼

teaspoon

corn starch

1

tablespoon

sugar

300

g

soft unsalted butter

10.5 oz/ 1 ¼ cup

350

g

icing sugar

12.3 oz/ 3 ½ cups

½

teaspoon

vanilla extract

a few drops of purple/pink food coloring

optional
Instructions
Muffins:
Preheat the oven to 180 degrees Celsius/ 350 degrees Fahrenheit. Place 10 cupcake liners in the muffin tin.

Wet ingredients: Grate the carrots finely. Beat the eggs and the cane sugar together until frothy. Melt the butter, add it to the mixture, and mix well. Fold in the grated carrots.

Dry ingredients: In another bowl, mix the flour, spices, and baking powder. Fold them in the egg-butter mixture. Place the batter in the prepared tin and bake

Bake and cool: Bake for 20 minutes. Take out and let in the tin for about 10 minutes. Remove and allow cool completely on a wire rack.
Blueberry frosting:
Cook blueberries: Set aside 10 nice blueberries for the decoration. Place the rest in a small pan together with the water, starch, and sugar. Bring to a boil and simmer shortly on low heat until it thickens slightly. Pass through a sieve and set aside to get completely cool.

Buttercream: Beat the butter until very fluffy. Add the sieved icing sugar in two or three batches and beat well. Add the vanilla, 2 tablespoons of the blueberry sauce, and the food coloring if you want to obtain a more intensive color. Mix well.

If the frosting is too soft, place it in the fridge for a while. You could add more icing sugar to make it stiffer if you wish.

Decorate: Place the frosting in a piping bag and decorate the muffins. Add a blueberry on top of each and place it in the fridge until ready to serve. Pour some of the blueberry sauce over the cupcakes and serve.
Nutrition
Serving:
1
muffin with frosting
|
Calories:
564
kcal
|
Carbohydrates:
64
g
|
Protein:
4
g
|
Fat:
34
g
|
Saturated Fat:
21
g
|
Polyunsaturated Fat:
10
g
|
Trans Fat:
1
g
|
Cholesterol:
123
mg
|
Sodium:
330
mg
|
Fiber:
1
g
|
Sugar:
47
g