Nigella Lawson's amazing carrot cupcakes with cream cheese frosting and walnuts, you will be amazed how good these cupcakes are. 
Wonderful wonderful carrot cupcakes, the best recipe for carrot cupcakes I've made until now. Really moist and tasty and when eaten without the icing not overly sweet. The walnuts inside gives them a bit of crunchiness and the topping makes them creamy and somehow luxurious.
I found the recipe in Nigella Lawson's  How to Be a Domestic Goddess: Baking and the Art of Comfort Cooking
, a wonderful book which I bought recently on Amazon. I read it through already, but this is the first recipe I've made out of it. And it is great.
The only problem with the book is that I unintentionally bought the American version where all the measuring is done in cups. What a mess I had today in the kitchen. Flour on every surface and on the floor, thousand cups and little bowls to wash afterward, oil spots on the pages… I was really annoyed! It is so much easier with grams and milliliter.
So if anyone out there who measures everything in cups and unintentionlly has bought the metric version of this book, we could exchange!!!!!!!!!
In the meantime, here is the recipe, and I am telling you, if you like carrot cake, this is a must!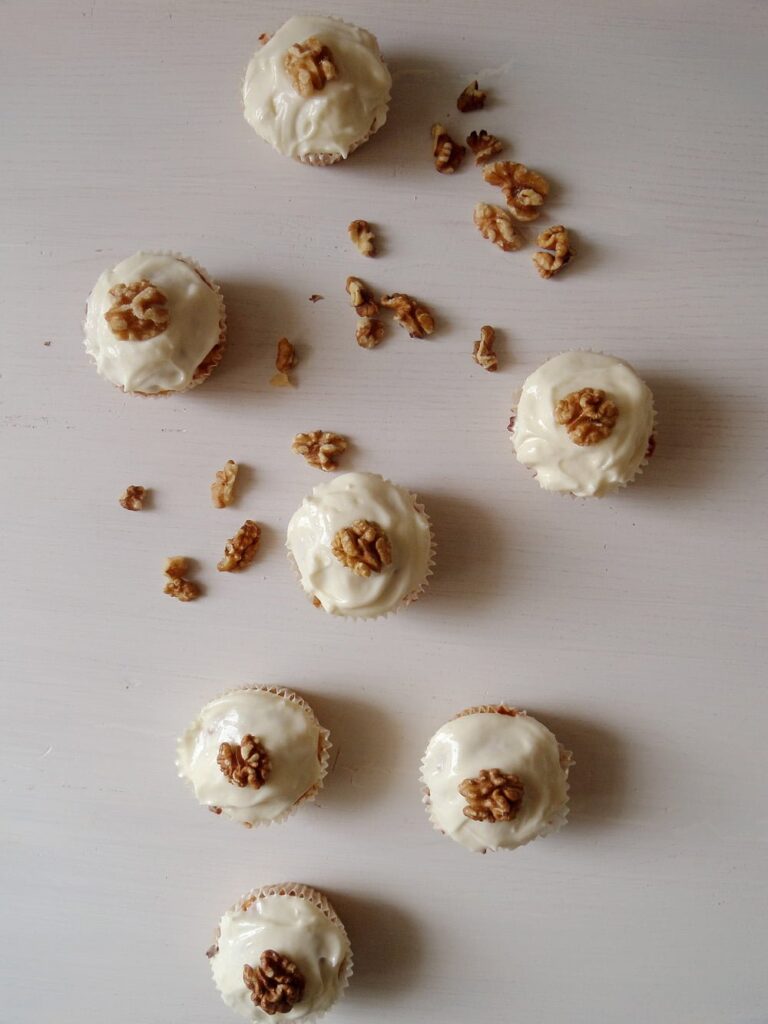 Other delicious carrot cakes, cupcakes or cookies:
Easy and Spicy Carrot Cookies with Orange Icing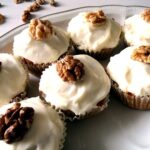 Ingredients
110 g/ 3.9 oz/ scant ½ cup light brown sugar
150 ml/ 5 fl.oz/ ¾ cup sunflower oil
2 large eggs
210 g / 7.4 oz/ 1 ½ cups all-purpose flour
¾ teaspoon baking soda
1 teaspoon cinnamon
pinch of salt
zest of 1 organic lemon
zest of 1 organic orange
2 medium carrots
50 g/ 1.7 oz/ scant ½ cup chopped walnuts
120 g/ 4.2 oz/ ½ cup cream cheese
170 g/ 6 oz/1 2/3 cups icing sugar, sifted
1 teaspoon lime juice
12 walnut halves
Instructions
Preheat the oven to 200 degrees Celsius/ 400 degrees Fahrenheit.
Grate the carrots finely.
Mix the sugar and oil with the hand held mixer. Wear an apron if you don't want to ruin your clothes, my t-shirt is full of little oil spots. My daughter's the same. She helped. Add the eggs one at a time and mix shortly, until creamy.
Mix together the flour, baking soda, cinnamon, salt, the lemon and orange zest. Add to the egg mixture and then fold in the carrots and the chopped walnuts.
Spoon the mixture in the muffin cups lined with muffin paper cases. Bake for 20 minutes. Transfer onto a wire rack and let cool completely.
To make the icing beat the cream cheese until smooth, that will take a few seconds. Beat in the icing sugar and add the lime juice. Spread the icing on top of the cupcakes using a butter knife. Place half a walnut on top and enjoy.
This post contains affiliate links. The price you pay as a consumer does not change, but if you make a purchase we will receive a commission which helps support the blog.