Incredibly flavorsome roasted green onions or roasted scallions on a bed of creamy polenta with cheese and a drizzle of cream on top!
Baked Green Onions or Spring Onions
Roasted green onions – where have you been all my life?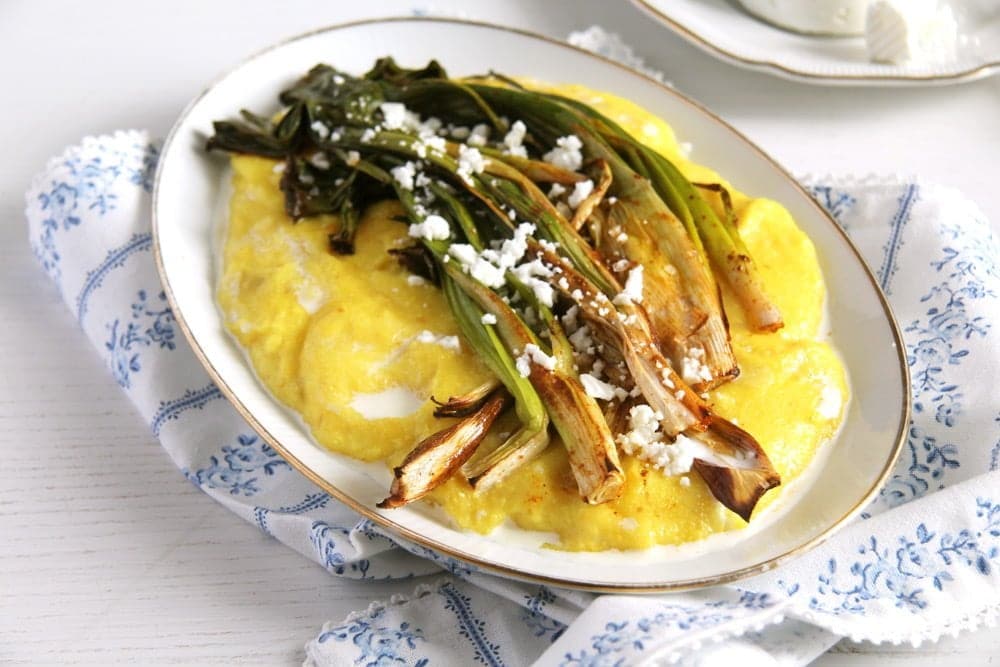 I absolutely love scallions or green onions, I have been eating them all my life and my favorite way of eating them is actually raw, dipped in a little bit of salt before each bite, with a slice of bread smeared with cheese and some tomatoes.
Roasting green onions never occurred to me before, but sometime this winter I stumbled upon a few recipes on Pinterest all starring roasted scallions, green or spring onions. I was intrigued and decided to try something similar right away. It was amazing!!!! I
I had actually baked enough onions to feed me and my husband, but I ended up eating them all by myself for lunch and had to cook something else for him in the evening (or he just had some bread and cheese, I don't remember... 🙂 ).
Since then I've roasted scallions several times again, not only as a main dish with polenta but also as a side dish for chicken. They are just so good!!!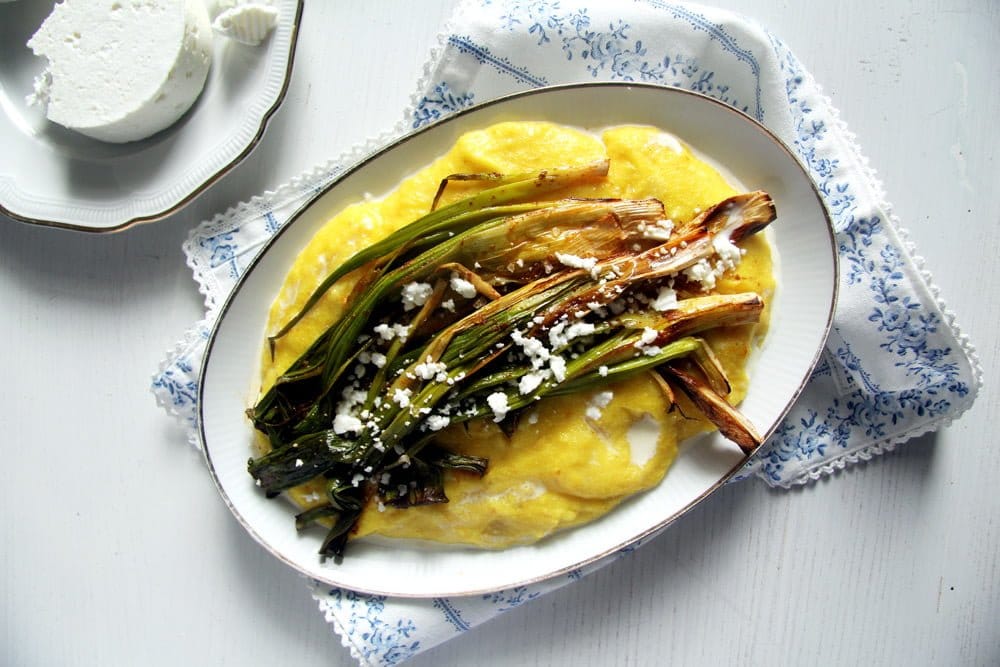 Differences between green onions, scallions and spring onions
Green onions and scallions are the same thing, the long and slender onions, which are harvested when very young, before having the chance of forming the bulb.
They are less intensive in taste than the spring onions, so the best way to eat them is raw or very slightly cooked.
The spring onions are harvested later, so they have a rather plump bulb at the base. They are normally planted in autumn and harvested in spring, that is why they are called spring onions.
Another reason people might confuse these different sorts of onions is the fact that the green onions/scallions are actually called spring onions in the UK and Canada.
So the best way of telling them apart is the bulb: thick bulb – spring onions. No bulb – green onions/ scallions.
I use them mostly interchangeably, I buy, cook, and eat what I find.
Still, if you don't like a too strong onion taste, then use green onions/ scallions when you plan to leave the onions raw, the spring onions have a stronger taste.
I used green onions or scallions in this recipe, but you can definitely replace them with spring onions.
Polenta
When making basic polenta I normally only use water and less than in this case.
I chose to use some milk and more liquid because I wanted a creamier polenta.
You can, of course, make the polenta according to your taste, and please read the packet's instructions, the liquid amount you need and the time of cooking can vary.
If you use only use water and leave out the cheese, this dish will be vegan.
How to serve?
Serve the baked green onions or scallions on polenta, as suggested.
However, that is not the only way to serve them.
Have them as a side dish for chicken or fish dishes.
They would also make a great side dish for meatballs or pork tenderloin.
And for a change, you could also try these amazing roasted leeks.
More green onion recipes?
Baked Sweet Potatoes with Camembert - Velvety, baked sweet potatoes topped with Camembert and green onions.
Easy Quiche with Cheese and Green Onions - Perfect for brunch, a picnic or another casual gathering with friends.
Beef, Rice Noodle Bowl - A simple and very aromatic rice noodle bowl with beef, soy sauce, green onions and sesame seeds, really quick and delightful.
Spaghetti with Green Onions - Comforting spaghetti with a creamy yet skinny sauce full of veggies.
Sticky Roasted Chicken Legs - Sweet and sticky chicken legs glazed with mango chutney and roasted with potatoes and green onions.
Pin it for later!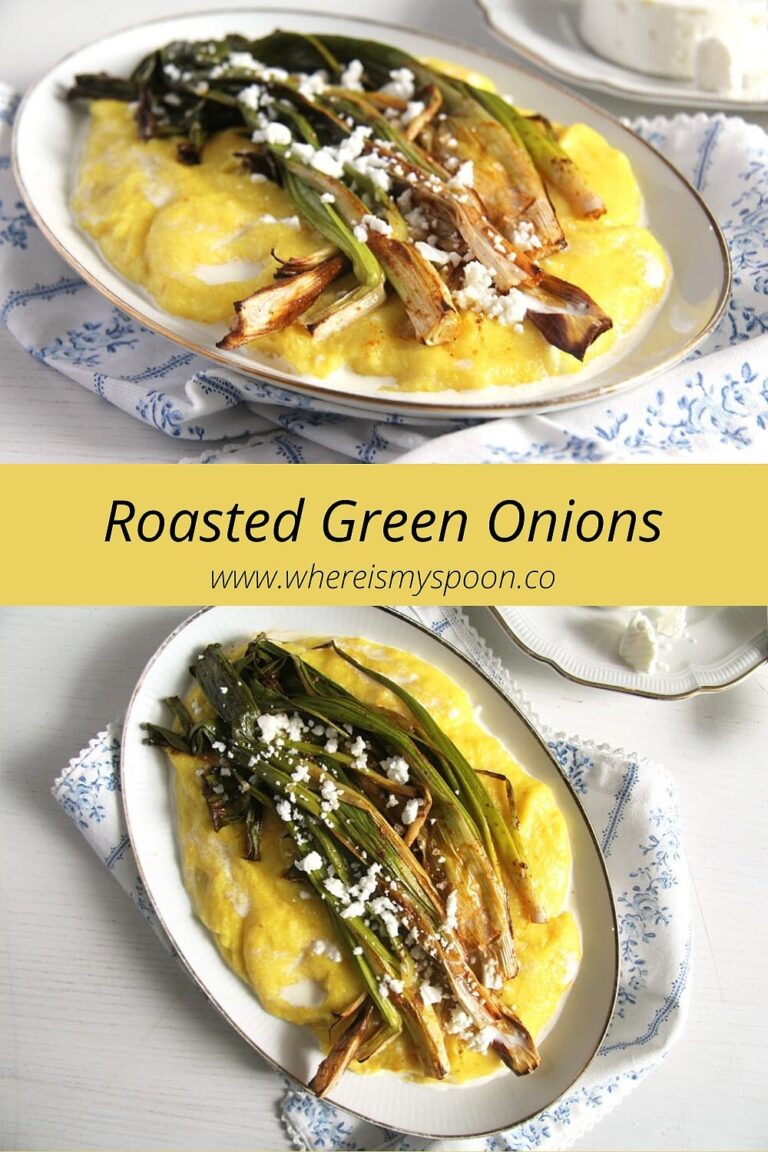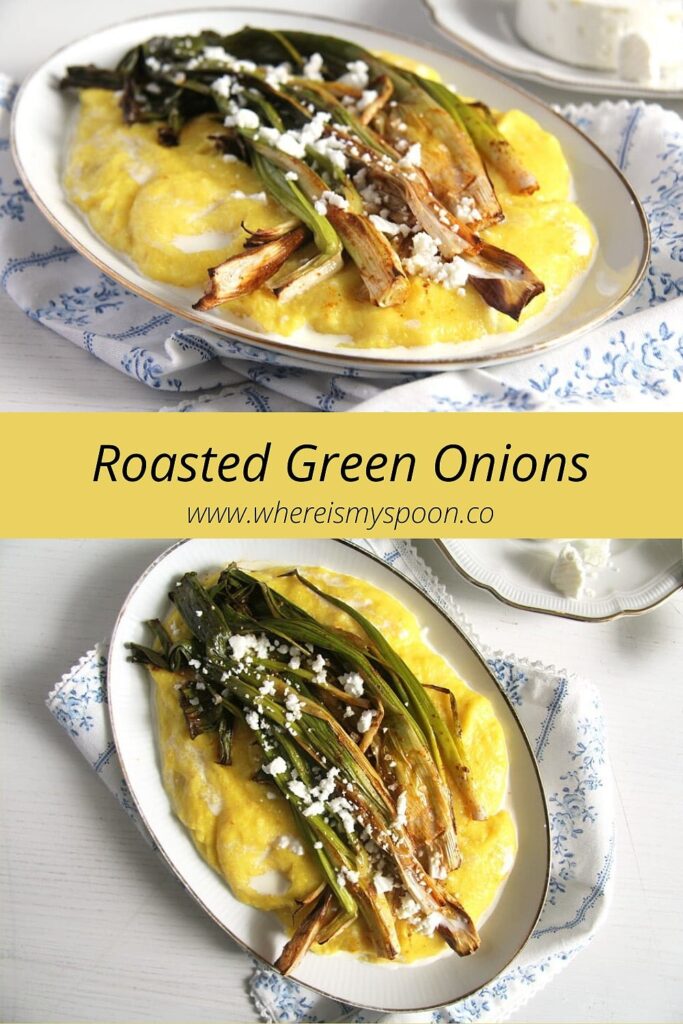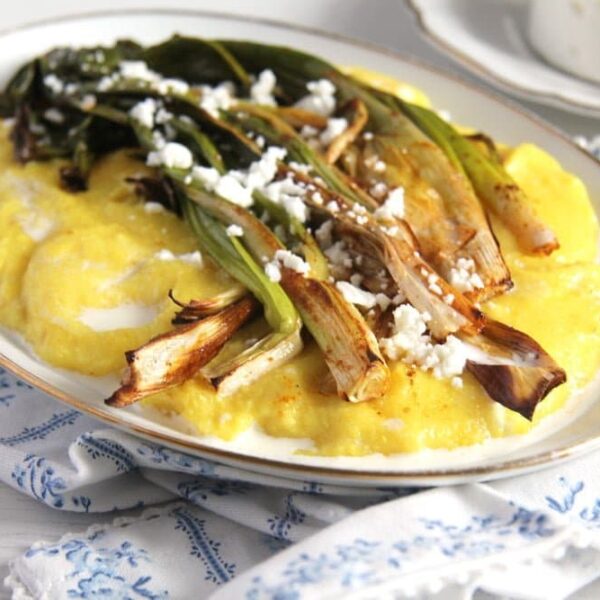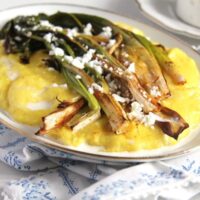 Roasted Green Onions (Roasted Scallions)
Incredibly flavorsome roasted green onions or roasted scallions, which can be served as a side dish or on a bed of creamy polenta with cheese.
Print
Pin
Share
Grow
Saved!
Rate
Ingredients
Green onions

See note:

2

bunches green onions

scallions or spring onions

½

teaspoon

hot paprika powder

1

teaspoon

sweet paprika powder

1

tablespoon

olive oil

1

teaspoon

coarse sea salt

Polenta

optional:

150

g/ 5.3 oz/ 1 cup polenta

400

ml/ 13.5 fl.oz/ 1 ¾ cups milk

500

ml/ 17 fl.oz/ 2 ¼ cups water

fine sea salt to taste

100

g/ 3.5 oz feta cheese

sheep or cow

a few tablespoons of single cream to drizzle on top
Instructions
Roasted green onions:
Preheat the oven to 210 degrees Celsius/ 425 degrees Fahrenheit. Top and tail the green onions, leaving the trimmed green tops on. Wash them and pat them dry. Slice the onions lengthwise in half.

Whisk together both kinds of paprika and olive oil. Massage the onions with the mixture and place them on a baking sheet lined with baking paper. Sprinkle with coarse salt and roast for 15 minutes, flipping halfway through.
Polenta:
Heat the milk and the water in a large pot. Add salt to taste, about 1 teaspoon. Just before the liquid starts to boil, add the polenta slowly while stirring all the time.

Cook the polenta according to the packet's instructions, mine takes about 40 minutes but the cooking times can differ a lot.

Pour the polenta on a platter, arrange the onions on top, sprinkle with cheese, and drizzle with a little bit of cream, if desired.
Notes
The roasted green onions can be served as a side dish for many mains. The polenta is optional, but such a great combination.
Nutrition
Serving:
1
/2 of the dish
|
Calories:
444
kcal
|
Carbohydrates:
21
g
|
Protein:
17
g
|
Fat:
33
g
|
Saturated Fat:
18
g
|
Polyunsaturated Fat:
13
g
|
Cholesterol:
95
mg
|
Sodium:
2921
mg
|
Fiber:
2
g
|
Sugar:
3
g