Last Updated on
Amazing chocolate crispies made with caramel, cornflakes and hazelnuts, these chocolate squares would make a wonderful homemade Christmas gift.

If you are still looking for a quick Christmas gift or an addition to a Christmas present, please make these chocolate crispies!
If the person you give it to is a chocolate lover,you cannot go wrong, these cornflake crispies with chocolate are beyond good. They are heavenly! Unbelievable!
And you don't even have to be a great chocolate lover to love this. I am not a chocolate person, but I loved every crumble of these chocolate crispies.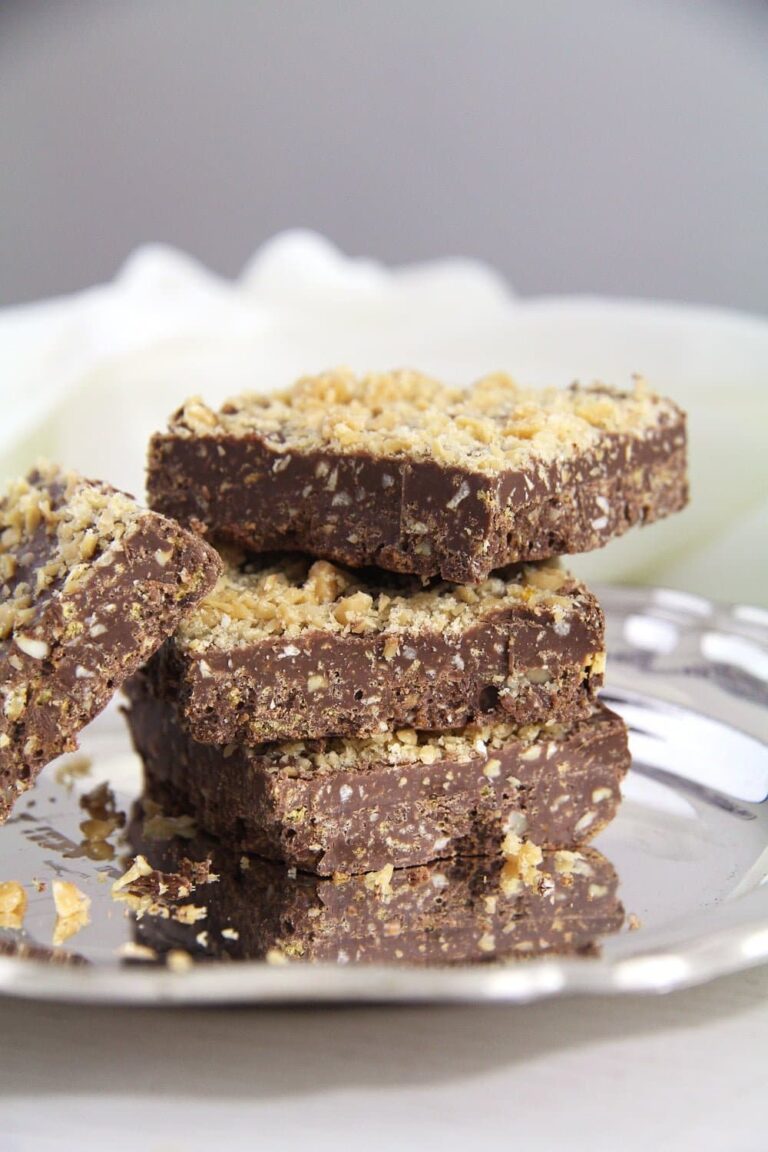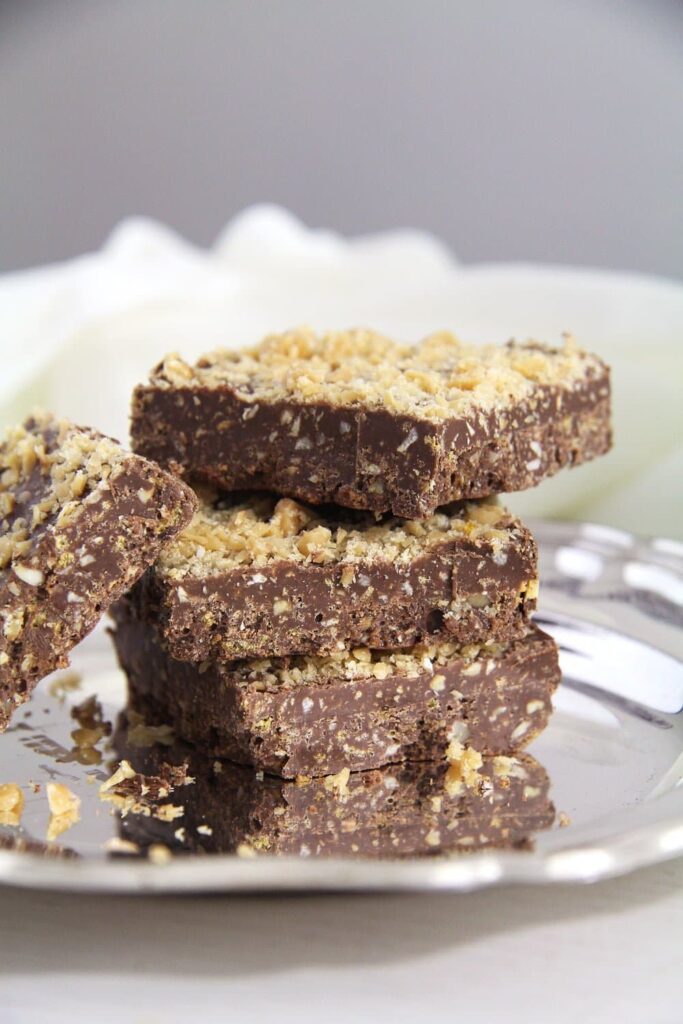 Chocolate and cornflake crispies with caramel
I've made the cornflake crispies with chocolate and caramel for the first time about three weeks ago as part of a larger homemade gift box for a friend.
The chocolate crispies got unpacked and were passed around the table.They were gone within 5 minutes and there were only 8 people present.
With one exception (there is always one), every single person had more than two pieces and could not stop complimenting me for the chocolates.
I have made the squares twice since, once for my husband to take to work and once for my weekly "Knitting Club" and the reactions were pretty much the same. I have already written down the recipe countless times…
Oh, I really don't find the words to make you realize how good these chocolate caramel crispies are…. Bittersweet chocolate, sweet and very crunchy caramel bonbon pieces, crispy cornflakes and hazelnuts… it can hardly get any better!
You really have to give them a try! For a bit of a comparison: I don't know if you are familiar with the chocolate Toblerone? I was told twice that these chocolate squares are an even better version of Toblerone.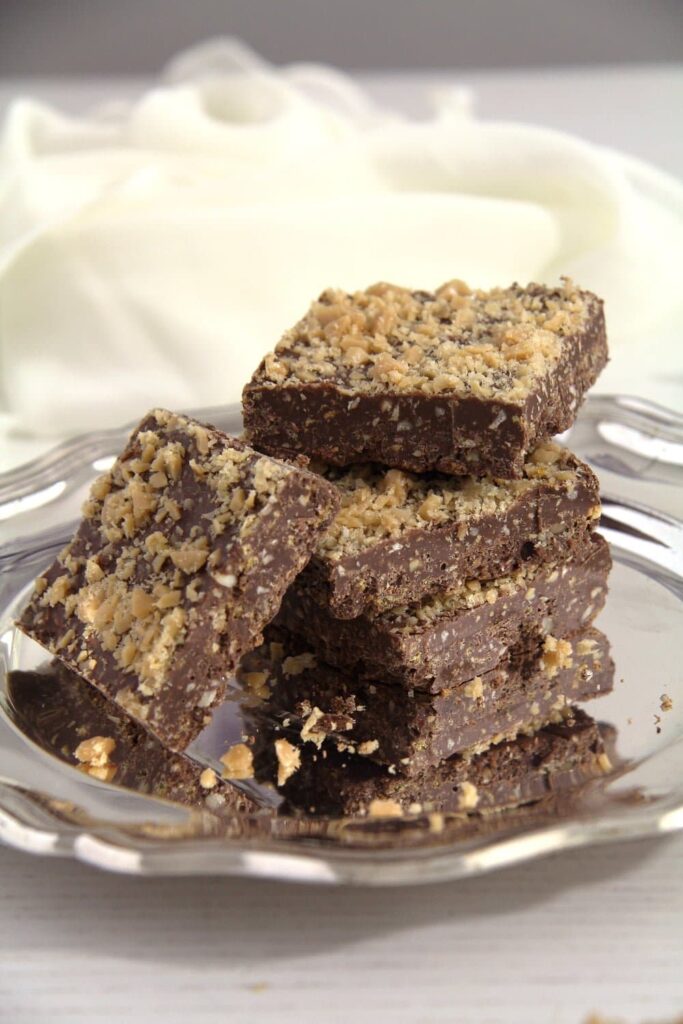 How to make the caramel chocolate crispies

I used my Thermomix for making the chocolate crispies but you can do everything by hand, it is really not difficult at all. A good food processor just makes everything quicker. The recipe is also adapted from a Thermomix recipe found in their magazine.
Like always when working with chocolate, please use the best chocolate you can get, your favorite kind.
I recommend an European kind of chocolate for best results: German, Swiss, Belgian, English. I used a mixture of milk chocolate from Milka and dark chocolate from Lindt, our favorite kinds.
I also used hard caramel bonbons from Werther's Original, I don't know if these bonbons are available in your area, if not, use any other brand of very hard caramel bonbons.
This is not a paid post or anything, Iam mentioning those product names for a better understanding, to help you choose the appropriate ingredients for making these chocolate and cornflake crispies.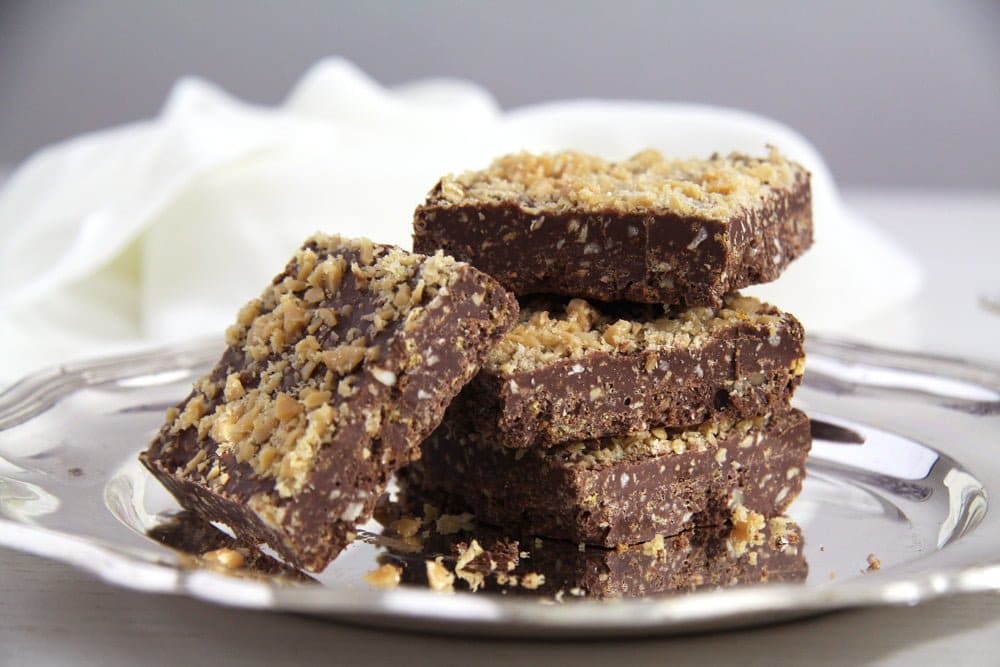 Ingredients
40 g/ 1.4 oz/ ¼ cups whole hazelnuts

50 g/ 1.8 oz/ 2 cups unsweetened corn flakes

60 g/ 2.1 oz hard caramel bonbons (for instance Werther's Original)

100 g/ 3.5 oz milk chocolate (for instance Milka)

100 g/ 3.5 oz dark chocolate about 70% cocoa (for instance Lindt)

pinch of salt

2 teaspoons vegetable oil
Instructions
Line a casserole dish of about 20x20 cm/ 8x8 inch with plastic foil.
Roast the hazelnuts in a pan without any fat, for a few minutes or until fragrant. Stand by and shake the pan very often to avoid them from burning. Immediately remove the nuts from the pan and let cool. Rub the nuts between your palms to remove some of their brown skin. You don't have to get it all away, just as much as you manage.
Chop them roughly with a large knife or in the food processor. (If using the Thermomix: 6 seconds/ level 6). Transfer to a bowl.
Crush the corn flakes roughly with the hand. (Thermomix: 3 seconds/ level 5). Give to the hazelnuts.
Roughly crush the hard caramel bonbons with a heavy pan or a meat tenderizer, a food processor is the easiest choice though, they are quite hard these bonbons. (Thermomix: 3 seconds/ level 5). Keep separately from the rest, in another small bowl.
Chop the chocolate finely and melt it in a double boiler/ bain marie. Stir in the oil and the salt. (If using the Thermomix: 6 seconds/ level 5, then melt the chocolate with the oil and the salt for 5 minutes/50 degrees Celsius/ level 2).
Carefully mix together the chocolate and the hazelnut-corn flakes mixture.
Pour the mixture into the prepared casserole dish and sprinkle with the chopped caramel bonbons.
Place the dish in the fridge for a couple of hours until the chocolate is set again.
Chop into smallish squares. I prefer to eat it cold, straight from the fridge. It keeps in the fridge for quite a while.