Simple cake balls recipe with crumbled cake and pineapple. Roll the cake balls in coconut for a wonderful winter treat, mini snowball cakes that your children will love.
HOW TO MAKE CAKE BALLS?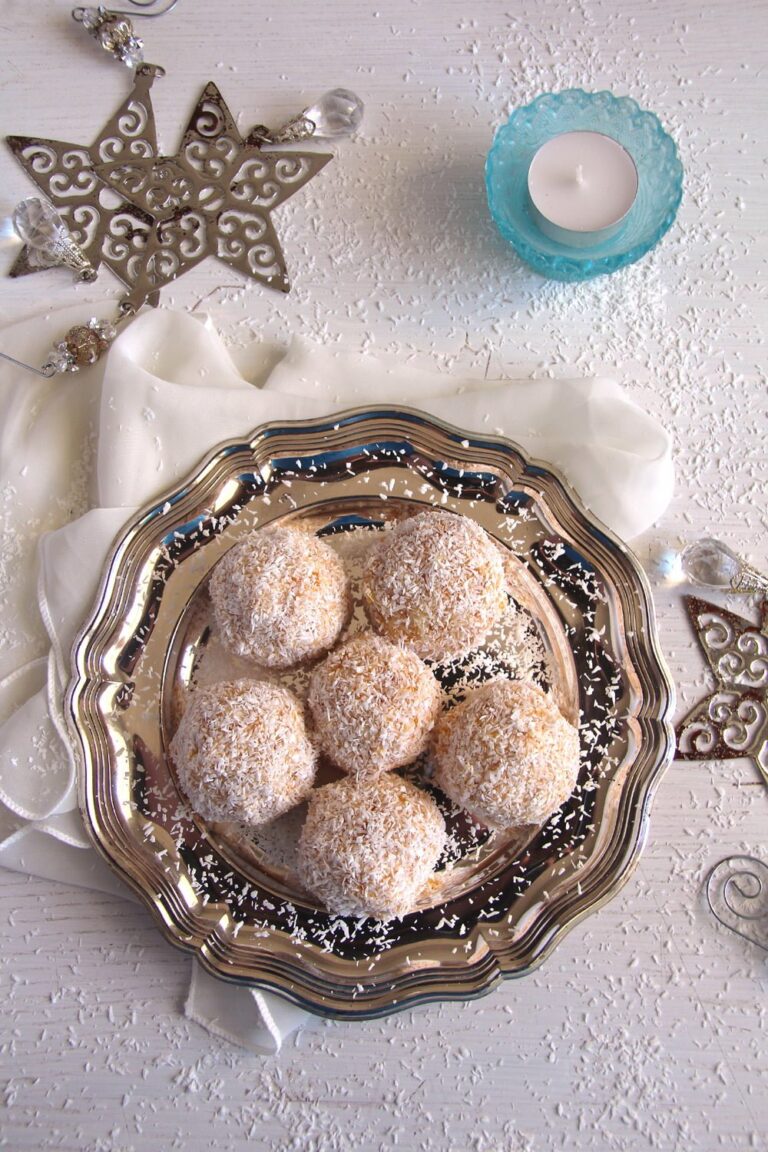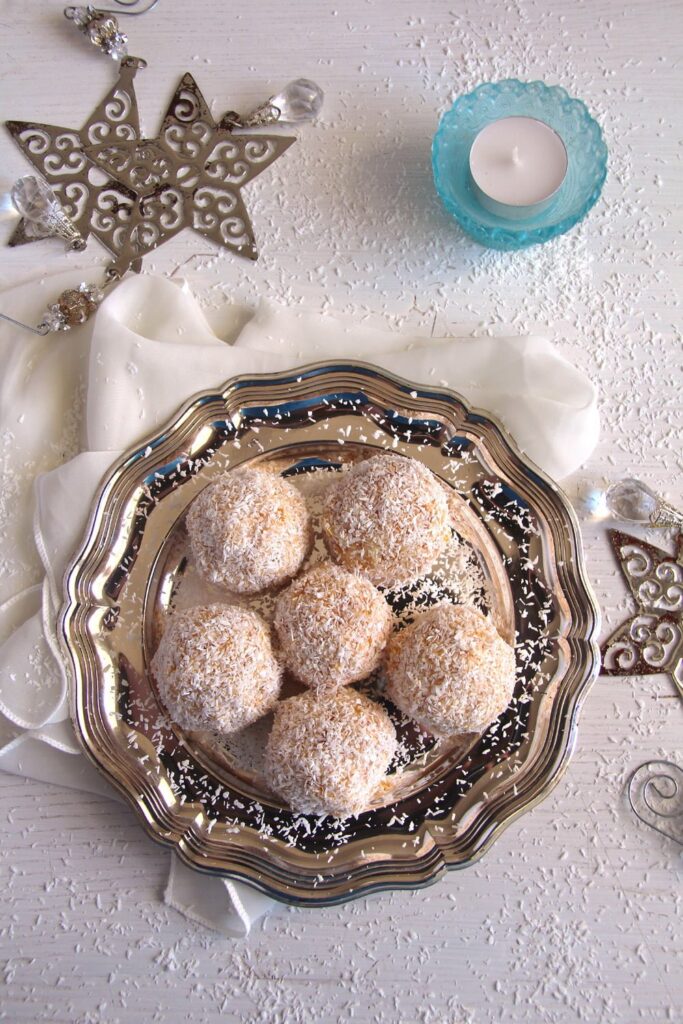 How about some mini snowball cakes to suit the weather? We have our first snow this year, wet and quickly melting snow, but the kids still like it. But even more, they like these coconut cake balls that I have been making regularly during the past years.
I call these cake balls – naked cake balls – because they are a sort of cake pops without the chocolate coating. They are also larger than cake pops.
I have been making cake pops once a year over the last 6 years. I've made them for the first time for my son's 5th birthday and ever since I have to make them again for his every birthday. What was fun and interesting at first, became slightly annoying over the years.
Cake pops are fine to eat and look so pretty, but they are time (and nerves) consuming to make. So I only make them once a year...
But not these naked cake balls. I make them often and it is never annoying.
Advantages of naked cake balls over cake pops?
So much easier to make:
Mix the ingredients and form the balls. Roll through the desiccated coconut. The end! About 20 minutes of your time, if you don't have to bake a fresh cake.
When it comes to cake pops, you have to mix the ingredients, be pretty sure you don't use too much frosting, which will make the pops lose their shape.
Form the balls. Chill for hours.
Melt chocolate to use for the sticks you will insert in the cake pops. Refrigerate until set.
Melt chocolate again. Spend ages with dipping the cake pops into the chocolate. Chill again.
Some people even dip a second time to make sure that the cake pops are pretty enough.
Coat with sprinkles or other decorations. Chill again.
And get annoyed when some of the cake pops just slide down their stick... It happens every time...
And this process takes almost an entire day.
Better consistency:
These naked cake balls are softer, tenderer, nicer to eat.
Cake pops are denser and if I have to chose I always prefer to have tenderer cake.
Better taste:
I might be biased here, but most cake pops are made with buttercream. And chocolate. I am not a huge fan.
I definitely prefer these cake balls because there is no buttercream (which also makes cake pops so dense), just fluffy and lighter tasting whipped cream.
And the addition of fruit makes things perfect.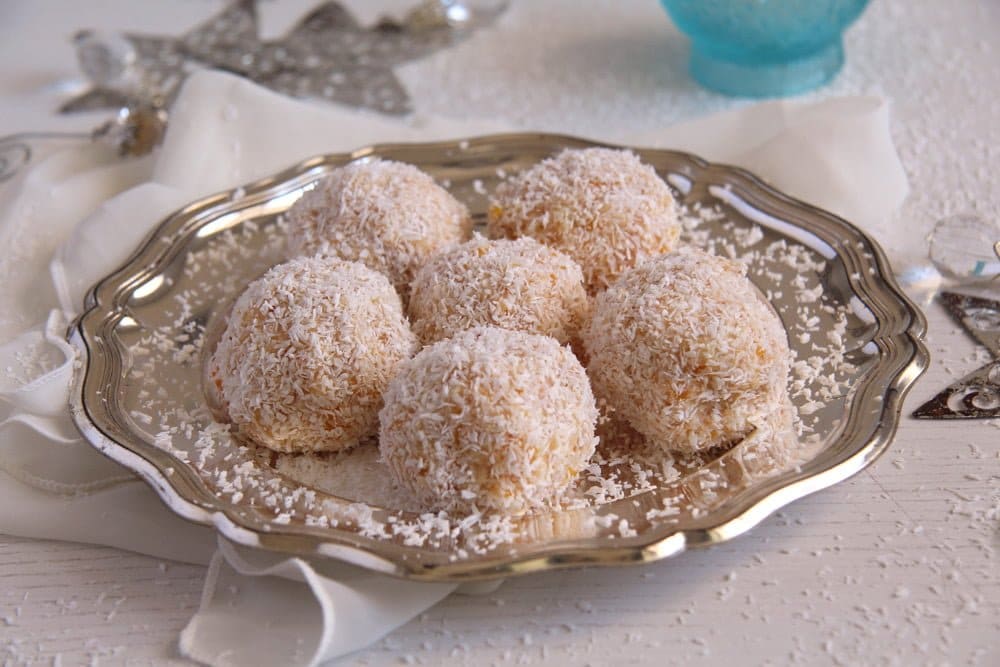 INGREDIENTS FOR CAKE BALLS
This cake balls recipe is great when you happen to have some cake leftovers in the freezer, which I have quite often. I often bake fondant cakes for other people. The cakes need to be higher than regular cakes, so I always bake a double base for one cake, but usually only use about ¾ of this cake.
So, I often have one slice of cake that I put in the freezer. Every now and then, I take one out and make a dessert, these naked cake balls or my son's birthday cake pops. Whatever the kids want at that particular moment!
What type of cake to use for cake balls?
You have four options: leftover cake, freshly baked cake, a bought cake and baking a cake mix from a box.
The number one option for me is the leftover cake, but I assume that not many people just happen to have cake scrapings in the freezer right now.
In this case, I definitely recommend baking a fresh cake. It is pretty quick, super easy and tastes better than any ready-made cake or any cake made from a box. But the choice is yours!
If using cake leftovers, take them out of the freezer and let them on the counter until defrosted, that will happen quite quickly, I don't think it even takes an hour.
If baking a fresh cake, you should preferably bake it one day in advance, so that it has time to cool properly.
If using a bought cake, just unpack it. I would choose a white or vanilla cake, something simple without filling or glaze or other garnishes.
If using a cake mix, mix and bake the cake according to the packet's instructions. Again, I would choose a white or vanilla cake mix.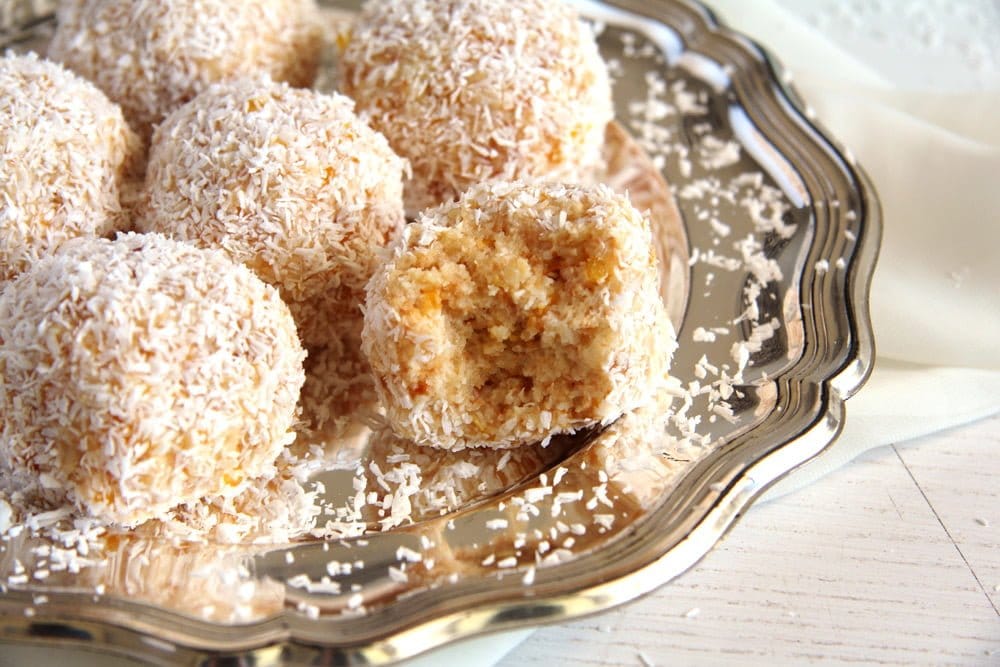 Stabilizer for whipping cream:
This is a very popular product in Germany, but not available in many other countries.
It helps whipped cream hold its shape better and longer.
In this case, it also helps the cake ball mixture set better.
If you cannot find it you can easily replace it with a 1:1 mixture of cornstarch and powder/ icing sugar.
Mix 2 teaspoon cornstarch and 2 teaspoons icing sugar in a small bowl.
Whip the heavy cream shortly. Start adding the cornstarch-sugar mixture in a slow stream while mixing continuously. Continue whipping until the cream has the desired consistency.
Coconut:
Use unsweetened desiccated coconut.
Pineapple:
You will need one can of pineapple pieces or slices.
One can in Germany weighs 340 g/ 12 oz before draining. A little more or less would be fine.
Alternatively, you can use a can of mandarins oranges.
Canned peaches or apricots or fresh seedless grapes would be great as well.
Vanilla sugar:
If not available, replace it with pure vanilla extract, to taste.
Or make your own: place an empty vanilla pod in the food processor and grind it finely. Mix with granulated sugar and keep in a jar. It keeps for a very long time.
MORE WINTER TREATS?
HOMEMADE RAFFAELLO COCONUT BALLS - Sweet and delicious homemade Raffaello coconut balls with condensed milk and almonds.
COCONUT COOKIE RECIPE - Tender coconut macaroons or coconut cookies made with only three ingredients.
CHOCOLATE CRISPIES - Amazing chocolate crispies made with caramel, cornflakes, and hazelnuts, these chocolate squares would make a wonderful homemade Christmas gift.
PINEAPPLE CANDY - How to make crystallized pineapple or candied pineapple, this recipe makes a nice and inexpensive homemade gift.
CHOCOLATE CAKE WITH CREAM CHEESE FROSTING - This chocolate cake with cream cheese frosting is the best!!!
PIN IT FOR LATER!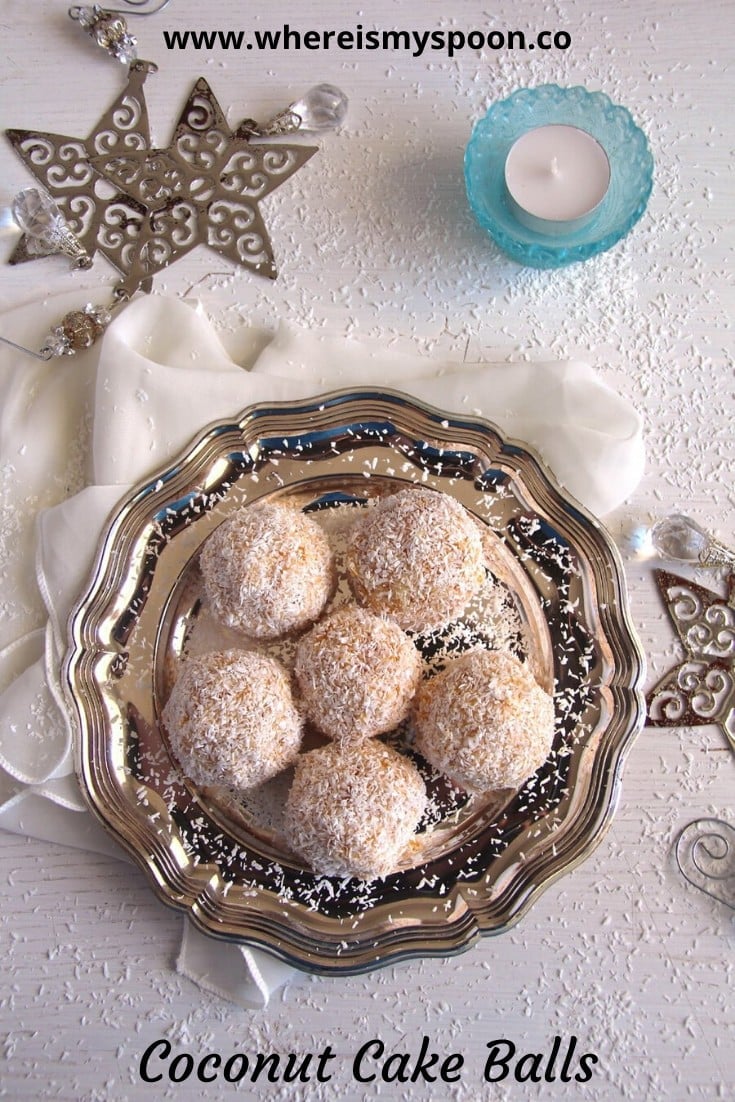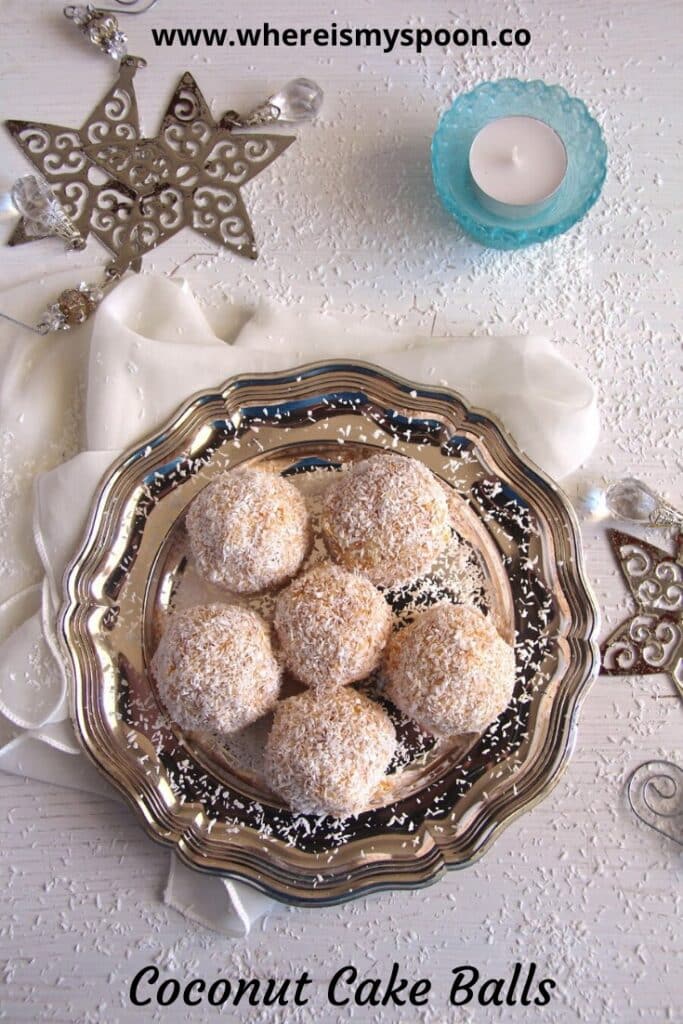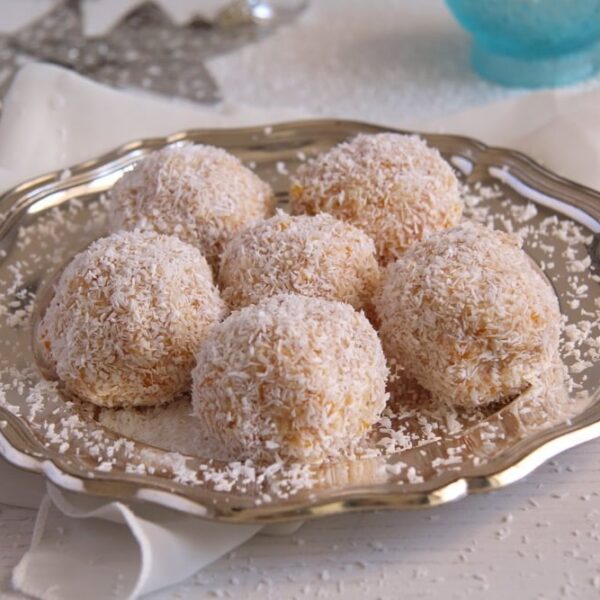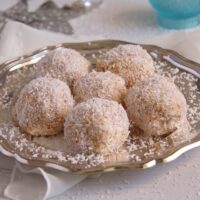 Cake Balls Recipe
Simple cake balls recipe with crumbled cake and pineapple. Roll the cake balls in coconut for a wonderful winter treat, mini snowball cakes that your children will love.
Print
Pin
Share
Grow
Saved!
Rate
Ingredients
Cake rests OR

3

eggs

medium Germany, large US

2

tablespoons

warm water

150

g/ 5.3 oz/ ¾ cup granulated sugar

80

g/ 3 oz/ ⅔ cup all-purpose flour

30

g/ 1 oz/ ¼ cup cornstarch

1

teaspoon

baking powder

Filling:

200

ml/ 6.7 fl.oz/ scant 1 cup heavy cream

1

sachet stabilizer for whipping cream

Note 2

2

tablespoons

vanilla sugar

Note 3

1

small can pineapple

100

g/ 3.5 oz/ 1 cup desiccated coconut
Instructions
Preheat the oven to 180 degrees Celsius/ 350 degrees Fahrenheit. Grease the bottom of a springform (26 cm/ about 10-inch diameter), cut a round piece of baking paper to fit the form, and place it inside the form. Do not grease the edge of the form.

Separate the eggs. Beat the egg whites and the 2 tablespoons of warm water until stiff. Slowly add the sugar and beat until the mixture gets stiff and glossy. Add the yolks and stir them in gently.

Mix the flour and starch, sift them over the egg mixture and fold in carefully.

Pour everything in the prepared springform and bake for about 25 minutes until golden.

Take the cake out of the oven, run with a knife around the edges, and turn it onto a cooling rack. Remove the baking paper quickly but carefully. Let the cake cool completely.

Drain and chop the pineapple into small pieces.

Crumb the cake in a large bowl and mix it with the pineapple pieces.

Whip the heavy cream shortly. Then, slowly start adding the stabilizer (or replacement) and the vanilla sugar or vanilla extract. Beat until the heavy cream is appropriately whipped. Add to the bowl.

Mix everything very well, and start rolling the balls. Make as many cake balls as you like; it doesn't matter how large they are. Mine are relatively large, about the size of a snowball. You will need to wash your hands after every 3 or 4 balls, making the rolling easier.

Place the grated coconut on a large plate and toss the balls in it until they are covered with coconut all over.

Place the cake balls in the fridge until ready to serve, at least 1 ½ hours.
Notes
Use a digital kitchen scale when baking; it yields the best results.
The cream stabilizer is not always necessary; you will have to decide if the whipped cream is stable enough or not. You can replace the cream stabilizer with a mixture of icing sugar and cornstarch in a 1:1 ratio. In this case, you will mix 2 teaspoons icing sugar with 2 teaspoon cornstarch and use exactly as described in the recipe.
1 teaspoon pure vanilla extract can be used instead. In this case, add one tablespoon of sugar to the mixture. To make your own vanilla sugar, have a look at this post.
Nutrition
Serving:
1
cake ball
|
Calories:
232
kcal
|
Carbohydrates:
32
g
|
Protein:
3
g
|
Fat:
11
g
|
Saturated Fat:
7
g
|
Polyunsaturated Fat:
3
g
|
Cholesterol:
70
mg
|
Sodium:
102
mg
|
Fiber:
1
g
|
Sugar:
22
g