A quick yet elegant pasta dish with zucchini and a creamy and lemony goat cheese sauce.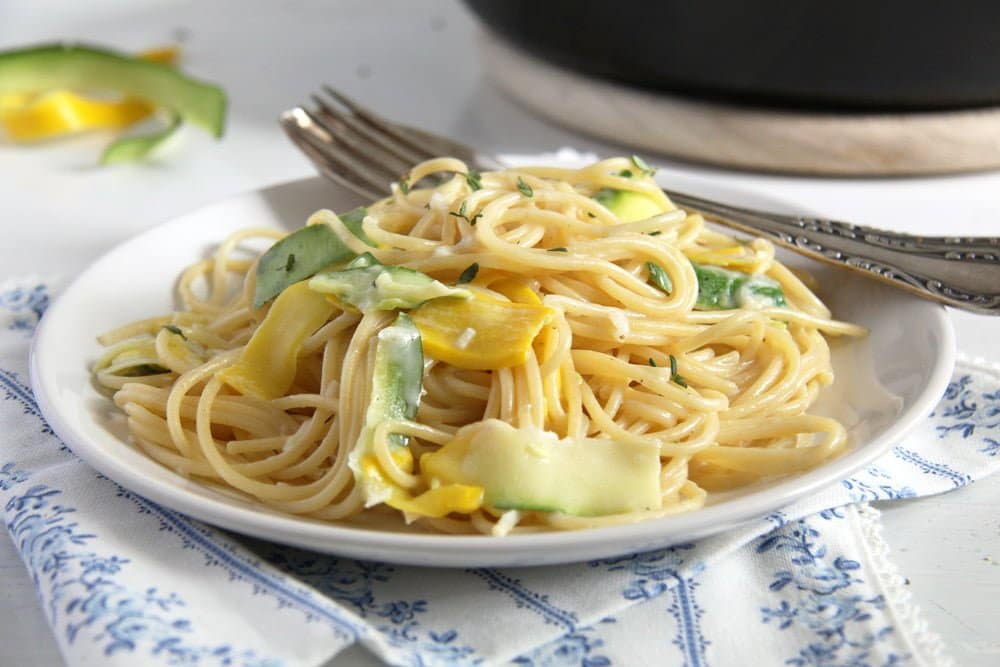 Pasta is not something I would necessarily make for guests. I make pasta at least once a week for the family, but I rarely purposely make it when somebody comes for dinner. We love pasta and everything, I have rarely eaten a pasta dish that I didn't like, but normally I think that serving pasta to guests is too simple, when entertaining I feel the need of putting a bit more effort into my cooking, a way of honoring the guests, I suppose.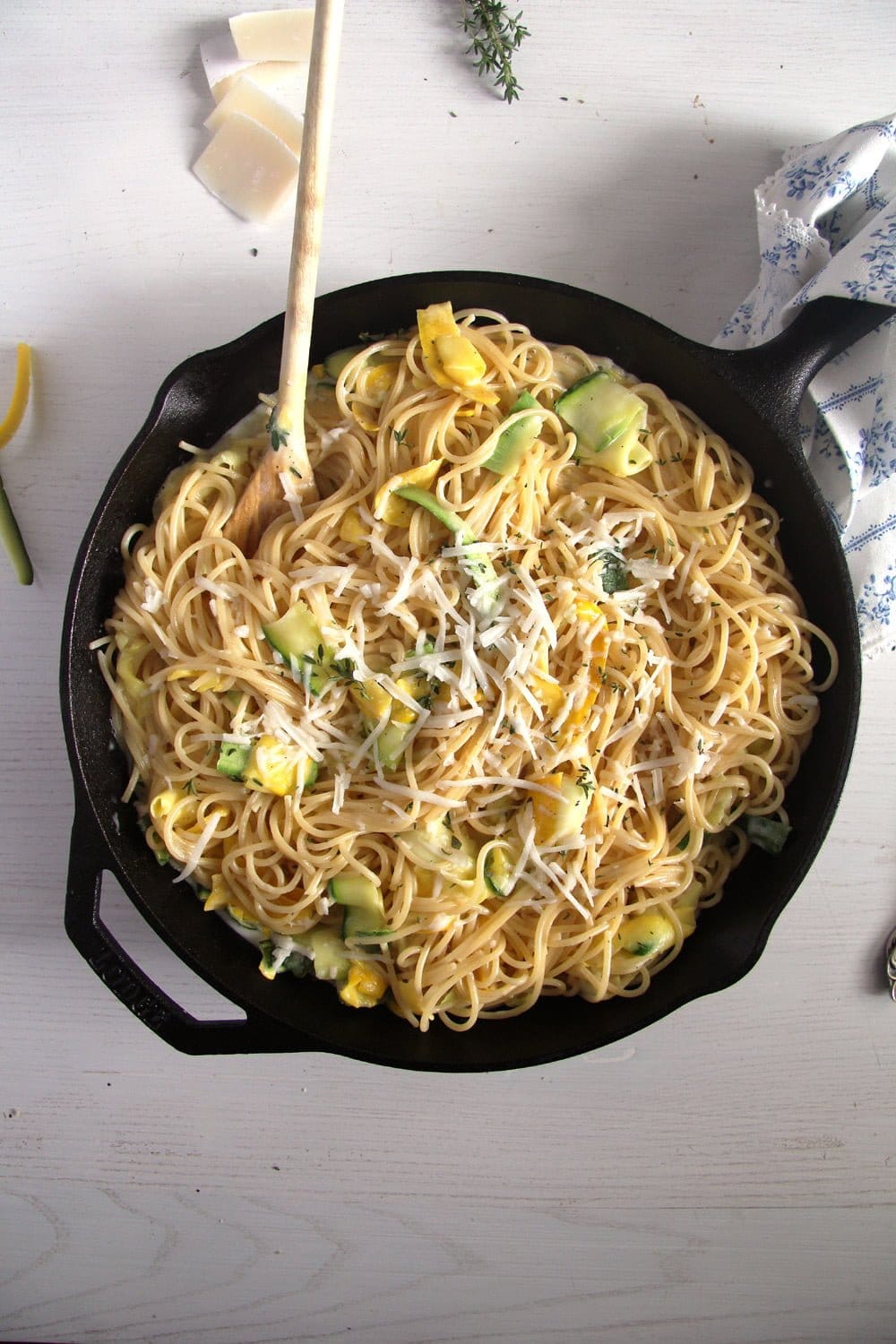 And yet this pasta dish is an exception, it is something I've treated guests with several times already and it has been a hit every time. A perfect dish for an easy evening with friends in summer, preferably eaten in the garden when the weather allows it, using zucchini, which are abundant at the moment, lemon juice to make it refreshing and fit for the warm weather and goat cheese, goat Gouda to be precise, which makes the meal a bit fancier than it would otherwise be. A nice green salad on the side and a bottle of good white wine, and trust me, you won't need anything else. Well, maybe just a dessert after the meal. 🙂
I make this dish with goat Gouda, which is definitely my favorite kind of Gouda. In comparison to regular Gouda, goat Gouda is completely white, it has the same shape as normal but the taste is different. It is a bit more expensive than regular Gouda, that is why I don't use it often in cooking, I prefer to enjoy it as it is with some bread or as part of a larger cheese platter. It tastes amazing with some fig marmalade on top or drizzled with a little honey.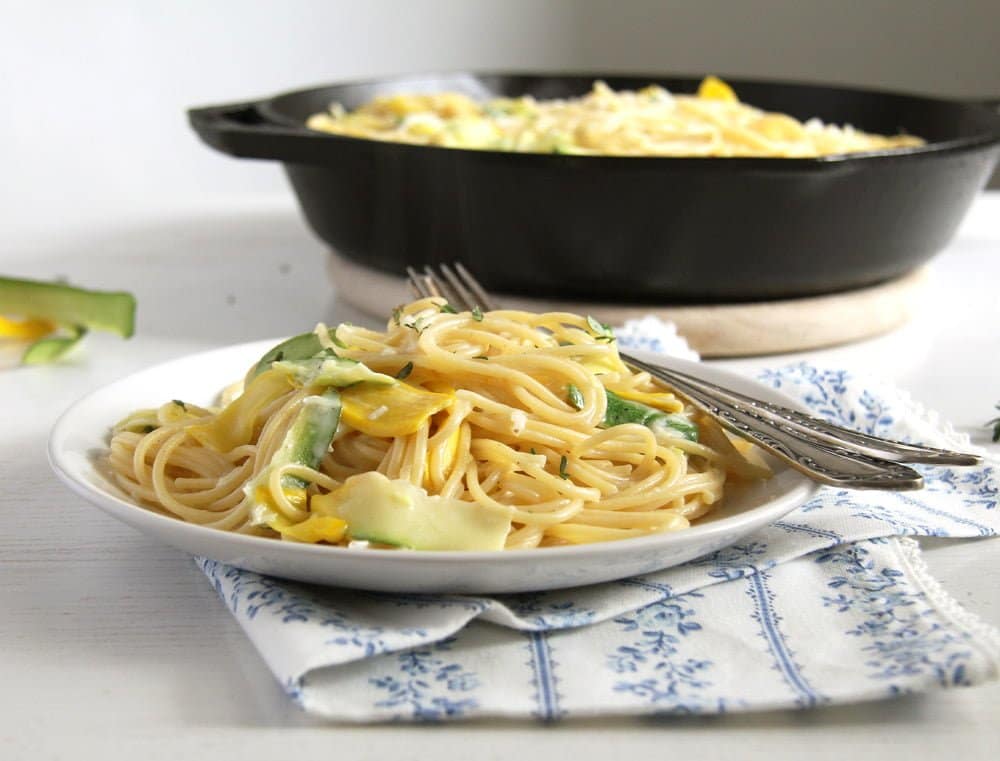 I generally like goat or sheep cheese more than normal cheese, their taste is more intense than the taste of cow cheese, but in case you are not familiar with goat cheese and are afraid that its flavor might be too sharp, don't worry, goat Gouda is quite mild compared to other goat cheese varieties. That makes it a perfect choice for first time taster. You could replace it with regular Gouda or cheddar, I suppose, the dish will still taste good, but then you will only have a regular mac and cheese with zucchini and lemon flavor and kind of miss the point of this particular pasta dish, which is the goat Gouda flavor.
Goat Gouda has become quite common in Germany during the last years, so there will be no problem buying it just about anywhere. I am not sure how common that is elsewhere in the world, but if you can get it, do it, you will not regret it, it is absolutely amazing.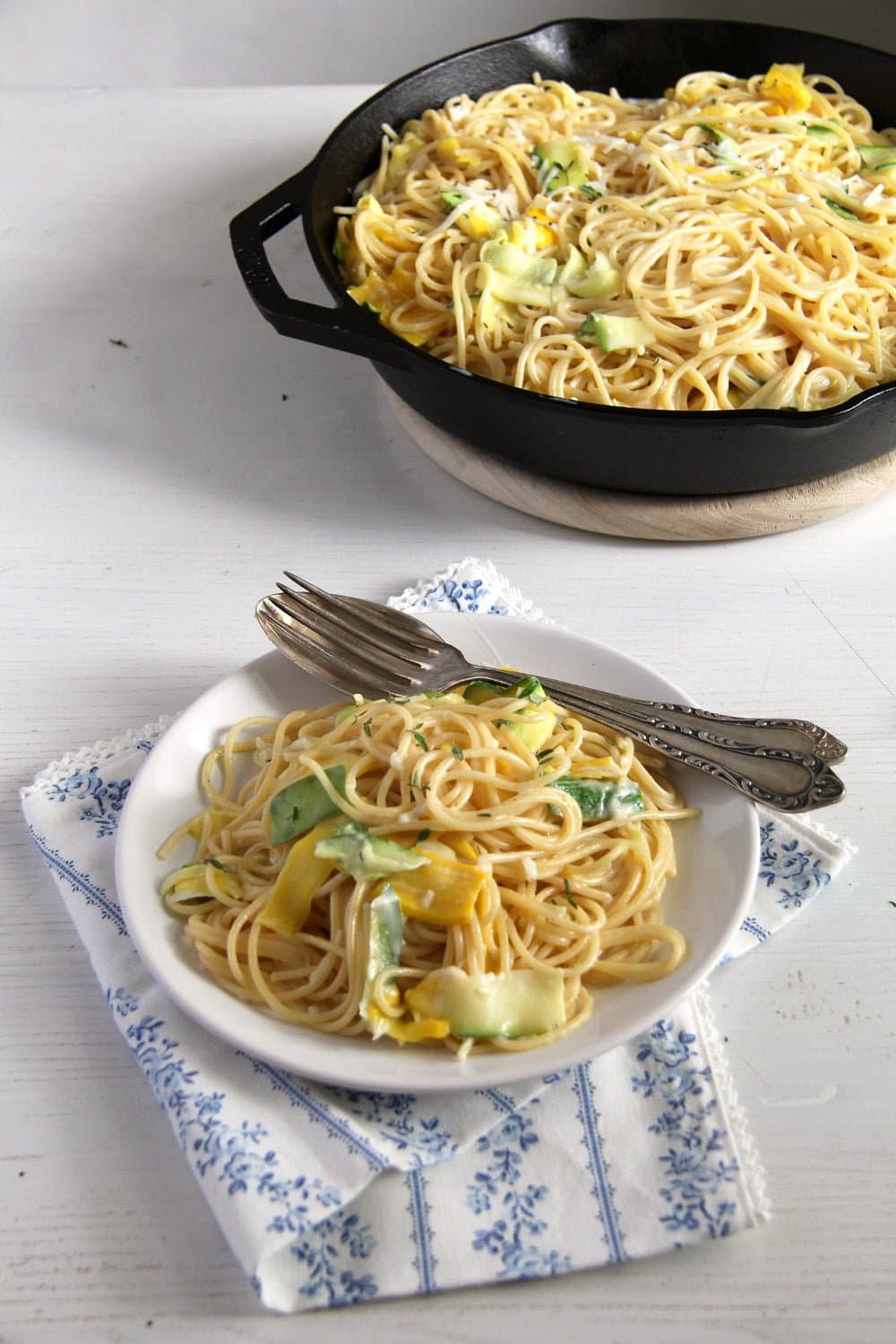 Rating 5.0 from 1 reviews
Prep time:
Cook time:
Total time: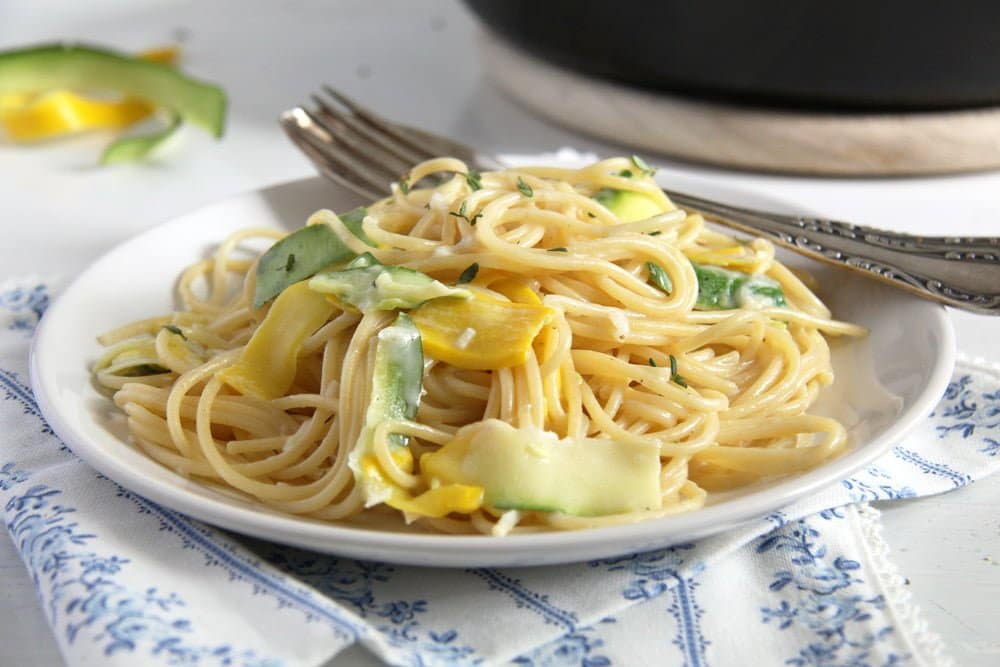 Ingredients
2 medium zucchini (I used one green and one yellow, but it doesn't really matter)
200 ml/ about 1 cup heavy cream
2 garlic cloves
400 g/ 14 oz spaghetti
1 large lemon
100 ml/ about ½ cup vegetable broth
200 g/ 7 oz goat Gouda
3-4 sprigs thyme
salt and pepper
Instructions
Cut the zucchini into long strips using a potato peeler. If you have a spiralizer, you could use that, I am sure the dish will look even better that way.
In a large bowl, mix together the heavy cream and the grated garlic cloves. Add salt and pepper to taste. Place the zucchini stripes in the cream and leave to marinate for about 20 – 30 minutes or until you prepare the rest of the dish.
Bring a large pot of water to a boil and cook the spaghetti according to the packet's instructions.
In meantime grate the goat Gouda and chop the thyme leaves very finely. Make the salad, if you are having any.
Drain the spaghetti and give them back to the pot. Add the zucchini and the cream, about ¾ of the lemon juice and the vegetable broth. Stir well but very gently, taking care not to break the zucchini stripes too much (I find that using two forks works best in this case). Heat everything together, then add the cheese and the thyme. Stir again to mix everything together. Adjust the taste with salt and pepper and more lemon juice if necessary.
Serve immediately with a green salad.
Others you might like:
Asparagus Chicken Pasta Casserole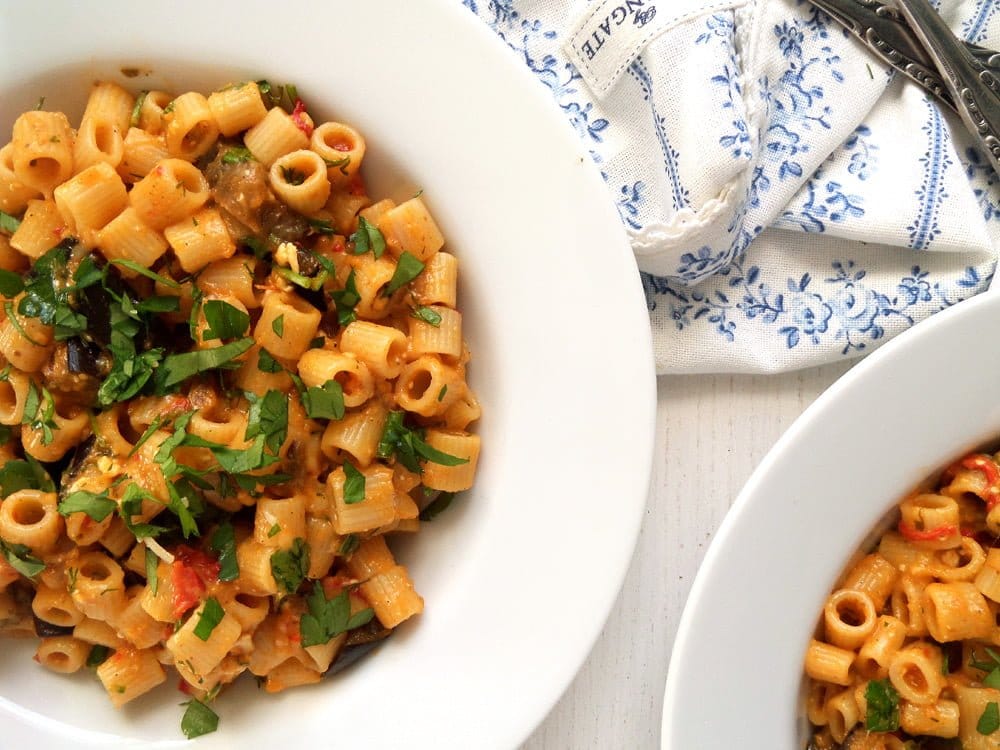 Pasta with Eggplant Tomato Sauce
Spaghetti with Aubergines