One of the quickest and easiest way of enjoying spinach this spring: spaghetti in a garlicky spinach cream sauce.
This recipe is so simple that I have difficulty finding something to say about it! Except that it is absolutely delicious. It is not a typical Romanian recipe as we traditionally don't eat lots of noodles, it is mostly about bread and polenta in our kitchen, but times have changed and I suppose that Romanian people consume lots of noodles as well nowadays. Understandable, one gets tired of so much bread and noodles are such a great thing, I cannot imagine my life without them anymore. 🙂
There were only two or three ways I got to eat noodles as a child. First of all the Romanian version of macaroni and cheese, which I suppose are kind of a national dish in every country, then chicken soup with fine noodles and very rarely (although that was my favorite noodle dish) soup noodles cooked in milk, this was like a kind of pudding, sweet, so some kind of dessert, which my grandmother would only grudgingly cook (maybe once in two years) because it contained milk.
But now there are lots of noodles in my life, I think I cook noodles one way or another at least once a week. They are delicious, easy, quick, cheap and they are sure to put a smile on my children's faces every time.
Actually I didn't plan to post this Spaghetti with a Creamy Spinach Garlic Sauce at all, as they are not what I could call a Romanian recipe. But after cooking this only a few days ago, I decided I do have to post it, it is such a delicious and easy recipe anybody should know it. You only have to set the water for the spaghetti and by the time they are cooked the spinach sauce will be ready as well. Only 5 ingredients and some spices and you're done.
And this is my daughter unwillingly helping me with the photographs. She was hungry and was continuously asking: "Are you done yet? Can we eat now?"
Ingredients
350 g/ 12.3 oz spaghetti

400 g/ 14 oz frozen spinach

50 ml/ ¼ cup water

150 ml/ 2/3 cup milk

100 ml/ scant 1 cup single or heavy cream

3 garlic cloves

some nutmeg

salt and pepper

1-2 teaspoon fresh lemon juice

50 g/ 1.7 oz/ 1.3 cup freshly grated Parmesan
Instructions
Bring a large pot of water to a boil. Cook the spaghetti according to the package's instructions.
In the meantime place the frozen spinach in a small pot, add the water, cover and let thaw stirring often. If your spinach is already thawed skip this step.
When the spinach is thawed and the extra water is almost entirely evaporated, add the milk to the pot, cover and let the spinach cook for about 5 minutes. Add the cream, grated garlic, nutmeg, salt and pepper to taste and stir for another 2 minutes, the sauce should slightly thicken.
Adjust the taste with 1-2 teaspoons fresh lemon juice and more salt and pepper if necessary. Add the freshly grated Parmesan, stir well until melted and give the sauce over the drained spaghetti.
Serve immediately with green salad or tomato salad.
This post contains affiliate links. The price you pay as a consumer does not change, but if you make a purchase we will receive a commission which helps support the blog.
You might also like: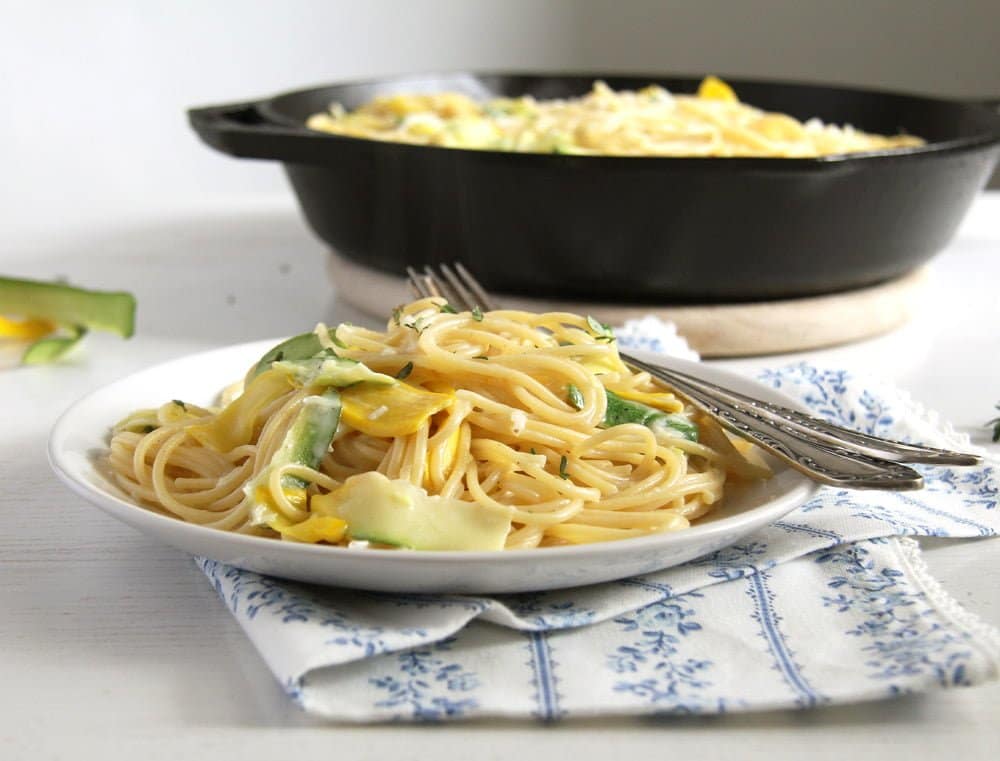 Spaghetti with Zucchini and Goat Cheese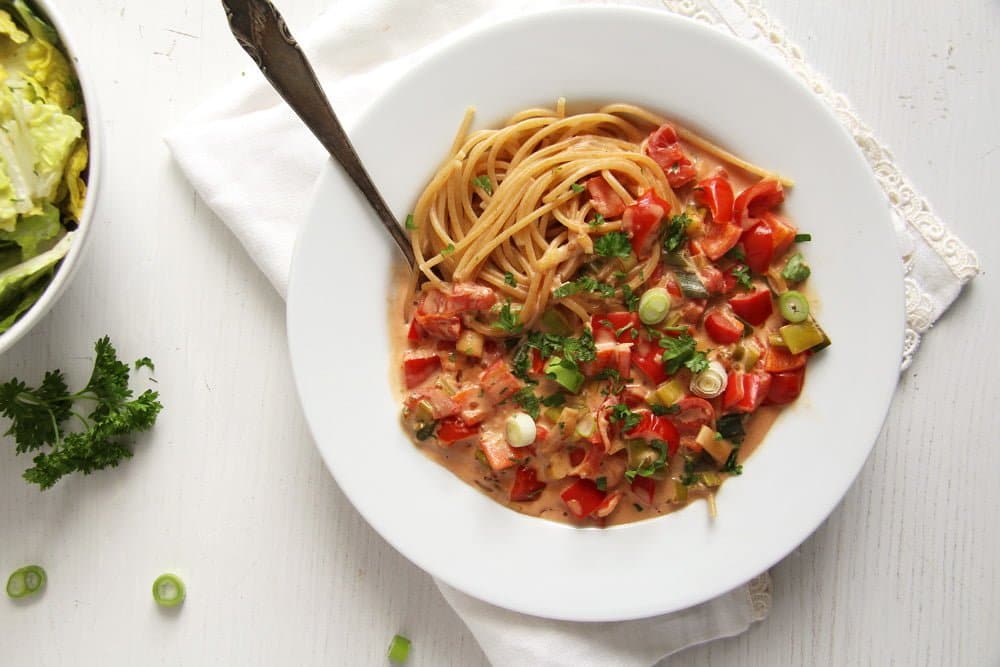 Spaghetti with Green Onion Sauce