Last Updated on
Muesli with yogurt and turmeric paste, topped with dried fruits, almonds, bananas and berries.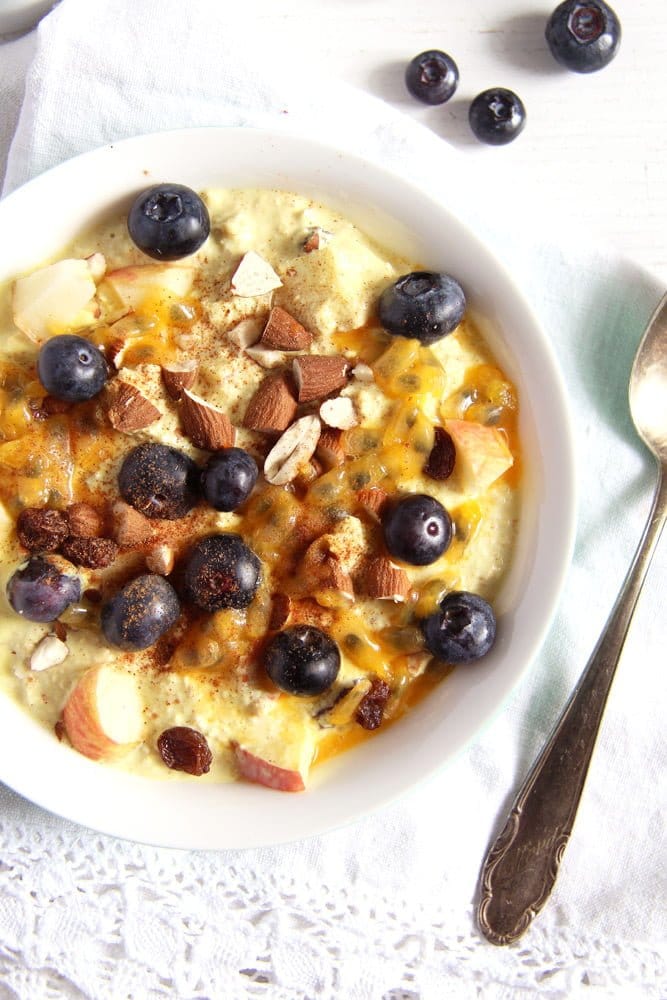 Here is super idea for a healthy start in the day: Turmeric Paste Muesli with yogurt and fresh blueberries. I can hardly imagine a tastier and healthier way to break the fast in the morning.
Of course, start by making the Turmeric Paste for Golden Milk.
Then the muesli mixture. I have been making my Homemade Muesli Mix for years, I think I started making it around the time my son was born or during the pregnancy and I swear there hasn't been a day ever since that I didn't have this muesli mixture in the house.
We normally eat it for breakfast, but my husband would not stop at that. Often enough he has as dessert after a meal or as a late night snack with some cocoa powder stirred in the milk. Sometimes he gives up dinner altogether just to be able to enjoy a particularly large portion of homemade muesli. He does that especially when I cook something with eggplants… 🙂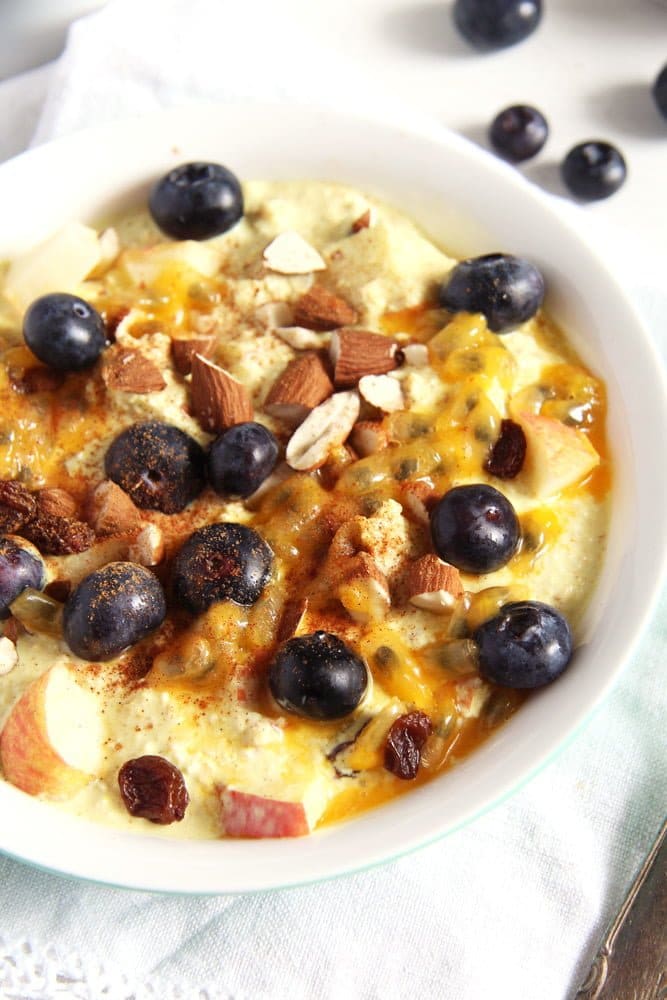 Since regularly including the Turmeric Paste for Golden Milk in our diet, I make a point of stirring one teaspoon of the paste in each bowl of muesli I eat.
The following recipe is one of my favorite mixtures, but it should be regarded as an inspiration for your muesli. I included the dried fruits in the recipe because I assume you will make the recipe with rolled oats. If you do mix the Homemade Muesli Mix or you use another muesli mixture, than you can leave the dried fruits and dried berries out of this equation. Or you can add any dried fruits or berries you like in your muesli.
I used low-fat Greek style yogurt, but plain yogurt of whatever fat amount you like is OK. You can use nut milk or regular milk and you can use any other kind of nuts instead of almonds as well. The fresh berries and fruits you can use is according to your taste and whatever happens to be found in your kitchen at the moment.
And of course, there are other things you could add, things like seeds (sunflower seeds, chia seeds, flaxseed, sesame etc). Cocoa nibs are also great if you like a bit of chocolate taste in your muesli.
So, the sky is the limit, just make sure to add the teaspoon turmeric paste to the bowl and you're done.
And if you want a bit of reading about the health benefits of turmeric have a look at this article:
Ingredients
1 ½ teaspoons turmeric paste for golden milk

4 tablespoons low-fat Greek style yogurt

75 g/ ¾ cup Homemade Muesli mixture or rolled oats

some almond milk to get the desired consistency

2 tablespoons raisins

2 tablespoons dried mulberries or other dried berries of choice

2 tablespoons whole almonds

1 apple

1 maracuya

1 handful blueberries

honey or maple syrup, optional
Instructions
Whisk together the yogurt and the turmeric paste. Add the homemade muesli mixture or the rolled oats, the raisins and dried fruit and mix well.
Add some almond milk until you obtain the consistency you like.
Serve topped with the chopped almonds, sliced apple, maracuya and blueberries.
You can sweeten the muesli with honey or maple syrup, but I don't find it necessary.
Sprinkle with cinnamon.
This post contains affiliate links. The price you pay as a consumer does not change, but if you make a purchase we will receive a commission which helps support the blog.