Last Updated on
Casserole, soup and stew season starting again. It has been rainy and chilly for the past few days so the appetite for hot, warming and comfort giving food has increased in our house. If I ask my kids what they would like to eat these days, they mostly go for soup. Or meat, which is not something I often hear.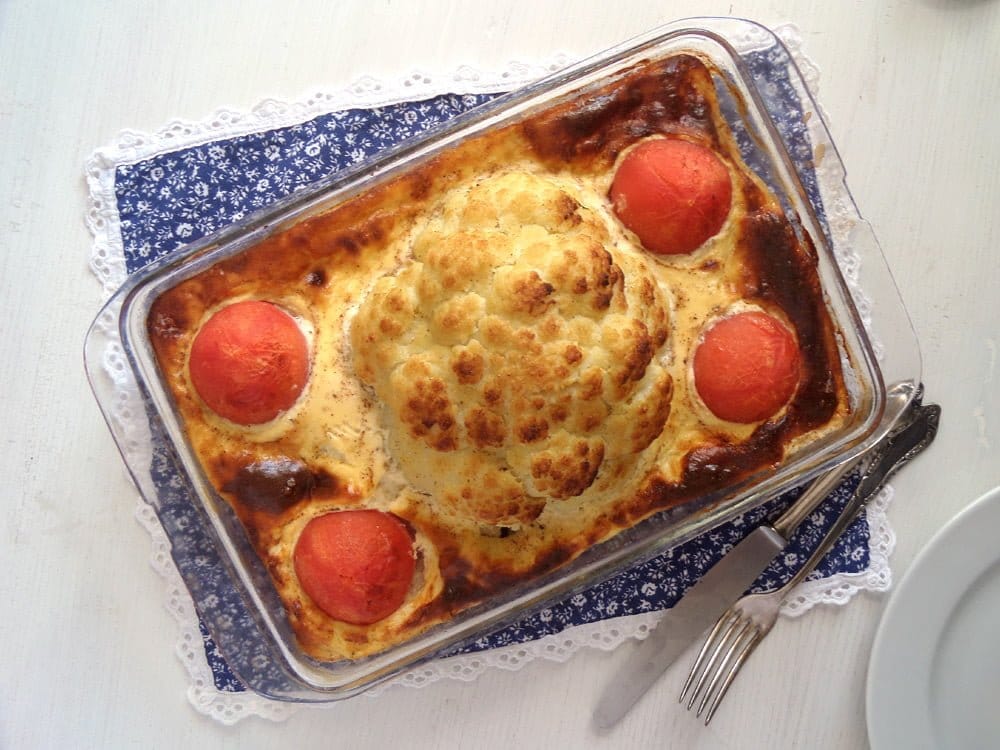 This cauliflower beef casserole is really something warm and comforting. Well seasoned meat, soft yet not mushy cauliflower and tomatoes, all cooked in the same dish. Some boiled potatoes on the side and you will not wish for anything more. If you don't feel like cooking potatoes anymore, some bread will do as well.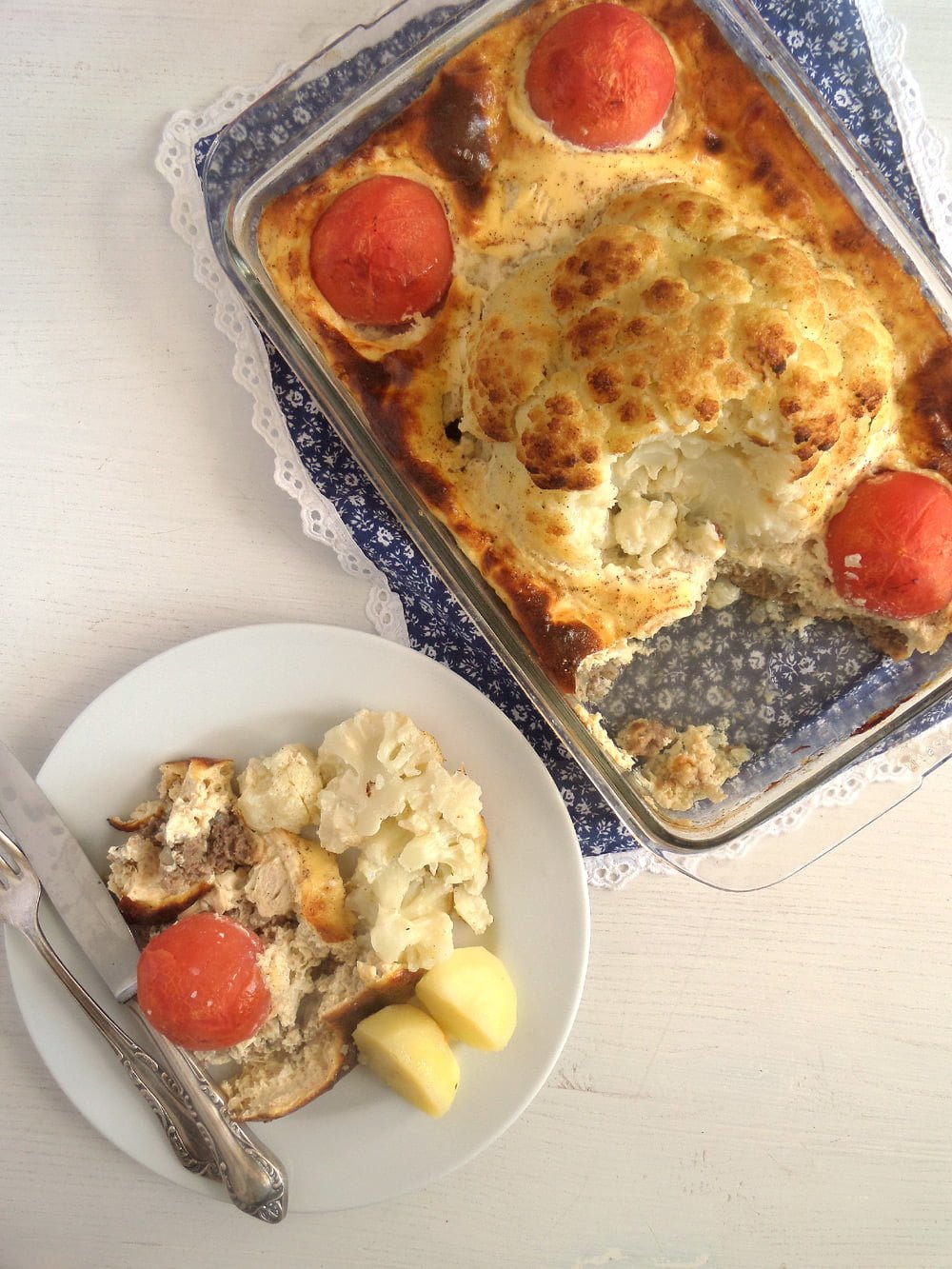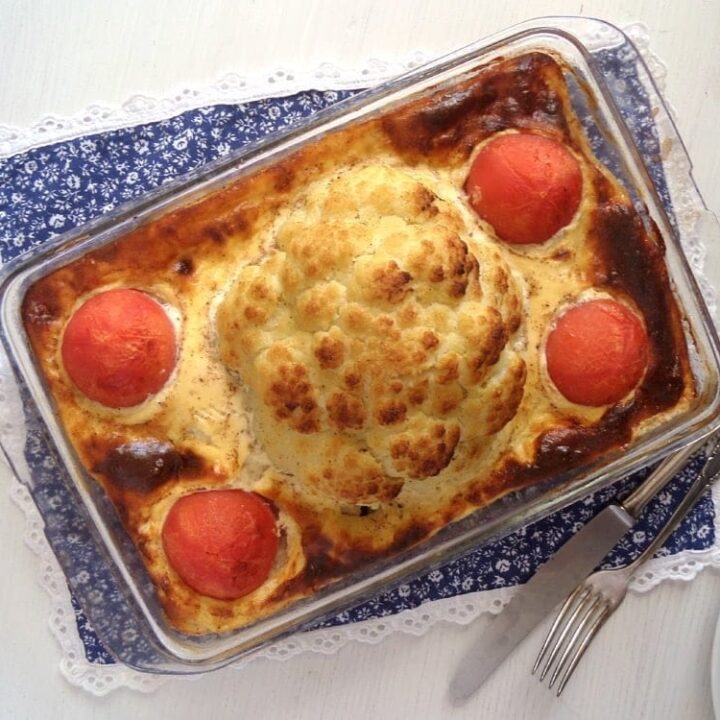 Cauliflower Beef Casserole
Yield: 4-6

Prep Time: 30 minutes

Cook Time: 50 minutes

Total Time: 1 hour 20 minutes
Ingredients
1 medium cauliflower
1 day-old bread roll (about 60 g/ 2 oz)
2 tablespoons dry breadcrumbs
450 g/ 1 lbs ground beef
1 medium onion
2 garlic cloves
2-3 good pinches of dried savory or some smaller pinches of thyme
2 eggs
4 tomatoes
500 ml/ 2 cups milk
4 eggs
nutmeg
salt
pepper
some butter
Instructions
Bring a large pan of water to a boil. Add some salt and nutmeg.
Preheat the oven to 225 degrees Celsius/ 440 degrees Fahrenheit.
Scratch a cross with the tip of a sharp knife on the bottom side of the tomatoes. When the water cooks blanch the tomatoes for about 1 minute. Take out of the water using a slotted spoon (do not discard the water), refresh under cold water and leave aside to cool slightly. Peel the tomatoes.
Remove the leaves and stem of the cauliflower, leaving only as much stem there as needed to keep the cauliflower head together. Place the cauliflower in the boiling water and parboil for 10 minutes. Let drain well.
In the meantime soak the broken bread roll in some water. Chop the onions and the garlic cloves very finely. Mix the meat, the well squeezed bread roll, breadcrumbs, onions, garlic, savoryor thyme and 2 eggs very well together. Add salt and pepper generously.
Butter a casserole dish. Add the meat mixture and level it with a spoon. Place the cauliflower in the middle of the dish, on top of the meat. Arrange the tomatoes around the cauliflower.
Whisk together the milk and the remaining 4 eggs. Adjust the taste with salt, pepper and some nutmeg. Pour the mixture over the cauliflower. Place some small butter flakes on top of everything and bake in the hot oven for about 40 – 50 minutes until the cauliflower is soft but still retaining some bite.
Serve with boiled potatoes.