Last Updated on
A most aromatic and delicious omelet with chanterelles, thyme and rosemary: a healthy and quick way of enjoying wild mushrooms.
Another super easy and super delicious recipe containing eggs and mushrooms, I really could not decide if I prefer today's Chanterelle Omelet with Thyme and Rosemary or last week's Mushroom Garlic Sourdough Toast with Poached Eggs. I suppose the sourdough mushroom toast is a more common affair, it uses regular mushrooms, which are always available and very cheap, while the chanterelles are very seasonal and quite expensive.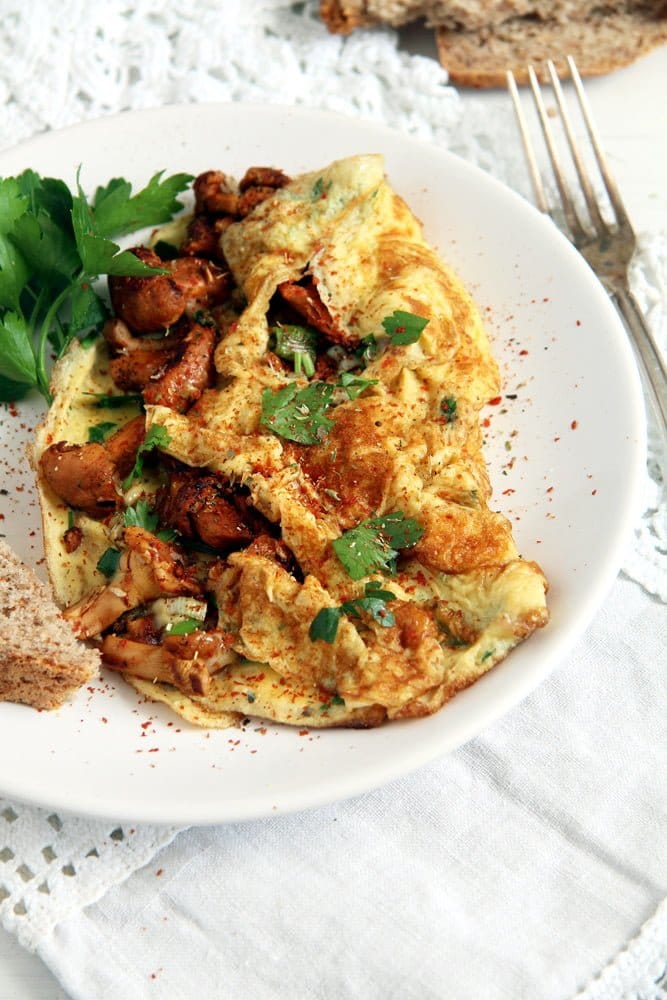 However, every end of summer and beginning of autumn I make a point of buying the chanterelles as often as I can, after all, they do taste delicious and are available for such a short period of time. And then I cook them mostly in a very simple way, I feel that is the best way of enjoying their taste. Not many other or overpowering ingredients, something simple and delicate like eggs, for instance. Or I just fry them in the pan with a little bit of butter, salt and pepper.
If I am feeling really decadent or maybe get a good bargain, I might even make a mushroom goulash similar to last week's Easy and Delicious Mushroom Stew with Herbs or take my time to make some crepes and fill them with the fried chanterelles, but like I've said, that happens only once a year maybe, usually I love making this kind of herby omelet.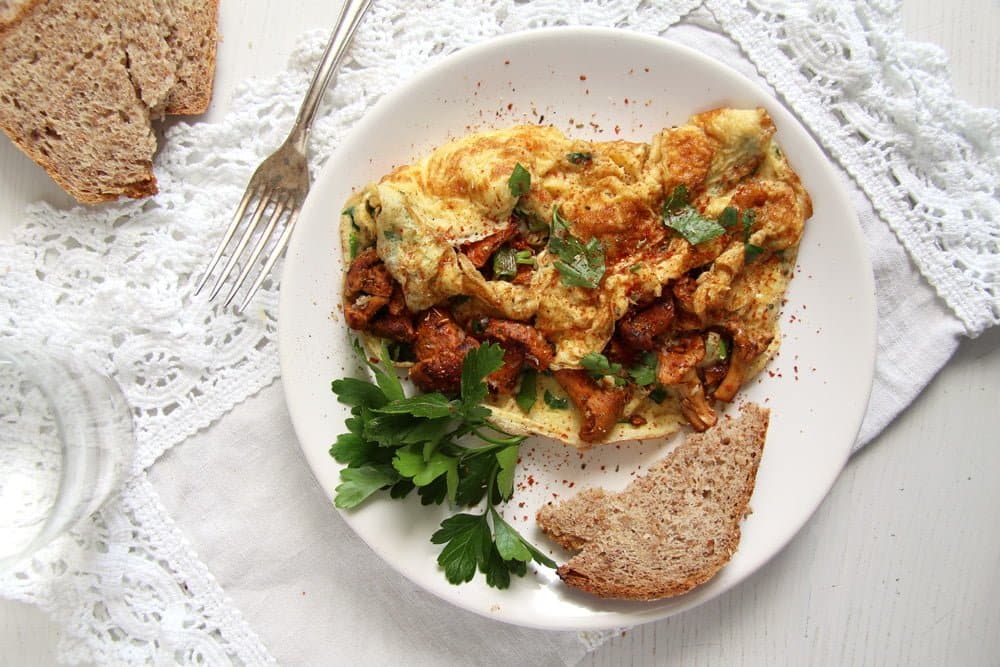 How to clean the chanterelles:
If there is one thing I am not crazy about when dealing with chanterelles is cleaning them. They do come covered in a fair amount of dirt and cleaning them properly can be quite tedious. Many people say that chanterelles should not be washed at all.
Well, I keep that in mind when dealing with regular mushrooms, which never seem to be so dirty as chanterelles, they sometimes have only a bit of dirt on their stem, which can be very easily cleaned off with a paper towel or cut away with a knife.
However, when it comes to chanterelles, they always come covered in generous amount of dirt. I have tried to clean them with a damp paper towel, to brush them with a mushroom brush and so on, nothing really works without a bit of water and as I am not keen on eating earth, I do have to give them a little shower.
Do that using lukewarm water and hold the mushrooms very briefly under the running water, while brushing them gently with the brush. Make sure all the dirt is gone, then place the chanterelles on a double layer of kitchen layer. Cover them with another piece of kitchen paper and press very gently, trying to get them as dry as possible.
I normally leave them between kitchen towels for a while to make sure that as much excess water as possible is removed and them I look carefully and pat dry those mushrooms that are still a bit wet. The mushrooms should definitely be dry when you start cooking them.
Otherwise, there is not much else I can tell you about this recipe, except that is tastes great and it is very quick and easy to make. This quantities serve two people, but the recipe can be easily doubled. But if you want to serve more than two people, than I recommend using two pans or frying two omelets one at a time. Each omelet can be then halved.
Serve the Chanterelle Omelet with Thyme and Rosemary with a slice of (buttered) bread and a fresh green salad.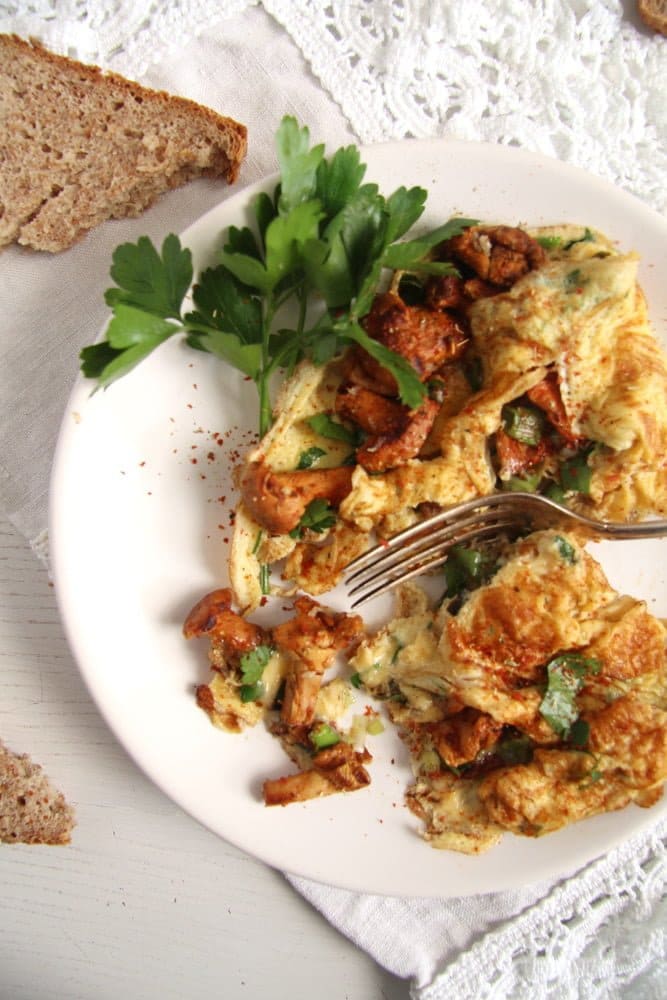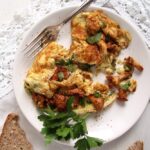 Ingredients
200 g/ 7 oz fresh chanterelles

2 green onions

2 garlic cloves

3-4 springs thyme

2 sprigs rosemary

1 tablespoon olive oil

1 tablespoon butter

4 eggs

4 tablespoons milk

salt and pepper

some parsley or chives
Instructions
Clean the chanterelles following the instructions given above.
Chop the green onions into rings, grate the garlic cloves, remove the thyme and rosemary leaves from their stems and chop them finely.
Heat the oil in a non-stick pan. Give the mushrooms, green onions, garlic and herbs to the pan and cook on high for a few minutes. Adjust the taste generously with salt and pepper. Remove from the pan and keep warm while you cook the eggs.
Wipe the pan clean with a paper towel. Melt the butter in the pan.
Whisk the eggs with the milk and some salt and pepper. Give the egg mixture to the pan, turn the heat down to medium and cook the omelet until is starting to get set. It depends on you how set you like it, it can still be a bit runny in the middle or it can be firmer, dryer if you prefer it that way. I prefer it less set, but my husband likes it dry, so it really is a matter of taste.
When the omelet is almost set but not yet totally dry, give the chanterelle mixture on one half of the omelet. Using a wider spatula, fold the other half over the mushrooms. Turn the heat off and let the pan on the hob for another minute or two.
Cut in two pieces, sprinkle with parsley or chives and serve with bread and green salad.
This post contains affiliate links. The price you pay as a consumer does not change, but if you make a purchase we will receive a commission which helps support the blog.