A spicy Korean chicken recipe: gochujang chicken breast with green onions, a healthy and easy way of enjoying chicken Korean-style.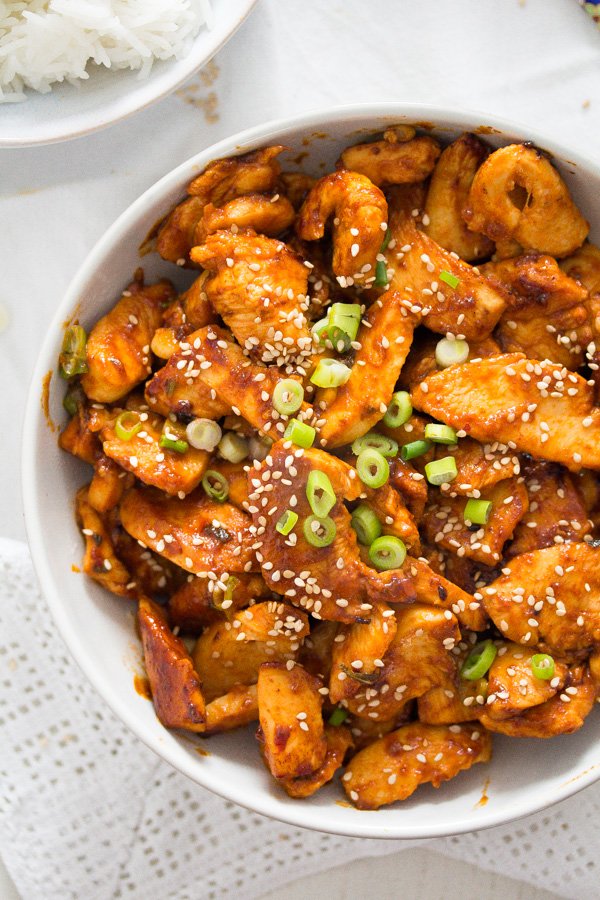 I am such a big fan of Korean food!!! I discovered Korean food rather recently, only a few years ago, but I have been cooking it extensively ever since. Just like this gochujang chicken breast, all the other spicy Korean recipes I've cooked are so simple yet so full of flavor.
With only two special ingredients, like Gochujang paste and gochugaru pepper, I can make lots of different Korean-inspired dishes like these amazing Spicy Korean Chicken Wings or this delicious Korean Chicken Stew.
Jump to recipe
What is Gochujang?
Gochujang paste is a Korean fermented condiment – hot pepper paste – containing chili powder, glutinous rice, fermented soybeans, and salt.
It comes in several heat degrees, so you might want to pay attention to that when purchasing gochujang paste. My container says medium, and the guchujang paste is really hot; I always use slightly less than instructed in a recipe. The kids have to be able to eat the food as well. 🙂
How to use Gochujang paste or sauce?
Well, first of all, you should get familiar with the product, just to know how hot it is and how much of it you can take. Otherwise, there are endless dishes you could spice up with gochujang paste.
Why not try this simple Korean fried rice or Kimchi bokkeumbap or these spicy oven-baked chicken drumsticks? You will love both dishes, I am sure!
Otherwise, you could use gochujang paste for making other typical Korean dishes, such as bibimbap, which means "mixed rice" and consists of a rice dish topped with several other ingredients like eggs, meat, and vegetables or other Korean chicken recipes, like this fried spicy Korean chicken.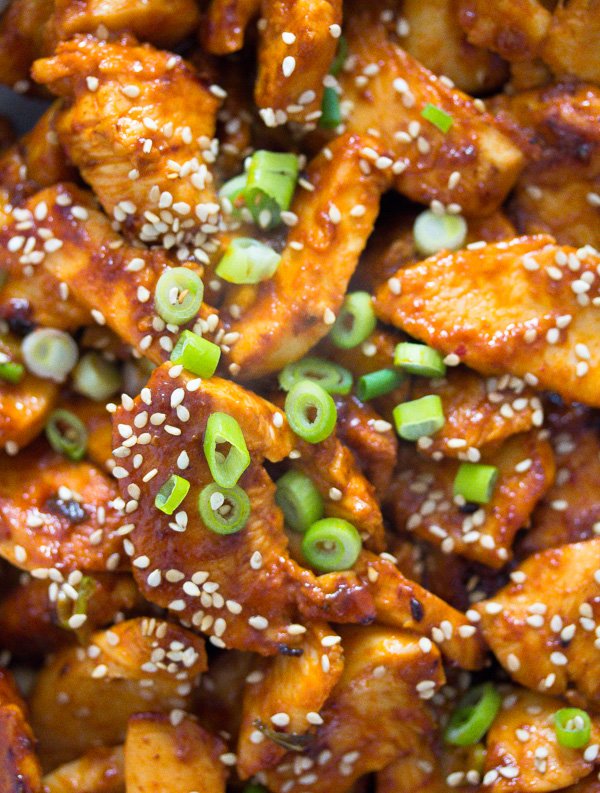 Ingredients
Chicken:
You will need boneless skinless chicken breast.
Gochujang paste:
I normally use 1 ½ tablespoon gochujang paste, the medium sort. It is hot enough for us, considering that the children are eating as well.
Please adjust the quantity of gochujang paste according to your taste/heat tolerance. You can increase or decrease the quantity as desired.
Keep in mind that the red chili flakes are also hot.
Gochugaru or Korean red pepper flakes:
Gochugaru is made from sun-dried chilis, which are hot, sweet, and slightly smoky. It is used extensively when making kimchi, for instance, and in many other Korean dishes.
As the bag of gochugaru I bought was really large, I use these particular red pepper flakes in many other dishes that have nothing to do with Korean food otherwise...
Apricot jam:
The apricot jam glazes the meat very nicely; it makes it slightly sweeter and very aromatic.
I used my homemade apricot jam for this gochujang chicken breast, but any good-bought apricot jam would do.
How to make gochujang chicken breast?
Cut the breast into strips.
Use a non-metallic bowl to marinate it. Or mix the marinade and the meat strips in a Ziploc bag.
Make the gochujang marinade: combine the gochujang paste + soy sauce + apricot jam + sesame oil + gochugaru + fish sauce + rice vinegar.
Mix the meat with the marinade.
Marinate for 30 minutes to 6 hours; the longer, the better.
If marinating for only 30 minutes, leave at room temperature (unless it is really hot).
If marinating for longer, bring it to room temperature before cooking.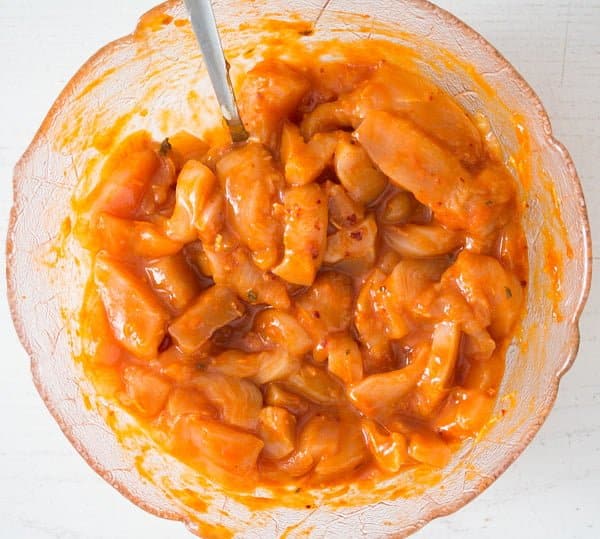 Heat the oil in a cast-iron skillet or nonstick pan.
Cook the meat in two batches.
Place half of the strips in the hot pan and cook for 2 minutes without moving.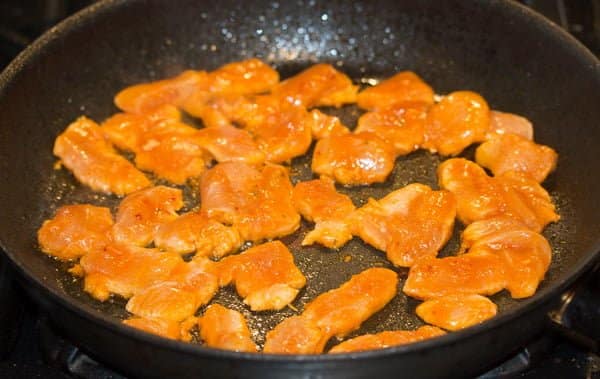 Flip and cook for another minute or until cooked through.
Remove from the pan and fry the second batch.
Return the first batch to the pan, add about ⅔ of the finely sliced green onions, and stir fry for one minute.
Sprinkle the gochujang chicken breast with the remaining green onions and sesame seeds.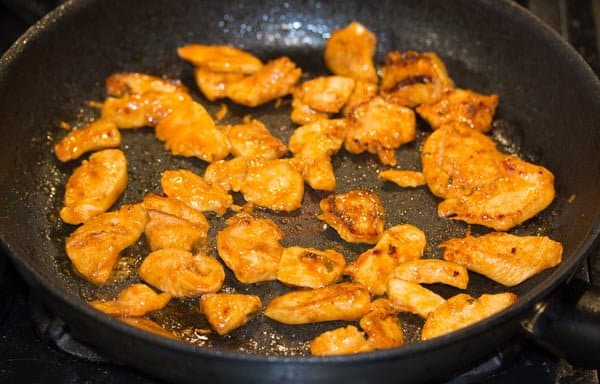 How to serve?
Serve immediately with rice.
Or you can make Kimchi rice (leaving out the fried eggs) and serve that delicious rice with the gochujang chicken.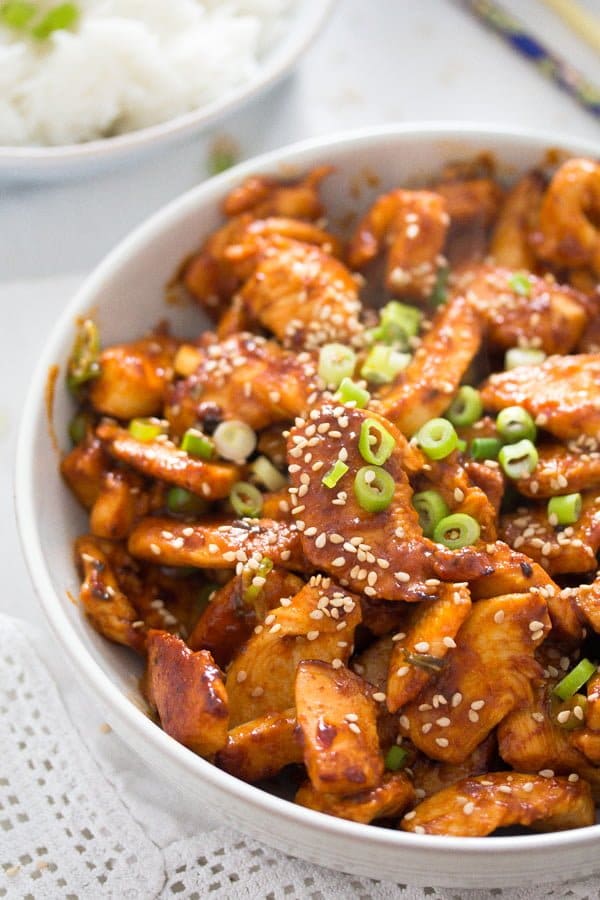 More chicken breast recipes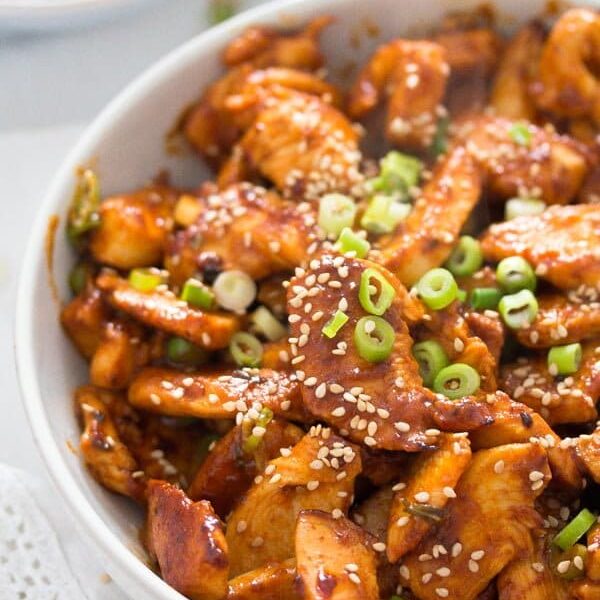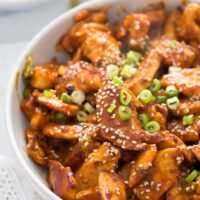 Gochujang Chicken Breast
Spicy Gochujang chicken breast with green onions, a healthy and easy way of enjoying chicken Korean-style.
Print
Pin
Share
Grow
Saved!
Rate
Instructions
Cut the chicken breast into strips. Place the strips in a non-metallic bowl or a Ziploc bag.

Combine the gochujang paste, soy sauce, apricot jam, sesame oil, gochugaru, fish sauce, and rice vinegar.

Marinate: Pour the marinade over the chicken and mix well. Marinade for at least 30 minutes or up to 6 hours.

Bring the chicken to room temperature before cooking, about 30 minutes on the counter should be fine.

Finely slice the green onions. Set aside.

Cook the gochujang chicken strips in two batches.

Heat ½ of the oil in a large nonstick pan or cast-iron skillet. Place ½ of the chicken strips in the pan. Cook for 2 minutes without moving. Flip the chicken and cook for another minute or until cooked through. Remove from the pan.

Pour the remaining oil into the pan and cook the second batch of chicken strips. Return the first batch of chicken to the pan.

Add ⅔ of the sliced green onions to the pan. Stir fry for 1 minute.

Sprinkle the gochujang chicken with the remaining green onions and the sesame seeds.
Notes
Use gochujang paste and gochugaru (red pepper flakes) according to taste/heat tolerance. Gochujang paste can be mild, medium, or very hot, adjust the quantity accordingly.
Nutrition
Serving:
1
/4 of the dish
|
Calories:
310
kcal
|
Carbohydrates:
12
g
|
Protein:
36
g
|
Fat:
13
g
|
Saturated Fat:
2
g
|
Polyunsaturated Fat:
10
g
|
Cholesterol:
96
mg
|
Sodium:
878
mg
|
Fiber:
1
g
|
Sugar:
7
g