Spicy baked curry drumsticks - a quick and easy recipe using just a few ingredients, like chicken legs and spices.
Juicy, tender curry chicken drumsticks coated in spices and baked in the oven this is one of the simplest ways of cooking chicken legs. And one of the most flavorful too, the use of a good-quality, flavorful curry powder makes the drumsticks delicious! For a full meal in one pan, roast some cubed sweet potatoes together with the meat.
And if you are looking for more similar ideas, have a look at the Cast Iron Skillet Chicken Drumsticks (Chicken Legs), Honey Soy Chicken Drumsticks, or Baked Chicken Drumsticks. Or learn How to Cook Chicken Drumsticks on the Stove.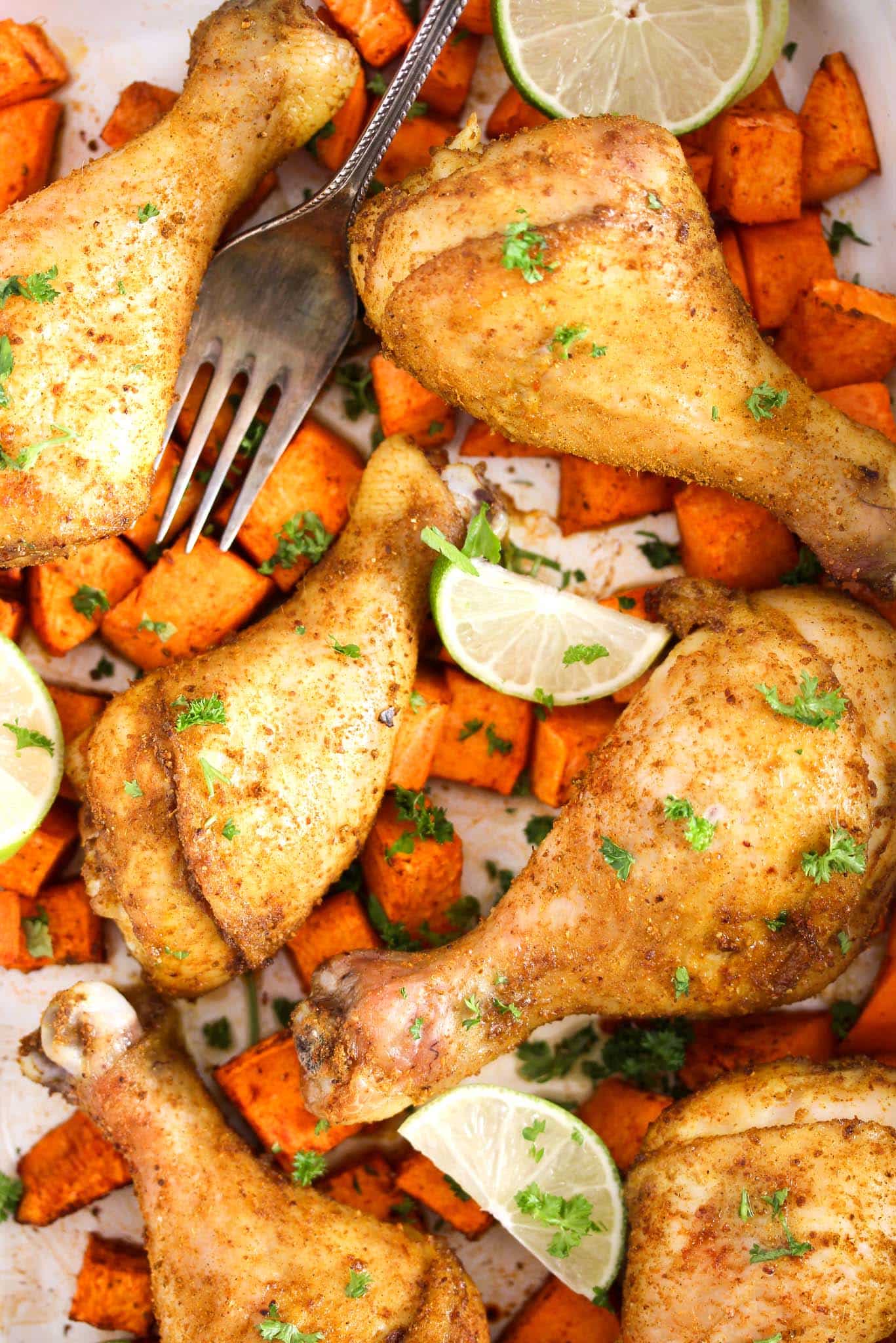 What do you need to make curry chicken legs?
Chicken drumsticks:
Two per person. If they are on the small side, you can even go for 3. This recipe uses 6 rather large pieces; they were enough for 2 adults and 2 children.
Sweet potatoes:
I had two medium ones. They will need a head start in the oven, as they take slightly longer to cook than the legs.
Spices:
Fine sea salt or Kosher, ground black pepper, and sweet paprika for the potatoes. Rosemary, thyme, or oregano are great as well. If using table salt, you might want to use slightly less; it's saltier than Kosher or sea salt.
Curry powder for the meat. I often use yellow powder, which contains turmeric, ginger, coriander, cumin, chili, and fenugreek. It's hot but not too much so, and that makes it perfect for serving to children.
However, you can use your favorite curry powder instead. If it's good quality and you like its taste is fine. Just make sure you know how hot it is and use it accordingly. For instance, I would never use so much red curry powder; it's just too hot for us.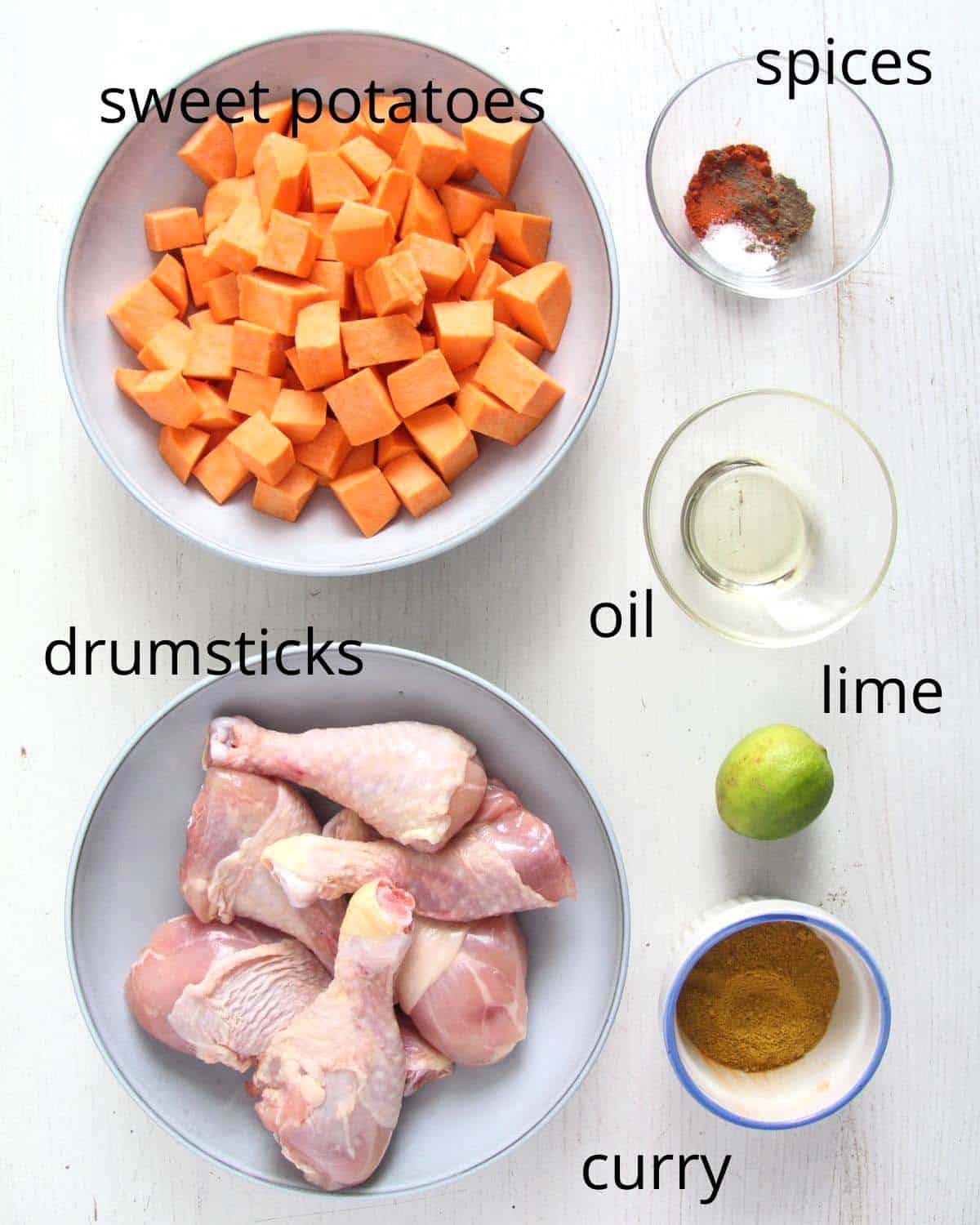 Can you use other cuts?
Definitely. You cake make curry chicken with quarters, thighs, or with breasts as well. Even with a whole bird. However, the cooking times will change accordingly. In all these cases, make sure the meat is cooked through. The best way to check that is with a meat thermometer; the internal temperature should be 74 degrees Celsius/ 165 degrees Fahrenheit (Amazon affiliate link).
Quarters or thighs will need 45 minutes to 1 hour (depending on size). Rub them with spices and place them in the oven from the very beginning together with the veggies. You can also try the Roasted Chicken Leg Quarters or the Sticky Honey Lime Thighs.
The breast will need less roasting time, about 20-25 minutes. Start with roasting the potatoes and add the breasts after about 20 minutes. Or try the Baked Barbecue Chicken Breast.
A whole chicken needs 20 mins per 500 g/1.1 lb. plus 30 minutes. Do the math to see how long it needs and add the tubers during the last 40 – 45 minutes of the cooking time. When seasoning a whole bird, you will need more spices and one extra tablespoon of oil. Don't forget to spice it inside the cavity as well. And how about a Whole Roasted Chicken with Oranges?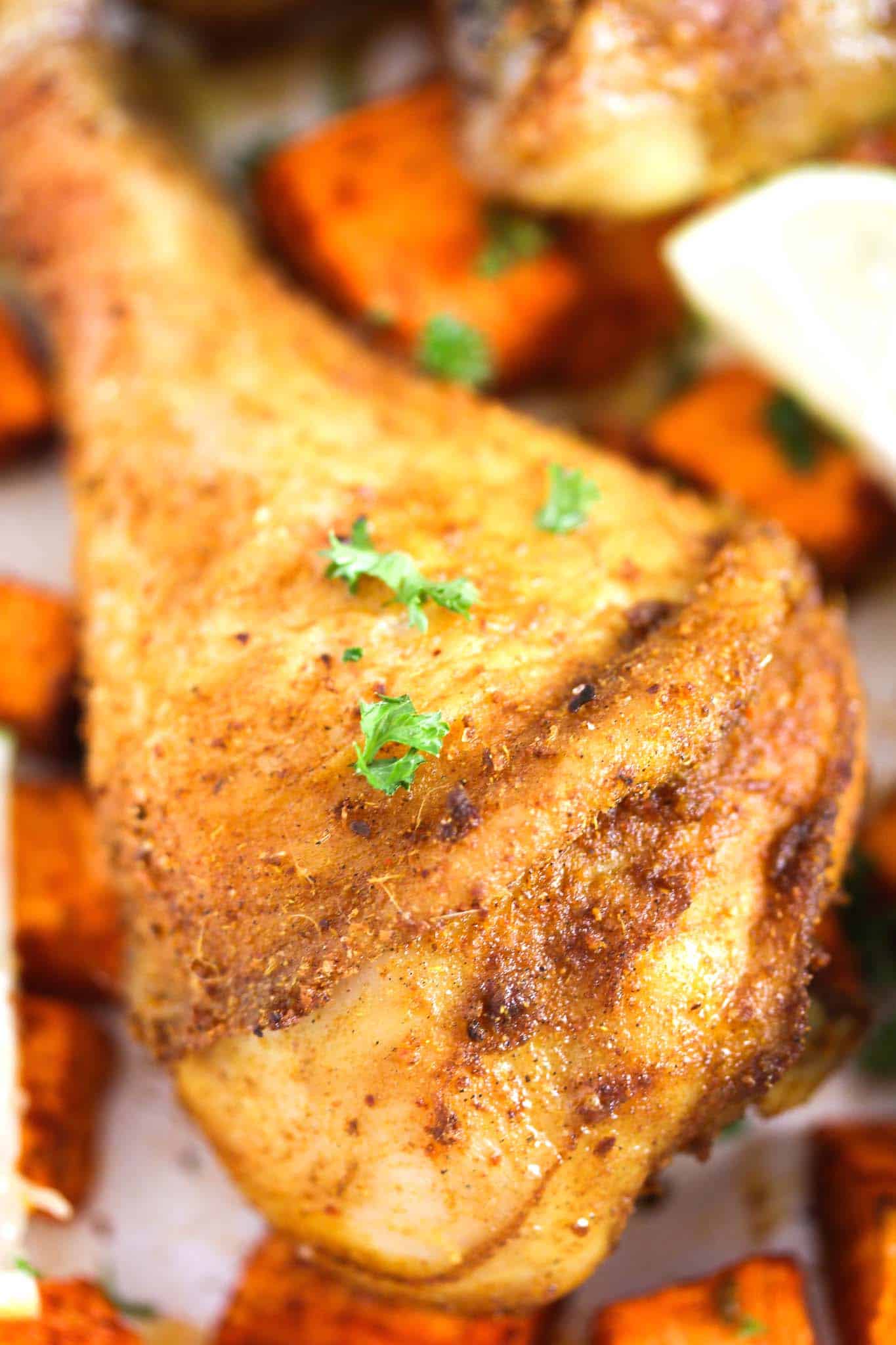 Can you use other vegetables?
Yes. And you can leave out the veggies as well. Cook the curry drumsticks without adding anything else for 35-40 or until the internal temperature is reached.
You can replace sweet potatoes with regular ones, carrots, parsnips, or other root vegetables. Or a mixture of veggies, like peppers, zucchini, eggplants, etc.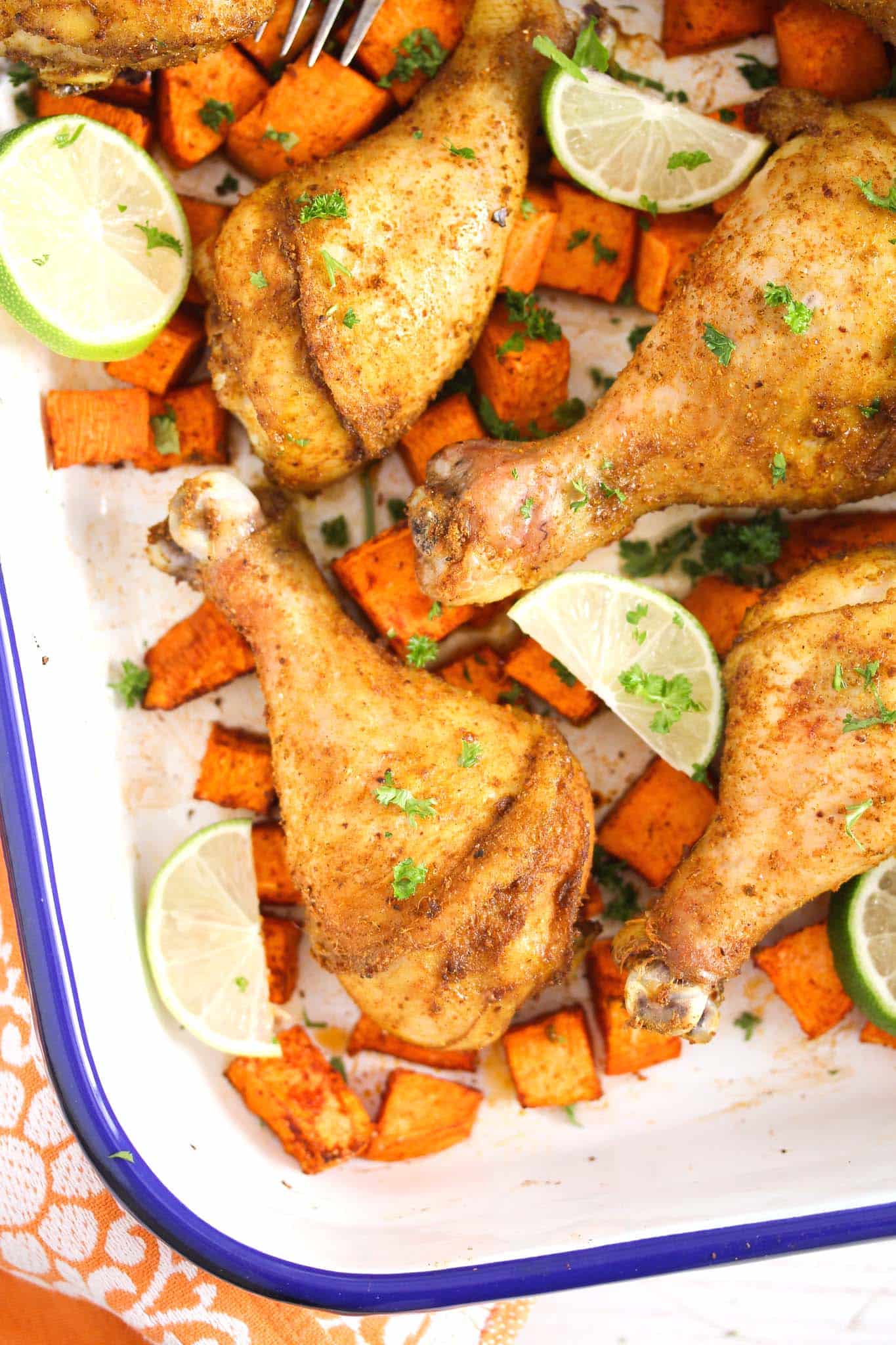 How to bake curry drumsticks?
Start with the tubers. Peel, clean, and cut them into cubes.
Rub with oil and spices and roast for 10 minutes before adding the meat. They should be starting to get soft.
In the meantime, rub the meat with salt, oil, and spices.
Arrange between the cubed potatoes, and dot with butter.
Bake for about 35-40 minutes until the internal temperature of the chicken reaches 74 degrees Celsius/ 165 degrees Fahrenheit and the veggies are soft.
Serve the curried chicken bake with a drizzle of lime juice.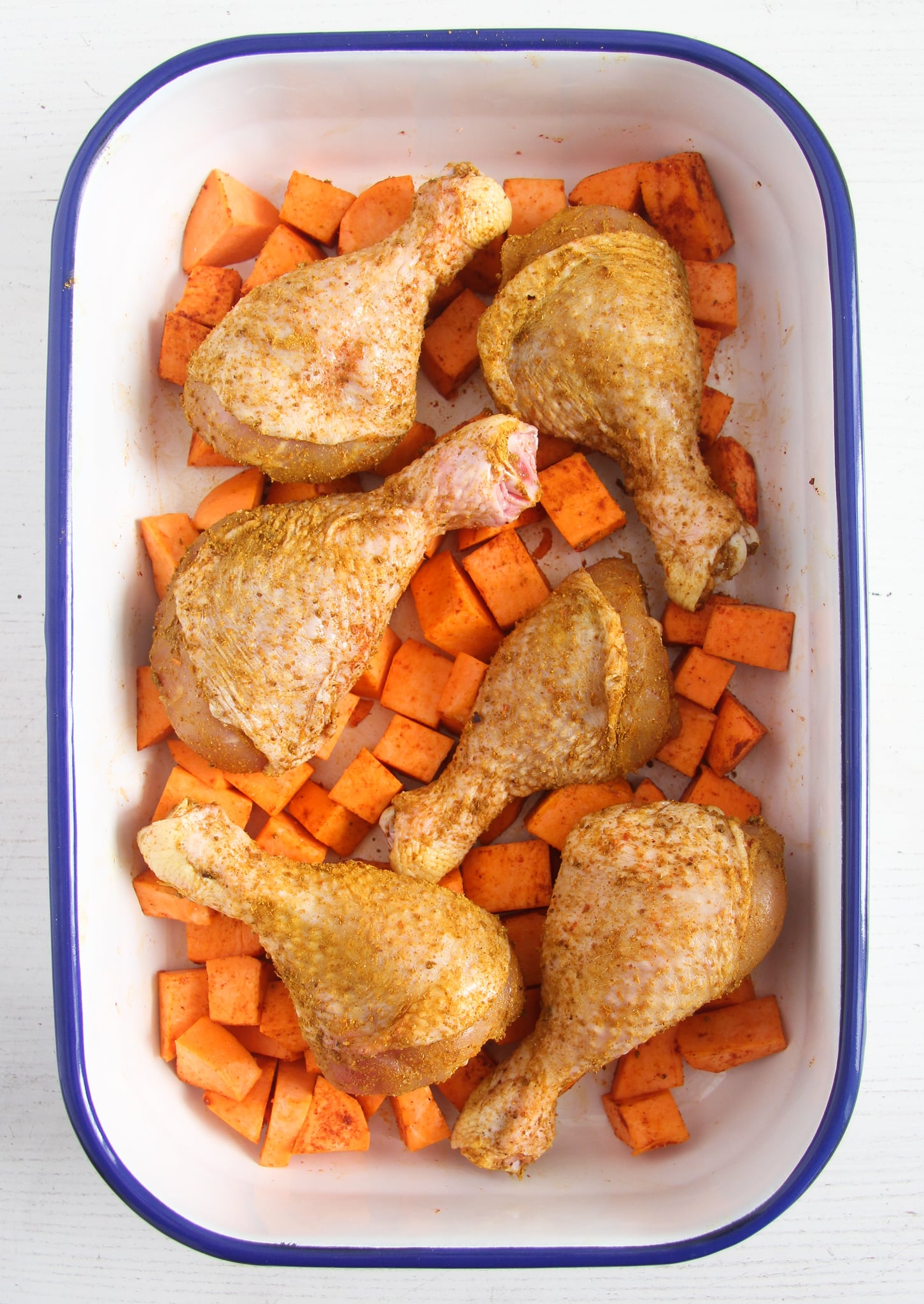 Tips and FAQ
Can you grill the legs?
Definitely. In this case, leave out the potatoes or cook them separately. Preheat the grill to 230 degrees Celsius/ 450 degrees Fahrenheit. Grill the curry legs for about 30-35 minutes, flipping them often. Make sure that the internal temperature is reached before serving.
Can you make ahead?
You can coat the meat with spices, cover it well and refrigerate it for up to 24 hours. Bring to room temperature before roasting.
What to do with leftovers?
Leftover curry drumsticks keep well in the fridge in an airtight container for 2-3 days. You can reheat them at 180 degrees Celsius/ 350 degrees Fahrenheit for about 15-20 minutes or until hot. Use leftovers to make wraps, enchiladas, curries, sandwiches, dips, and so on.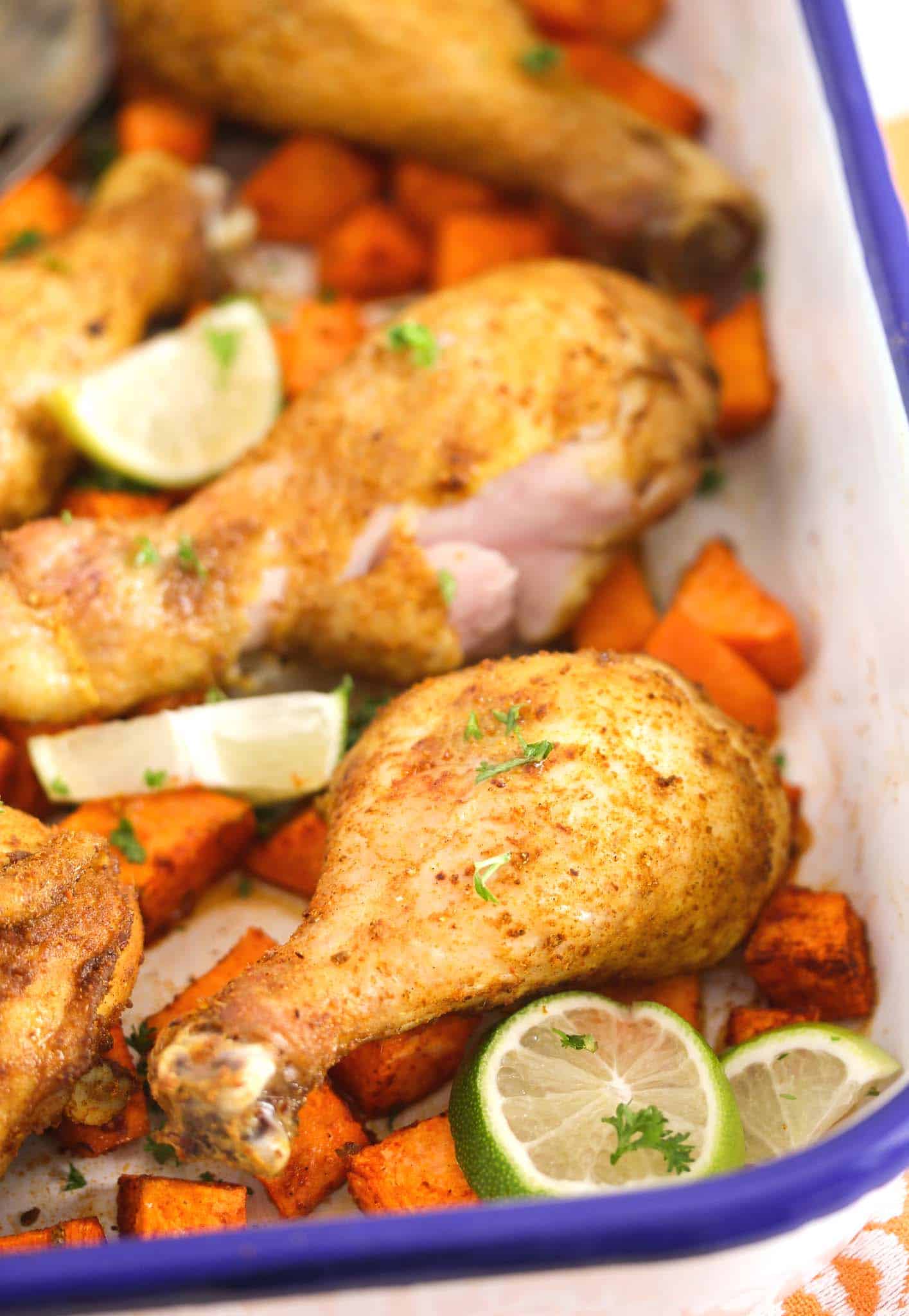 More curry chicken: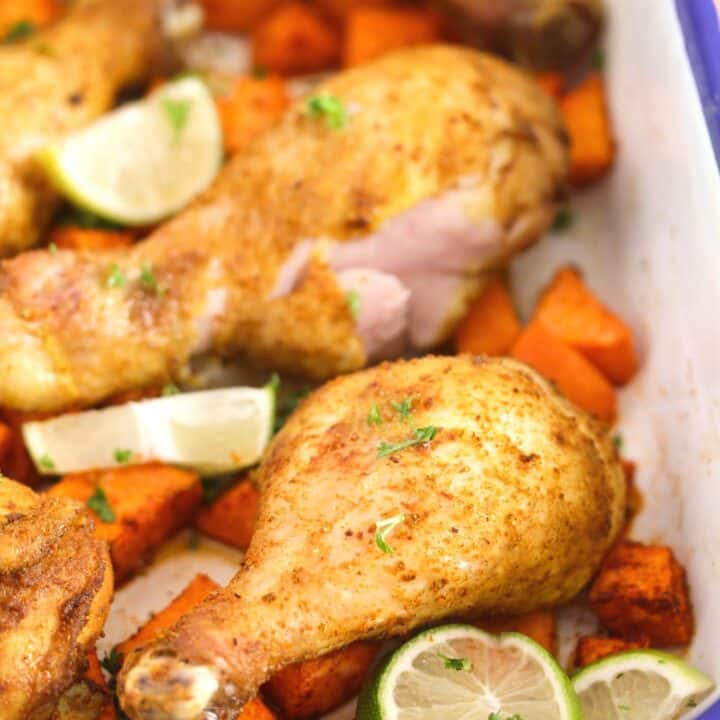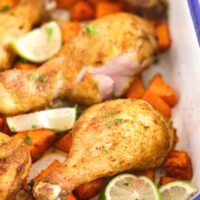 Spicy Curry Drumsticks (in the Oven)
Juicy and tender curry drumsticks baked in the oven. A super simple recipe, versatile when it comes to spices. Delicious served with roasted sweet potatoes and lime wedges.
Print
Pin
Share
Grow
Saved!
Rate
Ingredients
6

chicken drumsticks

Note 1

2

sweet potatoes

Note 2

2

tablespoons

oil

divided

1

teaspoon

sweet paprika

1

tablespoon

curry powder

a little more if needed (Note 3)

¾

teaspoon

fine sea salt

divided

½

tablespoon

butter

1

lime
Instructions
Preheat the oven: 200 degrees Celsius/ 400 degrees Fahrenheit. Lightly oil a baking tin.

Prepare vegetables: peel, wash and dry the sweet potatoes. Cut them into cubes, about 1 cm/ 0.4 inch. Place in the baking tin, pour 1 tablespoon oil on top, sprinkle well with paprika, ½ of the salt, and some pepper, and rub with the hands to coat all over. Bake for 10 minutes.

Prepare chicken: In the meantime, place the chicken legs in a bowl and rub them well with the remaining oil. Sprinkle with the remaining salt and the curry powder, rub well to coat all over. Arrange between the sweet potatoes in the roasting tin. Top each leg with a small amount of butter.

Bake: for about 35-40 minutes until the internal temperature of the chicken reaches 74 degrees Celsius/ 165 degrees Fahrenheit and the potatoes are soft. Check with a meat thermometer.

Serve: Squeeze some lime juice on top when serving.
Notes
Chicken thighs or a mixture of thighs and drumsticks is fine as well.
You can leave out the sweet potatoes and only cook chicken. Or you can replace the sweet potatoes with regular potatoes or other vegetables.
Use your favorite curry powder, and make sure you know how hot it is. Our standard mixture is a medium-hot, yellow curry powder, spicy but not overwhelmingly so.
Nutrition
Serving:
2
drumsticks with ⅓ of the sweet potatoes
|
Calories:
518
kcal
|
Carbohydrates:
20
g
|
Protein:
46
g
|
Fat:
28
g
|
Saturated Fat:
6
g
|
Polyunsaturated Fat:
19
g
|
Cholesterol:
236
mg
|
Sodium:
752
mg
|
Fiber:
5
g
|
Sugar:
5
g