A better version of Hagrid's rock cakes, soft and sweet, full of dried fruit and ready within 30 minutes.
HAGRID'S ROCK CAKES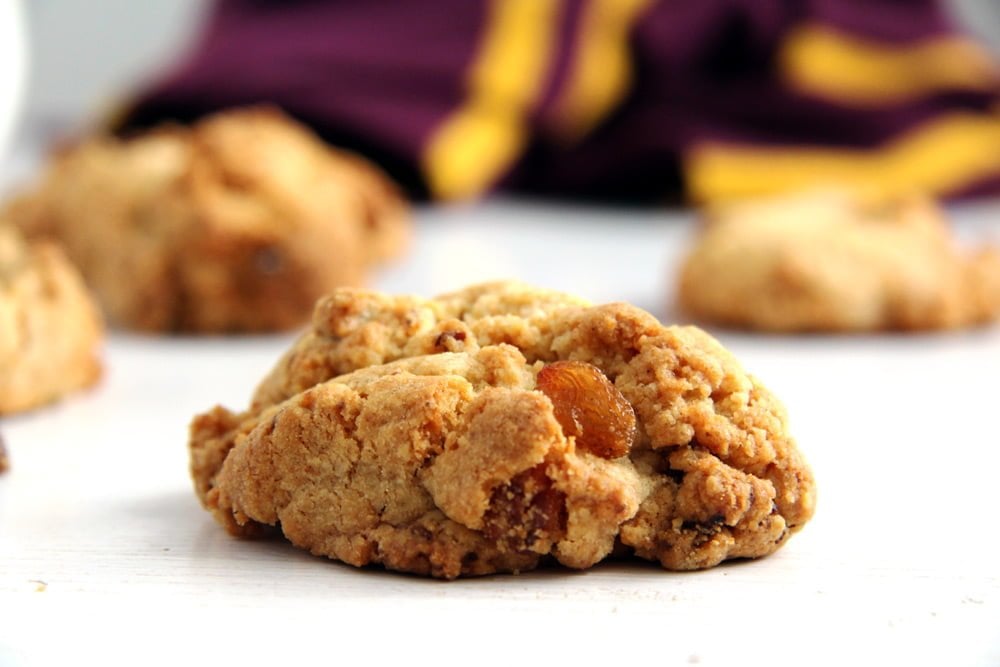 Hagrid's rock cakes are mentioned quite a few times in several of the Harry Potter books but never in a positive manner. For instance, Harry almost broke a tooth once, while biting on one of the gamekeeper's cakes.
Unlike Hagrid's probably over baked rock cakes, my rock cakes are deliciously soft and tender, the only thing they have in common with actual rocks are their looks...
Otherwise just a sweet, soft, somewhat crumbly delight, not only something for the children, but for those grown-ups with a serious sweet tooth as well (I am thinking here of my dear mother-in-law, who could not stop eating these cakes...).
And another great thing about this rock cake recipe: it can be made from scratch and baked within 30 minutes.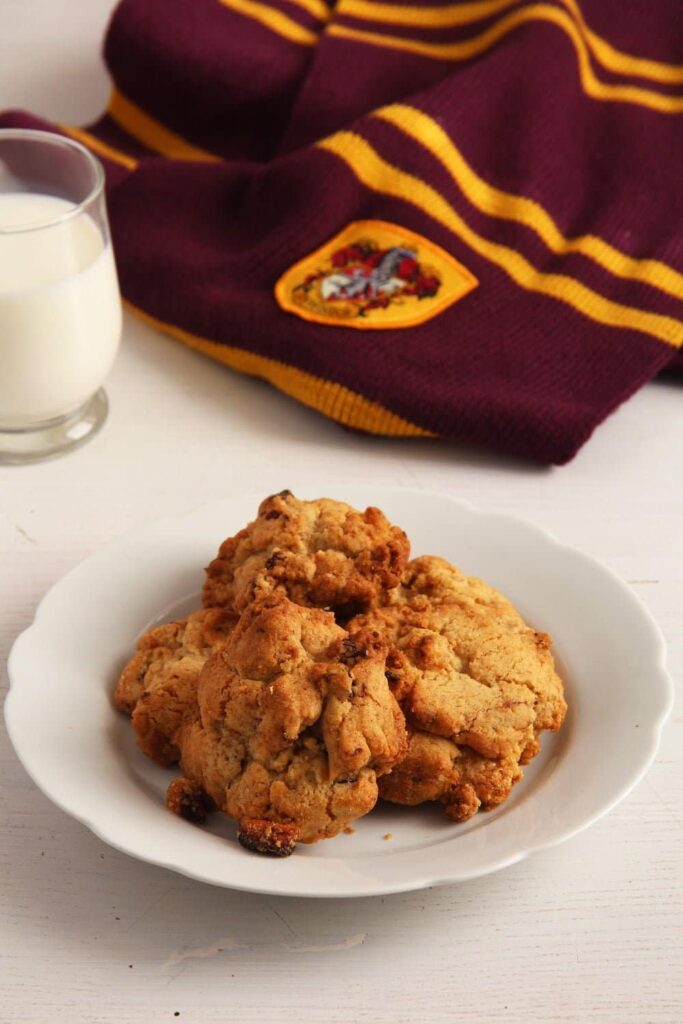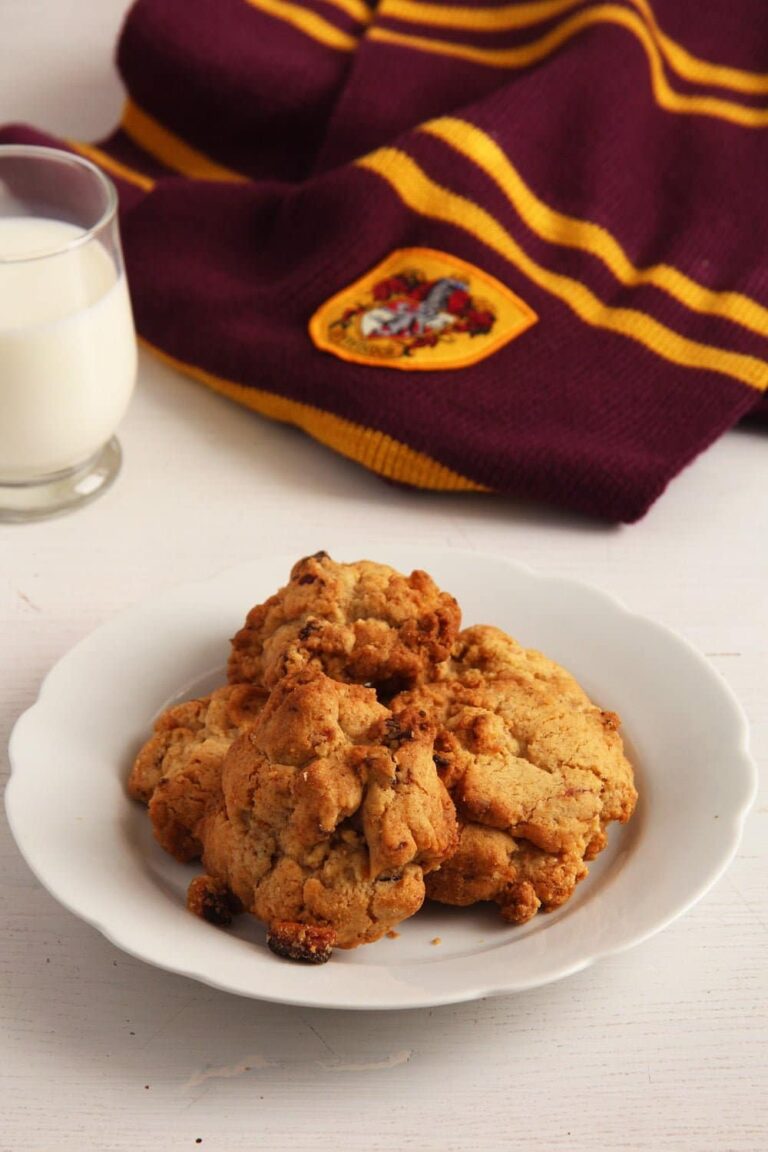 WHAT ARE ROCK CAKES?
I have never heard of rock cakes until I read about them in the Harry Potter books for the first time. It took me years and years until I finally baked some myself, but ever since, we bake Hagrid's rock cakes quite often, at least once a year during Christmas time.
They're dead easy to make and the children love to make them themselves. And to eat them, of course.
A rock cake or a rock bun is a traditional British cookie, a cookie so easy to make even a 5-year-old could make it.
There are different recipes for rock cakes out there, but the main ingredients remain more or less the same: flour, butter, egg, spices, and dried fruit. Some versions contain coconut (Jamaica) or oatmeal.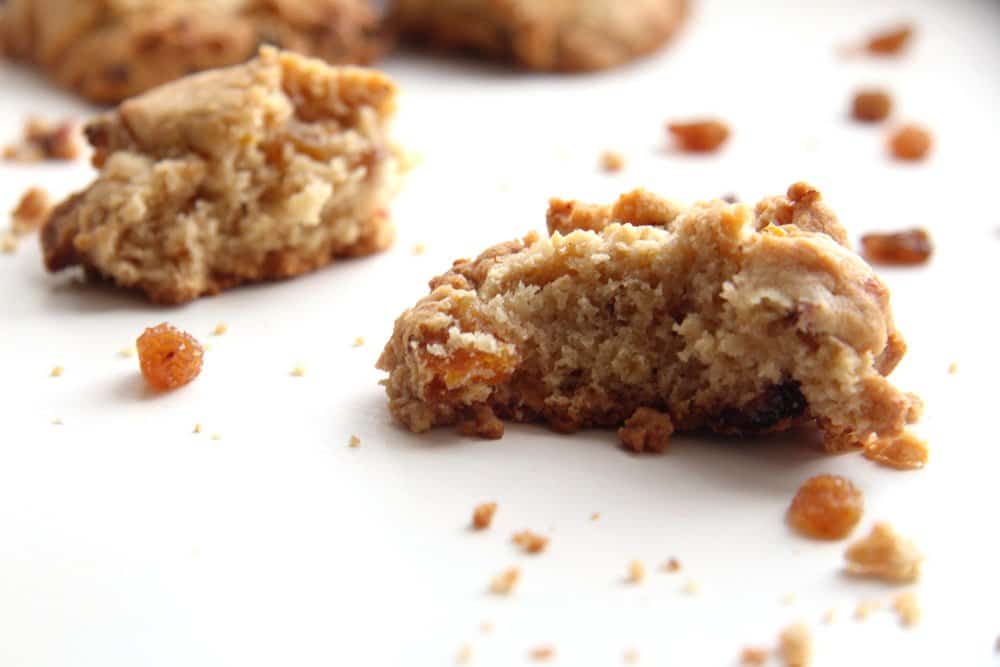 INGREDIENTS FOR ROCK CAKES
Sugar:
Muscovado sugar, also known as Barbados sugar, is unrefined cane sugar that contains molasses. It has a dense structure, it looks kind of wet, and has a very dark color. The taste is also very particular, something like toffee with a slightly bitter, medicinal aftertaste.
Muscovado sugar is not easily available everywhere in the world. If you cannot find, just replace it with dark brown sugar.
Dried fruit:
This time, I used a mixture of sultana, prunes, and apricots.
Other times I added or substituted something with cranberries and raisins.
You can use whatever dried fruit you happen to like or have in the pantry.
You will also need:
All-purpose flour
Baking powder
Allspice
Nutmeg
Unsalted butter
TIPS FOR MAKING ROCK CAKES
Make sure that the butter is soft when you start mixing the batter for Hagrid's rock cakes. Take it out of the fridge soon enough.
Larger fruit pieces (like apricots and prunes) should be chopped about the size of the raisins.
There is no need to use a mixer to mix the ingredients, mixing them with the hand or a spoon is super easy and quick.
Place heaps of dough on the baking tray without trying to give the cookies a nice shape. Leave them rough, so that they resemble rocks.
Leave to cool on the baking tray for about 10 minutes before transferring them to a wire rack, they are pretty soft and should be allowed to set before moving.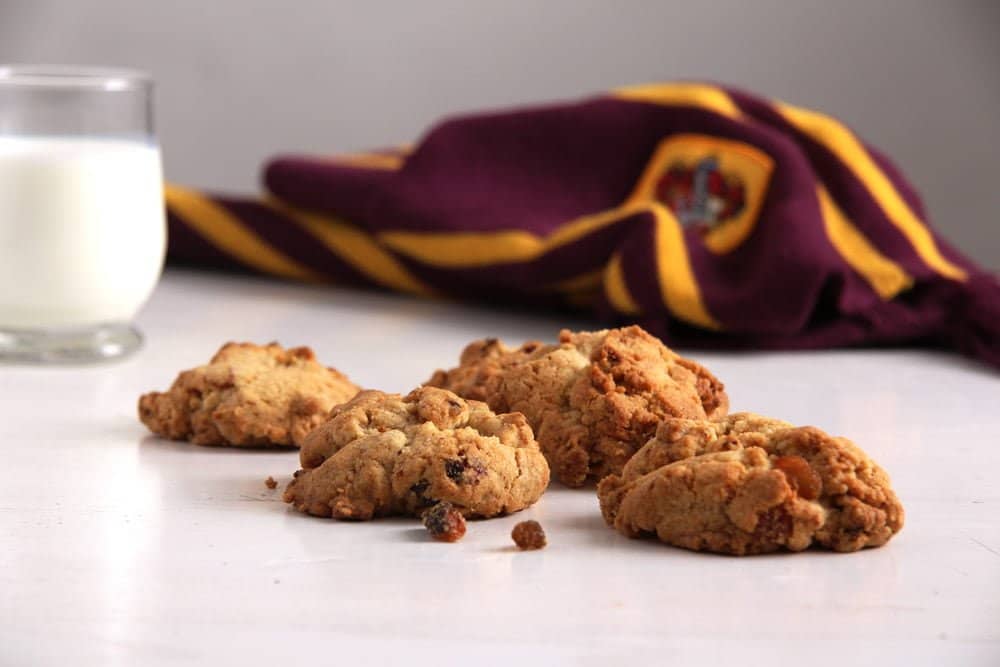 HARRY POTTER ROCK CAKES
This is the last recipe of this Harry Potter series, I hope you enjoyed the recipes. And the end of the series makes me realize this is the end of another month, of November, that means almost the end of the year.
I know this is such a cliche, but where did this year go? Time flies way too fast and getting older makes it fly even faster. The kids feel like the time stretches forever from August, when they both have their birthdays, to Christmas, when it is present time again. For me, it is just like: how can it get from hot summer to bitter cold in such a short time...
But enough depressing thoughts for one morning, the bright side of being almost December is Christmas indeed, the best time of the year. I love Christmas, I've always done, it is the one thing that makes winter bearable.
I am enjoying the Advent Sundays and I cannot wait for those pre-Christmas days full of preparations and anticipation, the joy of the kids on the morning of the Christmas Eve, their impatience during the Christmas Eve dinner, their happiness of finally finding their presents under the Christmas tree and then the following, more relaxed Christmas days full of delicious food, laughter, and laziness. 🙂
And if you would like to have a look at other Harry Potter inspired recipes, here they are:
PIN IT FOR LATER!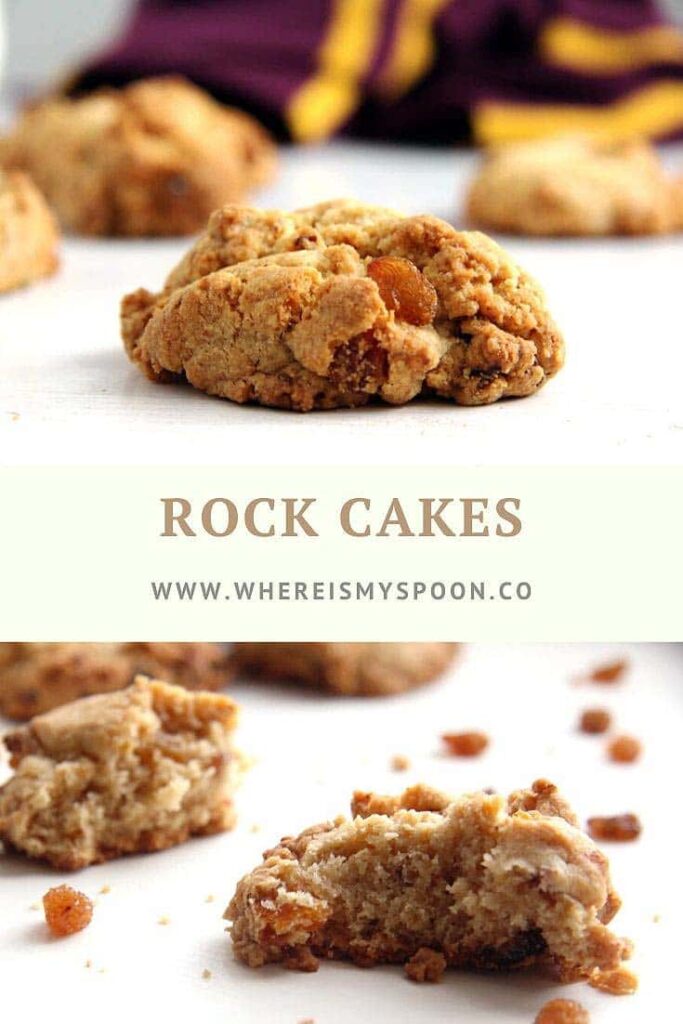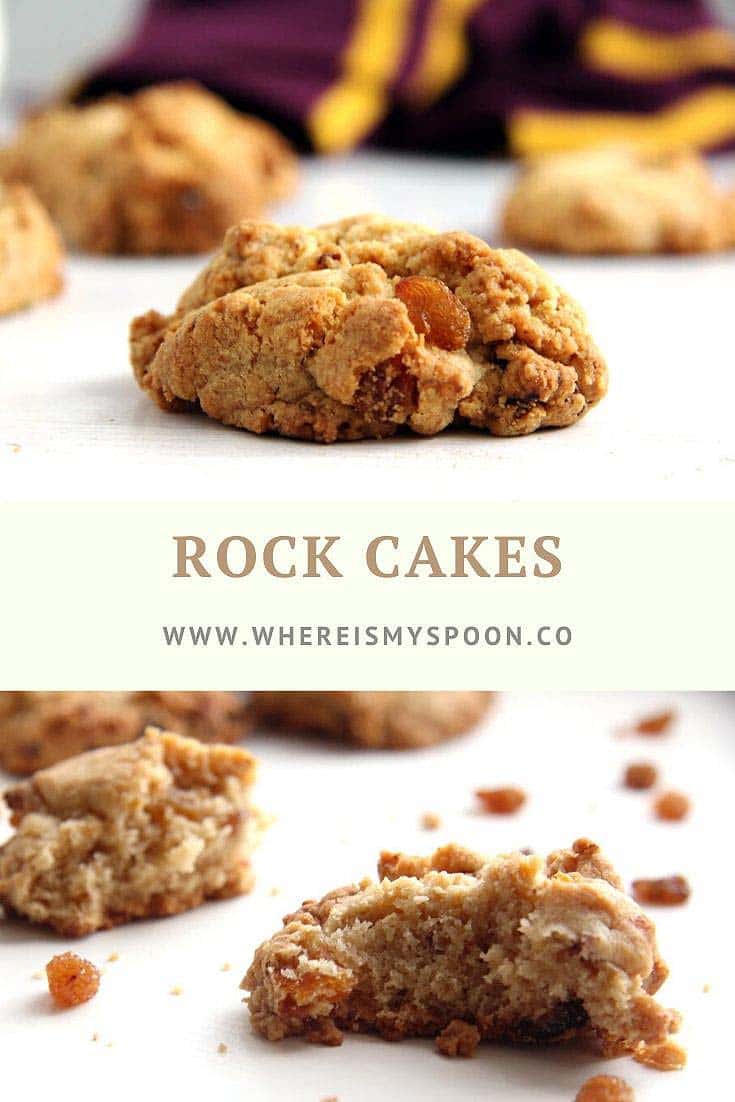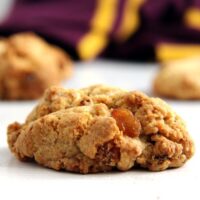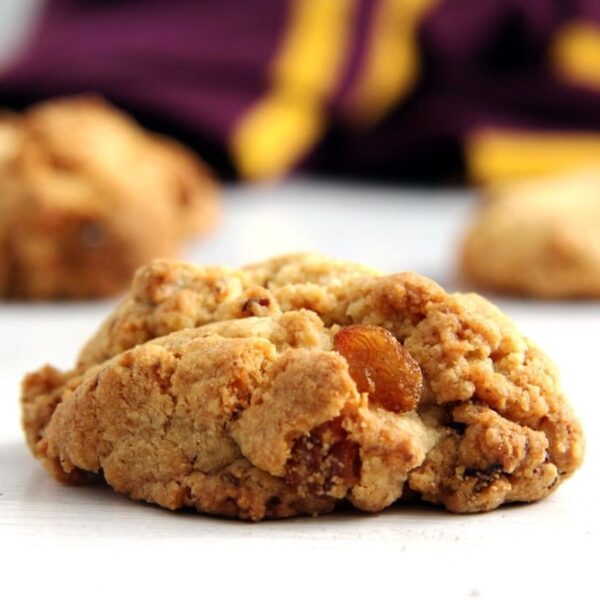 Hagrid's Rock Cakes
A better version of Hagrid's rock cakes, soft and sweet, full of good stuff like sultanas, dried apricots, prunes and cranberries and ready within 30 minutes.
Print
Pin
Share
Grow
Saved!
Rate
Ingredients
230

g

all-purpose flour

8.1 oz/ 2 cups, (Note 1)

1 ¼

teaspoons

baking powder

1

teaspoon

ground allspice

a pinch of salt

120

g

unsalted butter

4.2 oz/ ½ cup, room temperature

100

g

muscovado sugar

3.5 oz/ ½ cup

125

g

chopped dried fruit

4.4 oz/ ⅔ cup, (Note 2)

1

egg
Instructions
Preheat the oven to 180 degrees Celsius/ 350 degrees Fahrenheit. Line a baking tray with parchment paper.

Mix the flour, sugar, baking powder, allspice, salt, and nutmeg. Add the soft butter and rub it into the flour with your hands until the mixture resembles fine breadcrumbs.

Chop the larger dried fruit, if using. Sultanas, raisins or cranberries can be left whole.

Combine: Beat the egg lightly in a small bowl. Stir the chopped fruit and egg into the flour-butter mixture with your hand or a spoon.

Divide the dough into 10 heaps and place the heaps on the prepared baking tray. You should not try to give them a nice shape, leave them rough so that they can resemble rocks in the end.

Bake for about 18-20 minutes or until golden brown. Leave to cool on the baking tray for about 10 minutes, then transfer to a wire rack to cool completely. Store airtight.
Notes
Always use a

digital kitchen scale

in baking; it ensures the best results (Amazon affiliate link).

I used sultanas, prunes, and apricots.
Nutrition
Serving:
1
rock cake
|
Calories:
238
kcal
|
Carbohydrates:
36
g
|
Protein:
3
g
|
Fat:
10
g
|
Saturated Fat:
6
g
|
Polyunsaturated Fat:
3
g
|
Cholesterol:
42
mg
|
Sodium:
86
mg
|
Fiber:
2
g
|
Sugar:
16
g