A simple vegan peanut soup with vegetables and coconut milk.
PEANUT SOUP
A beautiful, tasty and comforting peanut soup, spiced with curry, full of vegetables like carrots and leeks, made with coconut milk and crunchy whole peanuts. No peanut butter involved.
I love soups and this vegan peanut soup makes no exception. And if you are looking for more vegan soup ideas, how about this Sweet Potato Soup, this Leek Soup with Brown Rice or this Cream of Broccoli Soup? You would love them all!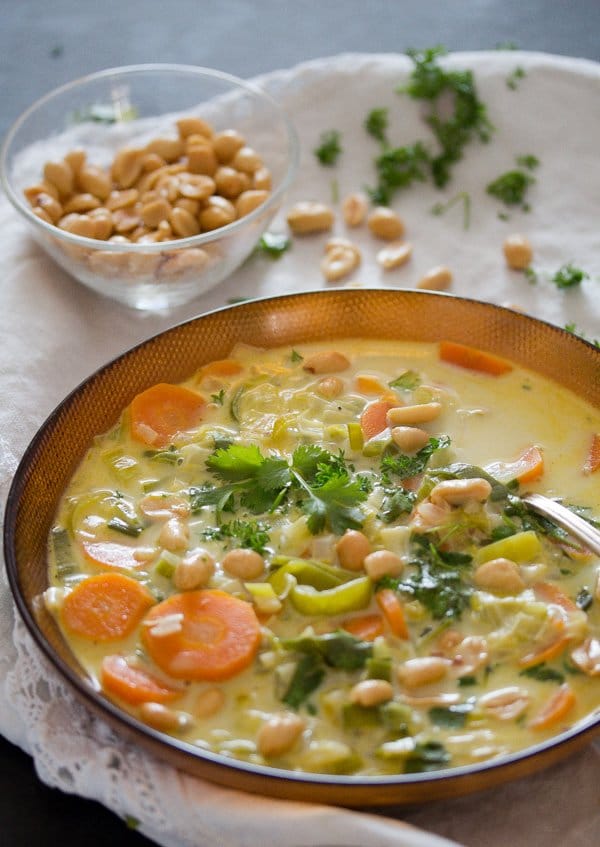 FACTS ABOUT PEANUTS
What are peanuts?
First of all, despite their name, peanuts are not nuts! They are legumes and they are related to lentils, beans and soy. So, like all legumes, they are a type of plant with seeds growing inside a pod.
And, unlike nuts, which grow on trees, peanuts grow underground. They are the seeds of a legume crop, Arachis hypogaea, a bushy plant widely grown in the tropics and subtropics. The peanuts are being harvested by being pulled up from the ground, just like a carrot or potato, for instance.
Peanuts are also called goobers, groundnuts, earthnuts, monkey nuts, and grass nuts.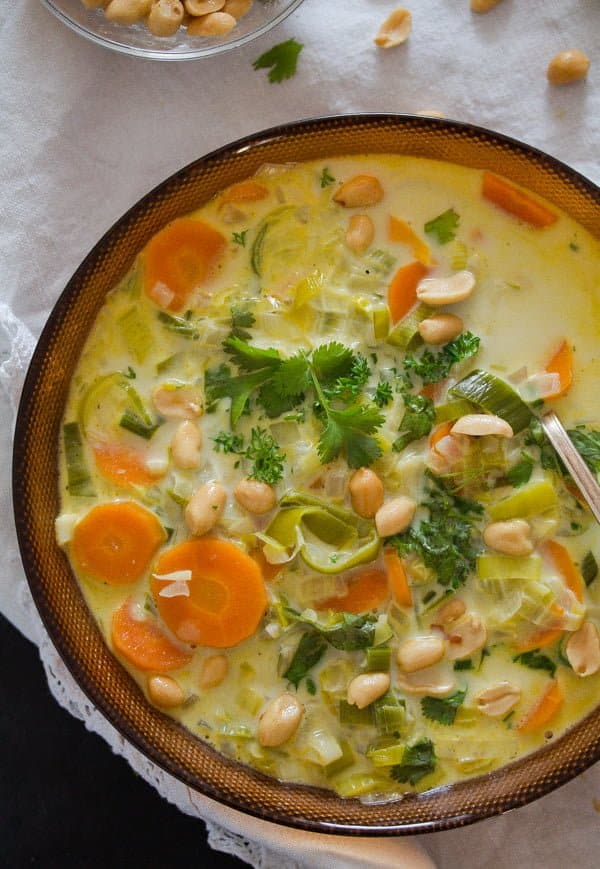 Peanuts originate in South America, where they have existed for thousands of years, playing an important role in the diet of the native people in this area and in Mexico.
They were brought by Spanish and Portuguese explorers to Africa, where they were quickly incorporated in the traditional food culture. See this famous African peanut soup, for instance, soooo good!
During the 19th century they also gained popularity in the US, US now being the one English speaking country consuming the most peanuts or peanut products, like peanut butter.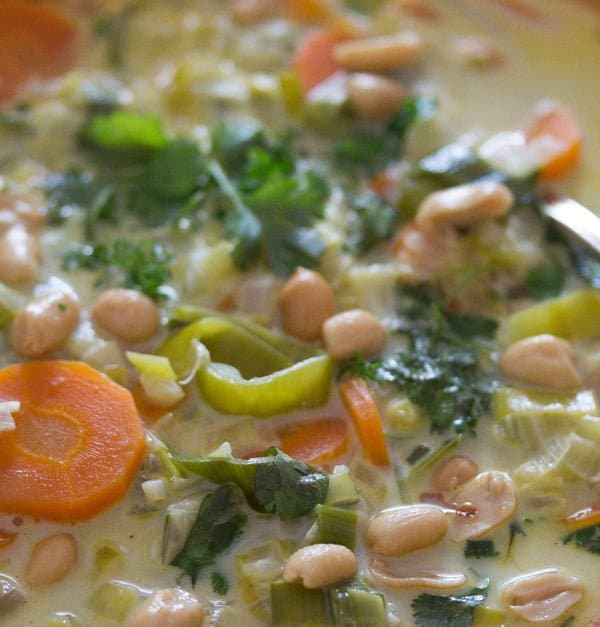 Peanuts – Nutrition Facts:
Peanuts are packed with healthy fats and high-quality protein.
Due to the high fat content, they have gained a rather bad reputation, but what I really believe is that people are putting the blame on the good fats contained by the peanuts, instead of thinking of the overly sweet peanut butter many people are eating on top of white bread and covered with jelly…
Why not change the white bread with some whole grain, the sweetened peanut butter with natural peanut butter and the jelly with lower sugar homemade jelly, jam or fruit butter? That would make a wonderful healthy breakfast or snack.
Studies completed in recent years have concluded that "frequent nut consumption was associated with a reduced risk of weight gain (5 kg or more). These results support the recommendation of nut consumption as an important component of a cardio protective diet and also allay fears of possible weight gain. (The World's Healthiest Foods)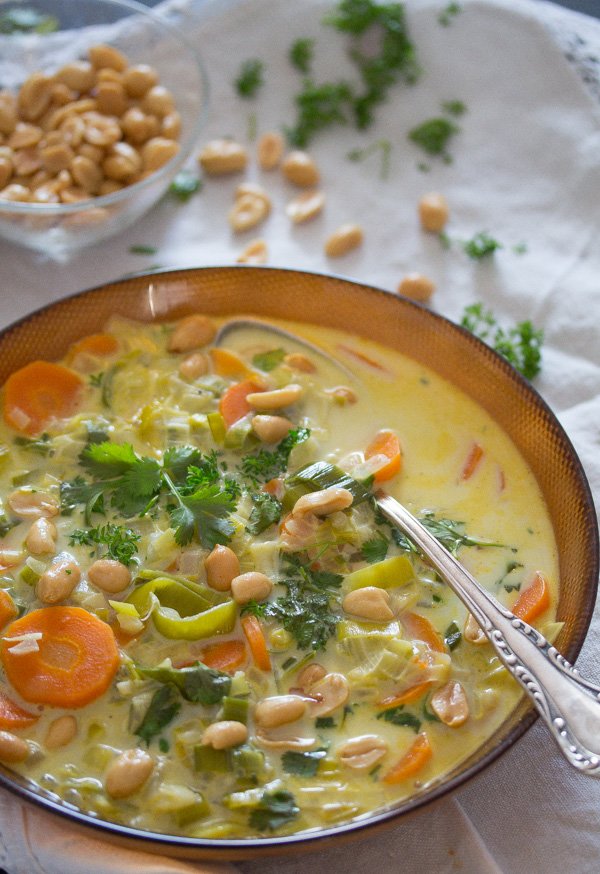 100 g/ 3.5 oz/ 2/3 cup whole peanuts contain 567 calories, 25.8 g protein, 16.1 g carbs, 4.7 g sugar, 8.5 g fiber and 49.2 g fat.
As seen above, peanuts are a very good source of vegetable protein, but it is some of these proteins, arachin and conarachin, that can cause severe allergic, sometimes life-threatening, reactions in some people.
They are rather low in carbs and that makes them a suitable food choice for people with diabetes.
Peanuts also contain various vitamins and minerals, which are beneficial for our health.
They are an important source of biotin, which is beneficial for our physiological well-being and essential for pregnant women reducing the risk of congenital birth defects. Their folate content is also important during the pregnancy.
Peanuts contain some of the same oxidants as red wine and getting plenty of antioxidants may lower your cancer risk.
They are also high in copper, which is often low in the Western diet. Too little copper might cause heart problems.
They also contain manganese, vitamin A, thiamine, phosphorus and magnesium, which are all minerals and vitamins important for our bodies. (Healthy Eating)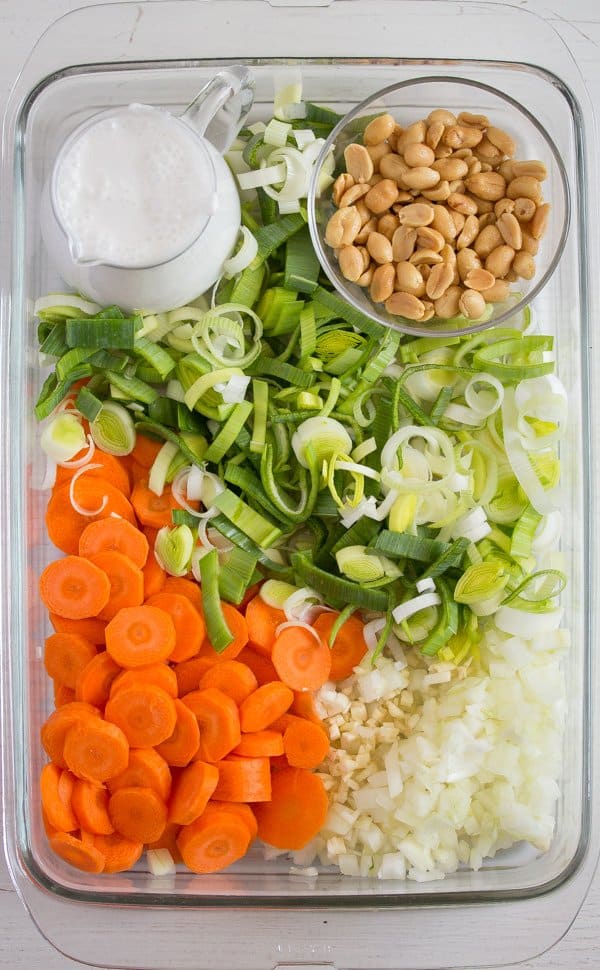 INGREDIENTS FOR THE PEANUT SOUP
I use shelled roasted peanuts, slightly salted or unsalted to make the peanut soup. If using salted peanuts, think about adjusting the salt amount in the soup accordingly, adding less salt if the peanuts are already salted.
You will also need about 3 large carrots (more or less 300 g/ 10.5 oz) and one leek. I give the gram amount of the leek because leeks in Germany mostly come in huge and extremely huge, so 200 g/ 7 oz leeks would be like half a leek or less around here.
The curry powder is a rather standard, mild sort. You can use your favorite brand of curry powder, even a spicier sort. If using a hotter curry powder, adjust the amount according to your taste, 2 teaspoons of hot curry powder would probably be too much.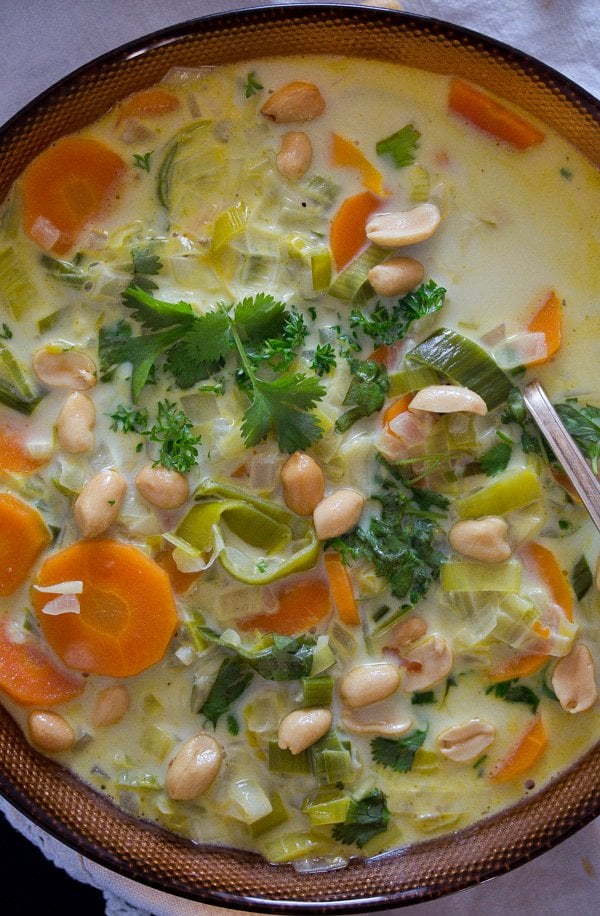 HOW TO MAKE A VEGAN PEANUT SOUP
Making this peanut soup is easy and it goes pretty fast as well.
Chop the onions and the garlic finely. Slice the carrots.
Thoroughly clean the leek and slice it thinly.
Saute the onions, garlic and carrots for about 3 minutes. Add some of the vegetable broth, allow it to reduce. Add the leek, maple syrup (or honey, if not vegan) and curry powder. Stir well to coat the vegetables with the spices.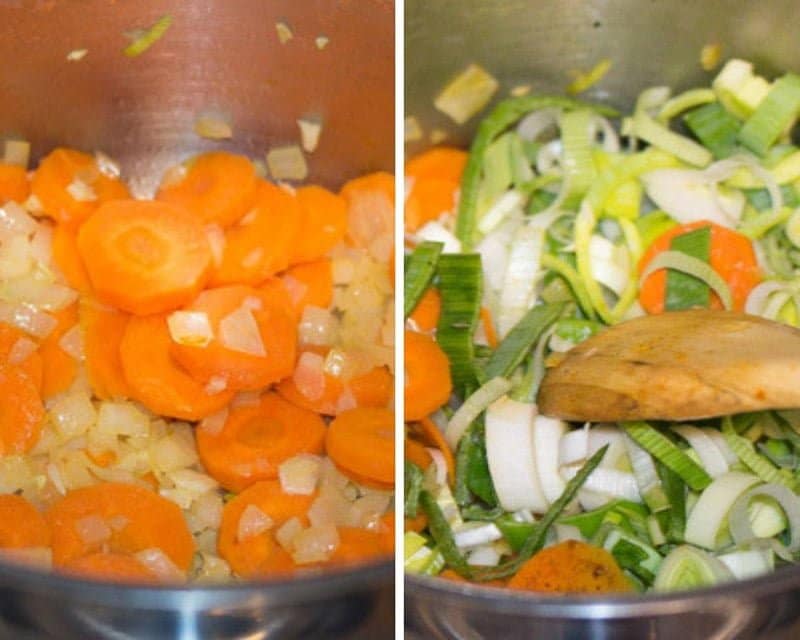 Add the remaining vegetable broth. Bring to a boil and simmer for about 10 minutes or until the veggies are almost done.
Add the coconut milk and simmer for a few more minutes.
Turn off the heat and add the roasted peanuts to the soup. Adjust the taste with salt and pepper and serve immediately.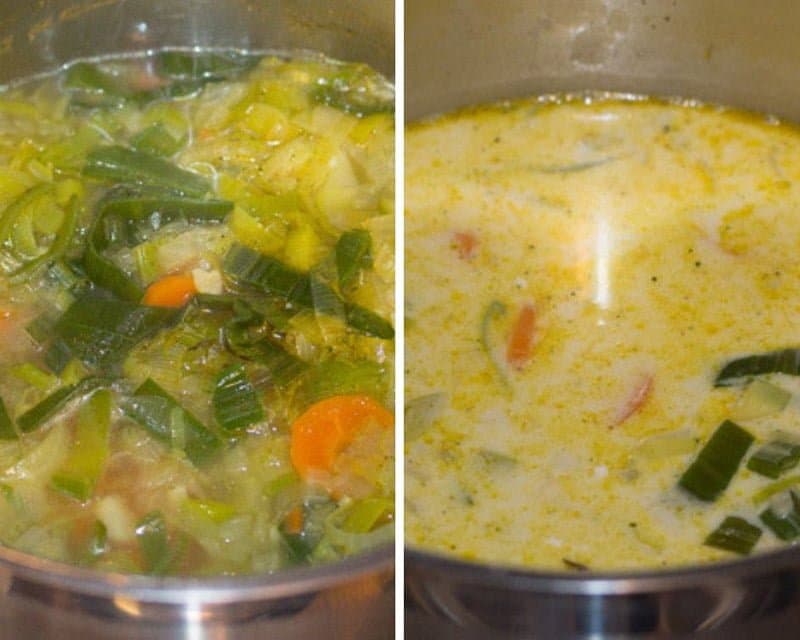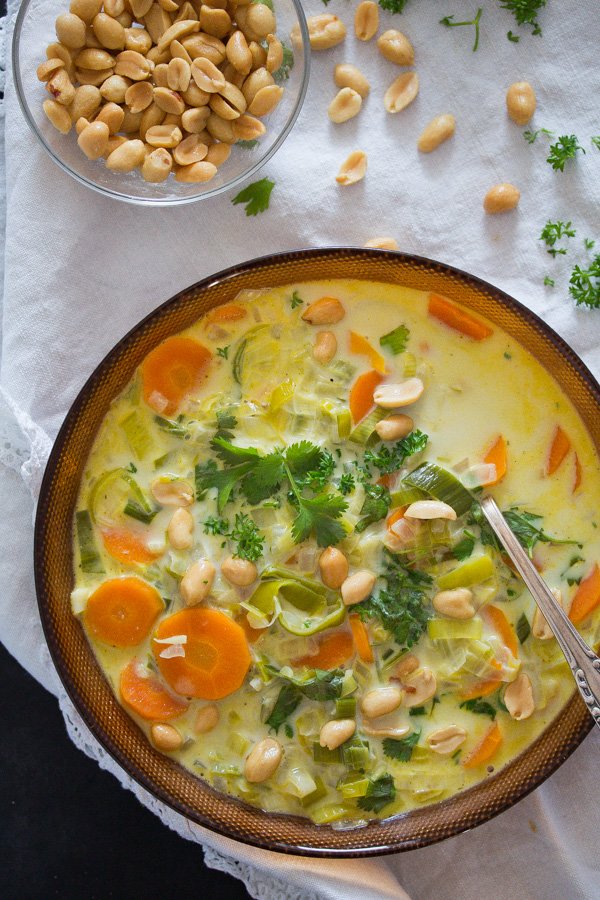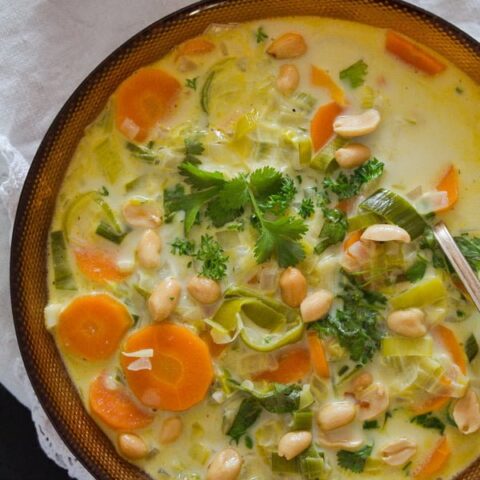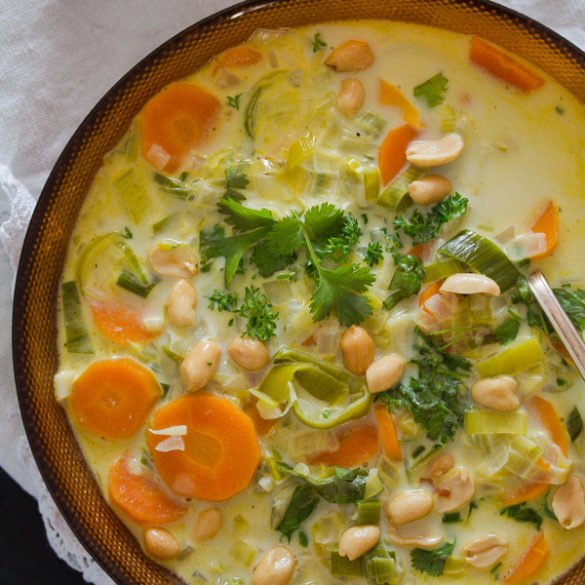 Vegan Peanut Soup with Coconut Milk
A simple vegan peanut soup with vegetables and coconut milk.
Ingredients
1 medium onion
1 garlic clove
300 g/10.5 oz carrots (about 3 large carrots)
2 tablespoons oil
200 g/ 7 oz leek (about 1 medium)
1 teaspoon maple syrup (See note 1)
2 teaspoons curry powder (See note 2)
750 ml/ 25.3 fl.oz/ 3 cups vegetable broth
1 can coconut milk (400 g/ 14 oz)
1/2 - 1 tablespoon lemon juice, to taste
100 g/ 3.5 oz/ 2/3 cup whole shelled roasted peanuts
fine sea salt and freshly ground black pepper
1-2 tablespoon chopped coriander and/or parsley
Instructions
Chop the garlic and the onion finely, cut the carrots and the leek into thin slices.
Heat the oil in a pot and saute the onion, garlic and carrots lightly, about 3 minutes.
Add 125 ml/ 4.2 fl.oz/ ½ cup of the vegetable broth, allow the liquid to reduce for about 2-3 minutes, then add the leek, maple syrup (or honey) and curry powder.
Mix well and then add the rest of the vegetable broth. Bring to a boil and let cook for about 10 minutes until the vegetables are almost done.
Add the coconut milk to the soup, bring to a boil and let simmer for a few more minutes. Turn off the heat and add the peanuts to the soup. Adjust the taste a little lemon juice, salt and pepper.
Sprinkle with some chopped coriander and/or parsley and serve immediately.
Notes
You can use honey instead, if you don't care about the peanut soup being vegan.
I used a mild curry powder. If using a spicier curry powder, adjust the amount according to your heat tolerance.
Salted or unsalted roasted peanuts, adjust the salt content of the soup accordingly.
Nutrition Information:
Yield:

4
Serving Size:

1
Amount Per Serving:
Calories:

483
Total Fat:

41g
Saturated Fat:

21g
Trans Fat:

0g
Unsaturated Fat:

17g
Cholesterol:

0mg
Sodium:

958mg
Carbohydrates:

26g
Fiber:

6g
Sugar:

10g
Protein:

10g
Nutritional information is not always accurate.