Ground pork and cabbage or stuffed cabbage casserole: layers of cabbage and ground meat in tomato sauce, this is pure comfort food.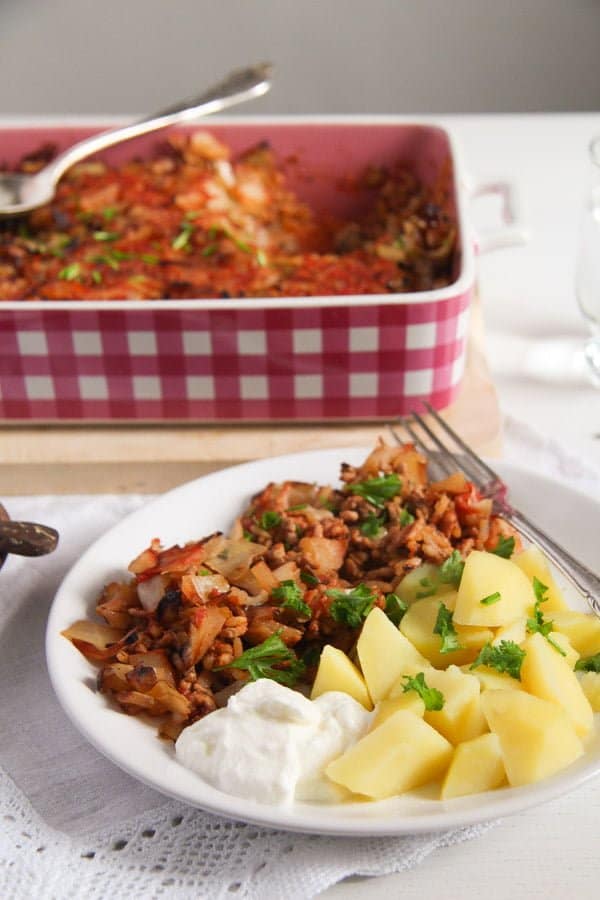 This ground pork and cabbage dish, also known as Varza à la Cluj in Romania is the simplified version of those heavenly Sarmale, the stuffed cabbage rolls, which must be the best BEST dish in the Romanian kitchen. Every Romanian knows what I am talking about and I could almost bet that any person out there who knows somebody from Romania personally has at least heard of sarmale.
There is only one hitch with sarmale: it takes really long making and cooking them. I always make two huge pots, they taste even better after you have reheated them repeatedly and I spent ages rolling them and even longer cooking them. So they remain a treat, we only have them a few times a year.
What I do cook more often than that is this simplified or deconstructed version of the sarmale. A stuffed cabbage casserole, similar in taste but so much easier and quicker to make.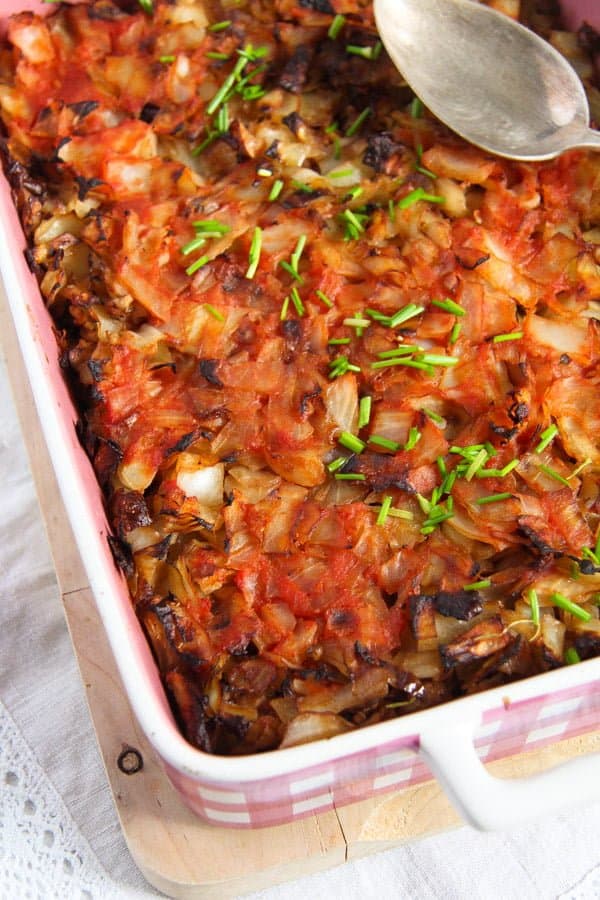 Ingredients
Cabbage:
White or green cabbage, I use white most of the time, because it is more common around here.
Ground meat:
I use ground pork to make this dish, that makes it really authentic, in my opinion.
You can definitely use only beef or a mixture of pork and beef.
Bacon:
I prefer to use smoked bacon sold in one piece, the thin slices are not very suitable.
Spices:
For a genuine Romanian taste, try to find cimbru or summer savory. Except for parsley, it is probably the most commonly used herb in Romanian cuisine, especially in its dried form.
It can be replaced with dried thyme, the flavor is rather different, but still very suitable for this ground pork and cabbage dish.
You will also need sweet and hot paprika. If the bacon is not smoked, add some smoked paprika to replace that flavor.
Other ingredients: canned tomatoes, sour cream (smetana if you can find it) both for cooking and serving, chicken stock.
How to make?
A super simple recipe when compared to making stuffed cabbage rolls.
Fry the bacon cubes until the fat renders, about 2 minutes.
Cook onions until golden, add ground pork and spices, brown all over, breaking the lumps with a wooden spoon.
Cook the rice but not quite through, it should still be slightly grainy, it will finish cooking in the oven. Drain well and combine with the meat, 1 tablespoon tomato puree and 2 tablespoons of the sour cream.
In the meantime, chop the cabbage and start cooking it as well.
Fry it gently in a little oil, stirring often, for about 10 minutes. Add chicken stock and bay leaves and simmer, covered, for about 15 minutes. Adjust the taste.
Combine the remaining tomato puree and sour cream.
Pour ⅓ of this mixture into a large baking dish. Add ½ of the cabbage, then another ⅓ of the sauce.
Spread the ground pork all over, cover with the rest of the cabbage and the rest of the sauce.
Bake in the preheated oven for about 30-40 until the rice is cooked through and the top of the casserole is deeply colored.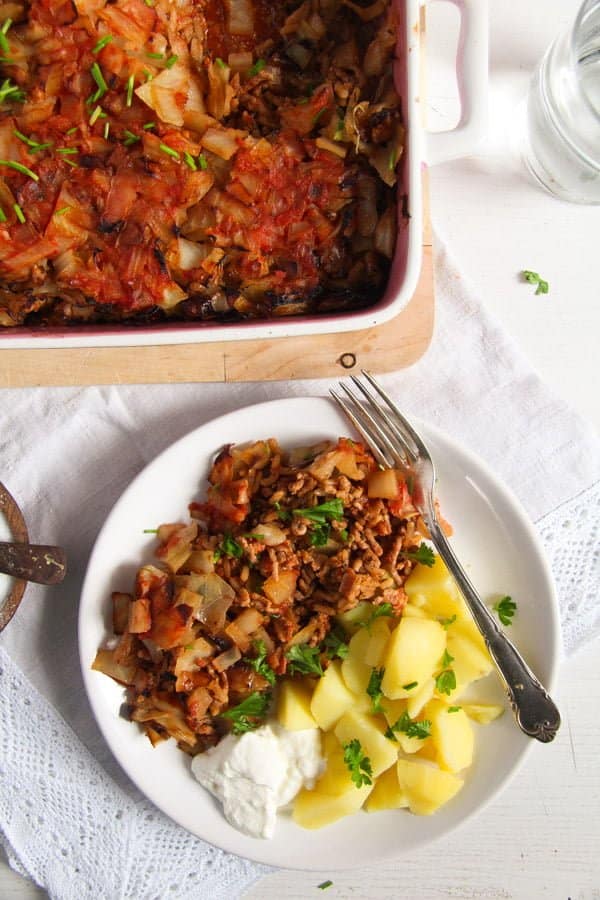 How to serve?
The ground pork and cabbage casserole can be served immediately or it can be reheated in the oven.
Serve with crusty white bread or boiled potatoes and with a generous dollop of sour cream or smetana.
How to store and reheat?
The leftovers keep well in the fridge for about 3 days. They can also be frozen for up to 3 months.
When reheating, cover the dish loosely with aluminum foil, so that it doesn't get darker than it already is.
When reheating leftovers, spread them all over the baking dish, don't leave one side of the dish empty (I mean the side from where you've already scooped out the food). If you leave it like that, the leftovers stuck to it will burn. Or use a clean, smaller baking dish.
You can also reheat a small portion of leftovers in a small non-stick saucepan. Add a splash of water and use a lid when reheating.
Other casseroles you might like:
Ground Pork and Cabbage
Ground pork and cabbage or stuffed cabbage casserole: layers of cabbage and ground meat in tomato sauce, this is pure comfort food.
Print
Pin
Share
Grow
Saved!
Rate
Ingredients
7

oz

smoked bacon

preferably in one piece

1

medium onion

2

lbs

ground pork

1-2

tablespoons

dried savory or thyme

2

teaspoons

dried dill seeds

or some dried dill

½

cup

rice

2

cans chopped tomatoes

14 oz/ 400 g each

5

heaped tablespoons sour cream

2.5

lbs

cabbage

1 medium or ½ a larger one

2

tablespoons

vegetable oil

1

cup

chicken stock

2

bay leaves

1

teaspoon

sweet paprika

¼ - ½

teaspoon

hot paprika

to taste

fine sea salt and pepper

more sour cream or yogurt to serve
Instructions
Cook bacon: Cut the bacon into small cubes. Heat a heavy-bottomed pan and fry the bacon until some of the fat has rendered about 2 minutes.

Cook onions: Add the finely chopped onion and continue cooking until the onions are golden.

Brown meat: Add the ground meat and the dried herbs and cook, breaking the lumps, until nicely browned.

Cook rice: In the meantime, cook the rice in salted water until half cooked. Read the package's instructions and cook the rice for a bit more than half the recommended time. According to the instructions, mine was supposed to be cooked for 16 minutes, so I only cooked it for about 10 minutes; it was still a bit grainy in the middle. Drain the rice and add it to the browned meat.

Puree the canned tomatoes. Add 1 tablespoon tomato puree and 2 tablespoons sour cream to the meat, the sweet and the hot paprika, and some salt and pepper to taste.

Cook cabbage: Chop the cabbage finely. Heat 2 tablespoons oil in a very large pot and cook the cabbage until golden, about 10 minutes, stirring often, until golden all over. Add one cup chicken broth and the bay leaves, cover, and simmer for about 15 minutes. Adjust the taste with salt and pepper.

In the meantime, preheat the oven to 200 degrees Fahrenheit/ 400 degrees Fahrenheit.

Assemble the casserole: Mix the tomato puree with the remaining sour cream. Pour ⅓ of the mixture into a large casserole dish. Spread all over. Layer ½ of the cabbage and about ⅓ of the remaining tomato puree mixture. Spread the meat in an even layer over the cabbage, cover with the rest of the cabbage. Pour the rest of the tomato puree mixture evenly over the cabbage.

Bake for about 30-40 minutes until the rice is cooked and the casserole is nicely colored.

Serve with potatoes or bread and more sour cream (or yogurt for a lighter version).
Nutrition
Serving:
1
/6 of the dish
|
Calories:
767
kcal
|
Carbohydrates:
23
g
|
Protein:
55
g
|
Fat:
50
g
|
Saturated Fat:
17
g
|
Polyunsaturated Fat:
29
g
|
Cholesterol:
182
mg
|
Sodium:
949
mg
|
Fiber:
6
g
|
Sugar:
8
g