Learn how to render turkey fat and make turkey cracklings. Clean, natural, whole-food, perfect for using in cooking and baking.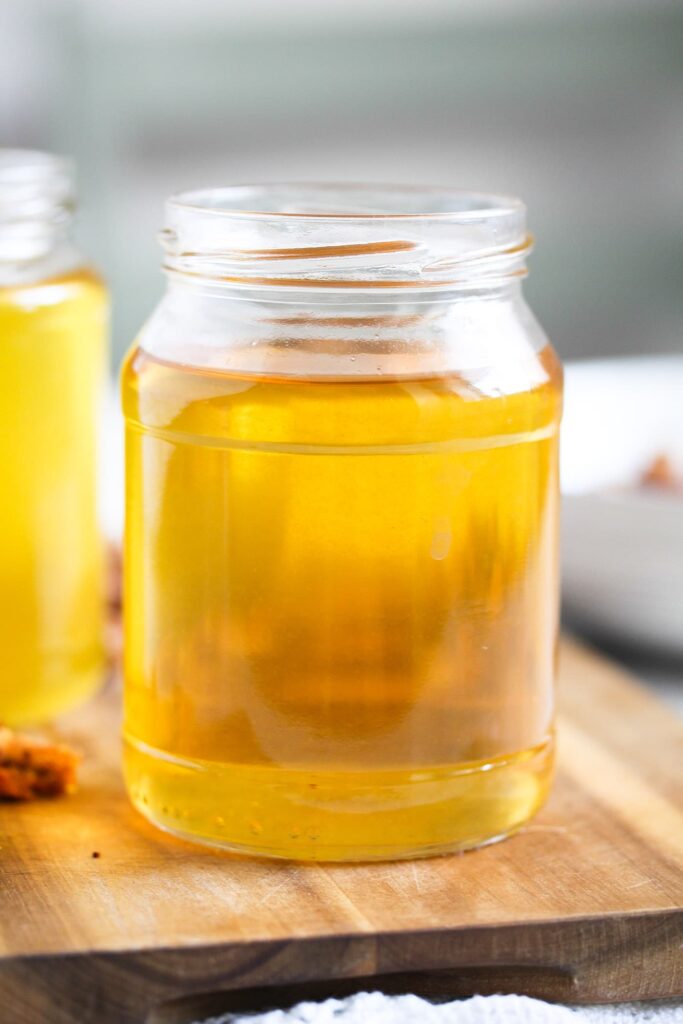 Back to the roots. Rendering turkey fat, or chicken, pork lard or beef tallow is easier and healthier than you have been thought to think. Rendered fat is a clean, natural product that has been used for centuries before being vilified by companies producing cheap, unhealthy hydrogenated fats.
I grew up on lard and rendered chicken fat. Butter and oil were difficult to find in the communist 1980s and expensive in the post-communist era in the 1990s in Eastern Europe, so lard was all we had. My grandmother used to render large amounts of pork fat or smaller amounts of chicken fat regularly, she would use it for anything she cooked, for baking and we would eat it on bread (with salt and maybe paprika) almost every day.
Rendering turkey fat is super easy. Just cut the skin into small pieces, heat them gently until they have released all their golden fat, strain, and store.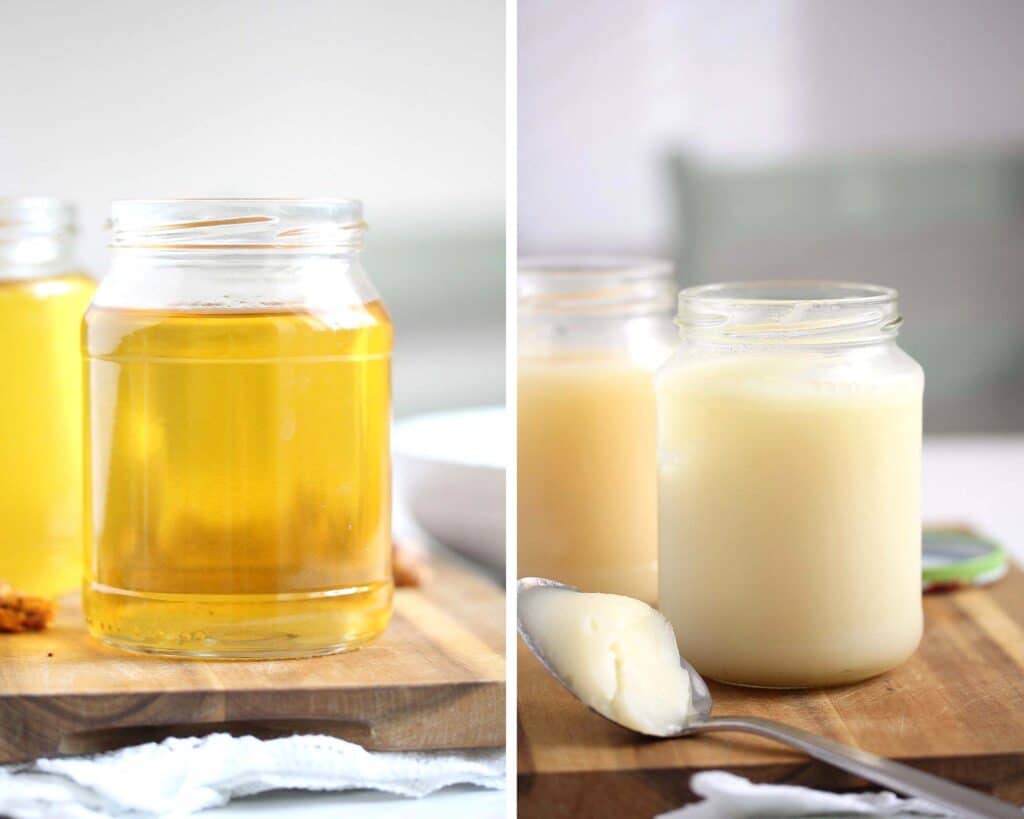 Advantages of using rendered fat
Rendered fat, lard or schmaltz is low in saturated fats, and it has lots of minerals and vitamins. It contains no trans fats.
It has very high smoke point (about 190 degrees Celsius/ 375 degrees Fahrenheit), meaning that it won't oxidize when heated. This makes it perfect for high heat cooking and, if you have enough of it, for deep frying. The batter will be crispier and will cook faster, meaning that it won't have time to burn and turn carcinogenic.
It's perfect for sauteing just about anything, adding amazing flavor to the food.
It can be used for baking as well, have a look at these Cornish Pasties, for instance. When used for pies, it makes the crust super crisp and flaky.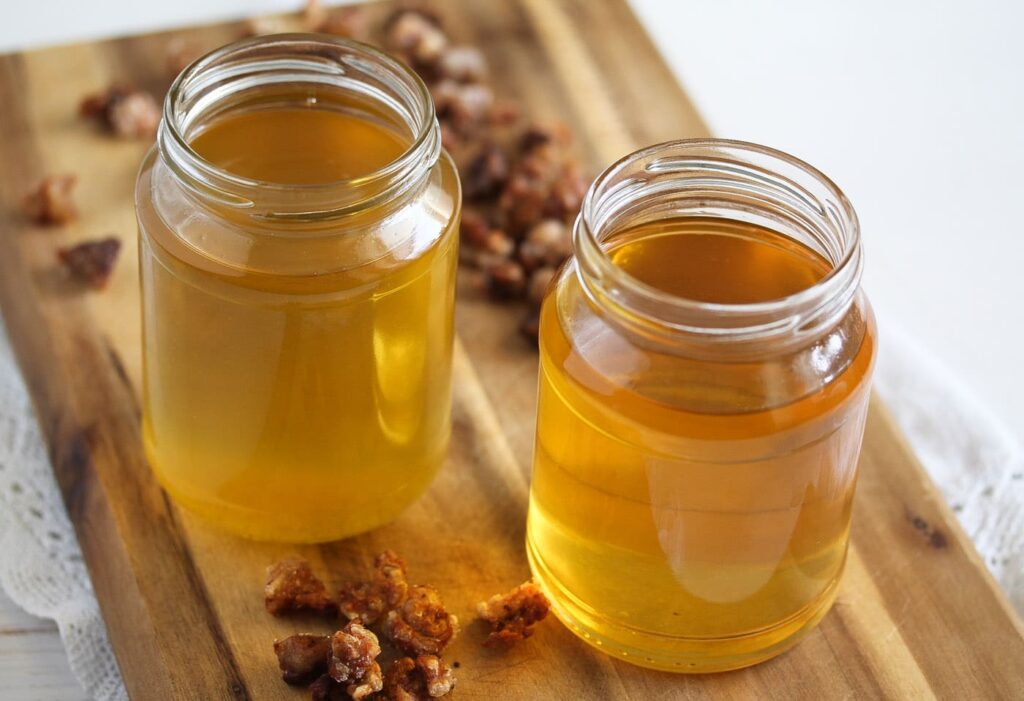 What do you need?
All you need is turkey skin. I use the skin from the breasts of the huge turkey I buy every November.
It is thick and full of fat. I only trim away a few dried and leathery edges.
You can use any skin from the bird's body. The thinner the skin, the less rendered fat you will get, and the quicker it will go.
The amount of skin is totally optional, render as much as you have. I had 1 kg/ 2.2 lbs this time, but I often render really small amounts of chicken skin in a small pot.
I had 2 full jars of 400 ml/ 13.5 fl.oz/ 1 ¾ cups each.
How to render the fat?
Cut the skin into small pieces. (1)
Place the cubes into a large pot. (2)
Turn the heat on medium-low and start melting. Once it begins melting, turn the heat down to low and let melt very gently. Stir from time to time.
The whole process will not take long, about 15-20 minutes per batch when melting this amount of fat in two batches.
If the skin is thin (like chicken skin), you will probably only need 7 to 10 minutes to render it.
Remove the schmaltz from the heat once the cracklings are nicely golden. Don't overcook them, or the flavor might get a bit strong and smoky. It will still be perfectly OK for cooking, though. (3)
Strain through a fine-meshed sieve into another pot. Clean the sieve, line it with cheesecloth, and strain the fat again into jars. The cheesecloth will help remove all the sediments. (4)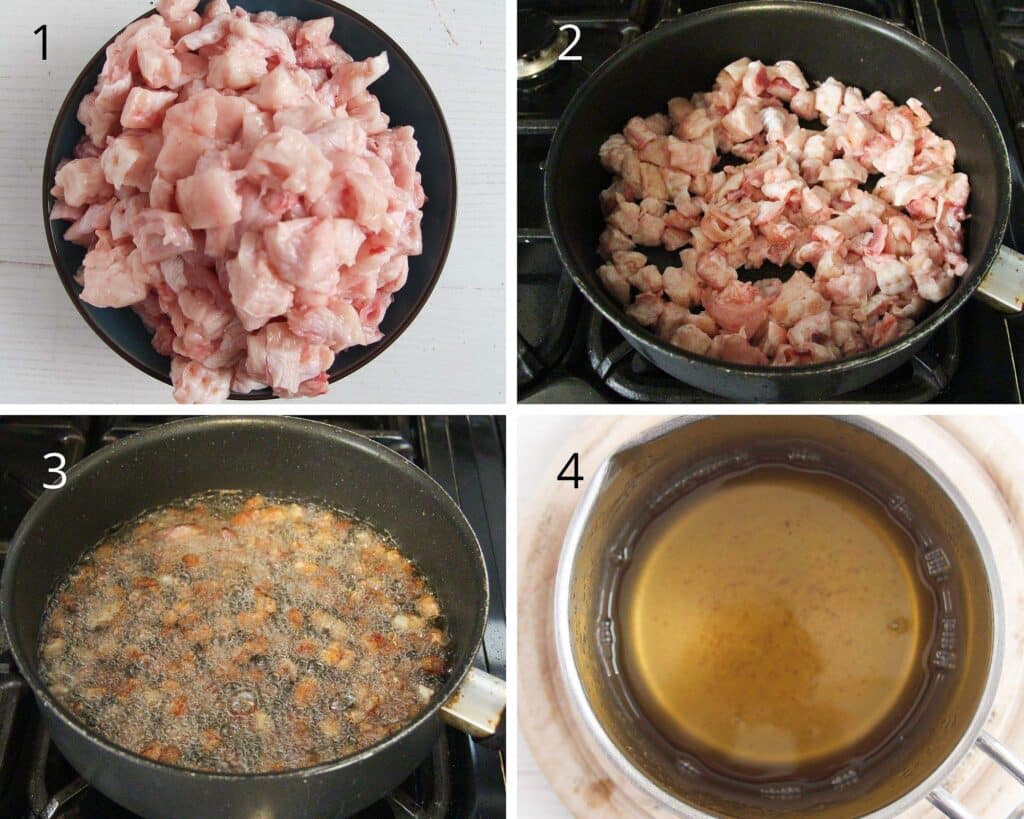 Place the lids on the jars and leave them on the counter until the golden liquid becomes solid and white. Refrigerate.
Place the cracklings onto kitchen paper to absorb the excess fat before serving.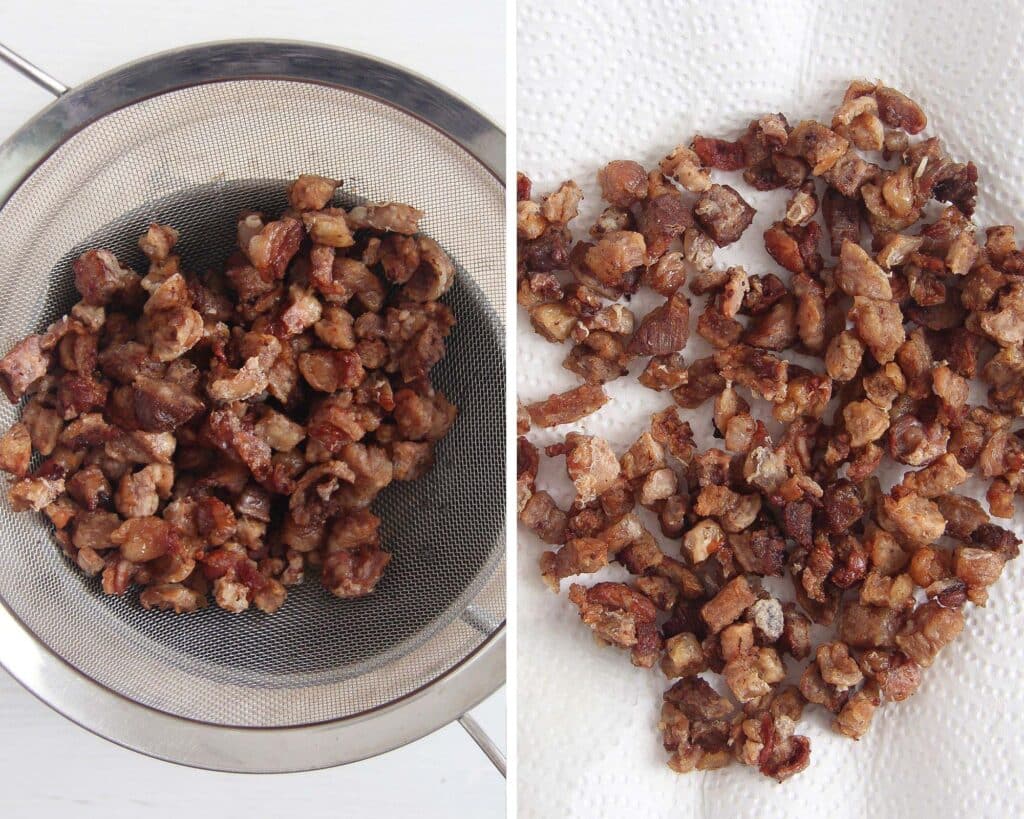 Tips
Using a large, really sharp chef's knife is crucial, a small, blunt knife will make the job difficult. You could also partially freeze the skin for easier slicing. I don't normally do it, because I have a really good knife.
Use a good pan/pot. I recommend using a nonstick deeper pan or Dutch oven. Don't use a regular pan, the sediments will stick to the bottom of the pan and you will have a hard time cleaning the pan afterward.
If you have a large amount of skin, it is preferable to render it in two batches. I had 1 kg/ 2.2 lbs and although the pan is rather large I still needed to do it in two batches. It really depends on the amount of skin and the size of the pan.
The turkey schmaltz is solid, but not as solid as butter, for instance. It will start getting very soft again if left at room temperature.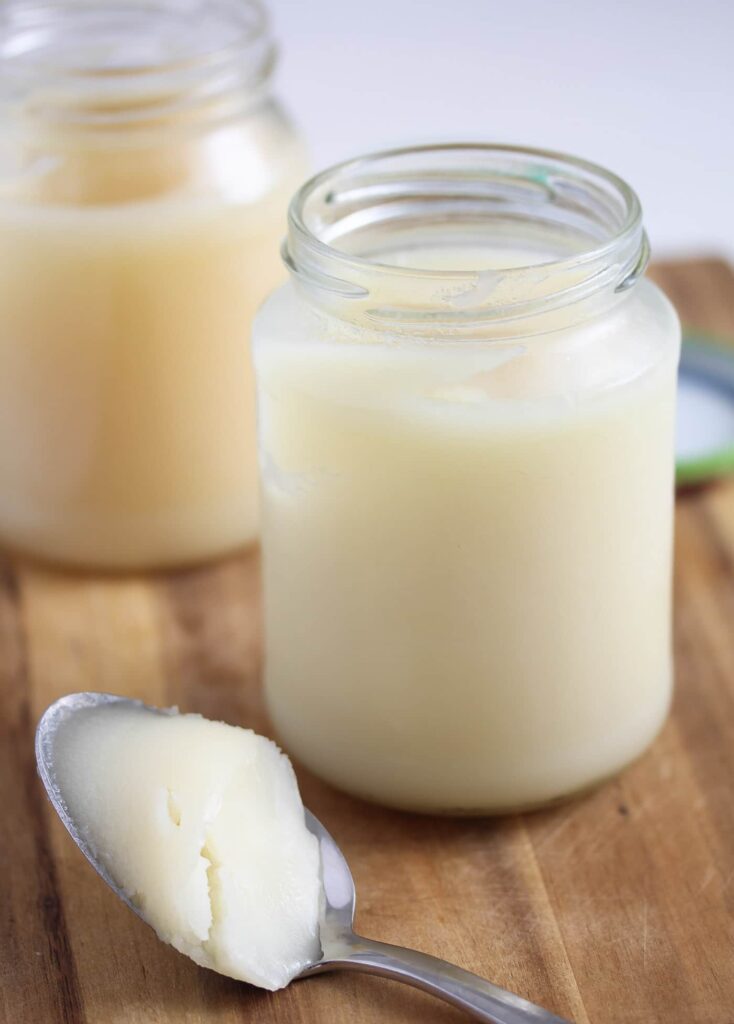 Caution
I recommend using the skin from organically-raised turkeys. The fat stores the chemicals and additives the birds are fed and that makes it unhealthy for you too. The same goes for making lard with pork fat.
Make sure you strain the golden fat very well, through a very fine-meshed sieve. The impurities, if left in the schmaltz, might cause it to form mold. If the fat turns moldy, discard it.
Storing rendered fat
Turkey fat (or any other sort) will keep for a long time. Store in jars, in the refrigerator, it will be fine for at least 6 months and up to 1 year.
My grandmother used to keep it in the pantry in the colder months of the year and only place it in the fridge in summer. But she would use it up rather fast, it was the cooking fat she used the most.
Always check how it smells before using. If the smell changes and the fat starts smelling rancid, you should discard it.
How to use?
Use for sauteing, frying, or deep frying. It adds an amazing aroma to the food and, as mentioned above, it has a high cooking and melting point, which makes it a healthier choice than butter, for instance.
I love using rendered fat of any kind for making soups, stews, and goulash, I use it for scrambled or fried eggs.
Use for baking, for making pie crusts, for instance.
Use to make confit, either meat confit or confit potatoes.
Make popcorn, it will be delicious! I could not believe it until I've tried it.
Smear thinly on bread or toasted bread and sprinkle with salt. Add some paprika, for a change.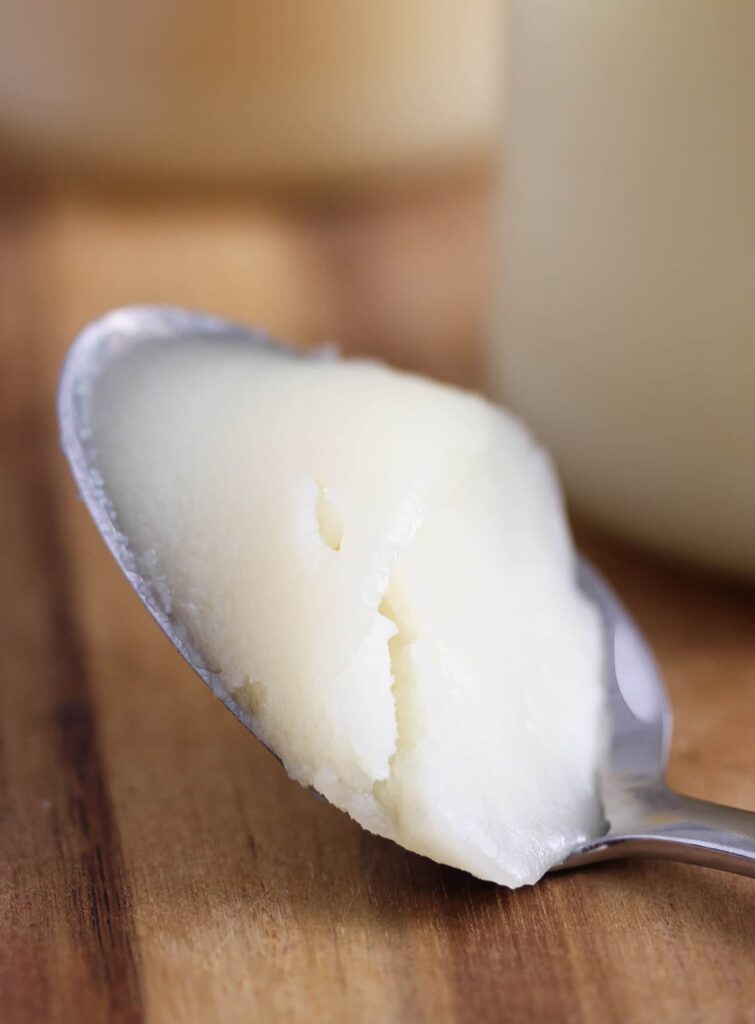 How to use cracklings?
Cracklings are great if served immediately or on the day you've made them. They will be OK when stored in the fridge for several days, but the consistency will not be "crackly" anymore, they will turn rather soggy and chewy.
Sprinkle the cracklings with salt and pepper or other spices you like. Serve hot or warm as a snack or sprinkle on top of a salad.
You can add the leftover cracklings to scrambled eggs, cabbage dishes, homemade bread, or cornbread.
If you have lots of them, turn them into a bread spread. Chop very finely or process shortly in the food processor. Mix with rendered fat and crispy roasted onions (bought ones, they are really crispy), add some salt and pepper to taste. Keep refrigerated, it will keep for at least one or two weeks, but we never had it that long.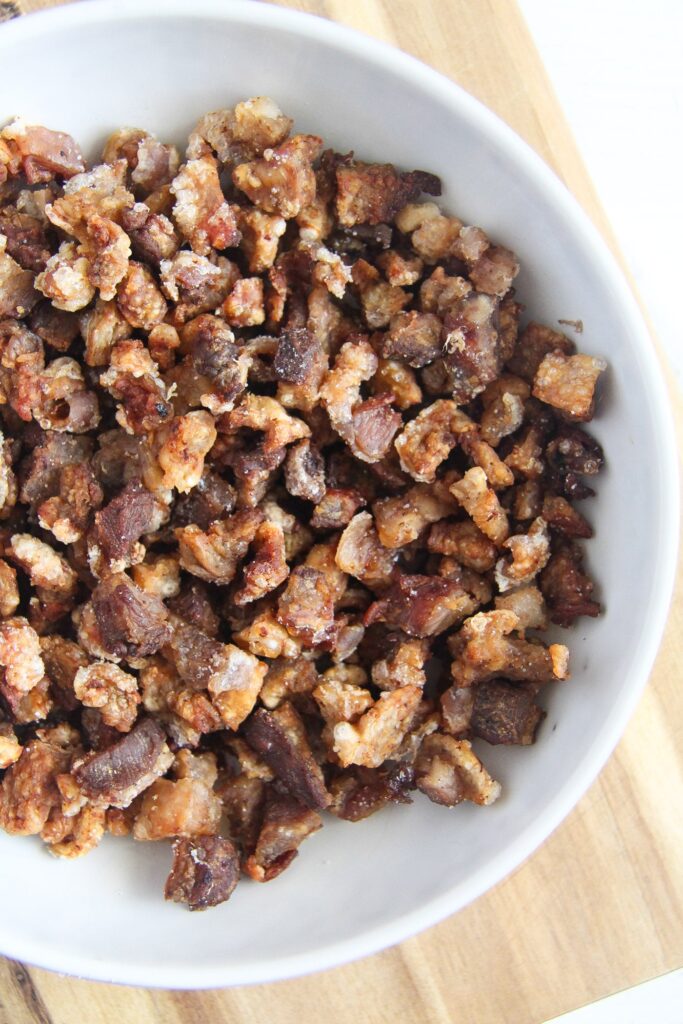 Recipes using rendered fat:
Romanian Sausage Stew – Tochitura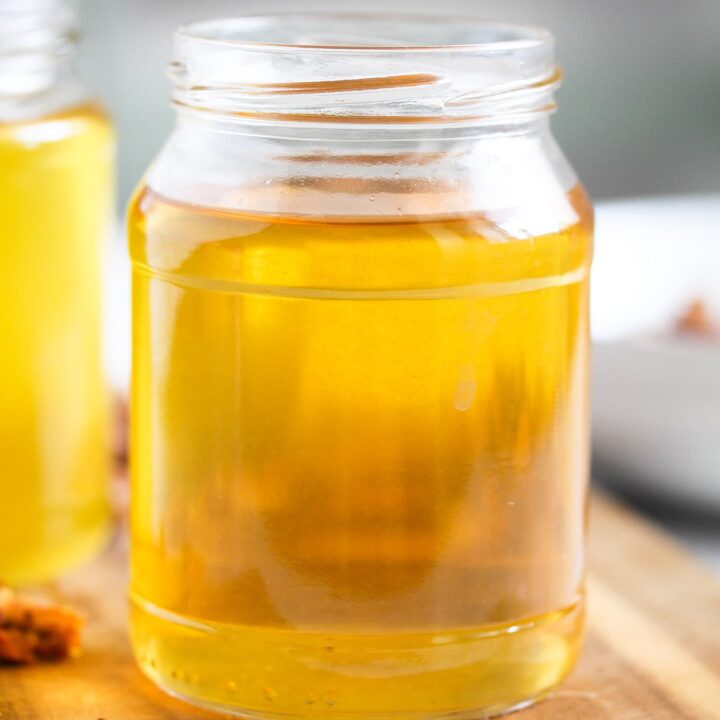 How to Render Turkey Fat
Yield:
800 ml/ 27 fl.oz/ 3 ½ cups
Learn how to render turkey fat and make turkey cracklings. Clean, natural, whole-food, perfect for using in cooking and baking.
Ingredients
1 kg/ 2.2 lbs turkey skin (Note 1)
Instructions
Rendered fat:
Cut the skin into small pieces. Use a very good, large, sharp chef's knife.
Place the pieces into a nonstick, deeper pan or a Dutch oven.
Start melting on medium-low heat. Once it starts to melt, reduce the heat to very low.
Melt gently, stirring now and then, until the fat renders and it's golden. And until the cracklings form and turn golden as well. It took me somewhere between 15 and 20 minutes. Cooking time depends on the thickness of the skin and size of cubes, don't overcook. (Note2)
Strain through a fine-meshed sieve. Clean the sieve, line it with cheesecloth, and sieve the fat again into jars. It should be completely free of impurities/sediments.
Place the lids on the jars and let the fat get solid at room temperature. Store in the refrigerator.


Turkey cracklings:
Place the cracklings onto kitchen paper, which will remove the excess fat.
Sprinkle with salt (and other spices, if desired) and serve immediately or on the day you've made them.
If you have leftovers, see the blog post for suggestions on how to use them.

Notes
The amount is totally optional. Render as much as you have and choose a pan of appropriate size. This amount of skin makes approximately 800 ml/ 27 fl. oz/ 3 ½ cups rendered fat.
If the skin is very thick and fatty, you will need about 15-20 minutes to render it. If the skin is thin (like chicken skin), 7 to 10 minutes will probably be enough.

Nutrition Information:
Yield:

60
Serving Size:

1 tablespoon
Amount Per Serving:
Calories:

120
Total Fat:

13g
Saturated Fat:

5g
Trans Fat:

0g
Unsaturated Fat:

8g
Cholesterol:

13mg
Sodium:

0mg
Carbohydrates:

0g
Fiber:

0g
Sugar:

0g
Protein:

0g
Nutritional information is not always accurate.