Last Updated on
A soft and delicious cake made with spicy turmeric paste and juicy plums.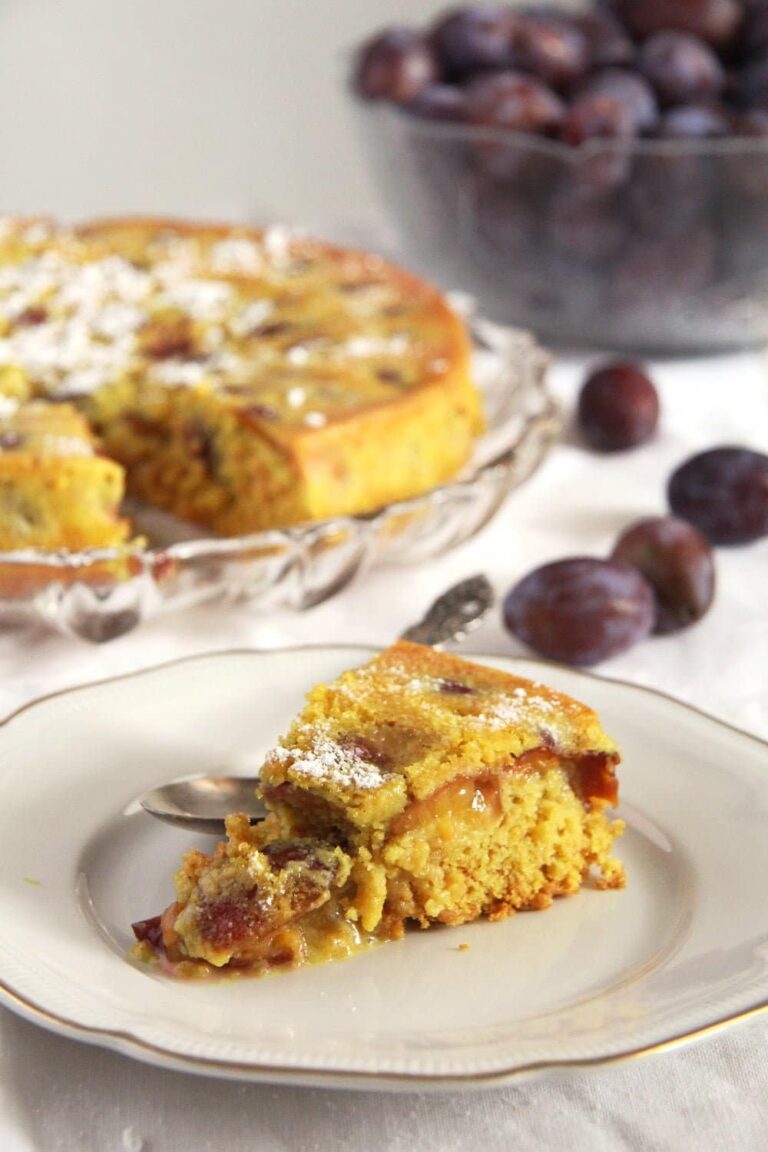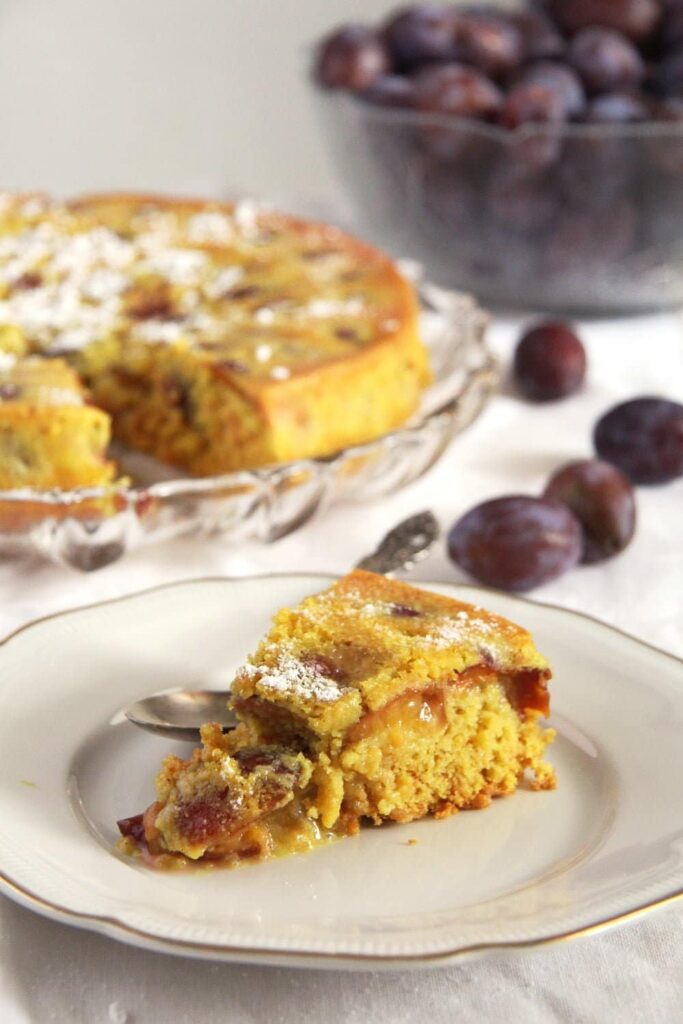 Remember my first turmeric post, the turmeric paste I've made for my golden milk? I told you I was thinking about making a cake using that paste and so I did. I made this last Sunday, after picking tones of plums from my friend's plum tree and, after having one first bite, I already thought the cake to be really worth posting. It was soft and tender, warm in taste and aromatic due to the different spices contained by the turmeric paste, yet fruity and refreshing thanks to those wonderful plums.
Of course, if you don't have the paste and don't intend making it, you can easily replace it with the spices it contains, but I do recommend making the paste, especially if you enjoy golden milk and don't feel like putting together this collection of spices each time you want to have the milk.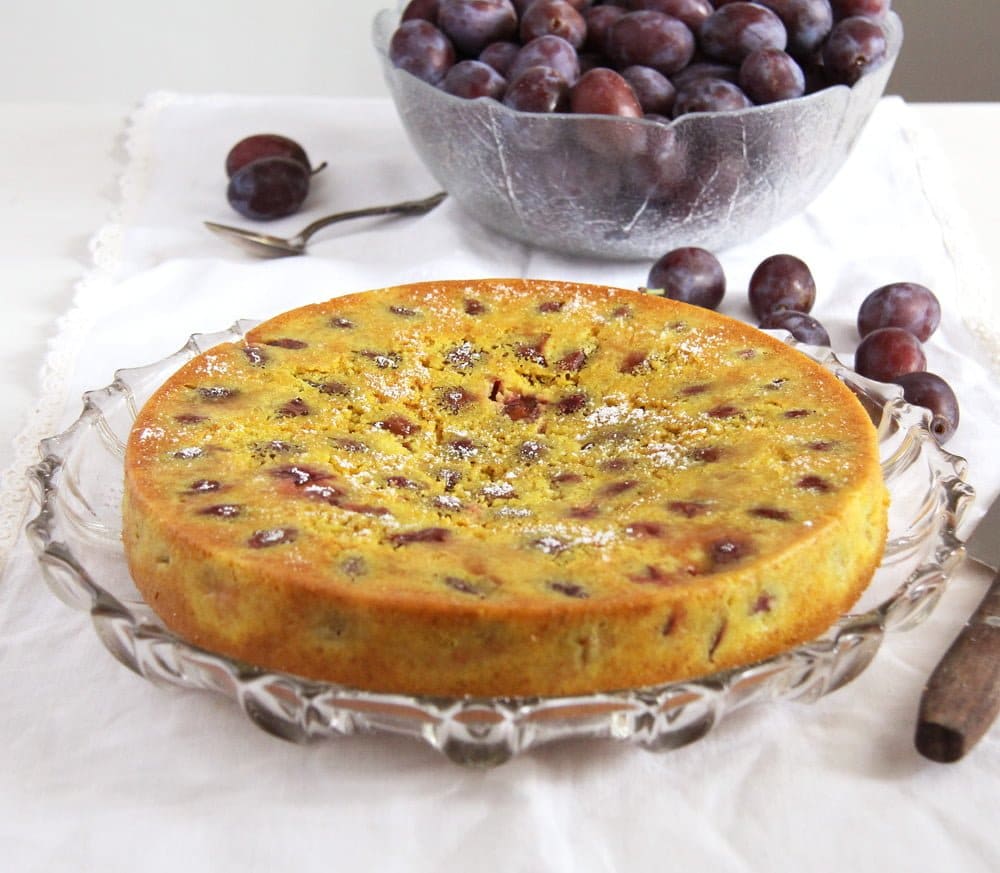 I've already told you about some of the benefits of regularly including turmeric into your diet, it seems to be able to help prevent cancer and diabetes but not only. Other studies have shown that its anti-inflammatory properties can help in case of arthritis and that curcumin, one of the compounds of turmeric, has a better effect on arthritis than anti-inflammatory medicine.
Curcumin's anti-inflammatory and antioxidant properties also seem to have benefits in preventing heart diseases and also due to these two properties, curcumin might help prevent or help with the symptoms of the Alzheimer's disease.
The studies in many of these areas are still inconclusive, but very convincing in some other areas and I think having turmeric regularly is still worth it, even if it would only be able to help you with the smallest of all these health problems.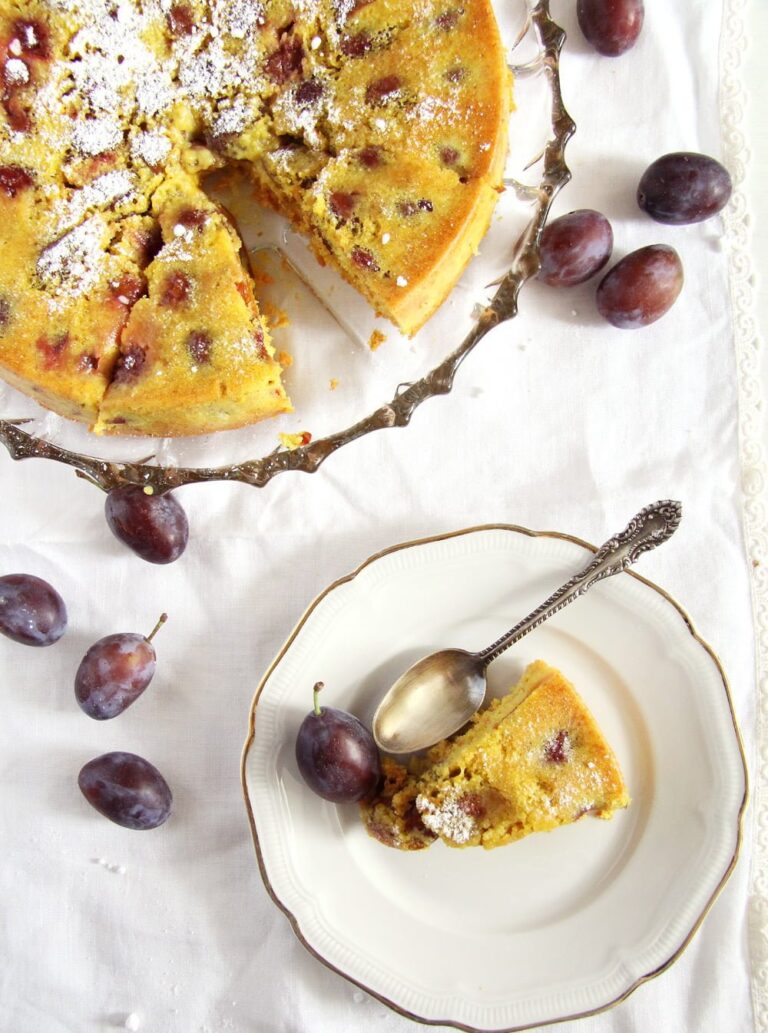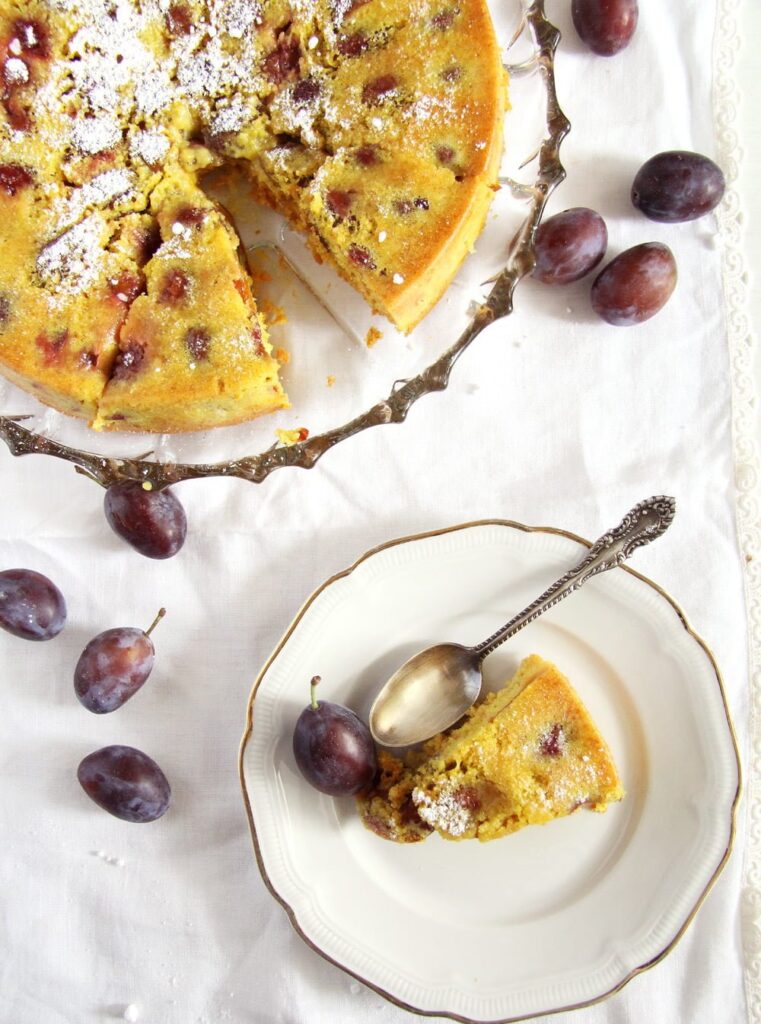 And isn't it wonderful that you can even make sweet things with turmeric? 🙂 I found the inspiration for this cake here, but I have changed it quite a lot.
As I have already mentioned I used my turmeric paste for the cake. However you can replace that with ½ teaspoon ground turmeric, ¼ ground ginger, one pinch black pepper and one pinch nutmeg. Stir them in the warm milk as instructed in the recipe.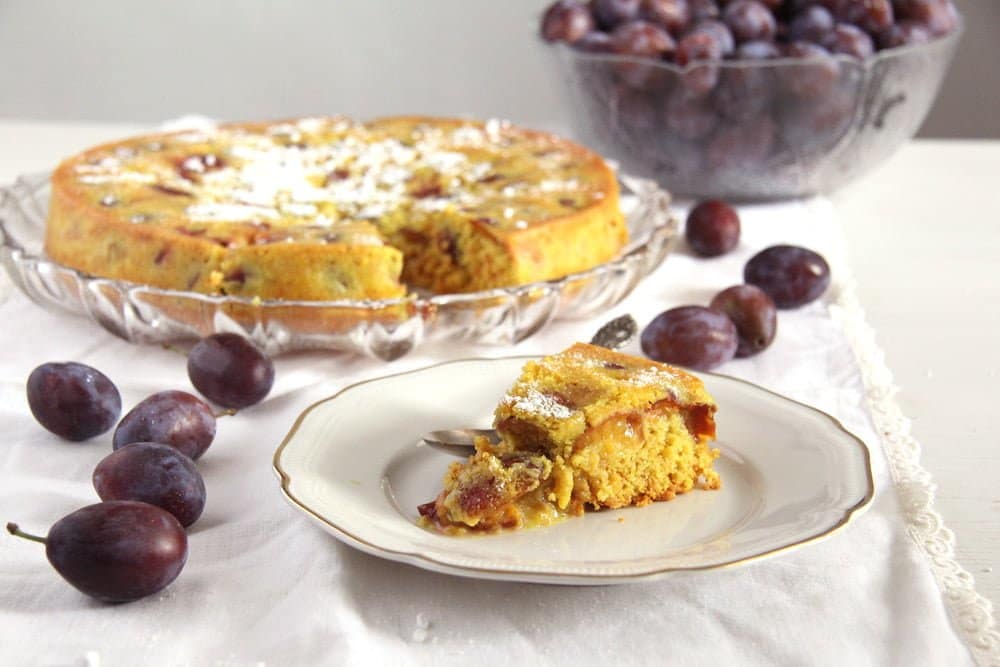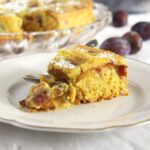 Ingredients
about 500 g/ 1.1 lbs small plums

60 ml /¼ cup milk

1 heaped teaspoon turmeric paste (see note)

1 teaspoon cinnamon (1 ½ teaspoons if you mix your own spices instead of the paste)

200 g/ 1 2/3 cups all-purpose flour

2 teaspoons Dr Oetker baking powder (only 1 teaspoon American baking powder)

½ teaspoon salt

4 large eggs

150 g/ ¾ cup sugar

1 teaspoon vanilla extract

230 g/ 2 stick butter
Instructions
Preheat the oven to 180 degrees Celsius/ 350 degrees Fahrenheit.
Butter a cake form of about 26 cm/ 10 inch diameter, not a springform or the running juices of the plums will make a mess in your oven.
Halve the plums and arrange them nicely in the cake form with the cut side up. Try to cover as much space as possible, even if the plums overlap here and there.
In a small pan heat the milk very gently and whisk in the turmeric paste or the alternative spice mix.
Mix together the flour, salt, baking powder and cinnamon.
In another bowl whisk the eggs, sugar and vanilla extract until pale and fluffy. Add the milk-turmeric/spice mixture and incorporate.
Melt the butter in a small pan.
Sieve the flour mixture over the egg mixture and fold in carefully. Fold in the melted and slightly cooled butter as well.
Pour the batter over the plums in the cake form and bake for about 30 minutes or until the cake is set in the middle.
Let rest in the pan for about 20 minutes then invert onto a cake platter. Let cool completely.
You can serve this as it is or with some whipped cream.
This post contains affiliate links, so if you make a purchase we will receive a commission which helps support our family.

Others you might like: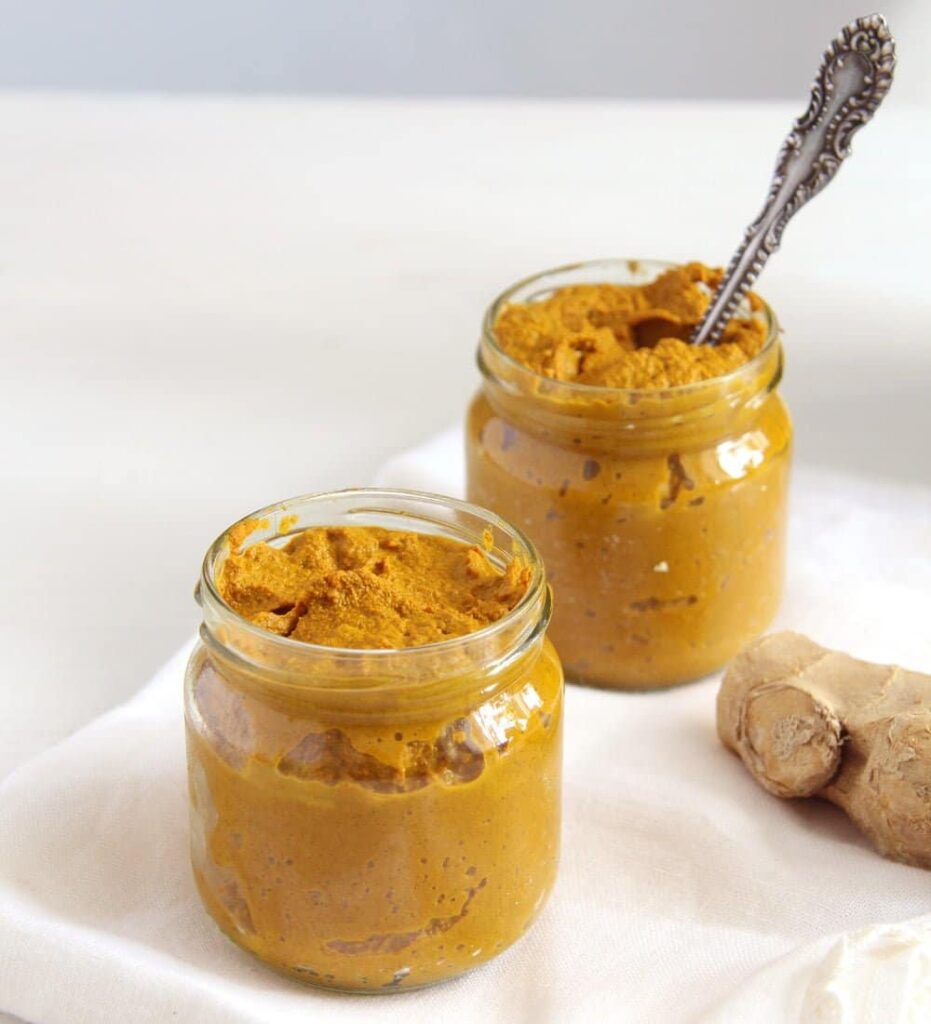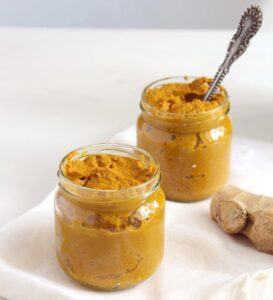 Turmeric Paste for Golden Milk