These low-calorie brownies with black beans are some of the best brownies I have ever had. Flourless, low-fat, gluten-free, a healthier brownie alternative.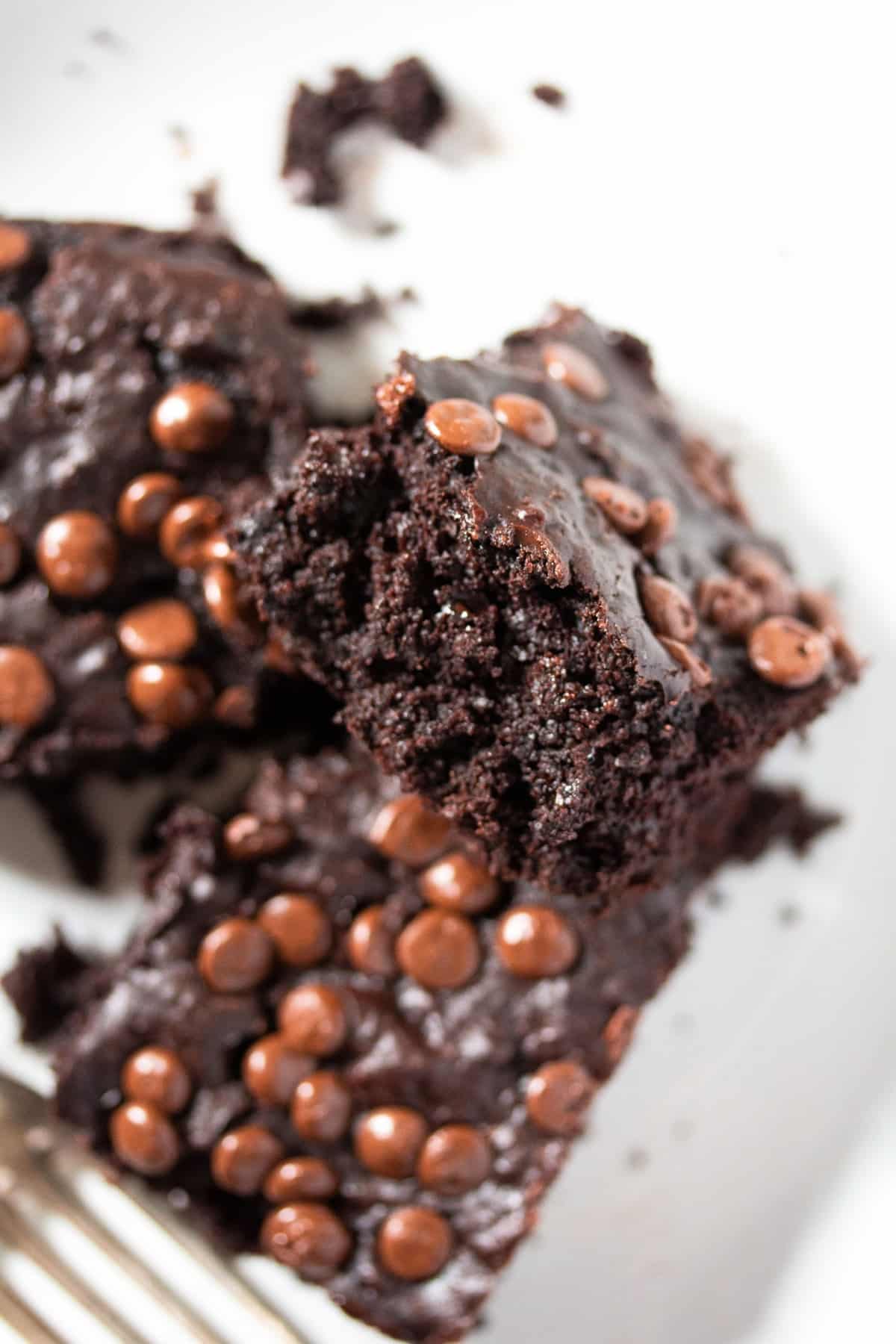 Easy low-calorie brownies that are really to die for! If you have been following this blog for a while, you might have noticed that I do like my brownies; I have quite a few different brownie recipes on Where Is My Spoon, and I truly love each of them.
How could I not, they are all so delicious? Have a look at these Zucchini Cashew Brownies, for instance, or at these Vegan Coconut Cream Brownies or these Romanian Meringue Brownies; you should definitely try some of them; if you like brownies, you will surely love all of these recipes.
Why will you love these brownies?
Easy and cheap: These healthy low-fat, low-sugar, low-calorie brownies are super easy to make. All you have to do is stir the ingredients.
No flour: As mentioned above, these are flourless brownies, delicious, and with a perfect consistency despite the lack of flour.
Low-calorie: No flour, no sugar, no fat; you could probably integrate this low-calorie brownie recipe into different kinds of hip diets nowadays, such as gluten-free, low-fat, or low-carb.
Check out more low-calorie recipes: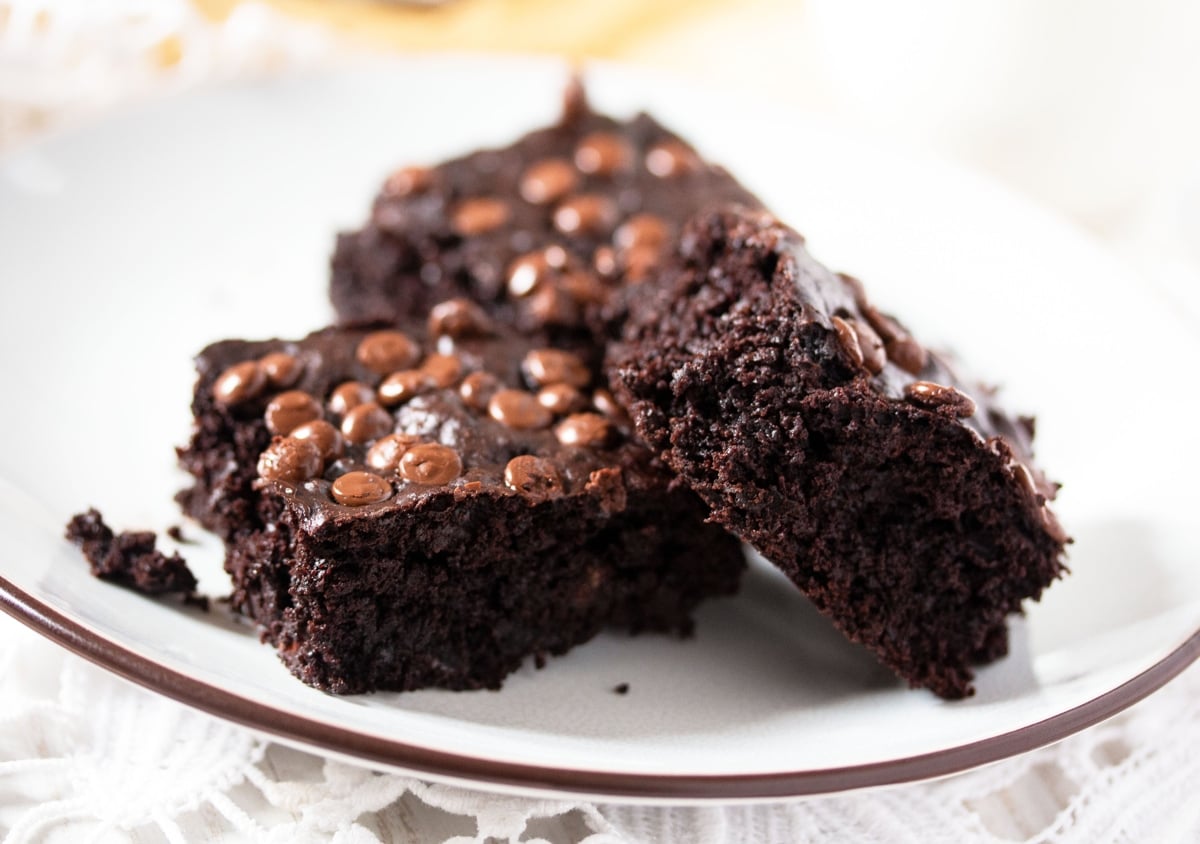 Why should we eat more black beans?
According to whfood.com, "many public health organizations recommend beans and legumes as a key food group for helping prevent disease and for optimizing health". Many dietary guidelines recommend the consumption of 1 ⅕ cups of legumes per week for non-vegetarians and 3 cups a week for vegetarians.
Integrating legumes into our diet is actually very easily done and even more so if you start putting beans even into your desserts. But just in case you are searching for some more delicious ways of enjoying legumes, have a look at this Costa Rican Gallo pinto recipe, this Polish white bean and cabanossi sausage stew, or this Romanian white bean dip with caramelized onions.
And there are actually many other delicious bean recipes on the blog; just have a look.
Recipe ingredients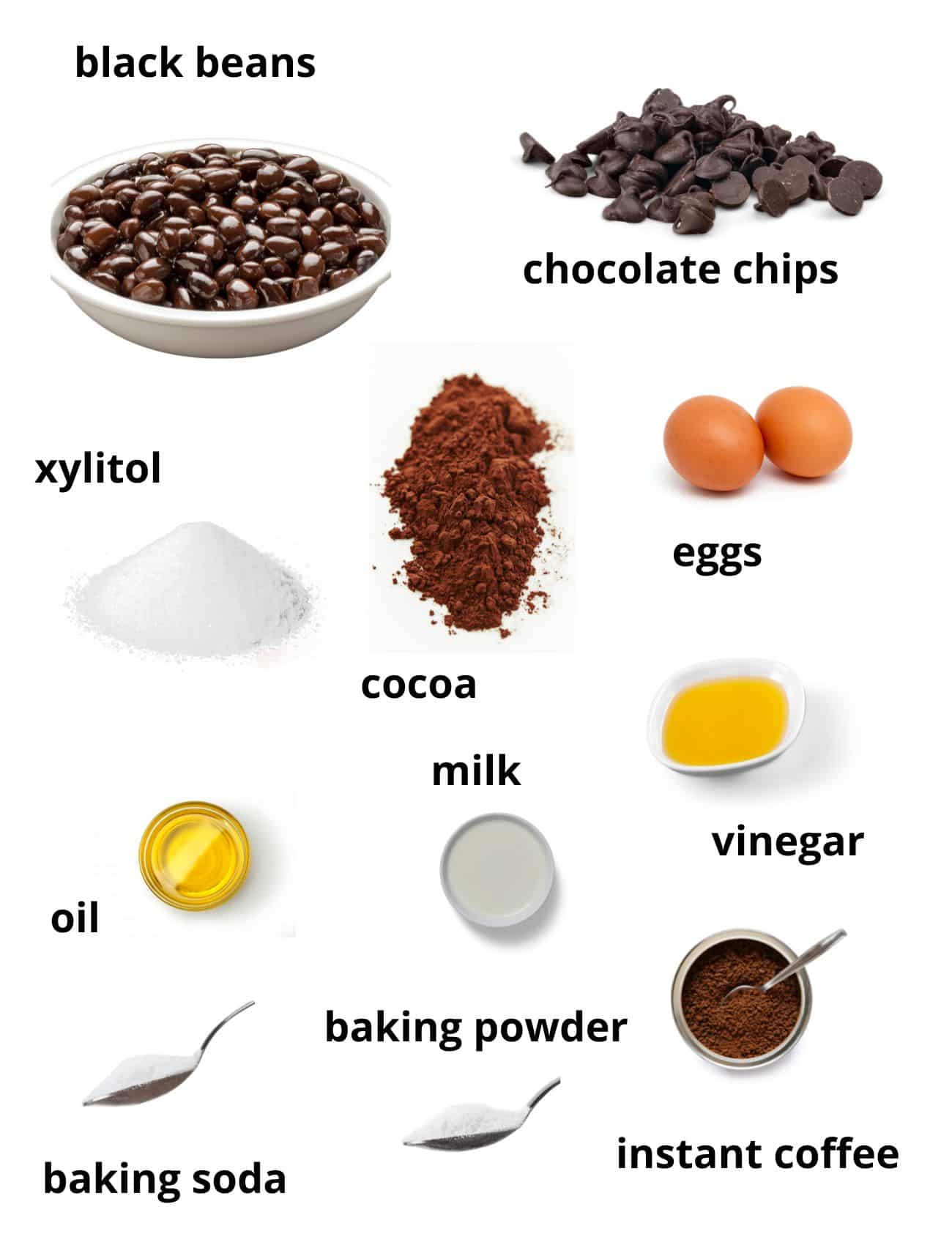 The inspiration for this low-calorie brownie recipe came from Skinny Taste, during a time when I was trying to follow a low-fat diet. I don't bother with that much nowadays, but I still bake this recipe on a regular basis.
They are not only a healthier dessert choice but so delicious that you will not even care about the lack of fat or flour or whatever. Just perfect! I have changed the original recipe a bit here and there, though.
Sweetener: I used xylitol instead of sugar, and I reduced the quantity to 100 g/ ½ cup instead of the required 150 g/ ¾ cup, and I still find the low-calorie brownies very sweet.
Chocolate: I don't always have chocolate chips in the house, but I always seem to have some plain semisweet chocolate, which I usually take for baking. So, when I don't have chocolate chips, I replace them with chopped chocolate.
Vinegar: The original black bean brownie recipe uses balsamic vinegar. The vinegar reacts with the baking soda producing carbon dioxide, which helps the batter lift as it bakes.

I've actually only used balsamic vinegar the first time I've baked these low-calorie brownies; what I usually have is cider vinegar. White wine vinegar works as well.
How to make low-calorie brownies?
Prepare: Preheat the oven and line the baking dish with baking paper.
Puree the black beans using either a food processor or a hand-held blender.
Add all the remaining ingredients, except the chocolate chips, to the food processor or bowl containing the black beans and mix well (1).
Add about ¾ of the chocolate chips, incorporate them into the batter, place the batter in the baking dish and sprinkle the remaining chocolate chips on top.
Bake the black bean low-calorie brownies (2). Let cool and devour!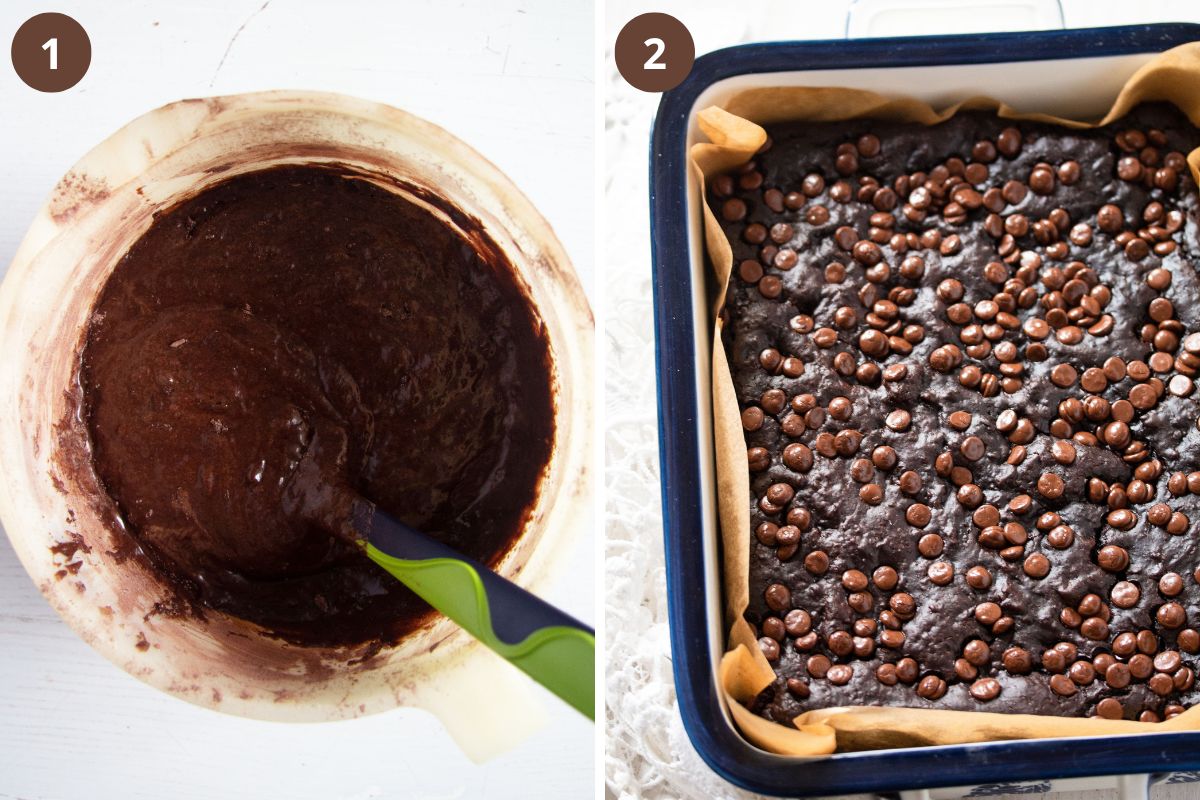 Recipe FAQ
Are these brownies healthier than regular ones?
Yes. They contain xylitol instead of sugar, almost no fat, and no flour. One piece has 126 calories. Compared to a regular brownie, that's really good!
What is xylitol?
It is a sugar alcohol found in plants. It's used as a food additive and sugar substitute. It's claimed that it reduces the risk of developing cavities, but this fact is still yet to be proved. It has fewer calories than sugar and doesn't raise blood sugar.
Xylitol can be toxic to dogs.
Can I use sugar instead of xylitol?
Sure, you can replace it 1:1. In this case, one piece of cake will have 150 calories.
How to store?
Keep in an airtight container at room temperature for about 2 days. Refrigerate them if you want to store them for longer.
Freeze them in an airtight container for about 3 months.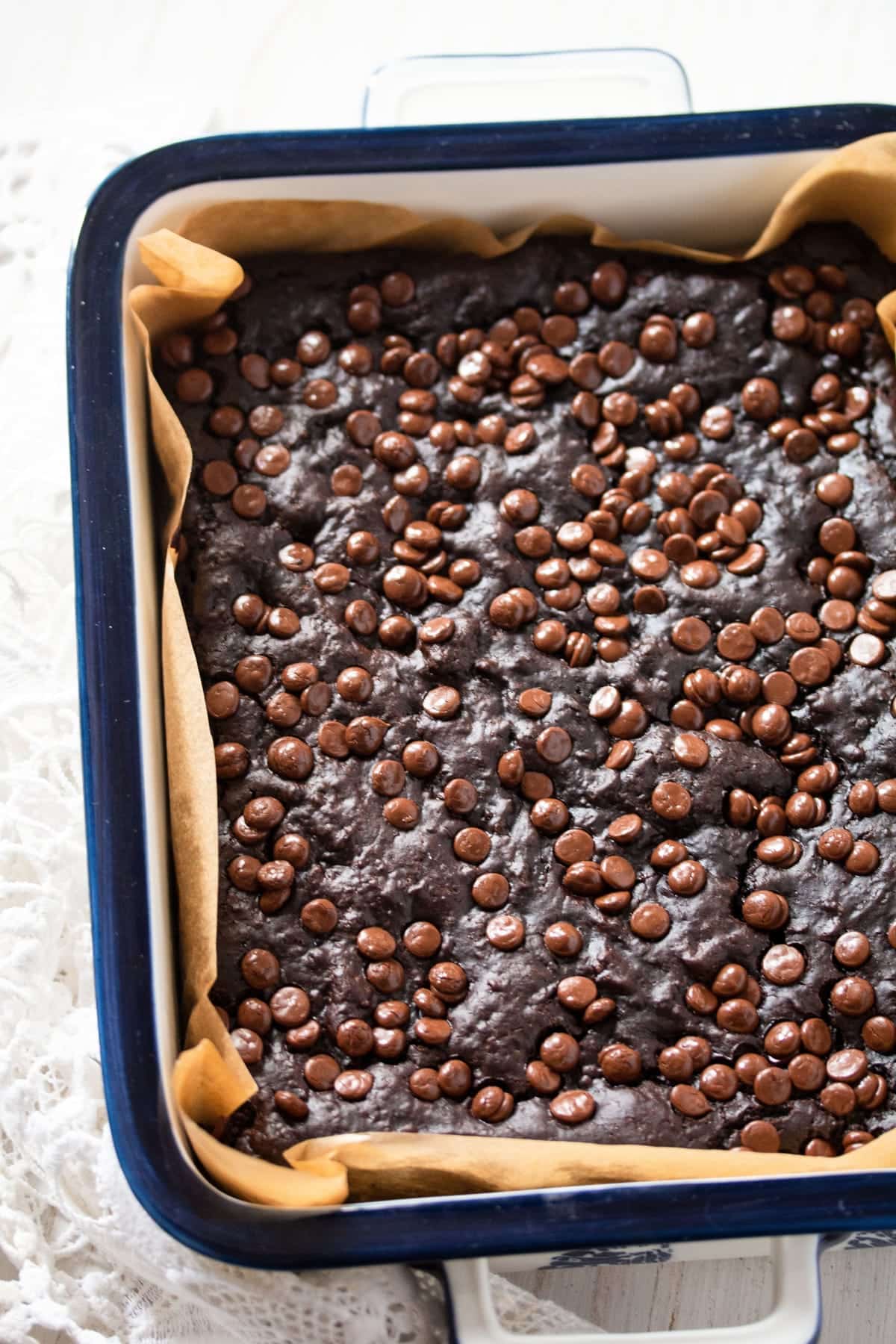 More brownies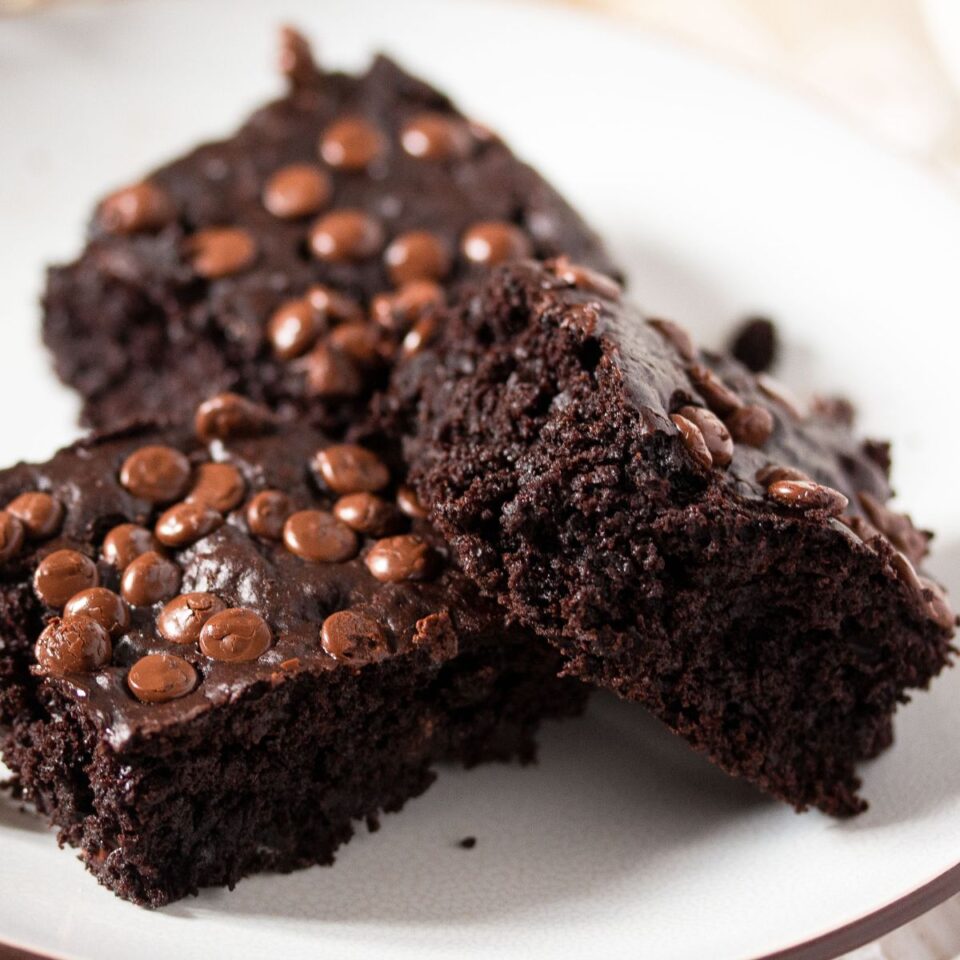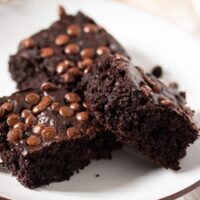 Low-Calorie Brownies
This low-fat, low-calorie black bean brownie recipe makes some of the best brownies I have ever had. Flourless, low-fat, gluten-free, a healthier brownies alternative.
Print
Pin
Share
Grow
Saved!
Rate
Ingredients
1

can of black beans

2

eggs

50

g

unsweetened cocoa powder

1.8 oz/ ½ cup

100

g

xylitol

3.5 oz/ ½ cup

1

teaspoon

oil

1

tablespoon

milk

1

teaspoon

cider vinegar

½

teaspoon

baking powder

½

teaspoon

baking soda

½

teaspoon

ground/instant coffee

130

g

semisweet chocolate chips

divided, 4.5 oz/ ¾ cup, Note
Instructions
Preheat the oven to 180°C/360°F. Grease a square pan of about 22 cm x 22 cm/9 inch x 9 inches and line it with parchment paper.

Drain and rinse the black beans and blend them to a paste in a food processor or a bowl using a handheld blender.

Batter: Add the eggs, unsweetened cocoa powder, sugar, oil, milk, vinegar, baking powder, baking soda, and the coffee. Mix thoroughly, transfer to a bowl (if you have used the food processor previously), fold in about ¾ of the chocolate chips or chopped chocolate.

Place the batter in the prepared baking dish and sprinkle the remaining chocolate chips or chopped chocolate on top.

Bake for 30 to 35 minutes, depending on your oven, until a toothpick inserted in the brownies comes out clean, but some crumbs still cling to it. Don't over ake the brownies, or they won't be so deliciously moist anymore. Let cool completely before slicing.
Notes
Sub with

or chopped semisweet chocolate or dark chocolate.
Nutrition
Serving:
1
brownie
|
Calories:
126
kcal
|
Carbohydrates:
18
g
|
Protein:
6
g
|
Fat:
5
g
|
Saturated Fat:
2
g
|
Polyunsaturated Fat:
0.4
g
|
Monounsaturated Fat:
1
g
|
Trans Fat:
0.01
g
|
Cholesterol:
21
mg
|
Sodium:
59
mg
|
Potassium:
370
mg
|
Fiber:
5
g
|
Sugar:
3
g
|
Vitamin A:
38
IU
|
Calcium:
43
mg
|
Iron:
2
mg