A treat for your coffee table: fluffy, sweet bread with rhubarb, blackberries and a touch of cinnamon.
Deliciously moist and sweet bread with tangy rhubarb and blackberries, this is my Secret Recipe Club recipe for the month of April. I can assure you, you will looooove this bread/cake. I made it for my birthday breakfast, when I invited some of my closest female friends, we were 8 of us and each one loved this cake.
Not to mention my kiddies, they ate lots the day I've made the cake and polished off all the rests the next day, complaining that the two loaves were actually not enough. So I am pretty sure I will bake the Blackberry Rhubarb Bread with Cinnamon and Brown Sugar again this rhubarb season.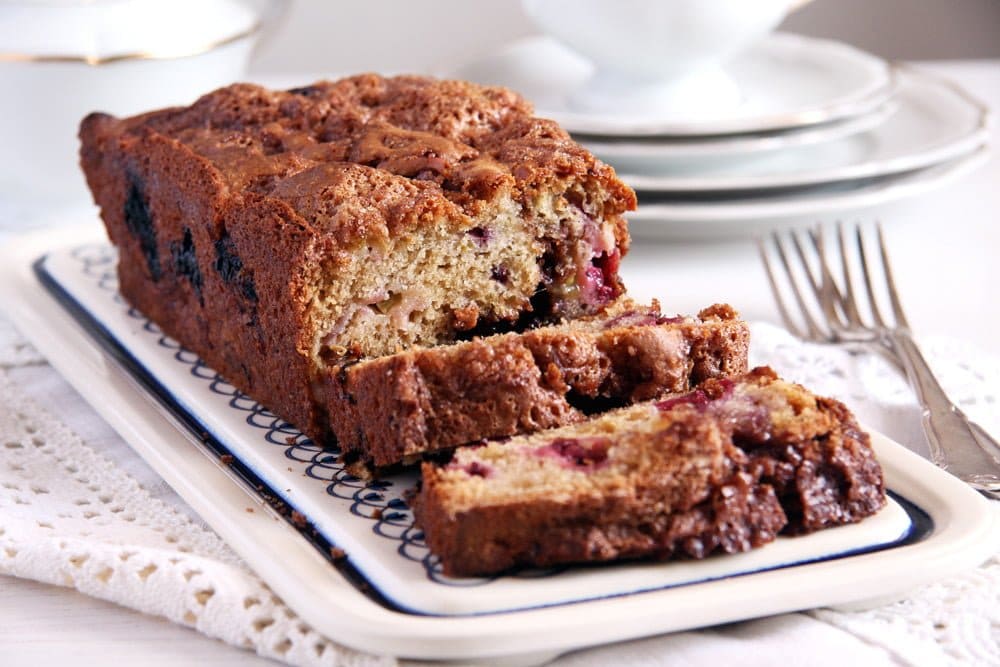 Blackberry Rhubarb Bread with Cinnamon and Brown Sugar
The source of this wonderful recipe is Cook with Sara, a blog which I got to know through the Secret Recipe Club. It is obviously run by Sara and she's been adding recipes to her blog since 2009. You can imagine how much time one can spend on the blog, clicking through all these great recipes.
As my theme for these two weeks is rhubarb, I searched for rhubarb recipes and I was impressed with how much choice there was. Thank God, Sara loves rhubarb just as much as I do, so I actually had difficulties not in finding rhubarb recipes but in deciding which one of these great recipe I would actually make for the assignment.
In the end it was a tough decision between the Rhubarb Blackberry Bread and the Rhubarb Blueberry Bars and I made the bread because I thought it would be a better fit for the breakfast table. It did, it did, it did, it was the perfect finale for our breakfast. But I will make the bars as soon as possible as well, I love that thick blueberry-rhubarb layer one can see in the pictures.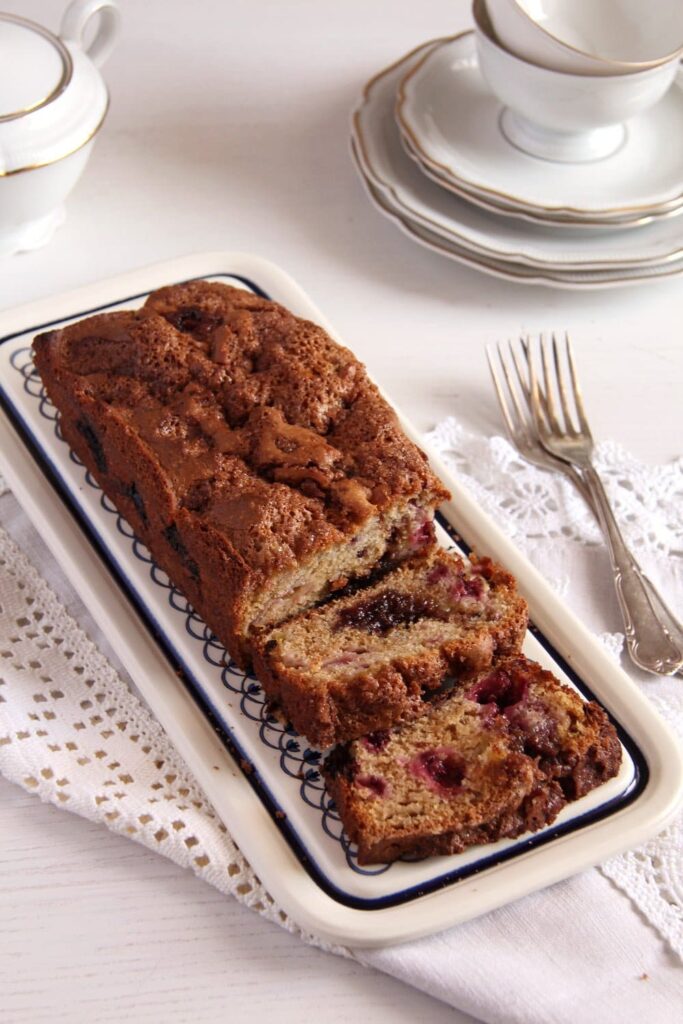 And you cannot imagine how many other recipes I found on Sara's blog, recipes that I would love to try soon, the choice is really overwhelming. To mention just a few:
Coconut Crusted Salmon with Asian Mango Slaw 
Rhubarb Sorbet – a great way of using some of the rhubarb I freeze every spring
So make yourself a nice cup of coffee or tea and have a look at Sara's recipes, you will definitely find something you will want to start cooking or baking immediately.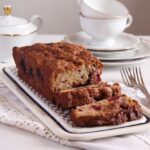 Ingredients
270 g/ 1 ½ cups brown sugar

60 ml/ ¼ cup vegetable oil

1 egg

120 ml/ ½ cup buttermilk

170 g/ 6 oz plain yogurt

1 teaspoon vanilla

300 g/ 2 ½ cups all-purpose flour

1 teaspoon baking soda

1 teaspoon salt

1 cup sliced rhubarb

170 g/ 6 oz blackberries

2 tablespoon butter

2 teaspoons cinnamon

½ cup sugar
Instructions
Preheat the oven to 180 degrees Celsius/ 350 degrees Fahrenheit. Grease two loaf pans, about 23x12 cm/ 9x5 inch.
Place the brown sugar, the oil and the egg in a large bowl and beat until blended. Add the buttermilk, the yogurt and the vanilla, blend again.
Mix together the flour, baking soda and salt. Gradually add to the sugar mixture.
Halve the blackberries if they are large and fold in the mixture together with the sliced rhubarb.
Divide the mixture between the two loaf pans.
Melt the butter in a small pan. Remove from the heat and stir in the cinnamon and the sugar. Sprinkle the clumps over the batter in the pans and bake for 50 minutes. Make the toothpick test, it should come out with only a few crumbs on it.
Let cool in the pan for about 10 minutes, remove and let cool completely on a wire rack.