Last Updated on 25/06/2020 by Adina
Tender chicken breasts glazed with apricot jam and sprinkled with lots of hazelnuts, a light, easy and delicious meal.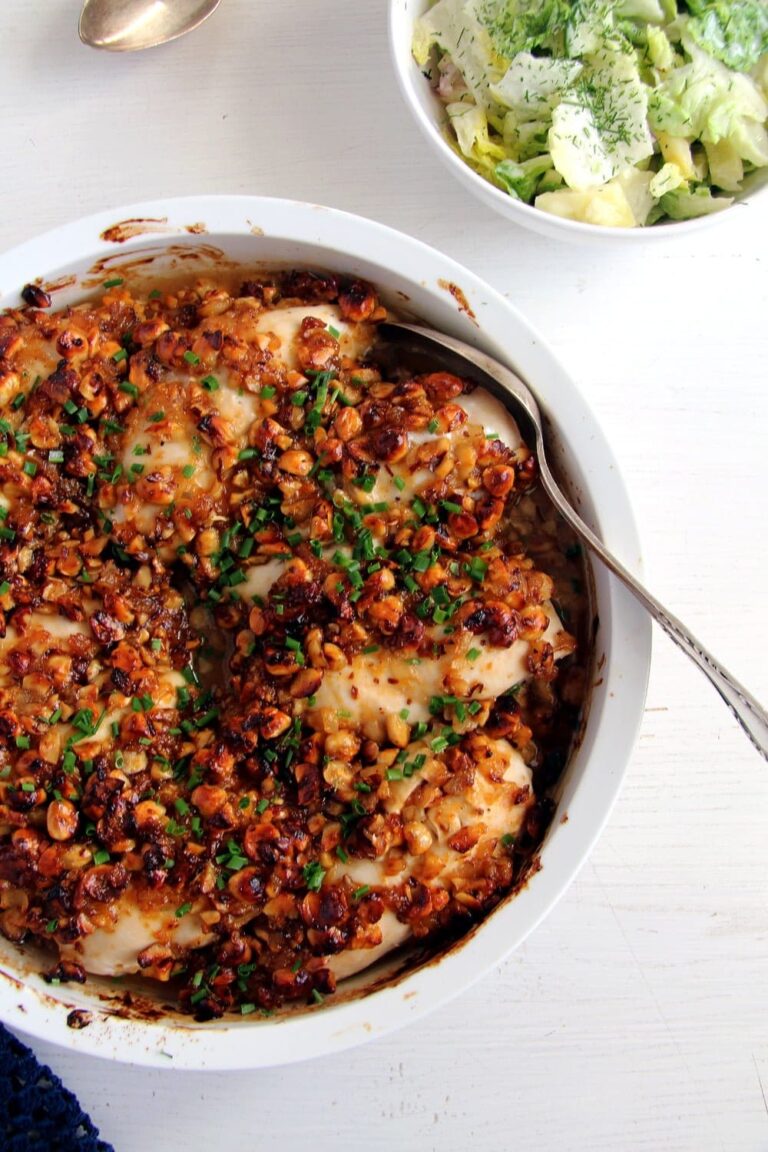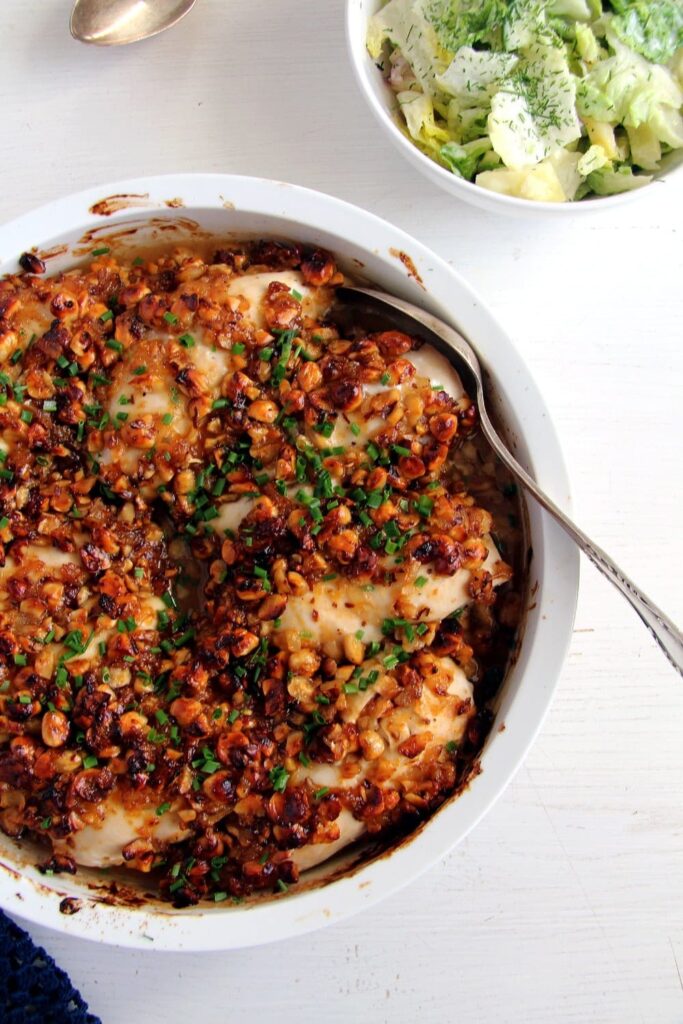 I hope you had a great Christmas time! Our was pretty good, not one thing I wish I could change. Family time, lots of friends coming to visit (well, that part is not over yet and won't be until the 3rd of January, the day after my husband's birthday), very good food (of course), lots of presents and so on… You know, that what Christmas is all about.
And although this Christmas I didn't stress myself with cooking as much as last year, there still was lots of delicious food around and of course, we ate much more than we normally would. I am still to meet that person who is able to restrain him/herself from overeating during the Christmas days… We had cold platters for friends two days before Christmas Eve and we are still eating the leftovers for breakfast of dinner, then on Christmas Eve, Chicken Soup with Dumplings and Romanian cabbage rolls (sarmale) + dessert. And on Christmas day goose at my mother-in-law's house. And Strawberry Mascarpone dessert… and cake… Yesterday, the leftover cabbage rolls, which taste even better when reheated a couple of times…
Today: SALAD!!!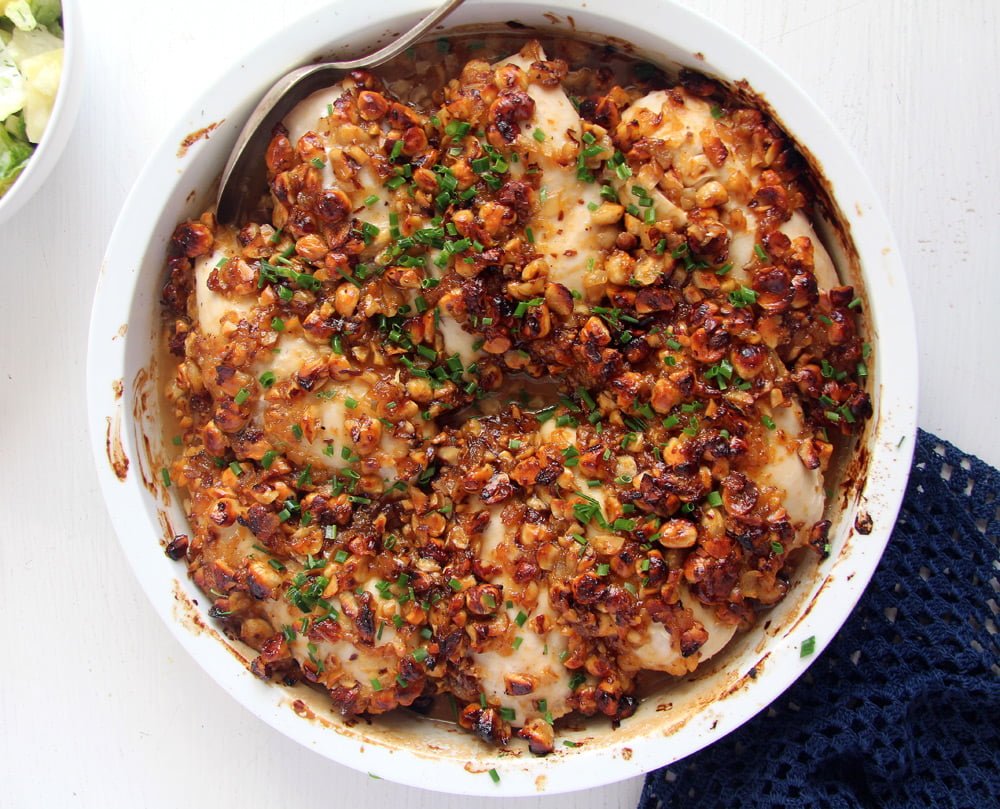 Or I would make these baked chicken breasts if I had some chicken in the freezer, which I don't… Too bad, because the chicken was really so tasty I would not mind having it again after such a short time. I cooked it for the first time a couple of weeks ago, while on search for a savory recipe including hazelnuts. After a complete disaster with a broccoli hazelnut sauce for noodles, I had already decided I would only post sweet things including hazelnuts, but then I discovered this recipe and thought I would give it another try. I am glad I did, we all loved this dish very much (including the kids) and I am sure I will make it again.
Otherwise, enjoy the remaining days of 2016, I know I love this easy going time between Christmas and New Year.
Adapted from hazelnut.com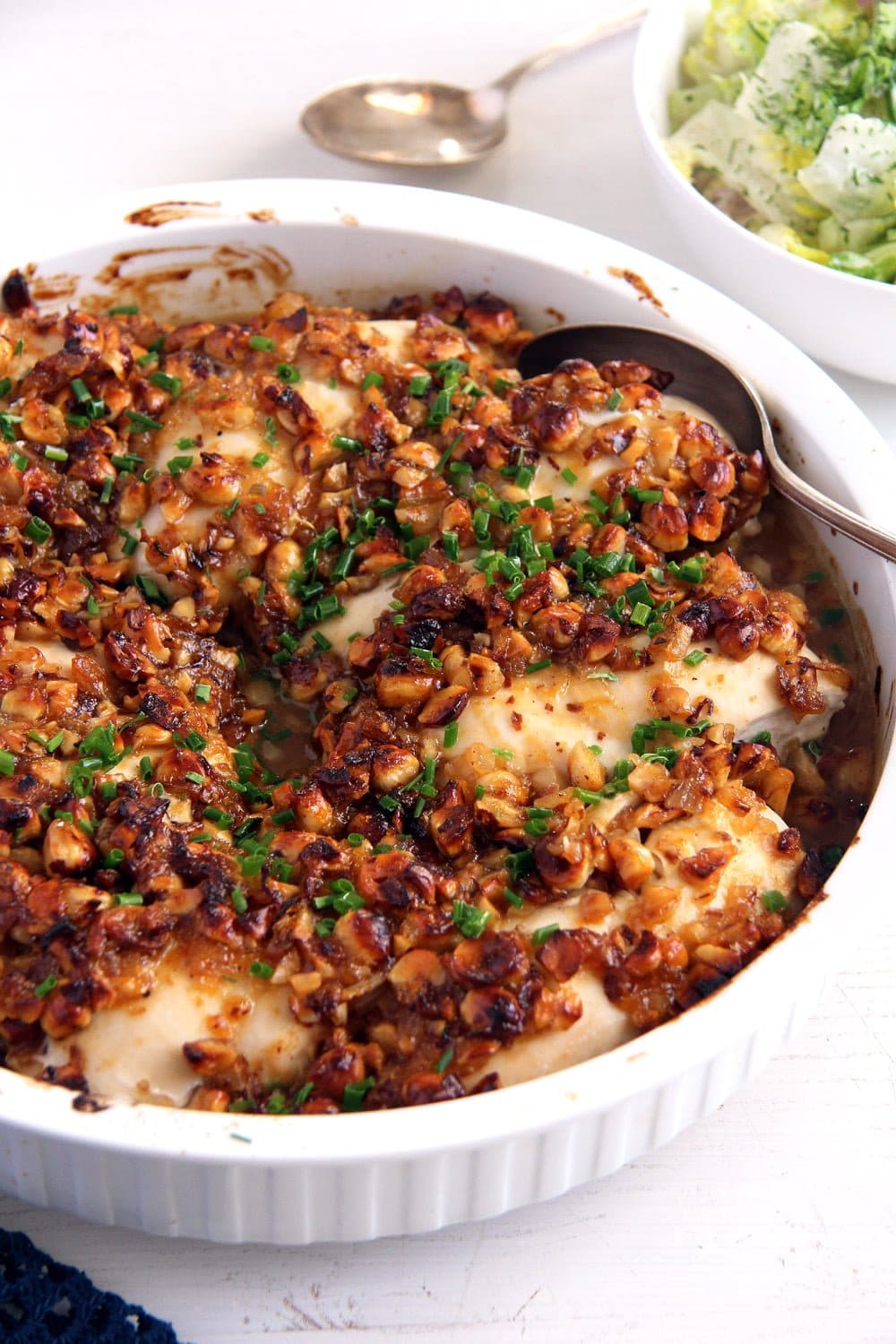 Glazed Hazelnut Chicken
Yield: 4

Prep Time: 20 minutes

Cook Time: 40 minutes

Total Time: 1 hour

Tender chicken breasts glazed with apricot jam and sprinkled with lots of hazelnuts, a light, easy and delicious meal.
Ingredients
4 portions chicken breast, about 200 g/ 7 oz
200 g/ 7 oz whole hazelnuts
2 small onions
1 tablespoon olive oil
2 tablespoons Cognac, optional
1 small jar apricots jam, about 5-6 heaped tablespoons
salt and pepper
chives
Instructions
Preheat the oven to 200 degrees Celsius/ 375 degrees Fahrenheit.
Clean and pat dry the chicken portions, then sprinkle them generously with salt and pepper on both sides. Place in a shallow oven dish, close to each other, there should not be any space in between the chicken breasts, otherwise the glaze will run at the bottom of the pan.
Roast the hazelnuts in an pan without adding any fat until fragrant. Remove to a large plate, let stand until cool enough to handle, then rub them between your palms to remove as much of the brown skins as possible, you don't have to remove every bit of it. Chop the hazelnuts roughly.
Chop the onions finely. Heat the oil in a pan and cook the onions until golden. Add the hazelnuts, stir well for a couple of minutes, then add the Cognac and the apricot jam. Mix well and pour this mixture over the chicken.
Cover the dish with aluminum foil, taking care that the foil doesn't touch the chicken and bake for 20 minutes. Remove the foil and continue baking, uncovered, for about 10-15 minutes or until the chicken is cooked through and the glaze is sticky.
Sprinkle with chives serve immediately with green salad and baguette or rice.
Others you might like: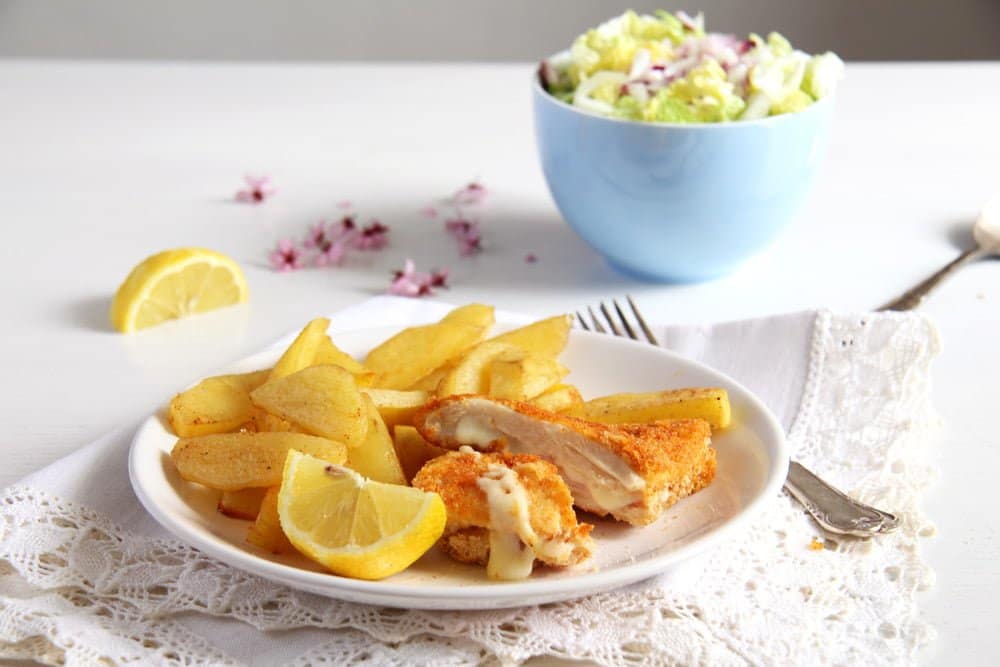 Chicken Schnitzel with Ham and Cheese