Okonomiyaki recipe : savory Japanese cabbage pancakes with bacon, served with homemade okonomiyaki sauce and Japanese mayonnaise.
JAPANESE CABBAGE PANCAKES
WHAT IS OKONOMIYAKI?
Okonomiyaki, translated as "grilled as you like" is a savory Japanese cabbage pancake (or some might call it Japanese pizza) made with lots of cabbage, some pancake batter and topped with several other ingredients.
The cooked okonomiyaki is then topped with some delicious okonomiyaki sauce and served with Japanese mayonnaise.
An amazing dish this okonomiyaki, really! One of those dishes that make you wonder why on Earth you haven't tried this recipe years ago already.
But now that I have finally managed to cook okonomiyaki, I know for sure I will make one version or another of it many many times.
I didn't have the chance to eat much Japanese food, I adore sushi, but I have it rather seldom because we have to drive to a really large city in order to get good sushi, what we normally get here at the Chinese restaurant is a joke.
Otherwise, I have had tonkatsu once, I make katsu sando with tonkatsu sauce every now and then and I make dashi and ramen soup quite often.
So, I am really happy to have discovered another simple and wonderful dish to add to my Japanese repertoire. 🙂
HISTORY OF OKONOMIYAKI
Early versions of okonomiyaki can be traced back to the 16th century. However, that early version, called funoyaki, was more of a thin pancake smeared with miso.
This kind of pancake evolved in time to what it is today and it was mainly during and after World War II that the pancake transformed to okonomiyaki. Rice supplies were scarce during this time, so people started to eat more flour based dishes, which were cheaper and filling.
Cabbage, also a cheap and easy to grow ingredient started being added to the pancake to make it more filling. In time, more and more ingredients were added, depending on the cook's and eater's taste and possibilities and so the okonomiyaki was born.
TYPES OF OKONOMIYAKI
There are two main types of okonomiyaki: the Kansai or Osaka style and the Hiroshima style.
In the Kansai style all the ingredients are mixed in the batter and then grilled. Other ingredients are then layered on top, what you put on it depends on taste. Today's okonomiyaki recipe is more of a Kansai/Osaka style okonomiyaki.
The chopped cabbage is mixed with the batter, the pancakes are grilled or pan fried and then basted with okonomiyaki sauce and topped with other ingredients like green onions and sesame seeds and served with homemade Japanese mayonnaise.
When you cook okonomiyaki Hiroshima style you will first make the pancake/crepe and then pile the remaining ingredients on top, starting with lots of cabbage.
HOW TO MAKE OKONOMIYAKI WITH REGULAR INGREDIENTS?
My version of okonomiyaki is a simplified or Europeanized version of the okonomiyaki. It is not that I didn't want to make an original Japanese okonomiyaki, but after reading a few recipes and searching for Japanese ingredients to buy online, I realized that I really did not want to turn such a simple recipe into an overly expensive affair.
Buying the ingredients would have cost me about 30 Euros, which is a lot for one homemade meal. And I was worried about not being able to use the leftover pricey ingredients for something else before they expired, it happens often when buying such exotic things... I think, many of you, living in places that don't easily have access to such ingredients feel the same.
So, I compromised, used what I had, made okonomiyaki sauce and Japanese mayonnaise myself and I could not have been happier. (Well, I would probably be happier if I'd get the chance to eat an original okonomiyaki, preferably in Japan).
The dish was scrumptious, we all loved it, kids included, everybody told me that I definitely have to cook the Japanese cabbage pancakes again. And I did, we had this dish several times already and that in a relatively short period of time.
And if you would like to see a recipe for a truly Japanese okonomiyaki, using all the Japanese ingredients needed, have a look at Just One Cookbook's Okonomiyaki, it looks and sounds amazing. It is there as well that I found recipes for making the okonomiyaki sauce and the homemade Japanese mayonnaise. All perfect!
TIPS FOR MAKING JAPANESE CABBAGE PANCAKES:
Add dashi to the batter, if you happen to have it. If not, use water instead. I used instant dashi this time, but I have made the okonomiyaki recipe with water as well and it was still delicious.
Adjust the heat when cooking the Japanese cabbage pancakes. Start with medium-low heat, but if you notice that the underside of the first okonomiyaki you cook is too dark, turn the heat down a bit more.
Definitely use a lid to cook the okonomiyaki. The steam that forms inside the pan helps cook the cabbage and carrots.
I needed about 18 bacon slices (2 packs, each weighing 100 g/ 3.5 oz) for the okonomiyaki. German bacon is extremely thinly sliced and very narrow, so that is why 18 slices. Use as much thinly sliced bacon to cover the pancake as needed and desired.
It is best using two pans when cooking okonomiyaki. There will be only enough place for one pancake in a regular sized pan, so it will take quite a long time to cook them all. Using two pans will halve the cooking time.
Place the cooked pancakes on a plate and keep them warm in the oven (at about 80 degrees Celsius/ 180 degrees Fahrenheit) while you cook the rest.
WHAT TO DO WITH LEFTOVER OKONOMIYAKI?
The Japanese cabbage pancakes can be frozen. Pack them in aluminum foil and when defrosted, heat them up in the oven.
Leftover Japanese mayonnaise is great on ham and cheese sandwiches or in the katsu sando sandwich.
MORE SAVORY PANCAKES?
PIN IT FOR LATER!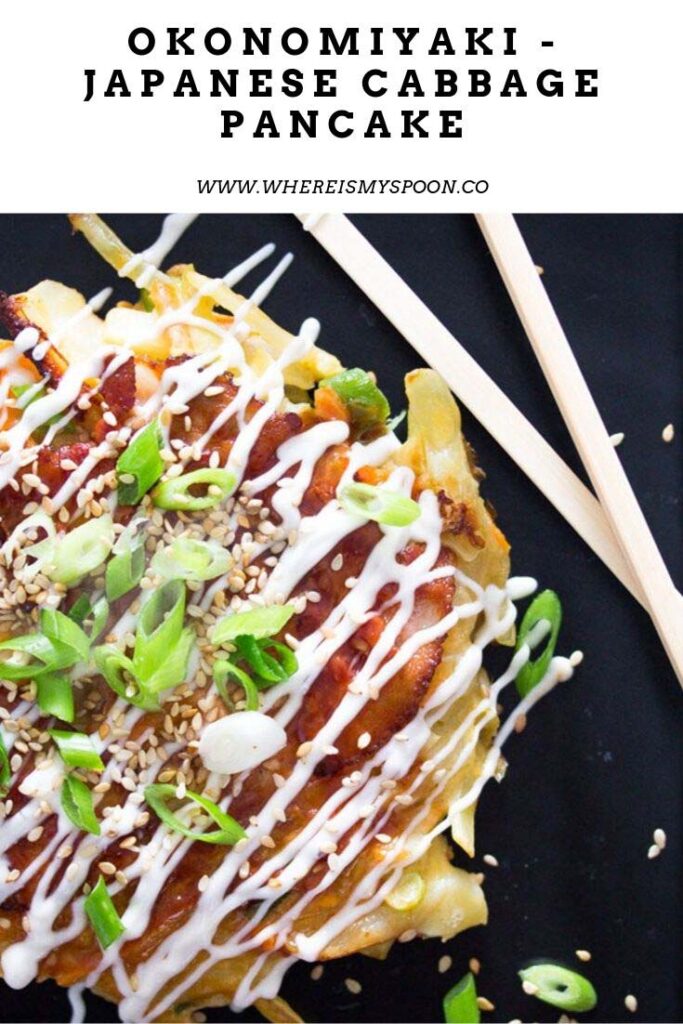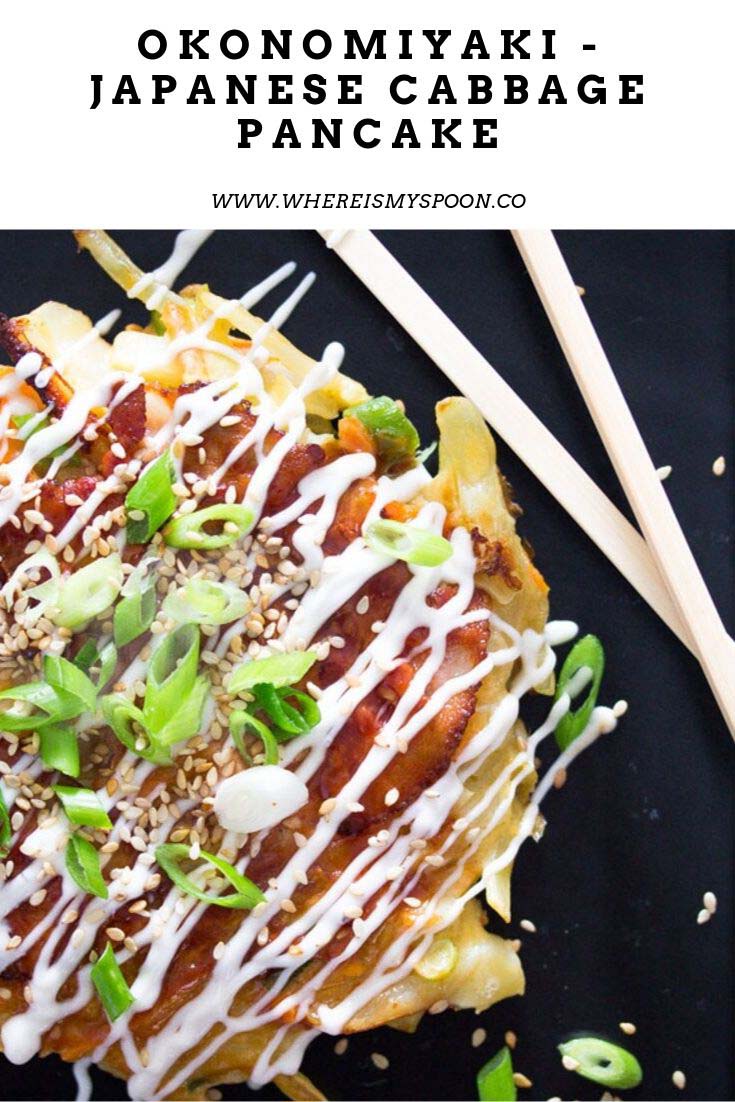 Okonomiyaki – Japanese Cabbage Pancakes
Okonomiyaki recipe : savory Japanese cabbage pancakes with bacon, served with homemade okonomiyaki sauce and Japanese mayonnaise.
Print
Pin
Share
Grow
Saved!
Rate
Ingredients
Japanese Mayonnaise:

4

tablespoons

regular mayonnaise

2

teaspoons

rice vinegar

½

teaspoon

sugar

Okonomiyaki Sauce:

1 ½

tablespoons

sugar

2

tablespoons

oyster sauce

4

tablespoons

ketchup

4

tablespoons

Worcestershire sauce

Okonomiyaki:

450

g/ 1 lb/ 5 cups shredded cabbage

50

g/ 1.8 oz/ 1 cup shredded carrots

4

spring onions

divided

2

large eggs

125

ml/ 4.2 fl.oz/ ½ cup dashi or water

2

tablespoons

soy sauce

¼

teaspoon

fine salt

120

g/ 4.2 oz/ 1 cup all-purpose flour

200

g/ 7 oz thinly sliced bacon

See note

2-3

tablespoons

vegetable oil or as needed

sesame seeds
Instructions
Japanese mayonnaise:
Whisk together mayonnaise, rice vinegar, and sugar. Set aside.
Okonomiyaki sauce:
Whisk together sugar, oyster sauce, ketchup, and Worcestershire sauce until the sugar is dissolved. Set aside.
Japanese cabbage pancakes:
Shred the cabbage and the carrots. Set aside.

Thinly slice the green onions. Set aside about ¼ of the green onions, preferably more green parts, for sprinkling over the okonomiyaki later.

In a large bowl, whisk together the eggs, dashi or water, soy sauce, and salt together. Slowly add the flour and whisk to obtain a thick, smooth batter.

Stir in the vegetables.

Cut the bacon slices in half.

Heat about ½ tablespoon of the oil in a non-stick or cast iron pan.

Add about 1 cup of batter to the pan and press with a spoon to form a circle of about 15 cm/ 6 inches diameter and about 1.2 cm/ ½ inch thick.

Cover the pancake with some bacon slices, as much as needed to cover the okonomiyaki, depends on the size of the bacon slices.

Cover the pan with a lid, this will help the cabbage get soft.

Turn the heat a bit down, so that the underside of the pancake doesn't get too dark. If you notice that after you have turned the first pancake, adjust the temperature again. The pancakes should be golden brown and not too dark.

Cook the pancake on the first side for 5 minutes until the bottom is golden brown. Flip with a spatula and cook, covered, for another 3-5 minutes or until golden brown.

It is preferable to use two pans when cooking okonomiyaki, you can only cook one at a time, and cooking 6 of them will take quite a while. Using two pans will halve the cooking time.

Place the cooked okonomiyaki on a plate and keep warm in the oven while you cook the rest. Add a little more oil to the pan before starting with each okonomiyaki.

When all the Japanese cabbage pancakes are cooked, brush them with okonomiyaki sauce. Drizzle with the Japanese mayonnaise. Sprinkle with the remaining green onions and with sesame seeds and serve.

Notes
I needed about 18 bacon slices (2 packs, each weighing 100 g/ 3.5 oz) for the okonomiyaki. German bacon is extremely thinly sliced and very narrow, so that is why I needed 18 slices. Use as much thinly sliced bacon to cover the pancake as needed.
Nutrition
Serving:
1
okonomiyaki
|
Calories:
440
kcal
|
Carbohydrates:
31
g
|
Protein:
17
g
|
Fat:
28
g
|
Saturated Fat:
6
g
|
Polyunsaturated Fat:
20
g
|
Cholesterol:
99
mg
|
Sodium:
1409
mg
|
Fiber:
3
g
|
Sugar:
10
g