Last Updated on
A nice and crisp fall salad with celeriac, pears, cheese and walnuts, quick to make and completely satisfying.
This is an updated post from October 2017.
You don't need much as an accompaniment, just a piece of crusty rye bread smeared with some salty butter. Or these delicious Easy Savory Butternut Squash or Pumpkin Fritters, we had them in this combination recently and it was a dream of a meal. It makes a good light dinner on a rainy evening (like every evening this week!) or a nice work lunch the next day.
I don't know if you are familiar with celeriac, I don't often see recipes using it in the food blog world. Normally I read recipes where people only use the celery stalks. That is sad because I actually think the root has a better flavor and you can do so much more with it than you can do with the stalks.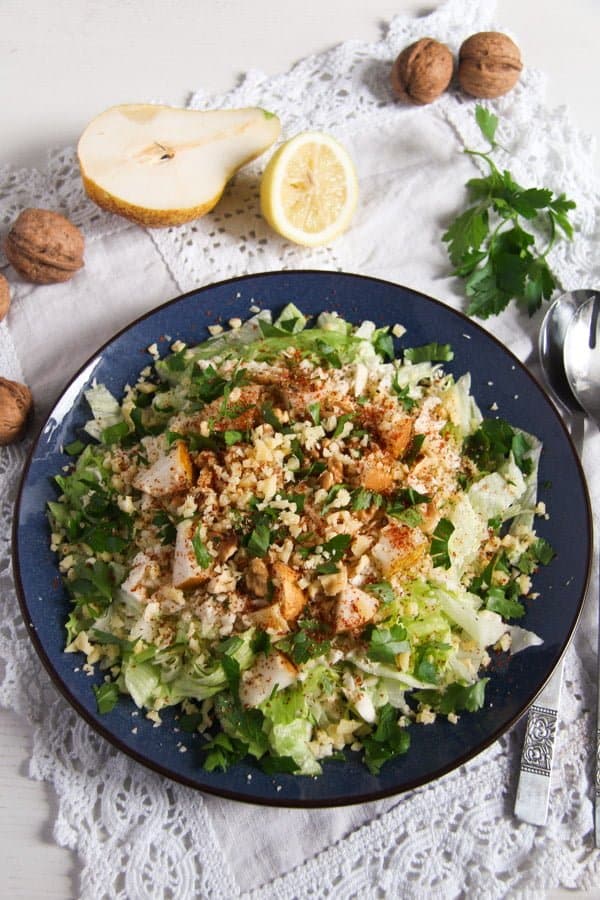 In Romanian and also German cooking celery roots are actually used much more than the stalks. There are plenty of recipes where these roots play a central part and I do use them a lot in autumn. Celeriac is tasty, healthy and quite cheap right now. I've eaten it raw in salads just like this one, made creamy soups with it, used it alongside other veggies in vegetable soups, stews or casseroles, roasted it with carrots and maple syrup, mashed it etc. And celeriac is a vital ingredient when making chicken stock or beef broth, I could not even start making stock if I didn't have any celeriac.
The celery roots that I normally find here are really big, so I don't often manage to use one whole head in a go. And because I hate letting food spoil or throwing it away I always cut the leftovers either in fine cubes to use for soups and casseroles or in big chunks that I use when making vegetable, chicken or meat broth. Than I pack everything in freezer bags, place them in the freezer and use them when necessary.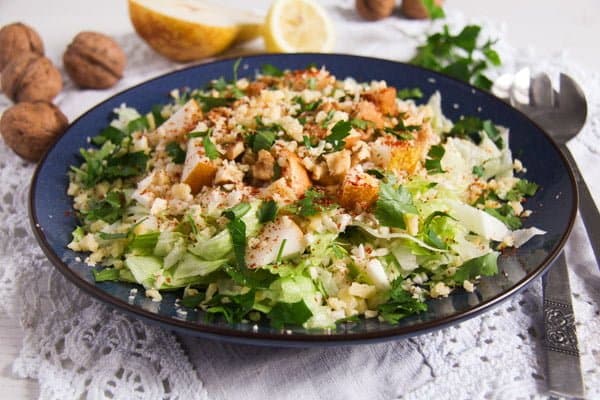 For the cheese I used Bergkäse, that is a cheese produced in the Alps. It has quite a strong but exquisite flavor, especially when you buy it directly at the market, cut off huge cheese wheels. You keep it in the fridge, wrapped in some special cheese foil and every time you open the fridge afterward you spend a few seconds wondering why the kitchen suddenly smells like feet. 🙂 Then you remember the cheese, smile and open the fridge again to cut yourself a small slice of it.
If you cannot find this "mountain" or Alp cheese, feel free to use another strong flavored cheese. I googled a bit and found out that Bergkäse include the better known Fontina or Gruyere cheese.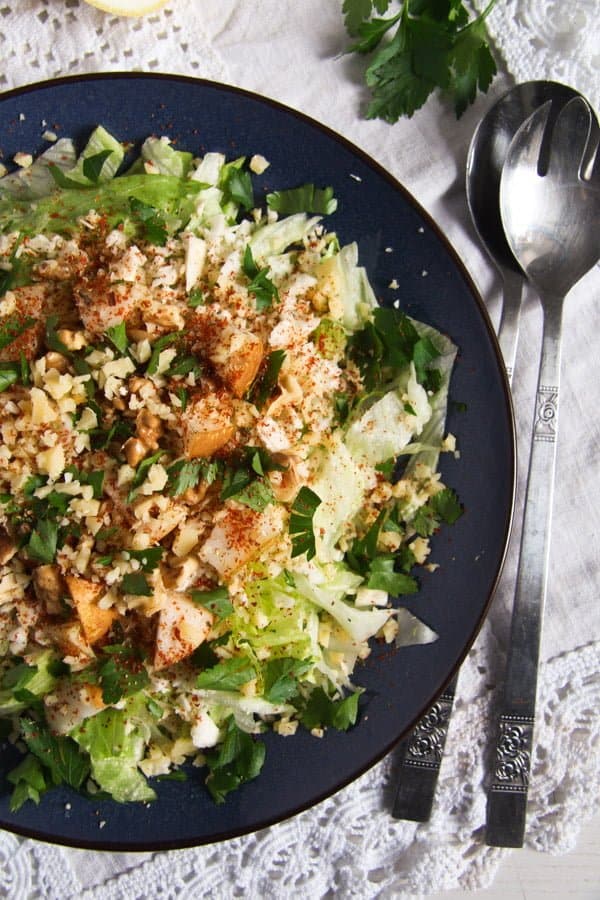 Some more salads?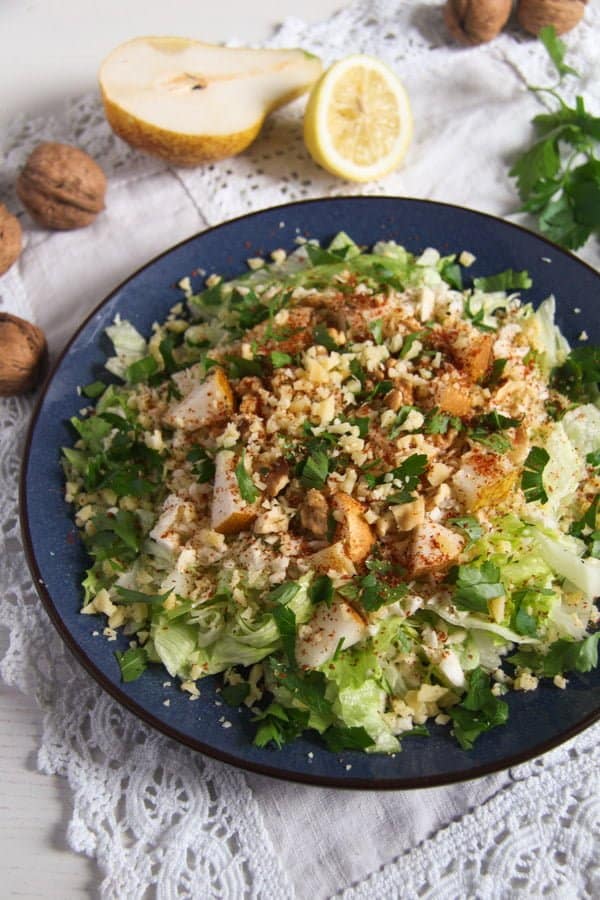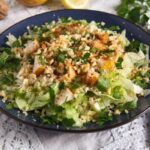 Ingredients
50 g/1.7 oz grated cheese (Bergkäse, Fontina, Gruyere)

125 g/4.4 oz celeriac

50 g/ 1.7 oz Iceberg lettuce

30 g/1 oz walnuts

1 small, ripe but still firm pear

1 tablespoon walnut oil

1 tablespoon fresh lemon juice

½ teaspoon salt

pepper

pinch of sugar

parsley
Instructions
Grate the cheese and the celeriac, not too finely. Chop the lettuce in small pieces. Chop the walnuts and the pear roughly. Place everything in a bowl and mix with the oil, lemon juice, salt, pepper and sugar. Adjust taste. Keep in the fridge until serving. Sprinkle with chopped parsley before serving.
This post contains affiliate links. The price you pay as a consumer does not change, but if you make a purchase we will receive a commission which helps support the blog.