A simple pumpkin seed butter made with only two ingredients if you are counting the salt. Creamy and super healthy spread perfect for breakfast or for a snack.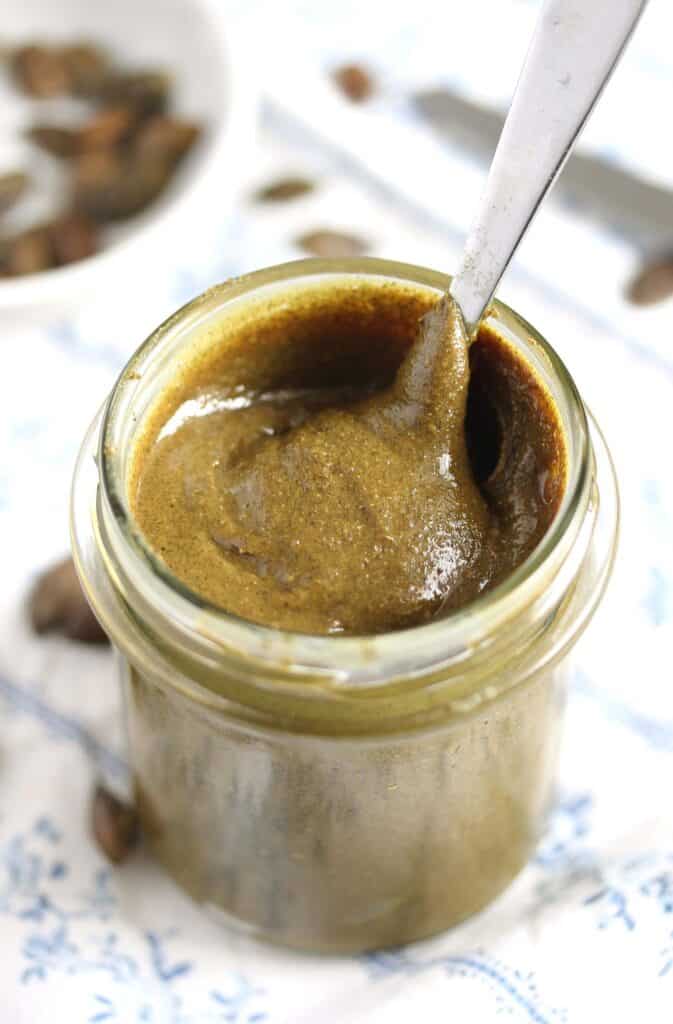 You love nut butter and you would like to go beyond the usual peanut or almond spread? Then you should try this amazing pumpkin seed butter. All you need are the seeds and about half an hour of your time.
And the result? An unctuous spread, rich and soft, full of nutrients and flavor. You can make it slightly salty or you can make it sweet.
What do you need?
Well, the pumpkin seeds, of course.
I buy raw ones in bulk and I toast them in the oven or in a dry skillet, depending on the recipe I need them for.
They tend to be expensive (at least where I leave), and if you buy them roasted in a small bag, they would be salted most of the time.
So, I buy a larger bag of raw ones from time to time. Not a huge one, as they will not keep forever, but about 1-2 lbs that can be consumed in a fairly short time.
I use them for making not only for this recipe, but I add them to homemade bread, I sprinkle them over salads or soups or I roast them in the oven, salt them and serve them as a snack.
Salt or sweetener?
Whatever you prefer, I really like both versions. I often split the spread into two portions and add salt to one and a sweetener to the other.
What kind of salt to use?
I prefer fine sea salt (or Kosher). If using table salt you might need less, start with ½ teaspoon and add more to taste. It should be slightly salty.
What kind of sweetener to use?
Again, your choice.
I choose stevia most of the time, a kind that can be used just as I would use sugar, so teaspoon to teaspoon.
However, if using stevia, make sure you know the kind you are using. I have another tiny container of stevia in the house that is a few hundred times sweeter than regular sugar. I keep that for sweetening larger quantities of tea or dessert, for instance. I would not even dare use it for this recipe, because I just know I would not be able to dosage it properly, the tiniest amount would make the pumpkin seed spread too sweet.
Regular sugar or xylitol are perfectly fine as well. Use to taste.
The food processor
You will need a good one that can manage processing at high speed for a longer time.
I use the Thermomix for this purpose.
Make sure that you stop the machine regularly and scrape the sides and the bottom of the bowl.
If the machine gets too hot, make pauses every few minutes or so to avoid overheating the food processor.
How to make pumpkin seed butter?
Roast the seeds. Place them on a baking tray lined with aluminum foil and roast in the preheated oven for about 15 minutes or until crisp and nicely golden.
Make sure you check after about 10 minutes, the roasting time depends very much on your oven. Some ovens run hotter than others.
Don't let them get too dark or the pumpkin seed butter will be bitter.
Once roasted transfer immediately to a large plate or bowl. If you leave them on the hot tray they will continue roasting.
Let cool for about 10 minutes.
Transfer to the bowl of a food processor. (1)
Start processing them, scraping the bowl regularly, and pausing from time to time if the machine gets too hot.
It will take about 15-20 minutes depending on the food processor you are using.
The mixture will be crumbly at first. (2)
After a while, the seeds will start releasing their oils and the paste will start to clump together. After a few more minutes the paste will relax, will become softer and runnier. Keep processing until the paste is perfectly smooth. (3)
The spread will also be quite hot at this point, it is the best time to add the salt or the sweetener. It will be easy to mix it in and the heat will dissolve it quickly. Taste and add more salt or sweetener to taste.
Transfer the mixture to a clean jar. (4)
Tips
Make sure you roast the seeds. Not only will the spread taste better (nuttier) but the roasting process will also make sure that the seeds release their oils better.
Don't let the seeds turn too dark in the oven or the butter will turn slightly bitter. It happened to me once and it is such a shame after spending so much time scraping that bowl…
Don't forget to let the machine rest from time to time, it should not get too hot or it might break.
The pure pumpkin seed butter is rather stiff and suitable for spreading. If you want to make it runnier, you can add 1-2 tablespoons neutral-flavored oil together with the salt or the sweetener.
How to store?
You can keep it in a cupboard for about 2 weeks. If you want to keep it for longer, place it in the refrigerator, it will be great for about 2 months. You can also freeze it, it will keep for at least 6 months (probably longer).
How to use it?
I spread it on bread, toast, rice crackers most of the time. Top it with fresh fruit like strawberries, bananas, apples, pears and so on.
Add to smoothies, stir into porridge or oatmeal.
Serve as a dip for veggie sticks or fruit. I just love it with apple slices, no matter if it is sweet or salty.
More vegan healthy spreads: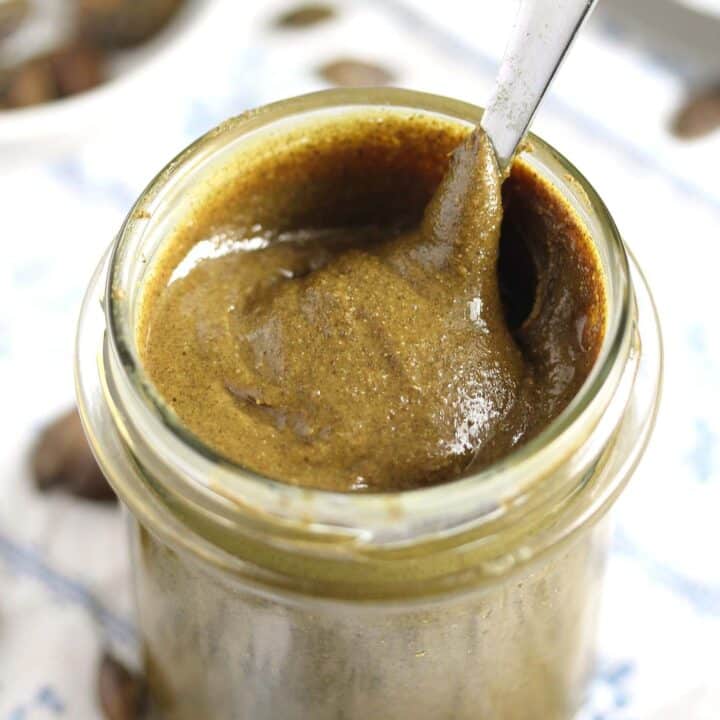 Pumpkin Seed Butter
A simple pumpkin seed butter made with only two ingredients if you are counting the salt. Creamy and super healthy spread perfect for breakfast or for a snack.
Ingredients
240 g/ 8.5 oz/ 2 cups pumpkin seeds
1 teaspoon fine sea salt OR 1-2 teaspoons sweetener (Note 1) and 1 pinch of salt
Instructions
Preheat the oven to 165 degrees Celsius/ 330 degrees Fahrenheit. Line a baking tray with aluminum foil. Spread the pumpkin seeds on the tray in a single layer. Roast for about 15 minutes, shaking halfway through. Keep an eye on the seeds, they should not get too dark, it really depends on your oven.
Remove from the oven, transfer to a plate, and let cool for about 10 minutes.
Transfer to the bowl of a food processor (Note 2). Process at high speed for about 15-20 minutes, stopping the machine repeatedly and scraping the paste from the sides and bottom of the bowl.
The butter will go from crumbly to pasty and smooth.
Make a short pause once in a while if your food processor tends to get too hot.
Once the butter is perfectly smooth and creamy, add the salt and stir well to mix.
If you wish to make a sweet version, add a sweetener of choice and just a pinch of fine sea salt. Transfer the butter to a clean jar.
Notes
Either sugar, xylitol, stevia, all to taste. I use stevia most of the time.
I use a Thermomix.
Nutrition Information:
Yield:

10
Serving Size:

1/10 of the butter
Amount Per Serving:
Calories:

107
Total Fat:

5g
Saturated Fat:

1g
Trans Fat:

0g
Unsaturated Fat:

4g
Cholesterol:

0mg
Sodium:

216mg
Carbohydrates:

13g
Fiber:

4g
Sugar:

0g
Protein:

4g
Nutritional information is not always accurate.