A Mexican corn tomato salsa with avocado, garlic and lime juice, a perfect side dish during the summer months.
Mexican Tomato Corn Salsa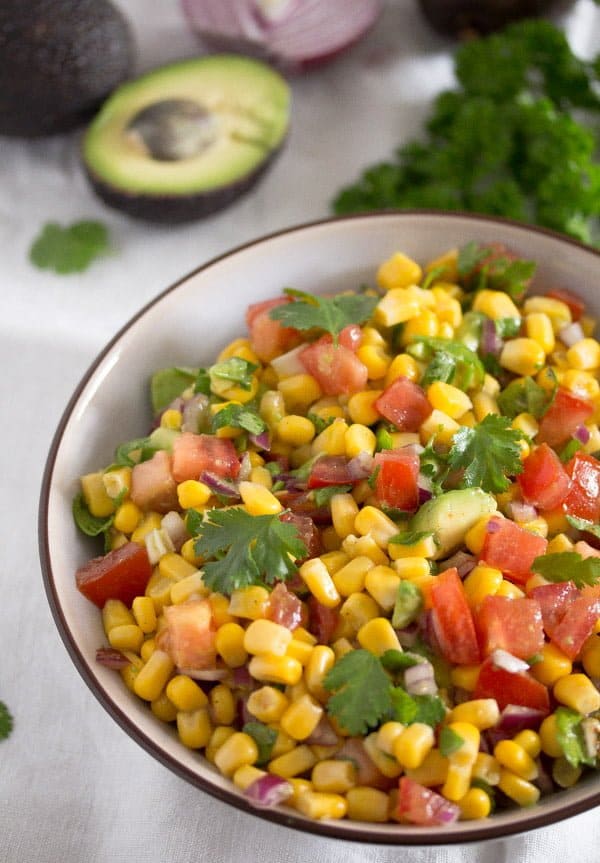 A super healthy corn tomato salsa for you today. Nothing much, nothing fancy, simple ingredients and only 10 minutes of your time. And even those 10 minutes might be an exaggeration, you will probably be ready with this avocado corn salsa or salad in about 5 minutes.
The result is a delicious little salsa full of good things like creamy avocado, corn, and tomatoes. Everything spiced up with jalapeno or cayenne pepper, lime juice, and garlic.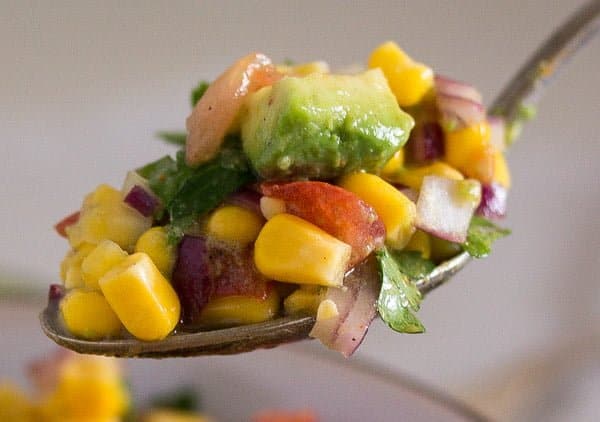 This avocado corn salad or salad with tomatoes and corn is a bit like upgraded guacamole, chunkier and with the added corn. But otherwise, I think it is pretty much the same idea.
I do love guacamole and I make it pretty often, I mash it nicely and have it mostly on bread, not quite the traditional way to have it, but the way I like it most.
When making this avocado and tomato salsa or salad, I leave the ingredients chunkier and we have the salsa either as a side dish for various grilled meats (or grilled cheese/halloumi – how I love that combination), or just as it is with some bread (again) or crispbread to accompany it.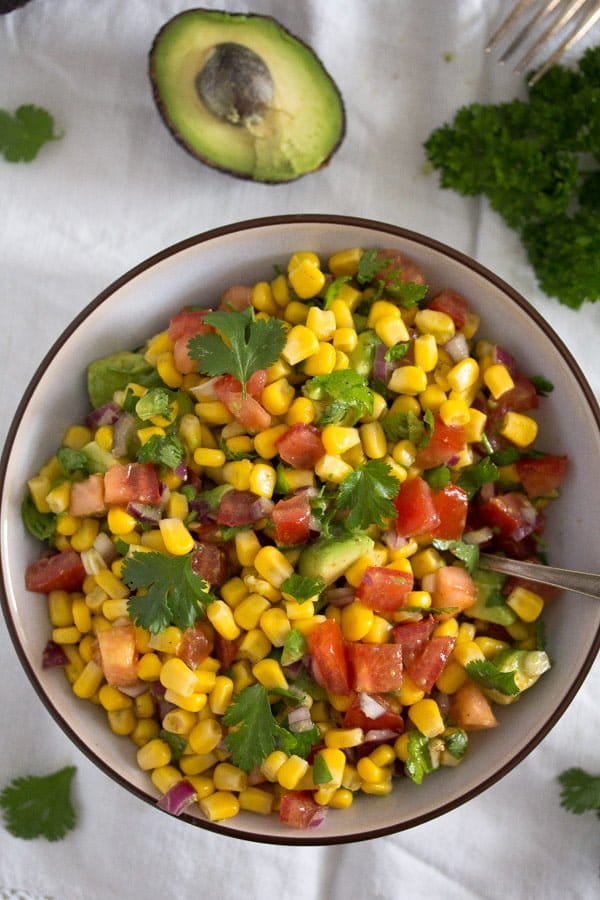 Ingredients
You can add some jalapeno or another sort of chili to this avocado corn salad, it would not hurt it a bit, on the contrary, I would say. However, as fresh jalapeno is almost never to be found around here and as I did not have any fresh chili in the house, I was forced to use some ground cayenne pepper, which was fine as well.
And the fresh coriander: more or less the same story as the jalapeno. I could buy it fresh, but only if I drive about 20 km and I think you understand that I really don't think it worth it to drive so much for just a little coriander. And I must confess that I do like parsley better… I would use coriander if I'd had it, but in a significantly smaller amount.
Do use whatever you like best and have easier access too, the avocado, tomato and corn salsa has a wonderful (yet rather different) taste, either when made with fresh coriander or with parsley.
And one more thing: if your avocado happens to be very very soft and you overdo it a bit with stirring the salsa, it might be that the avocado pieces will break down a little. Don't stress about it! I love it when that happens, this way the rest of the vegetables are surrounded in this creamy delicious avocado and lime coating.
And here are some tips you might need when choosing an avocado for the avocado corn salad.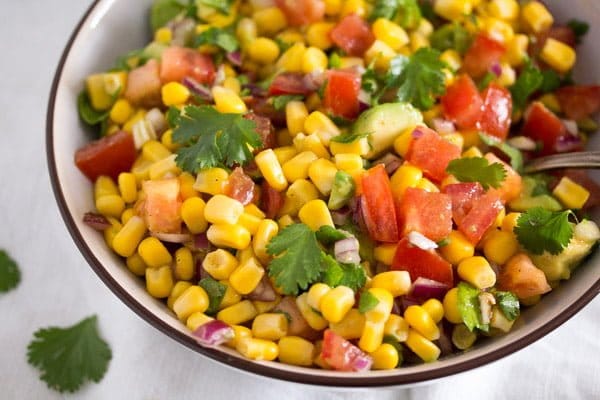 Serve the Mexican salad
You can have the corn tomato salsa as an appetizer or snack with some tortilla chips.
You can have it on top of a tostada similar to this one.
You can use it to fill up a taco or as an accompaniment to tortillas, burritos or whatever other Mexican yummy things you like.
We often had it as a side dish for grilled meats, and more times than I could count we had together with this tender skillet chicken breasts, it has become almost like the standard side dish for this chicken, they just go so well together.
And I often make to serve with sweet and sour chicken thighs.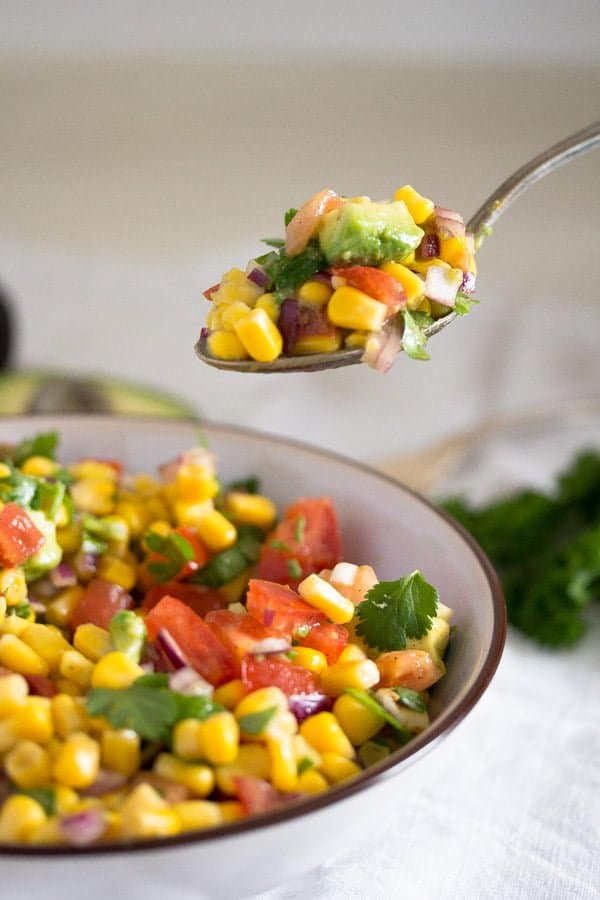 More Mexican recipes?
Spicy Mexican Chicken Soup – With avocado and chickpeas, there is nothing more comforting than a bowl of good chicken soup.
Mexican Bean Salad with Corn – A spicy bean salad or salsa with black beans, corn, chickpeas and lots of herbs, a perfect side dish for any summer barbecue.
Salsa Verde Chicken – A simple recipe for salsa verde chicken or Pollo en salsa verde, only 3 ingredients but so much flavor.
Ground Beef Quesadillas – Who doesn't love a good, cheesy quesadilla?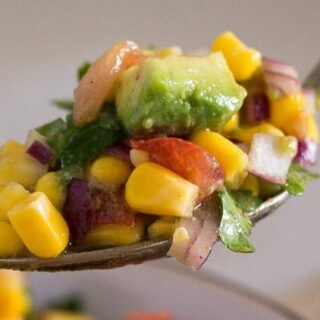 Corn Tomato Salsa (Mexican Salad)
A Mexican avocado corn salad with tomatoes, garlic and lime juice, a perfect side dish during the summer months.
Ingredients
1 can corn
1 red onion
2 medium tomatoes
1 ripe avocado
1 garlic clove
2 tablespoons olive oil
1 tablespoon lime juice or more to taste
a bunch of fresh coriander or parsley (or a mixture of the both)
cayenne pepper, optional (See note)
fine sea salt and freshly ground black pepper
Instructions
Drain and rinse the corn.
Finely chop the onion, cut the tomatoes into fine cubes. Place in a bowl together with the corn.
Chop the avocado into similar sized cubes, mix well with the lime juice and add to the bowl.
Add the grated garlic clove, oil, and chopped parsley and/or coriander. If using, add the finely chopped jalapeňos as well.
Add salt and pepper to taste and some cayenne pepper if you like. Adjust the taste with some more lime juice if necessary. Mix everything very thoroughly.
My avocado was very ripe and that's why it almost disintegrated while stirring. After the initial annoyance, I found that great, the result was a very creamy, very yummy dressing.
Notes
Use jalapeňos, if available.
Nutrition Information:
Yield:

4
Serving Size:

1/4 of the salad
Amount Per Serving:
Calories:

231
Total Fat:

15g
Saturated Fat:

2g
Trans Fat:

0g
Unsaturated Fat:

12g
Cholesterol:

0mg
Sodium:

273mg
Carbohydrates:

24g
Fiber:

6g
Sugar:

6g
Protein:

4g
Nutrition information isn't always accurate.