A Mexican avocado salsa or avocado tomato salad with corn, garlic and lime juice, a perfect side dish during the summer months.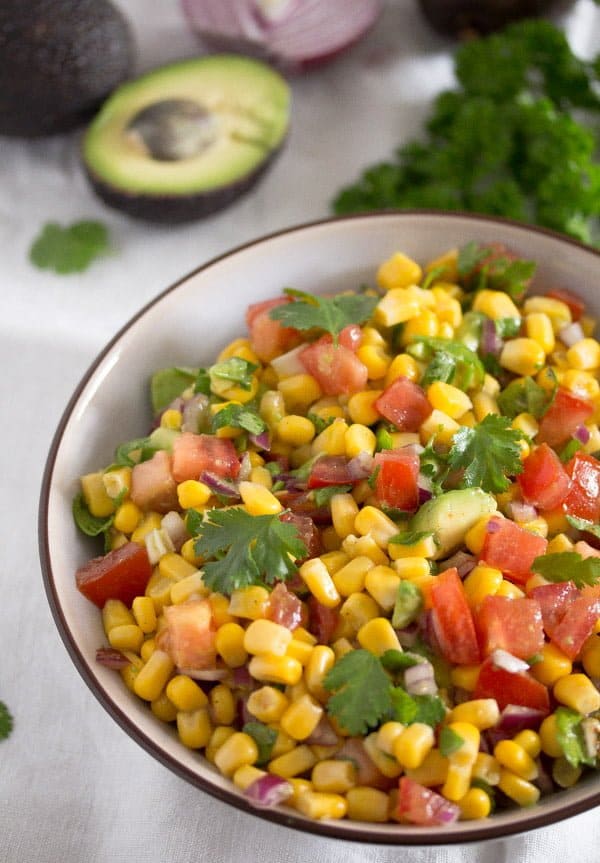 This is a repost from 2014.
A super healthy avocado salsa or avocado tomato salad for you today. Nothing much, nothing fancy, simple ingredients and only 10 minutes of your time. And even those 10 minutes might be an exaggeration, you will probably be ready with this avocado salad recipe in about 5 minutes.
The result is a delicious little salsa full of good things like creamy avocado, corn and tomatoes. Everything spiced up with jalapeno or cayenne pepper, lime juice and garlic.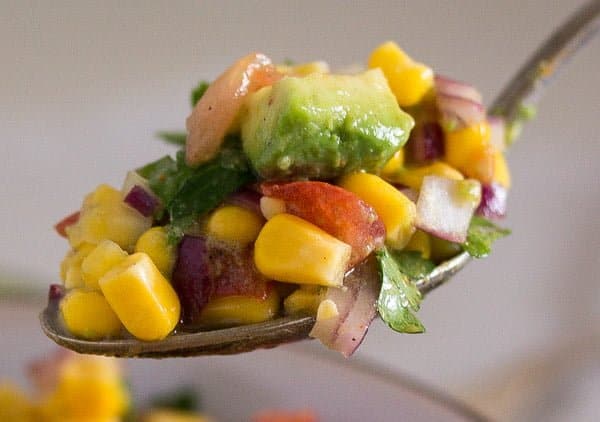 Avocado Tomato Salad with Corn – Mexican Food
This avocado salsa or salad with tomatoes and corn is a bit like an upgraded guacamole, chunkier and with the added corn. But otherwise, I think it is pretty much the same idea.
I do love guacamole and I make it pretty often, I mash it nicely and have it mostly on bread, not quite the traditional way to have it, but the way I like it most.
When making this avocado and tomato salsa or salad, I leave the ingredients chunkier and have the salsa either as a side dish for various grilled meats (or grilled cheese/halloumi – how I love that combination), or just as it is with some bread (again) or crispbread to accompany it.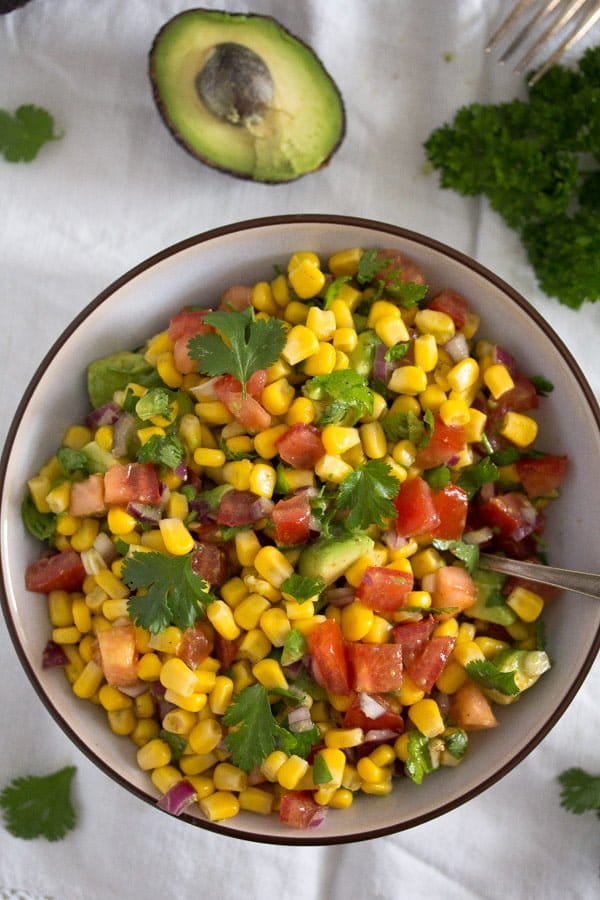 You can add some jalapeno or another sort of chili to this avocado and tomato salad, it would not hurt it a bit, on the contrary, I would say. However, as fresh jalapeno is almost never to be found around here and as I did not have any fresh chili in the house, I was forced to use some ground cayenne pepper, which was fine as well.
And the fresh coriander: more or less the same story as the jalapeno. I could buy it fresh, but only if I drive about 20 km and I think you understand that I really don't think it worth it to drive so much for just a little coriander. And I must confess that I do like parsley better… I would use coriander if I'd had it, but in a significantly smaller amount.
Do use whatever you like best and have easier access too, the avocado, tomato and corn salsa has a wonderful (yet rather different) taste, either when made with fresh coriander or with parsley.
And one more thing: if your avocado happens to be very very soft and you overdo it a bit with stirring the salsa, it might be that the avocado pieces will break down a little. Don't stress about it! I love it when that happens, this way the rest of the vegetables are surrounded in this creamy delicious avocado and lime coating.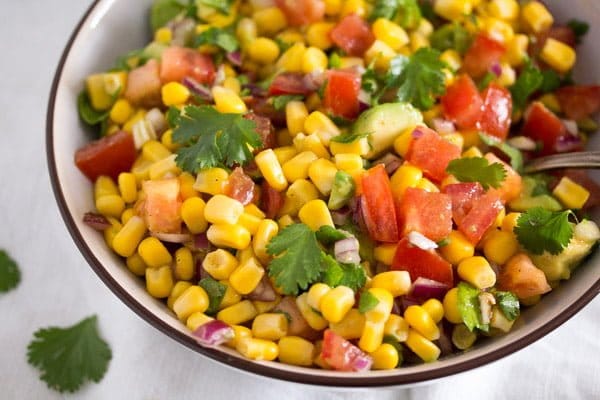 How to serve the Avocado and Tomato Salsa with Corn
You can have this avocado and tomato salad or salsa as an appetizer or snack with some tortilla chips. You can have it on top of a tostada similar to this one. You can use it to fill up a taco or as an accompaniment to tortillas, burritos or whatever other Mexican yummy things you like.
We often had it as a side dish for grilled meats, and more times than I could count we had together with this tender skillet chicken breasts, it has become almost like the standard side dish for this chicken, they just go so well together.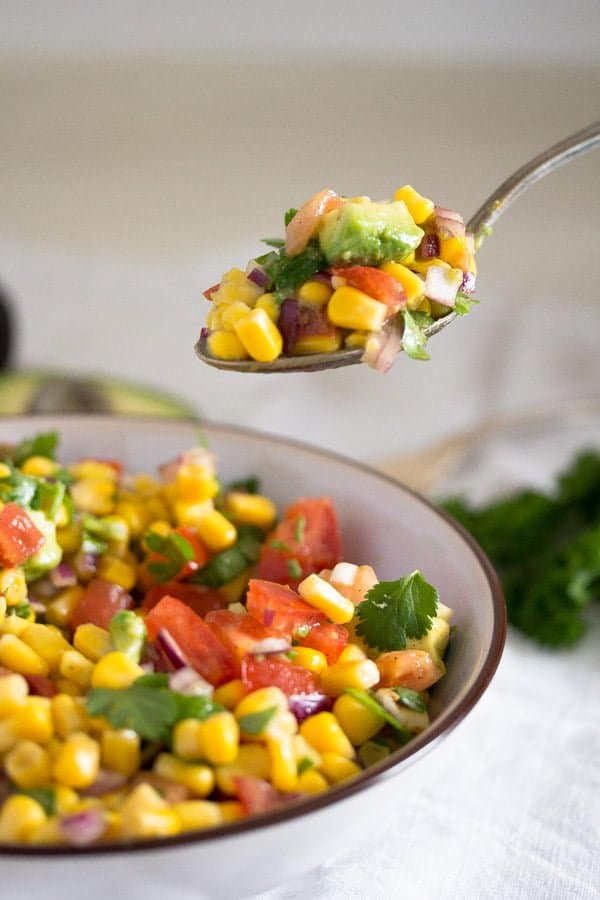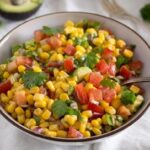 Ingredients
1 can corn
2 medium tomatoes
1 big red onion
1 ripe avocado
1-2 small garlic cloves, to taste
2 tablespoons olive oil
1 tablespoon lime or more to taste
some fresh parsley (See note 1)
salt and pepper
cayenne pepper (See note 2)
Instructions
Drain the corn, than give a quick rinse in the sieve. Let it drain while you prepare the rest of the vegetables.
Halve the tomatoes and remove the seeds, but only if necessary, if the insides of the tomatoes are very watery. Chop them into fine cubes.
Chop the red onion into fine cubes as well.
Give the corn, tomatoes and onion in a bowl.
Chop the avocado into similar sized cubes, mix well with the lime juice and add to the bowl.
Add the grated garlic clove, oil and chopped parsley or coriander. Add the very finely chopped jalapeno as well, if using any.
Add salt and pepper to taste and some cayenne pepper if you like. Adjust the taste with some more lime juice if necessary. Mix everything well and serve as suggested above.
Note 1: You can use some fresh coriander instead of parsley for a more genuine salsa taste.
Note 2: Fresh jalapeno, finely chopped, could be used instead of cayenne pepper.