Little puff pastry parcels topped with marzipan and different kinds of berries. Easy to make and delicious!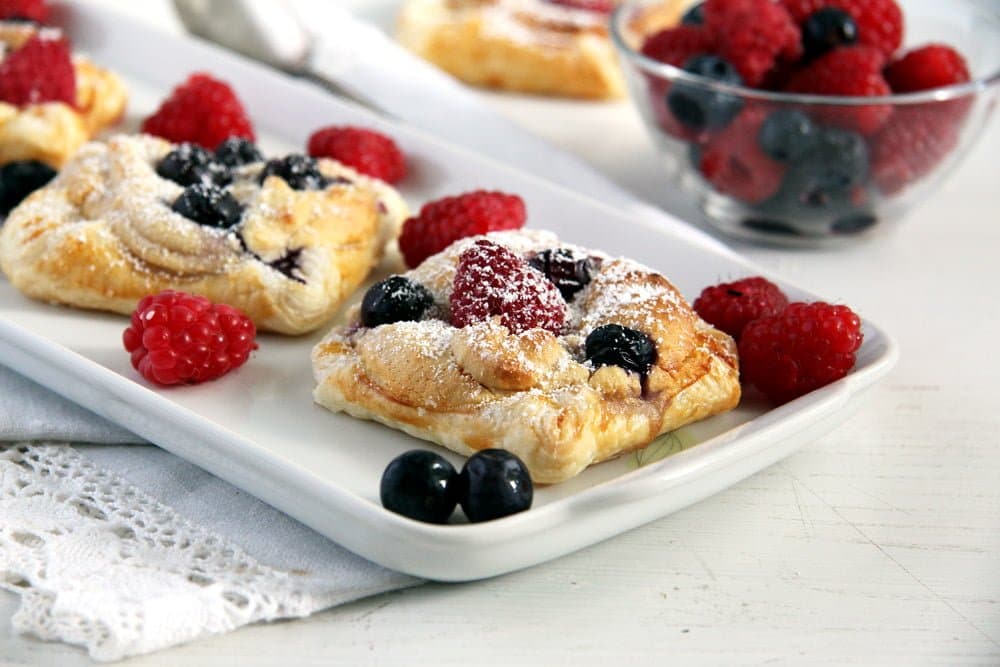 I was not sure how to name these thingies: parcels, pockets, pasties…. Actually my first thought was pillows or cushions, because they are so soft and comforting or comfortable, but those words didn't seem too appropriate for food… I don't know, I suppose parcels is OK, but think more of the softness of a pillow when you read this. 🙂
August is drawing to an end and so is my berry series. I hope you enjoyed it and maybe tried one or two recipes. I thoroughly enjoyed eating each one of the dishes or cakes featuring the berries, but if I was to choose a favorite that must be the tiger prawns with the red currant sauce, I absolutely adored that one!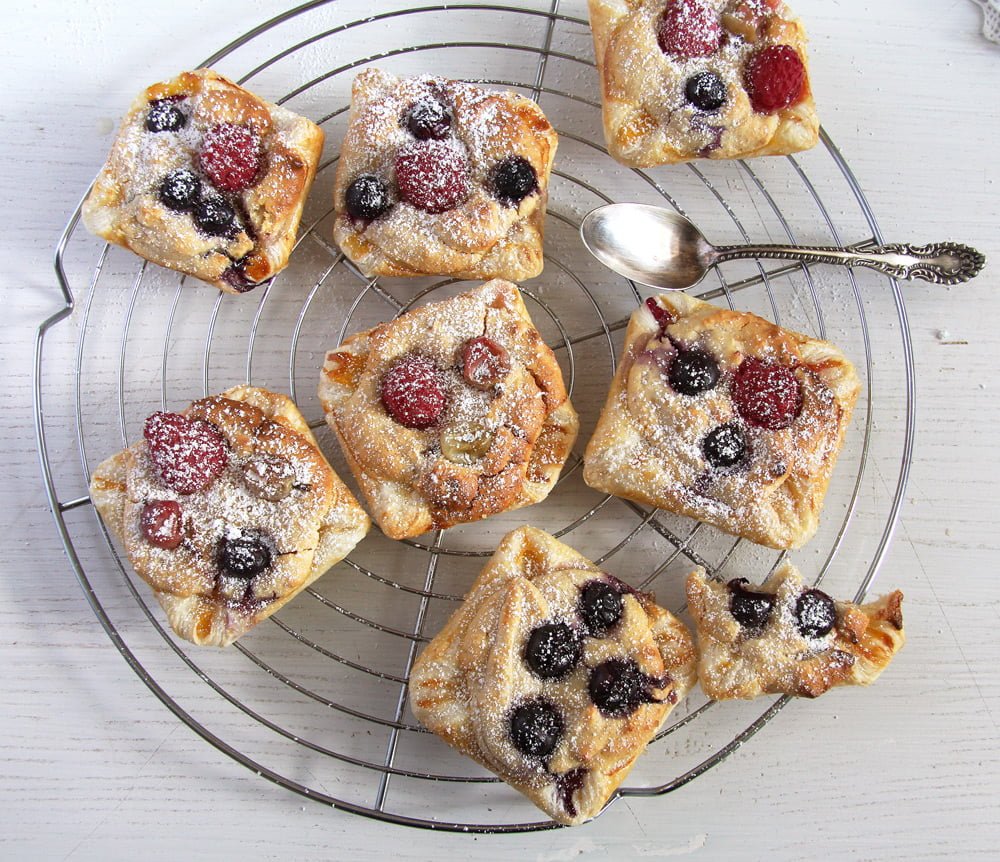 Puff Pastry Parcels with Berries and Marzipan
The recipe for Puff Pastry Parcels with Berries and Marzipan is another favorite. Not many years ago, I used to hate marzipan. I found it overly sweet, strangely flavored and having a weird, sticky consistency. I tried it once or twice and then avoided it for years.
But then, a couple of years ago, my husband received a box of really good, expensive chocolates as a present, a box including a few marzipan filled chocolates . I wanted to have a chocolate too and chose one without paying attention to what it contained. Turned out it was filled with marzipan, really gooooood marzipan, not the cheap stuff you usually get.
What a revelation! So that was the way marzipan was supposed to taste! Almondy and not sugary, soft and sweet but not disgustingly sticky and oversweet! I was converted. Since then, I am known to enjoy a good marzipan chocolate from time to time and I got to using marzipan quite often in my baking.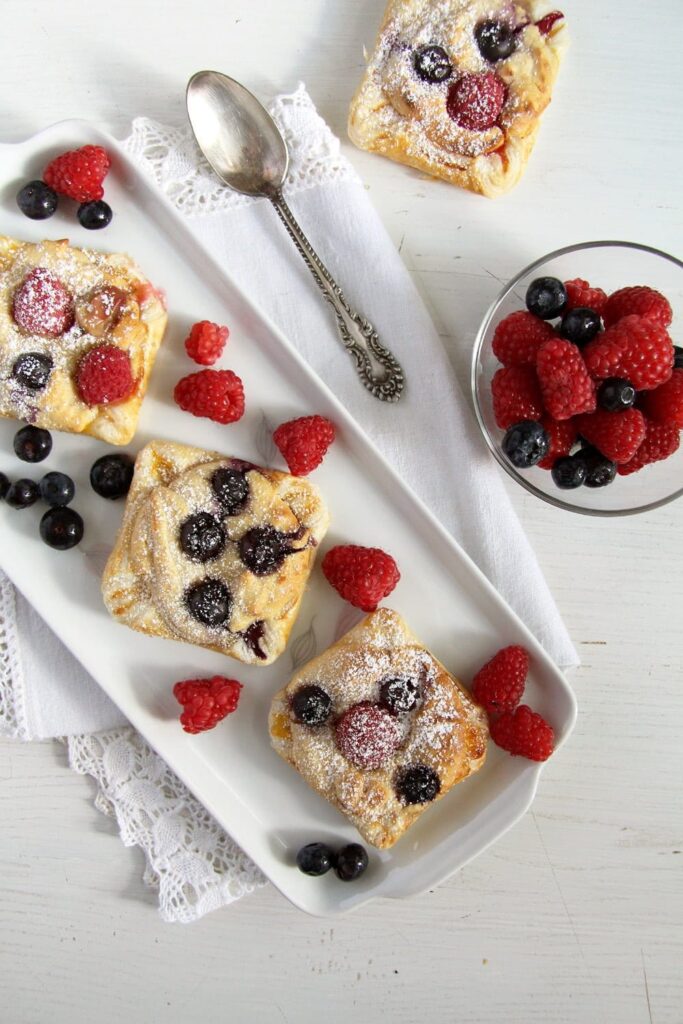 Today's Puff Pastry Parcels with Berries and Marzipan are delicious. They are filled with a sweet marzipan cream and then topped with sweet and tangy berries of your liking. You really can use whatever berries you happen to have.
On this occasion I used blueberries and raspberries, but red or black currants, blackberries or even cherries or plums would be great. And they are so easy and quick to make, they can really be a last moment thing, if you ever need one.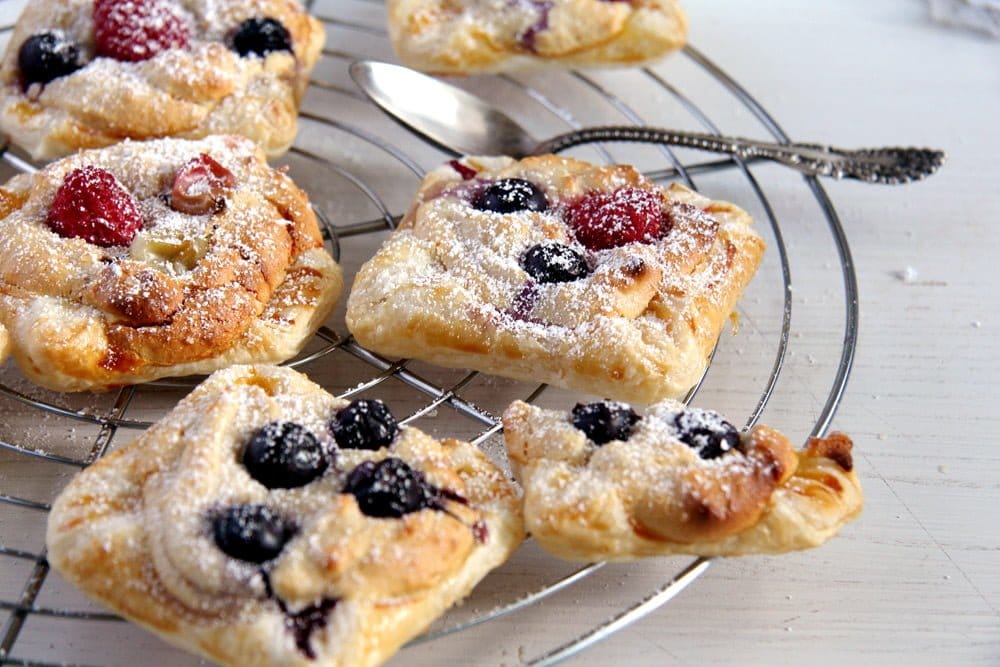 That's it for today! My friend is going to pick me up in a moment, we are going plum picking in her mother's garden. Yum! Maybe I should make the parcels again using plums tomorrow. After I am finished with the plum butter I plan to make. 🙂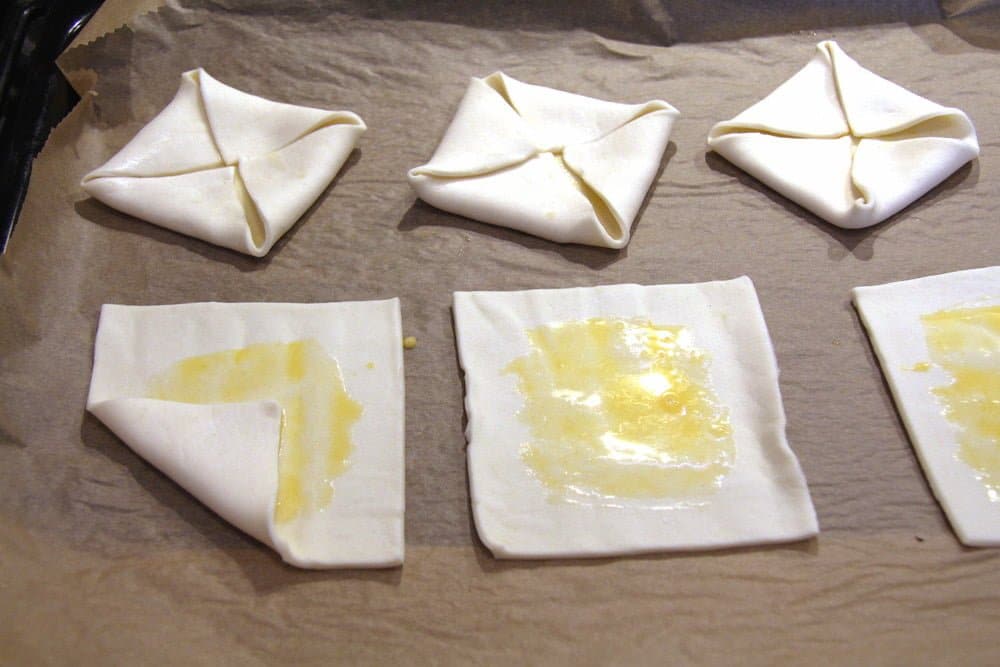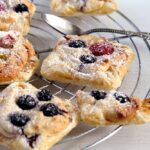 Ingredients
2 rectangular sheets of puff pastry (enough to cut into 8 pieces, 10x10 cm/ 4x4 inch)

about 250 g/ 8.8 oz berries (blueberries, raspberries)

2 egg whites

1 egg yolk

200 g/ 7 oz good quality marzipan paste

4-5 tablespoons almond slivers, optional
Instructions
Preheat the oven to 200 degrees Celsius/ 390 degrees Fahrenheit.
Place the sheets of puff pastry on a sheet of baking paper and let them defrost, if frozen. 10 – 15 minutes should be long enough. If they are not frozen, continue immediately and cut them into 8 square pieces, 10x10 cm/ 4x4 inch large. Place the squares on one or two baking sheets lined with baking paper.
Wash and thoroughly dry the berries. Separate the eggs.
Grate the marzipan paste roughly, place it in a bowl together with the two egg whites and whisk with the mixer until frothy.
In a small bowl mix the egg yolk with 1 tablespoon water. Brush the middle of each pastry sheet with some of this mixture. Fold the corners of the pastry towards the middle of the pastry and brush them with the egg yolk mixture as well (see the picture above).
Divide the marzipan mixture evenly between the pastry squares, giving it in the middle of each square. Top with berries and almond slivers.
Bake for 20 to 30 minutes until the puff pastry is cooked through and golden brown. You can serve them lukewarm or at room temperature. They taste best on the day you baked them.
Others you might like: