Delicate vegetarian dolma recipe with a melt-in-your-mouth cheese and rice filling with lots of dill and parsley.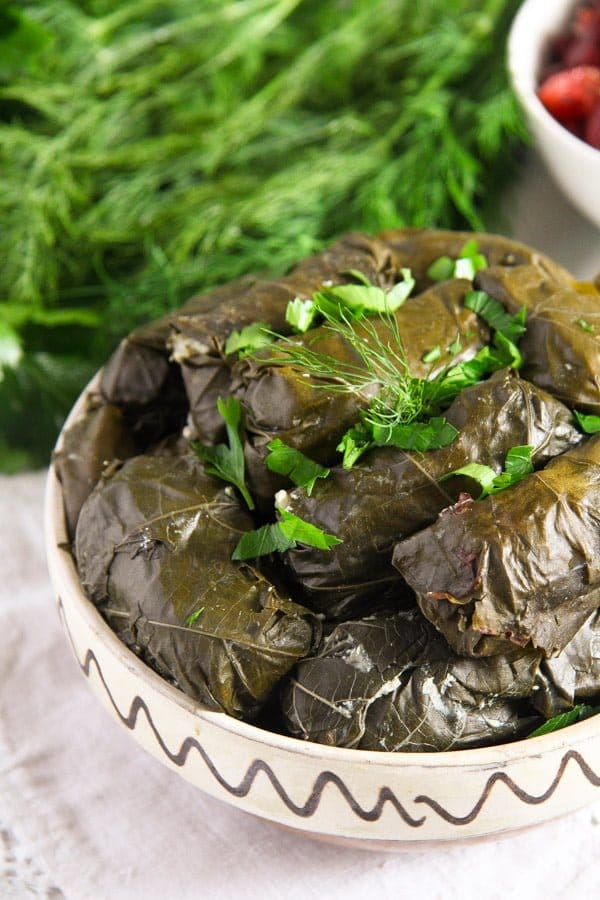 These vegetarian dolmades are another tasty version of the Turkish sarma (with meat) or the Vegetarian sarma. This time using rice, cheese, and lots of fresh herbs. And if you like them, you could also try these fish stuffed leaves, they are amazing! Or these vegetarian leaves with mushrooms.
Another recipe that is easier to make than you would think at first glance. People tend to think that making stuffed cabbage or vine leaf rolls is really difficult. Well, the thingies do look impressive after all, they really make you think you might need some special skills or lots of experience to make them properly.
Rest assured, you will not need any special skills and even a beginner will be able to roll these cheesy vegetarian dolmades. After making 3 or 4 rolls, you will get the hang of it and things could not get any easier. However, rolling the parcels will take a bit of time, so it is better to make this recipe on a day when you are not stressed with time.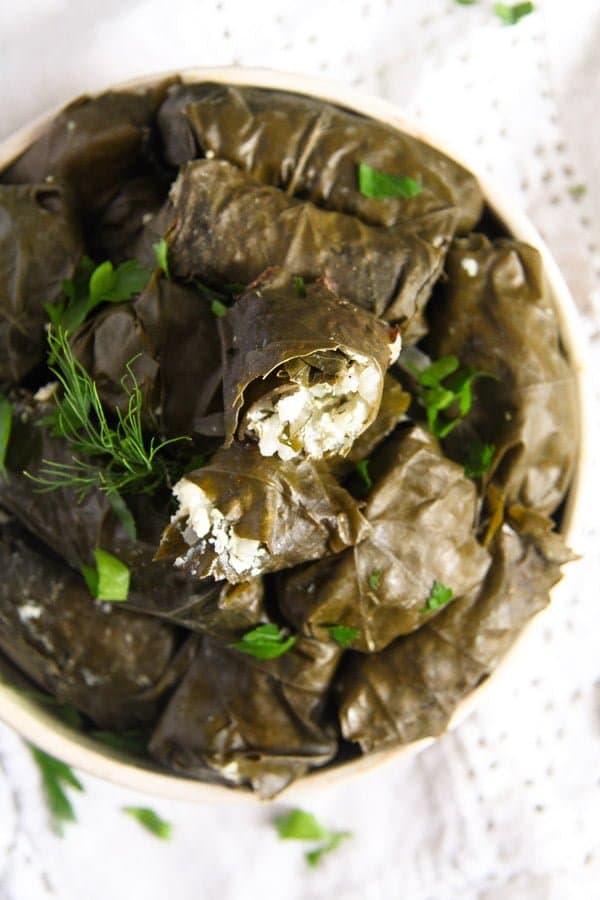 Ingredients
Vine leaves:
I used vine leaves from a jar to make the rolls, they are usually readily available in any larger supermarket around here.
You could also buy vacuumed, but I prefer the jarred ones, they are softer.
To make them even softer, I boil the leaves shortly. Many people don't do that, but I have always done it, the way my grandmother always did, and the way my Syrian friend who gave me the recipe for the Syrian Stuffed Leaves does as well. Let the vine leaves drain well and cool a little bit before using them.
Rice:
I prefer using short-grain rice (Milchreis in Germany) for making cabbage or vine leaf rolls.
I used to take long-grain rice before, but although the rolls were tasty, I was never satisfied with the texture, they were always supposed to be softer, squishier.
So, I switched to short-grain rice, and voila, my rolls finally have that comforting structure I remember from my childhood.
Dairy:
Ricotta and feta.
Adding some feta makes them heartier.
Herbs:
Fresh herbs like dill and parsley and lots of them.
No dried herbs for this recipe, they would not work, you will need all the flavor of the fresh ones.
Other ingredients: onion, vegetable broth and spices.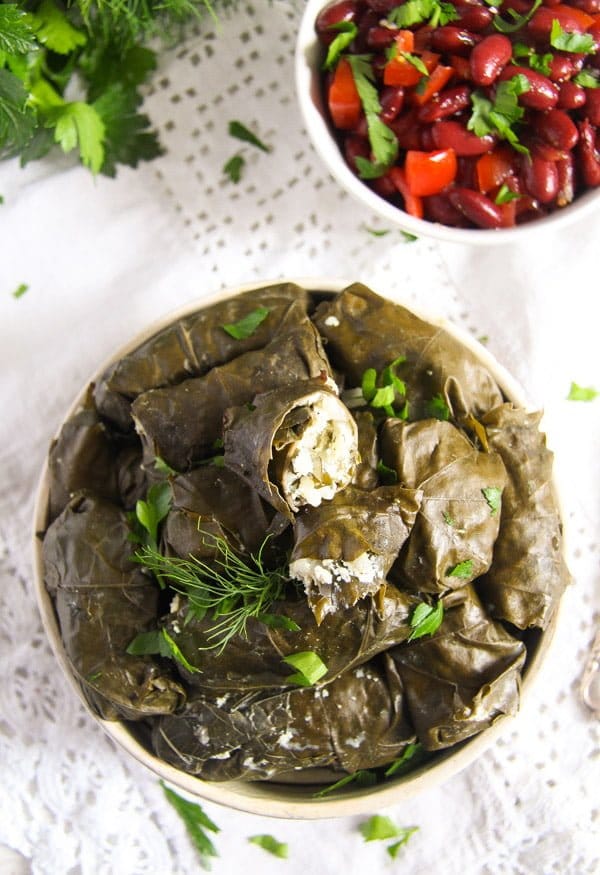 Tips for making vegetarian dolma
The filling was enough for 32-35 rolls. You might have a bit more or less depending on the size of your leaves and how large you make the rolls.
Prepare a few more vine leaves than you would think you need, some leaves will break and some will be two small for filling. In such case, use two vine leaves to form one roll. Just place the two leaves over each other in order to form a larger "leaf".
I soak the rice in boiling water before using it. This makes sure that the rice is properly cooked inside the rolls, there's nothing worse in this case than biting on a roll full with grainy rice, the rice in the rolls should be really soft.
This dolma recipe requires the use of lots of herbs. Ricotta has a pretty delicate taste and if you don't add other ingredients that have a stronger flavor, you might not be so pleased with the resulting dish at the end. So do make sure that you add all the required fresh herbs and that you are very generous when seasoning the filling. Taste and add more salt, pepper, chili flakes/cayenne pepper until you are satisfied with the flavor.
How to serve?
The recipe makes about 32-35 stuffed vine leaves.
It serves 2 or 3 people with a salad on the side (a nice bean salad, for instance, that is what we had) or 5-6 people as an appetizer before a more filling main dish.
More stuffed vegetables or dolmades:
Vegan Stuffed Peppers (without Rice)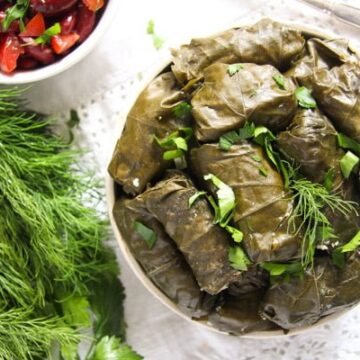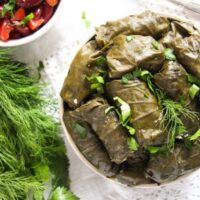 Vegetarian Dolma Recipe
Delicate vegetarian dolma recipe with a melt-in-your-mouth cheese and rice filling with lots of dill and parsley.
Print
Pin
Share
Grow
Saved!
Rate
Ingredients
about 40 vine leaves from a jar

See note

125

g/ 4.4 oz/ ½ cup short grain rice

1

bunch dill

20 g/ 0.7 oz leaves weighed after removing the stems

1

bunch parsley

20 g/ 0.7 oz leaves weighed after removing the stems

300

g/ 10.6 oz/ 2 cups ricotta

150

g/ 5.3 oz/ 1 ¼ cup feta

1

onion

vegetable broth

Note

chili flakes or cayenne pepper to taste

fine sea salt and pepper

generously and to taste
Instructions
Vine leaves:
Carefully, unroll the vine leaves if they are rolled in a small bundle together.

Bring a large pot of water to a boil. Add the vine leaves and simmer gently for about 3 or 4 minutes. Drain well and leave until cool enough to handle.
Filling:
In the meantime boil some water in a kettle. Place the rice in a heatproof bowl large enough to hold all the filling ingredients. Pour the boiling water over the rice and let stand for about 5 minutes. Drain well. Return the rice to the bowl.

Remove the stems from the herbs, make sure you have sufficient leaves for the filling (about 20g/ 0.7 oz fresh leaves from each bundle), and chop the herbs very finely. Chop the onion very finely as well.

Add the herbs and the onion to the rice. Add the ricotta and well-crumbled feta. Stir well until the mixture is creamy.

Spice the filling generously with chili flakes or cayenne pepper to taste and salt and pepper. Taste the filling and make sure it is well seasoned.
Rolls:
Place a vine leaf on the working surface. Add about 2 teaspoons of the ricotta filling (depending on the size of your leaf) in the middle-lower part of the leaf.

Fold the left and right sides of the leaf over the filling, then form a roll, starting to roll at the base of the parcel.

Place the roll with the seam facing down in a small cooking pot. Repeat until you have used all the filling, arranging the rolls nicely and tightly in the pot.

Heat the stock and pour it over the rolls, they should be barely covered with liquid.

Cover well, bring to a boil, then lower the heat and simmer for 1 hour. Check to see if the rice is soft, if not, continue cooking for 5 -10 minutes longer or until the rice is soft.

Notes
You will have enough filling for 32-35 rolls. However, prepare more vine leaves than actually needed, some will break and some will be too small for filling. In such a case, use two leaves to obtain a larger filling surface or to cover any holes.
Or chicken broth, if not cooking vegetarian. I prefer chicken stock, it has a stronger flavor.
Nutrition
Serving:
1
/3 of the dish
|
Calories:
339
kcal
|
Carbohydrates:
22
g
|
Protein:
20
g
|
Fat:
19
g
|
Saturated Fat:
12
g
|
Polyunsaturated Fat:
5
g
|
Cholesterol:
76
mg
|
Sodium:
953
mg
|
Fiber:
1
g
|
Sugar:
4
g