Last Updated on
Super moist, vegan, no-fat and delicious apple cake or apple bread with spelt flour, hazelnuts, goji berries and cacao nibs, a colorful cake on the healthier side.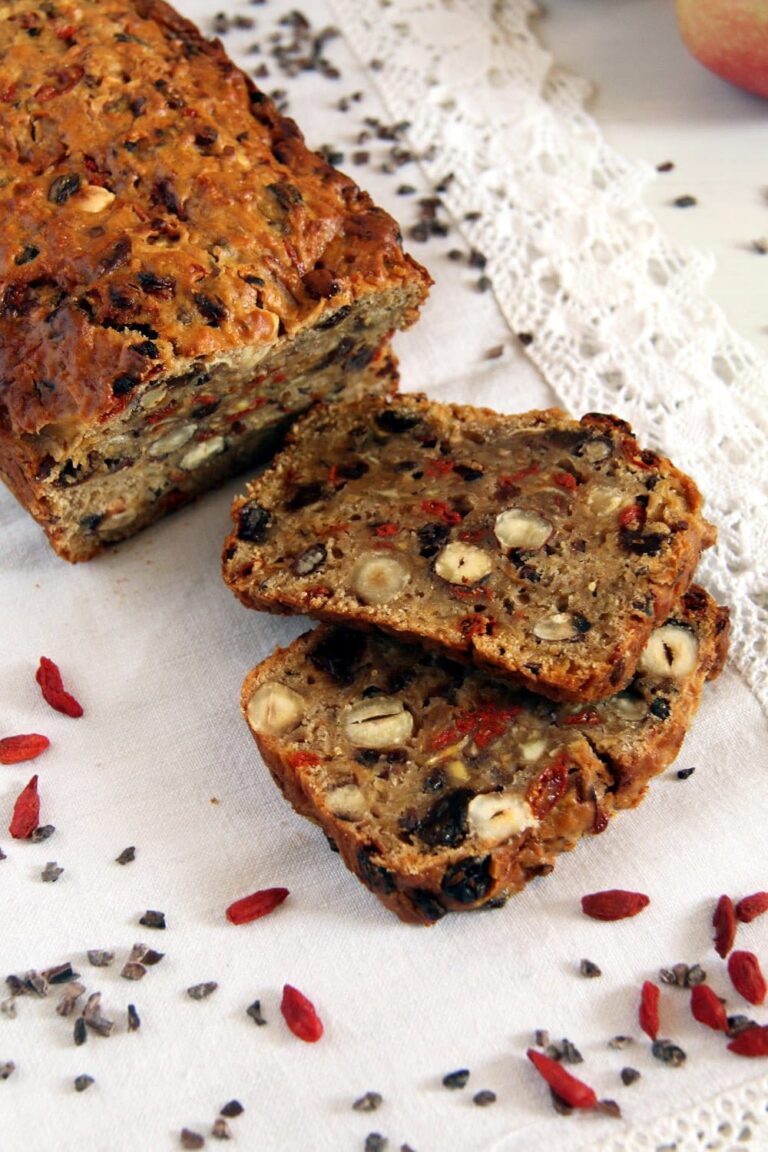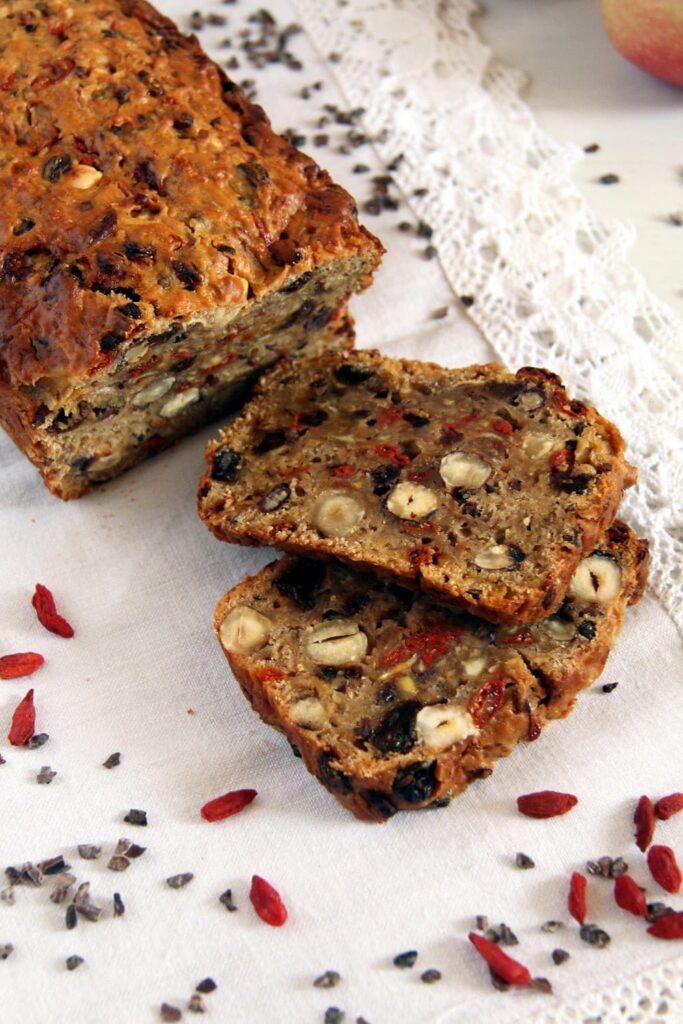 I don't know how the weather is in your area, but we have been enjoying the hottest days this summer. It was generally quite a lousy summer, even for German standards, but this last week was unbelievable, almost every day over 30 degrees Celsius, endless sunny skies, crickets chirping all around and this wonderful smell of hot summer, which I'm familiar with from the summers I spent in Romania but which I rarely get to smell here. Most everybody complains about it being too hot or too dry, but I don't! Before we know it (in a couple of days probably), we will be back to the usual chilly and rainy September weather anyway, so I wouldn't care if it would get even hotter at the moment. The only thing I am complaining about are the flies!!!! I have the feeling I am killing about 200 a day and still they annoy me continuously…
My husband and kids went swimming, an activity I am not particularly fond of (can't swim one bit), so I finally have some time to get on with things on the blog, it has been rather quiet and irregular lately. That's the way things are during the holidays, I suppose. We've been back one week now, but I still didn't really have much time to do more work here. My daughter turned 5 while on holiday and my son turned 8 on Friday, so there were parties to organize, food to cook and cakes to bake.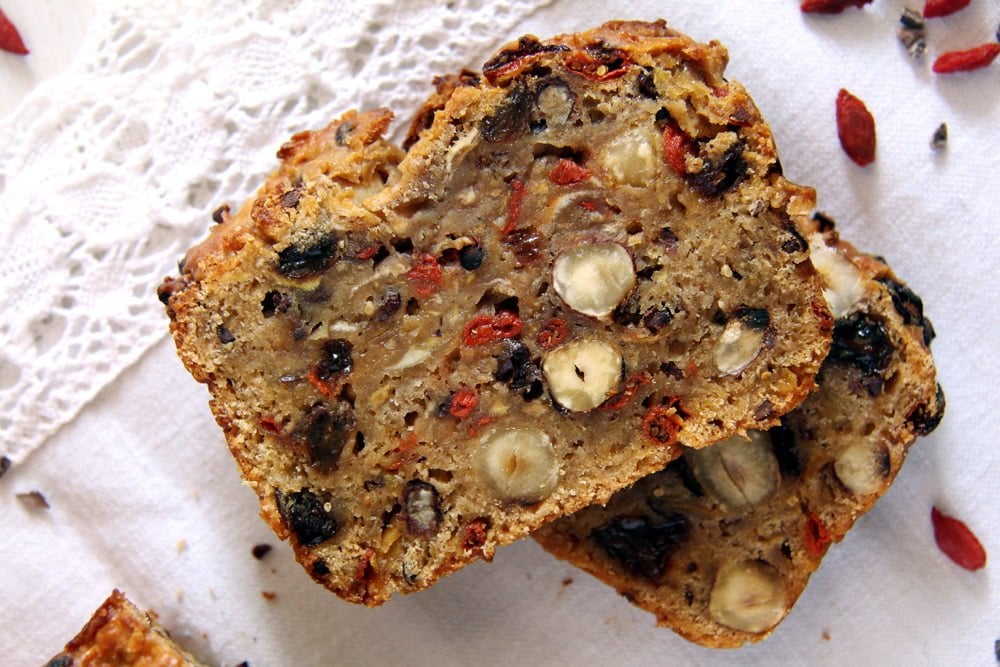 One of the cakes I baked for them, they celebrated together both on Friday (children party) and on Saturday (family party) was this delicious apple cake/bread, a perfect cake for the hot weather, there is no whipped cream or buttercream in it that could go bad due to the heat… 🙂
I was still on holiday when I saw that Nuts.com was having a trail mix contest, I was excited to participate. I wasn't sure I would manage it in time, but I did my best and after trying a few different recipes featuring some of the ingredients I was indicated (hazelnuts, pistachios, pine nuts, macadamia, pepitas, cacao nibs, goji berries and so on) I decided that this cake was my personal winner (although the spaghetti with zucchini, nuts and goji berries was definitely a strong contender). Sweet but not overly so, incredibly moist, full of little delicious things like roasted hazelnuts, goji berries and cacao nibs and so easy to make. Due to the use of the goji berries it even fits in my current Berry Series, so that's great!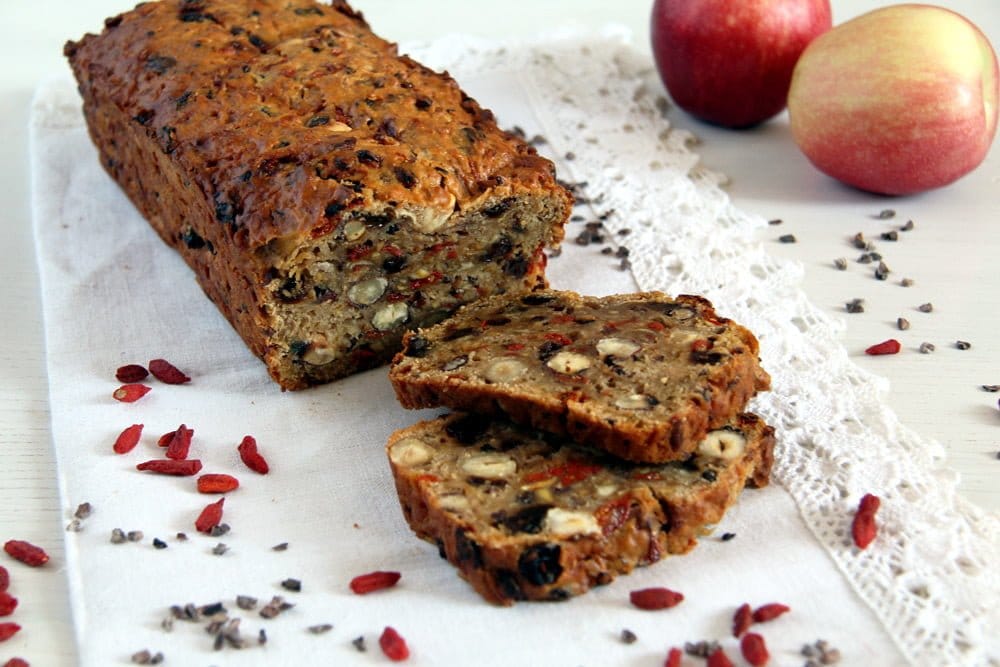 This is a recipe I made a couple of times before using Studentenfutter, which is some kind of German trail mix I suppose, that is a mixture of different kind of nuts and raisins, something my husband and I snack on a regular basis. I have adapted the recipe to include the goji berries and the cacao nibs, which replaced the raw cacao powder I normally take. And what can I say: I like this version even better than the original, the goji berries add some freshness and sourness I couldn't achieve when using only raisins and those cacao nibs were just great. It was the first time I bought and ate some and I am a fan now. I am sure I will buy them on a regular basis now, to add to cakes, müsli or porridge.
So enjoy the cake and keep your fingers crossed for me, maybe I will win this contest and then I will get to enjoy a package of the custom trail mix from Nuts.com. 🙂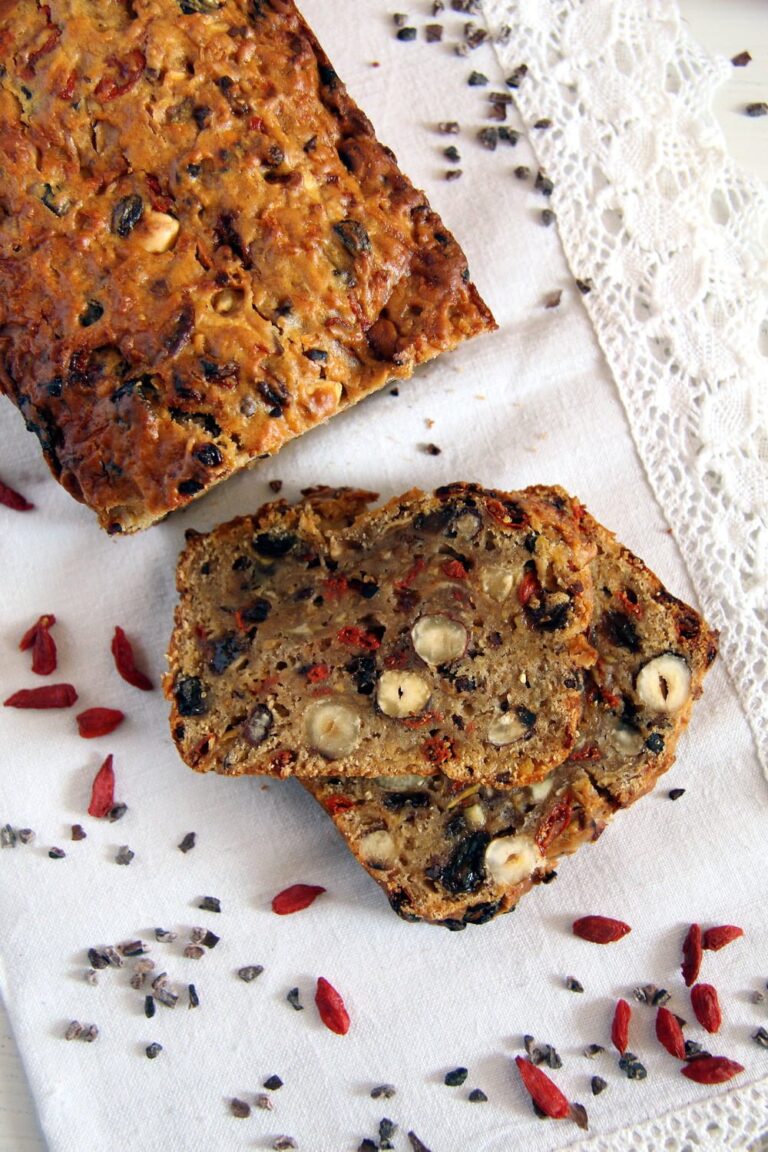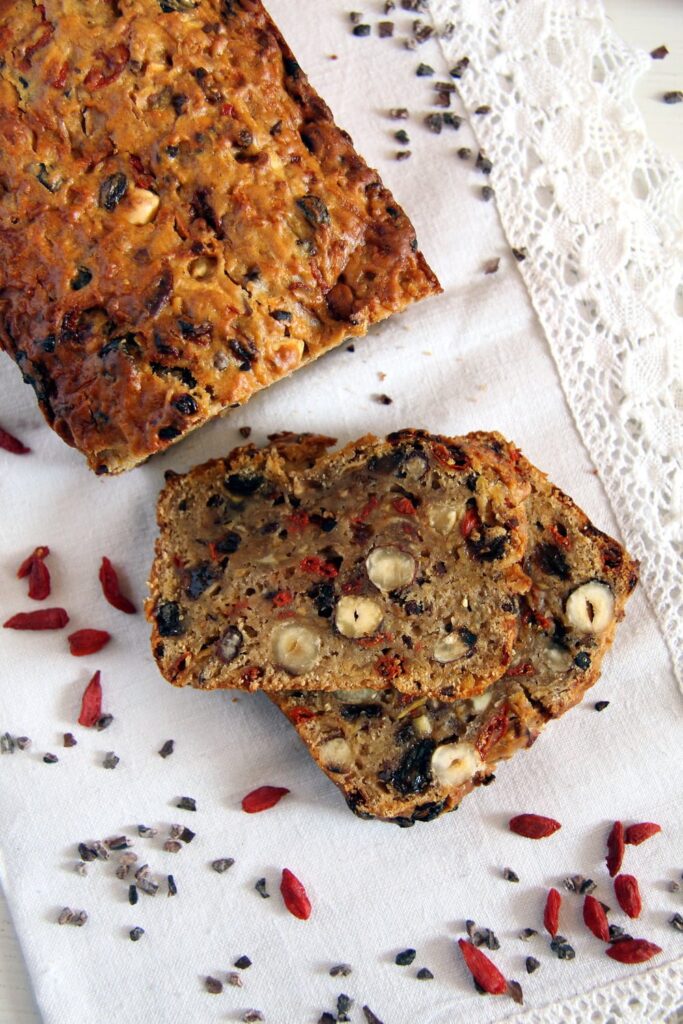 Rating 5.0 from 3 reviews
Prep time:
Cook time:
Total time: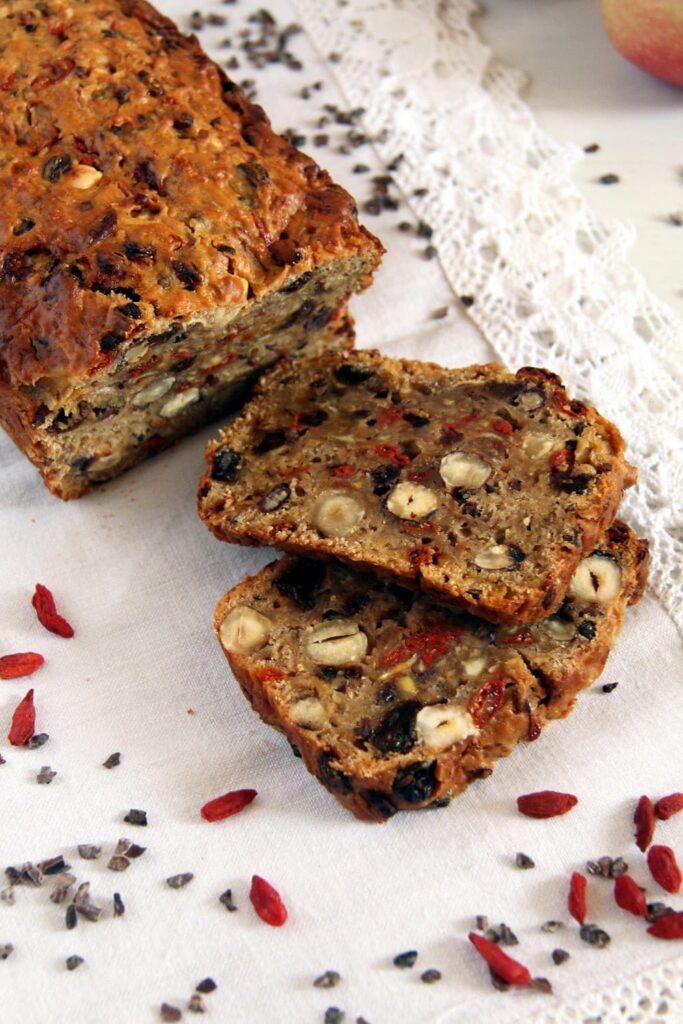 Ingredients
750 g/ 26 oz apples
200 g/ 7 oz hazelnuts
150 g – 200 g/ 5.3 – 7 oz cane sugar, to taste (I like it less sweet)
100 g/ 3.5 oz goji berries
100 g/ 3.5 oz raisins
2 tablespoons cognac or apple juice
3 tablespoons cacao nibs
400 g/ 14 oz white spelt flour (can be substituted with all-purpose flour)
2 teaspoons Dr. Oetker baking powder
1 teaspoon cinnamon
¼ teaspoon ground cardamom
¼ teaspoon ground ginger
1 pinch of mace
1 pinch of ground cloves
Instructions
Core and grate the apples (leave the skin on). Place in a large non-metallic bowl. Roast the hazelnuts in a pan without adding any fat. Keep shaking the pan and remove the nuts to a plate as soon as they are roasted. Leave to cool and remove some of their brown skins by rubbing the nuts between your hands. This is optional, you can leave the skin on if you wish but I prefer to remove it as far as possible, not all of it will come off anyway.
Give the hazelnuts to the apples, together with the sugar, goji berries, raisins and cognac if using any. Mix very well, cover the bowl with foil, place in the fridge and let stand for about 5-6 hours or overnight.
When ready to bake start by preheating the oven to 180 degrees Celsius/ 350 degrees Fahrenheit. Butter a 30 cm/ 12 inch loaf pan.
Mix the flour, the baking powder, cacao nibs and all the spices together. Give this mixture to the apples and mix well with the hand. Give the mixture to the prepared pan and bake for about 1 hour. The cake is very moist, so you will not be able to check for doneness by inserting a skewer in the middle. I always take the cake out of the pan and if the bottom has a nice, rich, golden brown color and the crust feels rather firm I stop the baking process. If not, you could increase the baking time accordingly.
Others you might like: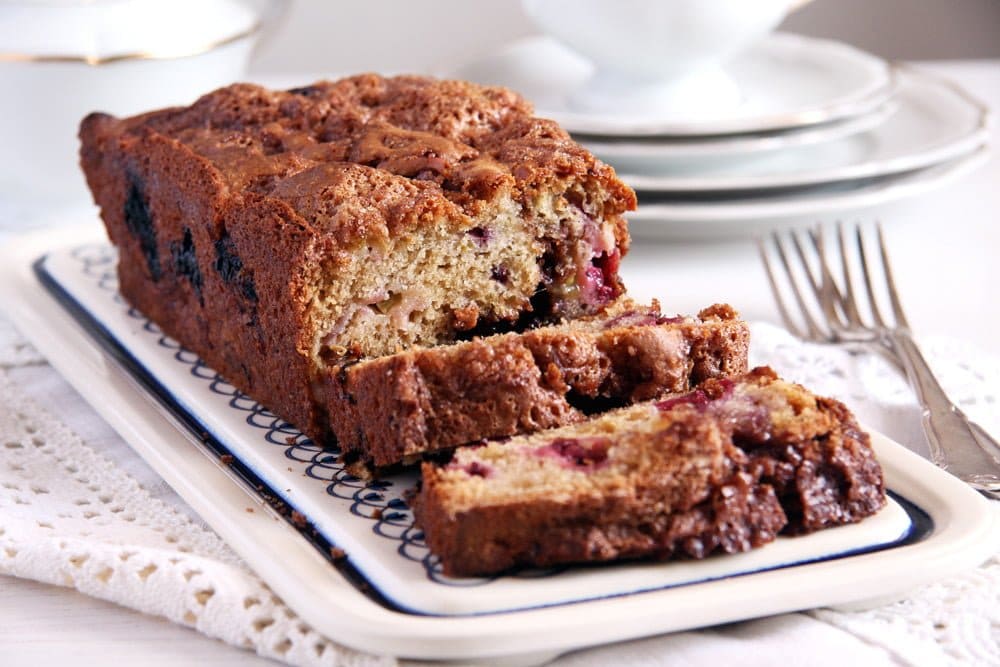 Blackberry Rhubarb Bread
Plum Pull Apart Bread