A vegan banana bread moist and full of flavor, no regular banana bread can be better than this eggless banana bread.
Moist, sweet and wonderful tasting banana bread. Despite being vegan. Not that I have anything against eating vegan, but you should have seen the looks people gave me after hearing about a vegan bread or cake.
I say cake because nobody would call this kind of dessert "bread" in Germany. Breads are savory, made with yeast and anything else is cake.
A mixture of pity and disbelief whilst still trying to remain polite. But after trying the cake there was absolutely no one complaining, everybody took at least a second slice and the cake was gone within the hour, within minutes actually, this eggless banana bread recipe makes too small a portion, if you ask me.
It is definitely worth it baking two loaves, if you are serving more than 3 or 4 people.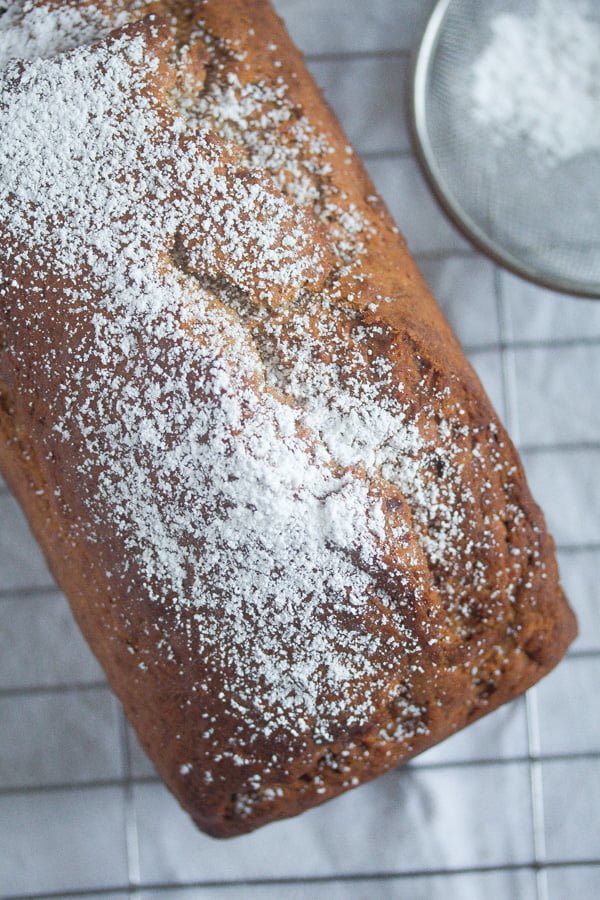 Vegan Banana Bread Recipe
This eggless banana bread was requested by a friend of mine, but I didn't actually think that I would like it much. Not because of it being vegan, but because of it being banana bread.
I had tried making banana bread a couple of times before, but was never impressed by the result. I found the banana taste too domineering (even though I love bananas), plus that the breads were always way too sweet.
But this time it worked. I really really enjoyed eating this and since the first time I've baked it (this recipe for vegan banana bread was first published in 2014), I have baked this vegan bread recipe countless time.
It is my go to banana bread, either when baking for somebody vegan or deciding to make a banana bread because there are some overripe bananas in the fruit basket again. To tell you the truth, I almost always buy too many bananas and let them get overripe just in order to make smoothies or this vegan bread recipe.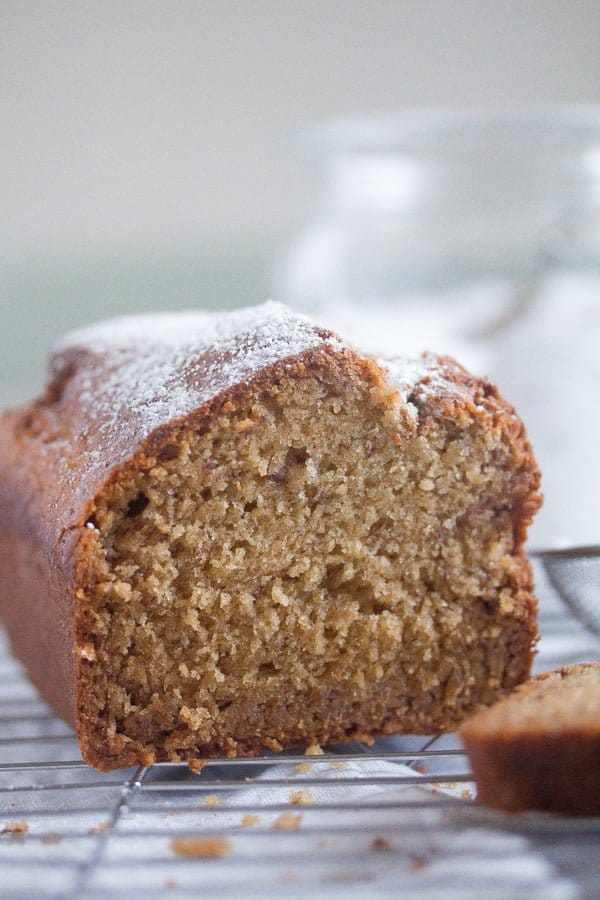 How to make the eggless banana bread
When first making this vegan banana bread I used more sugar. Over the years I reduced the sugar quantity to half. My bananas are always quite dark when I am making this vegan bread thus very very sweet.
When making this eggless banana bread completely vegan, I use almond or soy milk. It works perfectly. However, if you don't care about keeping this banana bread vegan, you don't have to go and buy any extra nut milk (especially if you are not sure that you will be using the rest of it in one way or another afterward).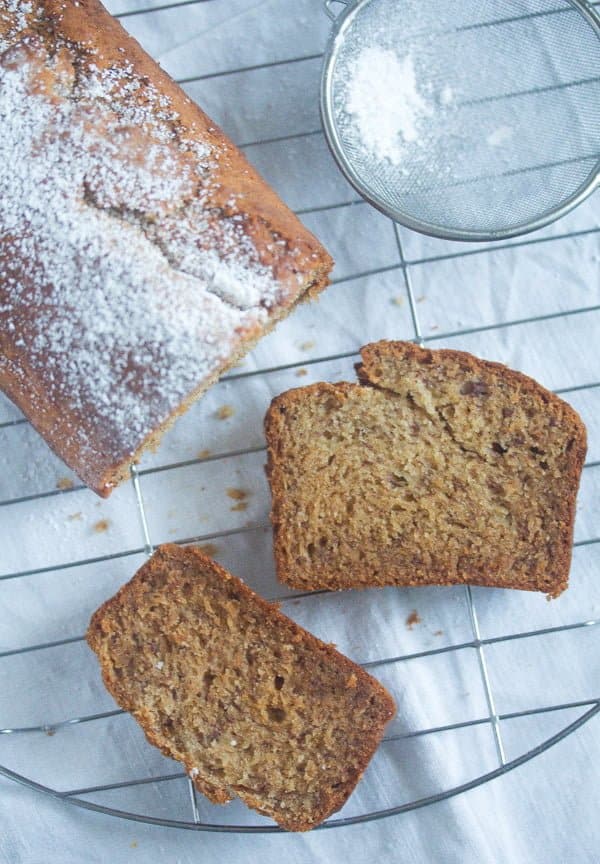 I have made this eggless banana bread countless time with regular milk mixed with a teaspoon of vinegar or with buttermilk. I reckoned that mixed milk and vinegar form some kind of buttermilk anyway, so why not use regular buttermilk, if I already have some in the fridge. It worked perfectly again, so don't worry if all you have is regular milk or buttermilk.
When mashing the bananas all you need is a fork, don't bother using a blender or anything, totally unnecessary.
The coconut oil has to have room temperature, to be soft in order to be able to cream it with the sugar. Make sure it has the right consistency before starting to make the vegan bread.
Otherwise making this vegan banana bread recipe could not be easier. Just mix the ingredients, pour the batter into the baking dish and bake. Check from time to time while baking, not that the crust of the bread becomes too dark. If it threatens to do so, lay a piece of foil loosely on top and bake the eggless banana bread to the end.
I strongly recommend making two loaves of this wonderful banana bread, unless you are only 2 or 3 people having the bread, you might find that one loaf is just not enough. I use small baking tins, only 20 x 10 cm/ 8 x 4 inches and I bake two portions most of the times.
Usually, you would leave this eggless banana bread cool completely on a wire rack before serving it, but I admit that many times we didn't have the patience to wait… I can assure you that a lukewarm (not hot) slice of the vegan banana bread tastes heavenly as well.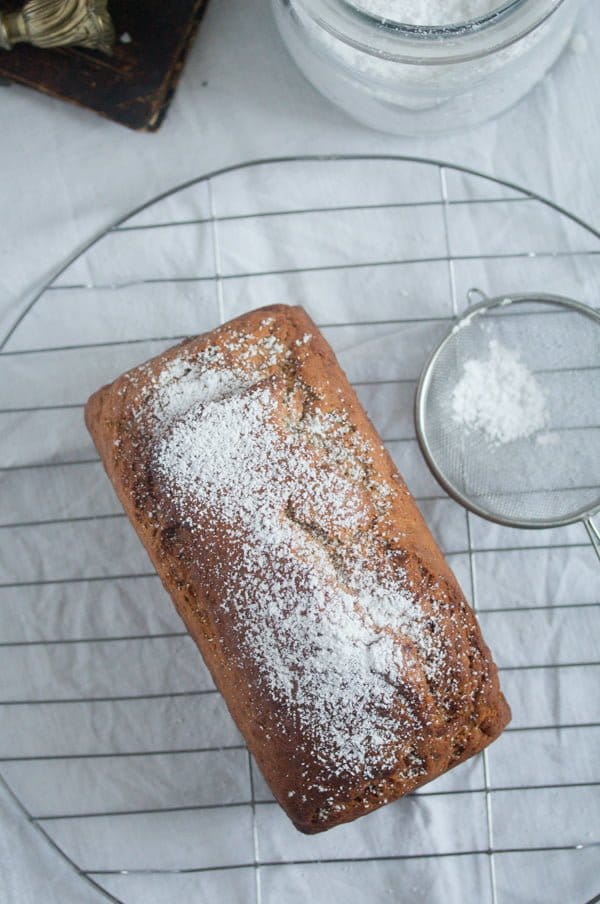 And just in case you are interested in more vegan cakes, have a look at these posts:
Vegan Apple Cake – No Bake Cake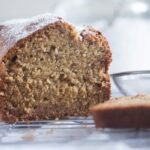 Ingredients
60 ml/ 2 fl.oz/ ¼ cup almond/soy milk (See note)
1 teaspoon vinegar
240 g/ 8.4 oz/ 2 cups all-purpose flour
½ teaspoon baking soda
½ teaspoon salt
¼ teaspoon cinnamon
100 g/ 3.5 oz/ ½ cup coconut oil
45 g/ 1.6 oz/ ¼ cup brown sugar
50 g/ 1.7 oz/ ¼ cup white sugar
3 medium very ripe bananas
1 teaspoon vanilla extract
icing sugar, optional
Instructions
Preheat the oven to 180 degrees Celsius/ 360 degrees Fahrenheit. Line a small loaf pan (20 x 10 cm/ 8 x 4 inch) with parchment paper.
Combine the almond milk and the vinegar and set aside. If using buttermilk, leave the vinegar out.
Combine the flour, baking soda, salt and cinnamon in a large bowl. In another bowl or on a large plate mash the bananas very well using a fork. Set both aside.
Cream together the coconut oil, brown and white sugar. Add the mashed bananas, the vanilla extract and the milk mixture. Mix well, add the flour slowly and incorporate it, taking care not to over mix the batter.
Pour the batter into the prepared tin and bake for about 70 minutes or until a toothpick inserted in the middle of the cake comes out clean. Don't forget to check from time to time, if the crust of the bread starts getting too dark too soon, cover it loosely with a piece of foil.
Leave the vegan banana bread in the tin for about 15 minutes. Remove from the baking dish and let cool completely on a wire rack.
Dust it with icing sugar before serving, if you wish.
Note: Regular milk mixed with 1 teaspoon of vinegar or buttermilk with NO extra vinegar can be used instead.
[nutrition-label id=10977]