Juicy and tender chicken breast with a velvety, sweet and tangy orange sauce. So good!
I have a problem with this orange series: I've cooked 11 different recipes, sweet and savory and I loved each one of them. And that is a problem, because I have now a really hard time in choosing those recipes that I will share with you. There are only 4 posting days left this month, so I really have to decide what to post now and what to leave for some other future occasion. And that is not easy…. I just spent more than half an hour looking at the different pictures and thinking about the recipes, until I chose this one and I am still not entirely sure to have made the right decision, the other chicken with oranges recipe is also soooooo delicious…..
I think the main reason to have chosen this particular chicken recipe and not the other one is the fact that this sauce can be made and enjoyed not only with chicken but also with fish. I know the last recipe was salmon with oranges and that is why I did not bother taking pictures of the salmon with orange sauce plate, but I can assure you this sauce pairs just as good with fish (salmon or another sort) as it does with chicken breast. And although I haven't tried, I am pretty sure you could also serve this sauce to duck breast or pork tenderloin.
And that chicken breast…… Chicken is my favorite kind of meat, I eat it often and I have cooked it in a thousand different ways, but this way of cooking it kind of stands out. It is very very simple and fast, you just cannot go wrong when making it, beside the chicken breast it only requires a few spices and the result is fantastic: the juiciest, best chicken breasts I know. And you can combine it with whatever else you like, different kind of sauces, potatoes or rice or noodles, any veggies you can think of, you can put it in a sandwich when cold or throw it on top of a salad, there are really no limits here.
And what can I say about the oranges, I have always loved them and I have used them in baking or cooking occasionally over the past years. But I was still impressed now, when really trying to find different ways of using them in a relatively short period of time, of their versatility. There is so much you can do with them, the flavor and freshness they bestow upon each dish they are a part of is unbelievable.
You may also like: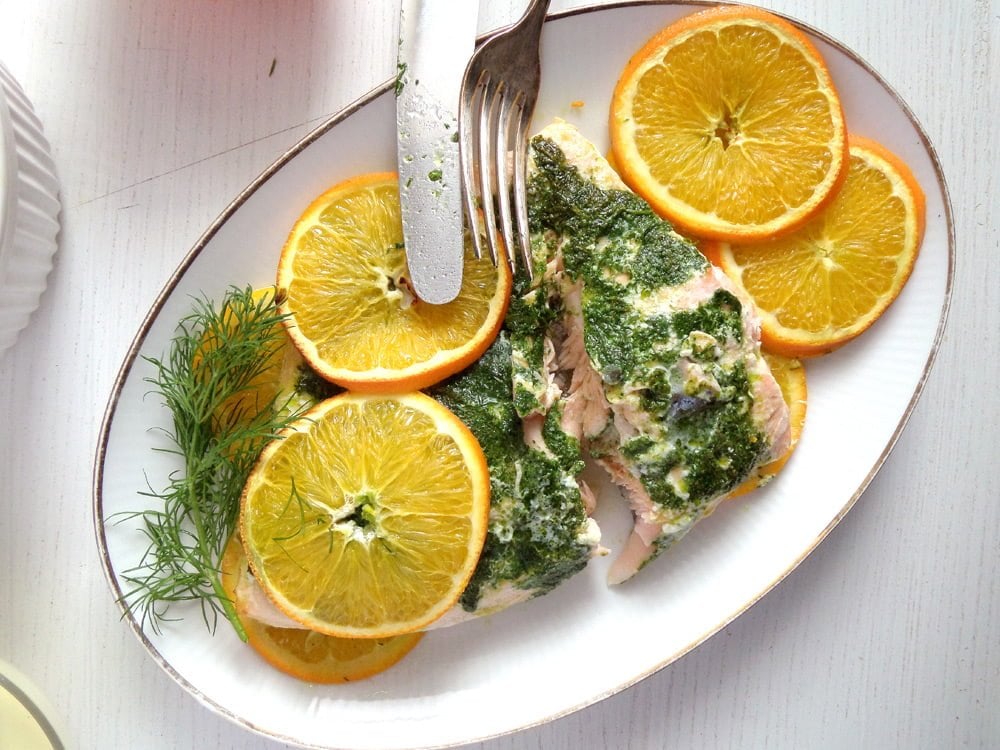 Orange Salmon with Dill and Orange Rice