These roasted rainbow carrots are the perfect side dish for any Thanksgiving or Christmas dinner.
Oven-Roasted Rainbow Carrots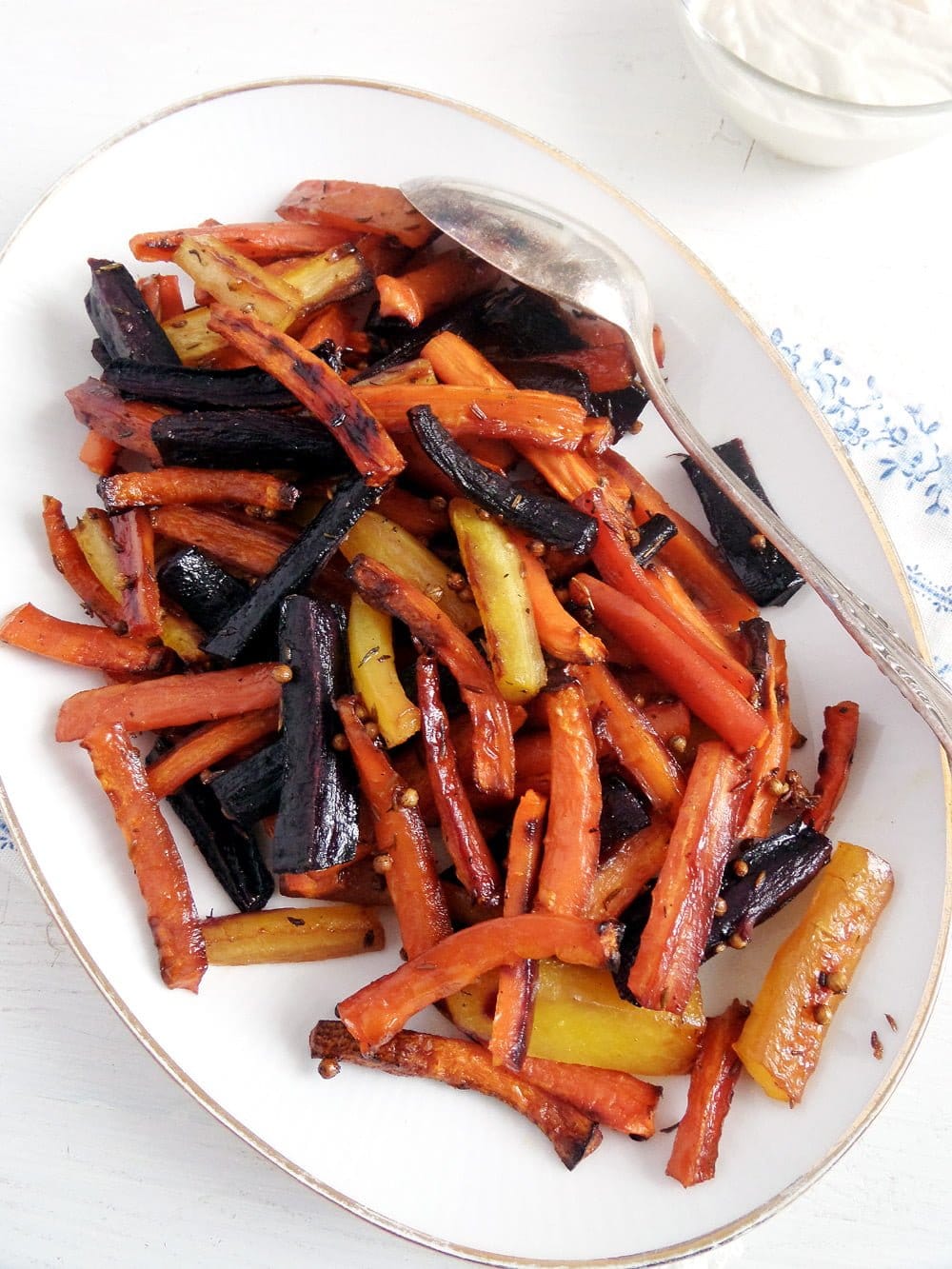 I chose this recipe especially for the wonderfully colored carrots I bought at the market in Kassel a few weeks ago. We visited some friends there and I used this opportunity to go to the farmer's market as well. One of the things I miss most here where I live now is the lack of any farmer's market. I was spoiled with a huge huge market and several smaller ones while growing up in Romania and while living in London and I hate it not being able to go to the market here. So every time we visit a larger city in Germany I research beforehand to be sure to find a farmer's market.
This a Yotam Ottolenghi recipe from his book Plenty More. I am sure I have mentioned it several times before how great I think Ottolenghi's books are. I have cooked so many of his recipes already and have never been disappointed.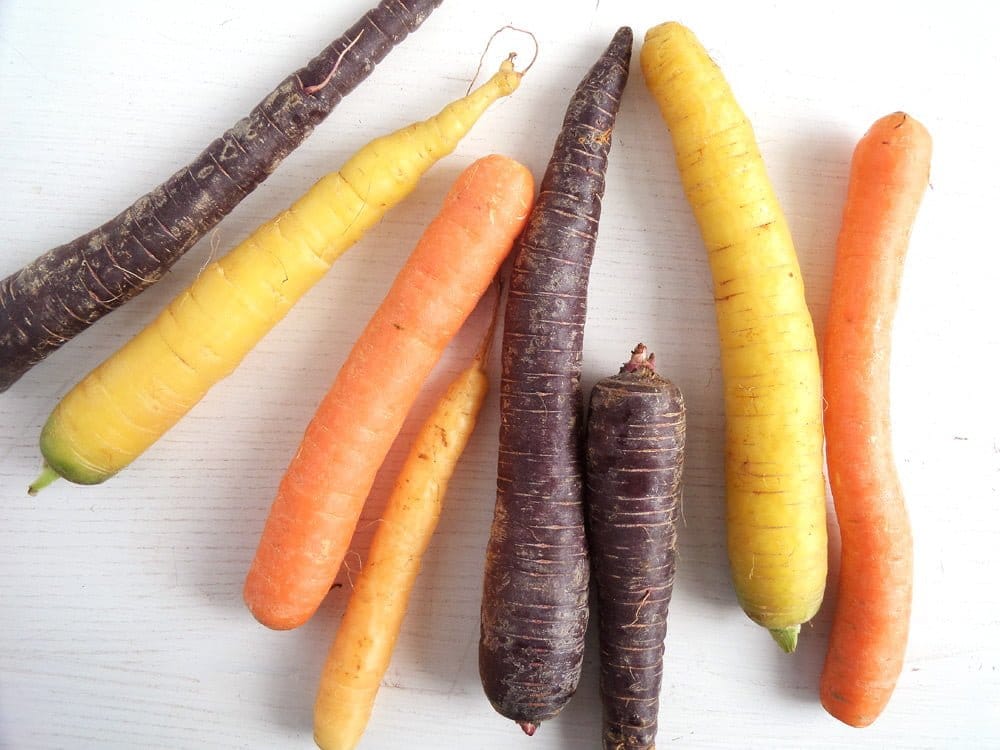 So do make these carrots, either to eat them as a side dish or just as they are, you will love them. I love the liberal use of spices in almost any of Yotam Ottolenghi's recipes. I would not be confident enough to use a whole tablespoon of whole coriander seeds in any recipe, but there is no hesitation whatsoever to do that if Yotam asks me to do so. And these coriander seeds are just amazing, I love to bite on them and taste their full aroma. I completely forgot to toast them and the cumin seeds, I don't know if that would have made the dish any better, I found it perfect the way it was.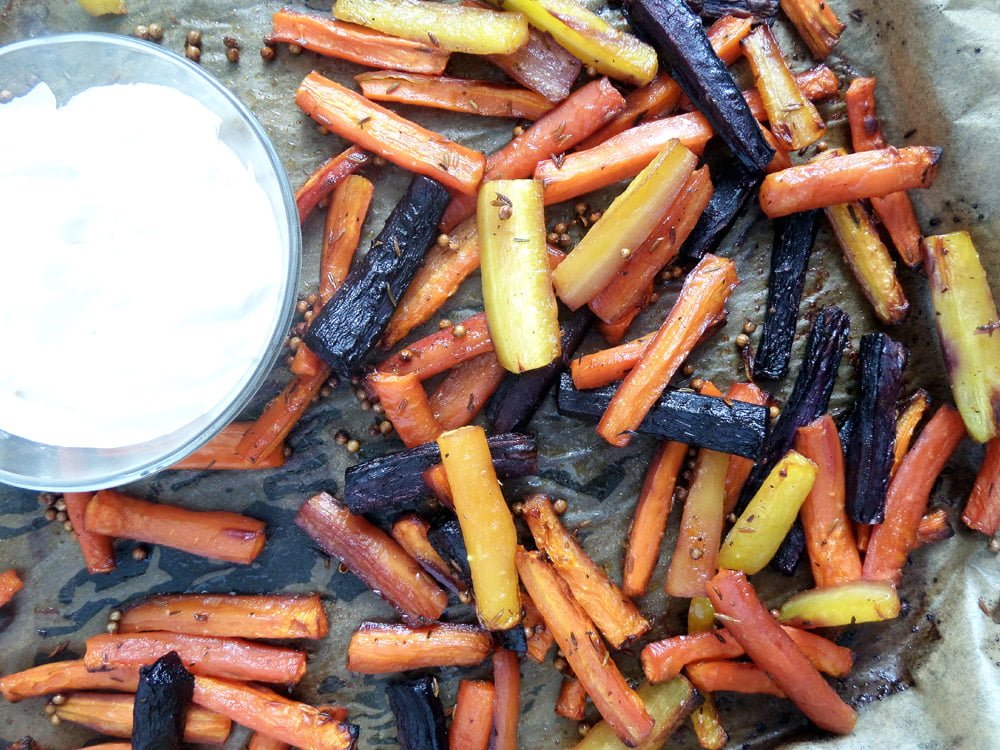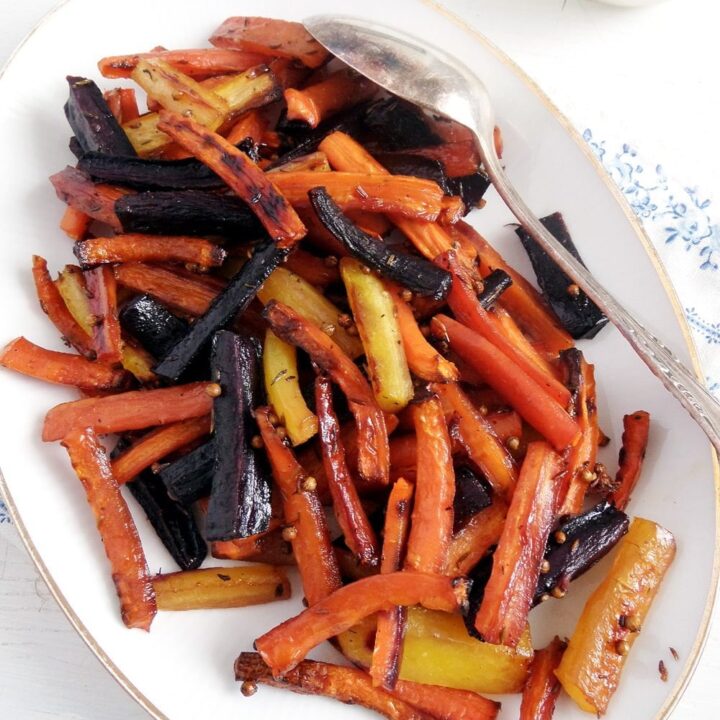 Roasted Rainbow Carrots
These roasted rainbow carrots are the perfect side dish for any Thanksgiving or Christmas dinner.
Ingredients
60 g/ scant 3 tablespoons clear honey
2 tablespoons olive oil
1 tablespoon whole coriander seeds
1 ½ teaspoon cumin seeds
2 thyme sprigs
12 large carrots of different colors
salt and pepper
For the dip:
40 g/ scant 3 tablespoons tahini paste
150 g/ 2/3 cup Greek yogurt
2 tablespoons lemon juice
1 garlic clove
cilantro or parsley to serve
Instructions
Preheat the oven to 225 degrees Celsius/ 425 degrees Fahrenheit.
Toast the cumin and coriander seeds in a pan without fat, while stirring often.
Peel and cut the carrots into 2x6 cm/ ¾-2 ½ inch batons.
Mix the honey, olive oil, coriander and cumin seeds, and thyme in a large bowl and add the carrots. Mix until coated all over, spread on a large baking tray lined with baking paper, and roast for 40 minutes, stirring once or twice in between. The carrots should be glazed and cooked through.
For the yogurt sauce mix the tahini with the yogurt, lemon juice, and grated garlic clove.
Serve the carrots warm or at room temperature with some tahini sauce and some chopped cilantro or parsley on top.
Nutrition Information:
Yield:

4
Serving Size:

1/4 of the dish
Amount Per Serving:
Calories:

255
Total Fat:

14g
Saturated Fat:

2g
Trans Fat:

0g
Unsaturated Fat:

11g
Cholesterol:

2mg
Sodium:

177mg
Carbohydrates:

30g
Fiber:

6g
Sugar:

19g
Protein:

7g
Nutrition information isn't always accurate.