This is my favorite way of enjoying Brussels sprouts: roasted in the oven with olive oil, lots of garlic and sprinkled with Parmesan.
Time for a side dish recipe in my Christmas dinner series: roasted Brussels sprouts Brussels sprouts with garlic and orange juice and sprinkled with some Parmesan just before serving. I love it!
I was in my twenties already the first time that I had Brussels sprouts. I had never seen them in Romania and I have only heard of them in American movies or series where they were one of the vegetables along with broccoli that all kids hated! That made me curious and the first time I saw the sprouts after arriving to Germany I bought them. I cooked them in a simple way, which is boiled them in salted water and serving them with a tiny amount of butter. I could not say I did not like them, but they weren't the hit either.
Afterward I kept eating them regularly at my mother-in-law's house, she usually serves them in a white sauce, which already makes them lots tastier than the plain way. And with time I got hooked. I kept buying them and cooking them not only as a side dish, but most of the time making a thick and cheesy vegetable stew or adding them to soups, salads and stir-fries. They are quite versatile these tiny cabbages. 🙂
However, about two years ago, I found a new way of enjoying Brussels sprouts and when it comes to sprout side dishes, this has been the only way of having them ever since. Let me assure you that boiled Brussels sprouts cannot even compare to this roasted version! This whole sprout mushiness (and old sock smell filling your house) so easily "achieved" when boiling them, is completely gone when the sprouts are baked, they remain "al dente", are quite crunchy and I just love those tiny burnt bits here and there. The addition of other ingredients like garlic and Parmesan, lemon or orange juice, different herbs and spices makes them even tastier and really versatile, you can choose whatever fits the other dishes you are serving them with, you can make them hot or salty, sweet or sour, just let your taste and mood guide you.
Rating 5.0 from 1 reviews
Prep time:
Cook time:
Total time:
This is my favorite way of enjoying Brussels sprouts: roasted in the oven with olive oil, lots of garlic and sprinkled with Parmesan.
Ingredients
750 g/ 27 oz Brussels sprouts
2 tablespoons olive oil
2-4 garlic cloves, to taste
3 tablespoons fresh orange juice
freshly grated Parmesan
1 orange to garnish
salt
Instructions
Preheat the oven to 200 degrees Celsius/ 400 degrees Fahrenheit. Line a baking tray with baking paper.
In the meantime clean your sprouts and halve them if too large. Place them on the prepared tray, add the olive oil, grated garlic, orange juice and some salt. Rub well with your hands.
Bake for about 20 minutes or until they are cooked to your liking, but still al dente, and there are tiny burnt bits to be seen here and there.
Sprinkle them with the freshly grated Parmesan and serve immediately with orange wedges.
Other Christmas side dishes you might like: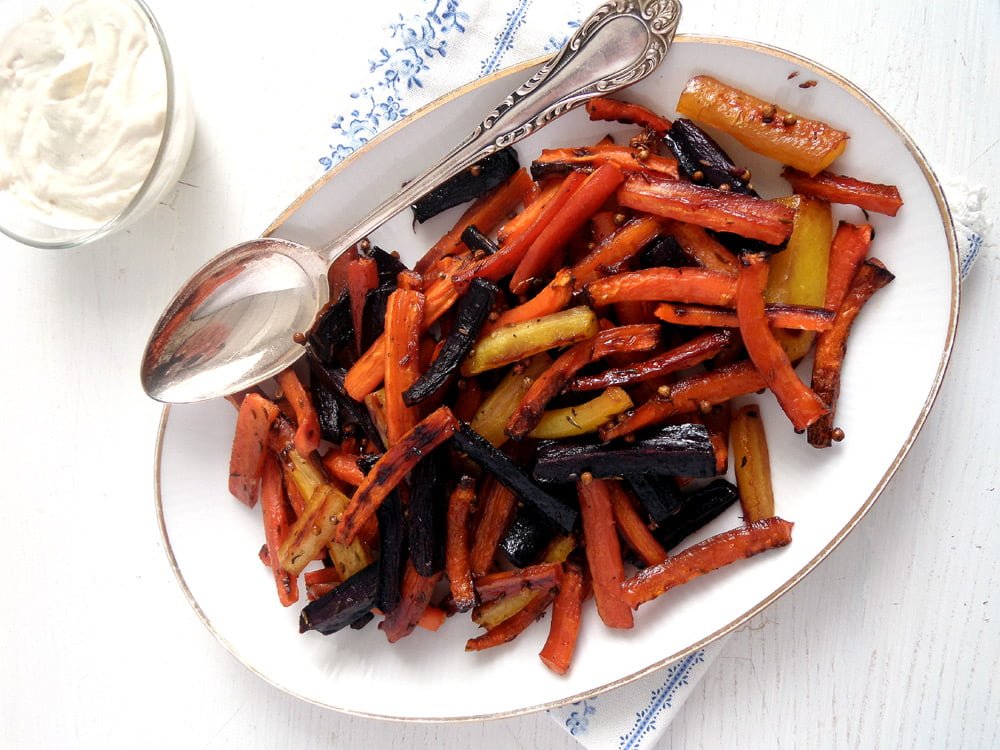 Honey Glazed Carrots with Tahini Dip
German Red Cabbage
Healthy Green Bean Casserole