Soothing ginger turmeric tea with lemon and black pepper. Healing, warming and comforting tea full of benefits.
GOLDEN TURMERIC TEA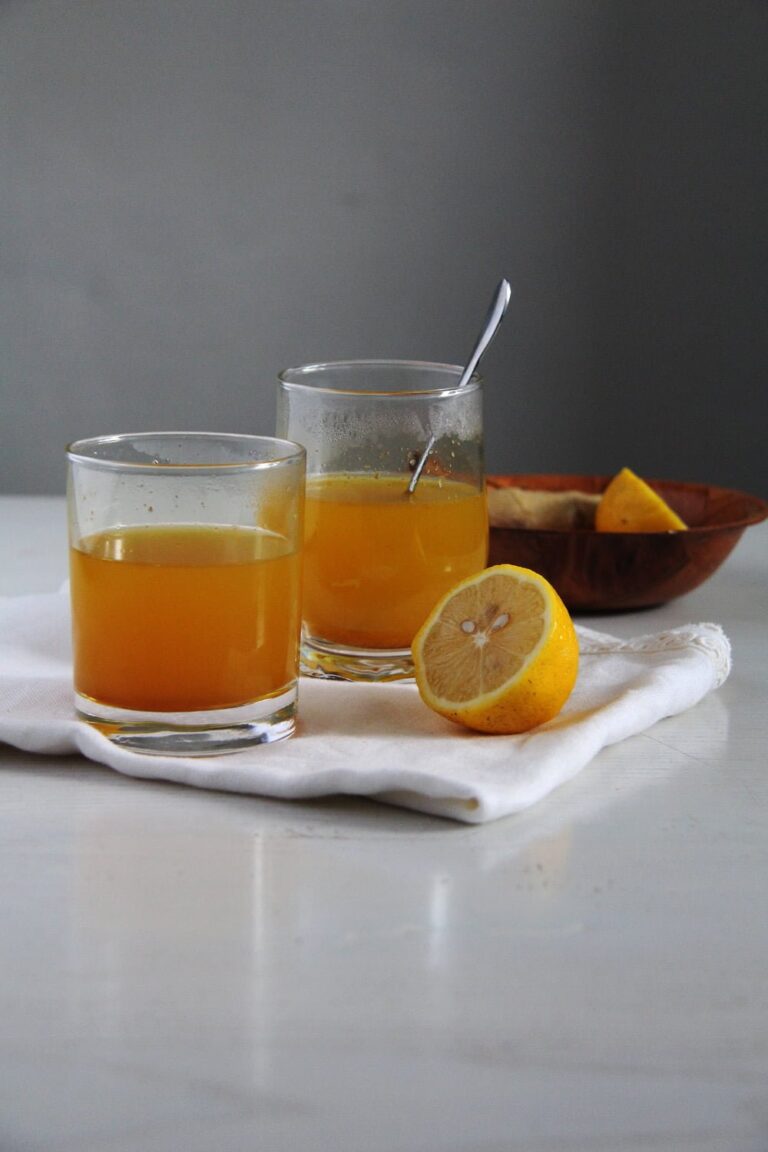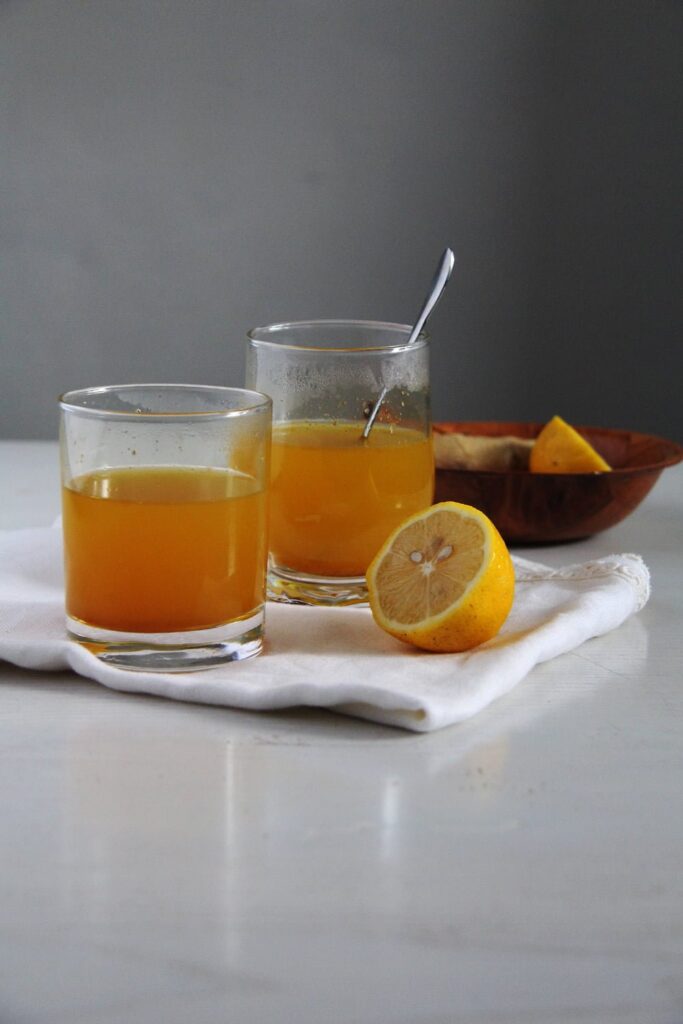 Incredible golden tea made with fresh turmeric, ginger, black pepper, honey and lemon and so soothing for my sore throat.
Last night my throat started to ache and it got worse and worse during the night. As I didn't have any turmeric paste for golden milk in the fridge anymore, I googled for some other remedy and read that turmeric tea with ginger and honey is great against sore throat.
I immediately made such tea and what a revelation that was! Best tea I've ever had!!!! No kidding!
And the sore throat actually got better after sipping on this tea all day long. It's not completely gone (that would be a miracle), but it is better, at least I can swallow normally without screwing my face in pain as I did in the morning.
You definitely have to try this! You will love its aroma, the sweet and lemony taste, and that surprising peppery kick. Not to mention that beautiful orange color. The ginger turmeric tea will be very dark orange at first, but once you add just a little lemon juice, the tea will brighten up and will look like liquid gold!
The recipe makes 1 large mug of tea, but feel free to make as much as you want. I usually make about 3-4 cups and keep the tea in the Thermos bottle.
I didn't follow a certain recipe, I just read about the way of making this tea and made my own concoction.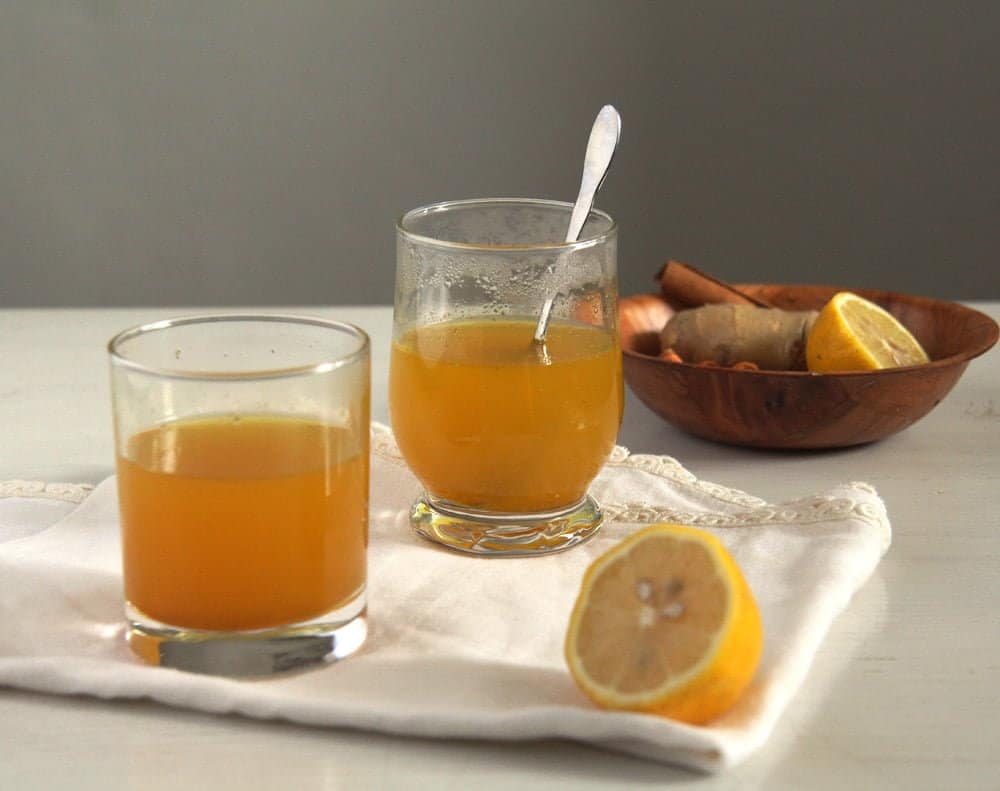 GINGER TURMERIC TEA BENEFITS
Turmeric:
It contains curcumin which is a strong antioxidant and is anti-inflammatory. Some studies even suggest that curcumin's anti-inflammatory properties are as effective as some anti-inflammatory drugs but without the side effects. (source)
It is also assumed that turmeric lowers the risk of brain disease, heart disease or cancer.
Ginger:
Ginger is also a strong antioxidant and it is anti-inflammatory.
It is known to aid digestion and relieve nausea (I've been drinking gallons of ginger tea during both my pregnancies), it helps ease a cold or the flu, it can relieve pain during menstruation, helps reduce the risk of heart disease and cancer.
Black pepper:
The curcumin in turmeric is so good for us, but it is rather poorly absorbed into the bloodstream. To help with that process, you should always add some black pepper to your turmeric drinks or dishes. Black pepper enhances the absorption of curcumin by 2000%.
Honey:
Honey is one of the best remedies for soar throat.
Lemon:
It contains lots of Vitamin C, which boosts the immune system and helps with any cold.
Cinnamon:
Cinnamon is also an antioxidant and helps fight infections.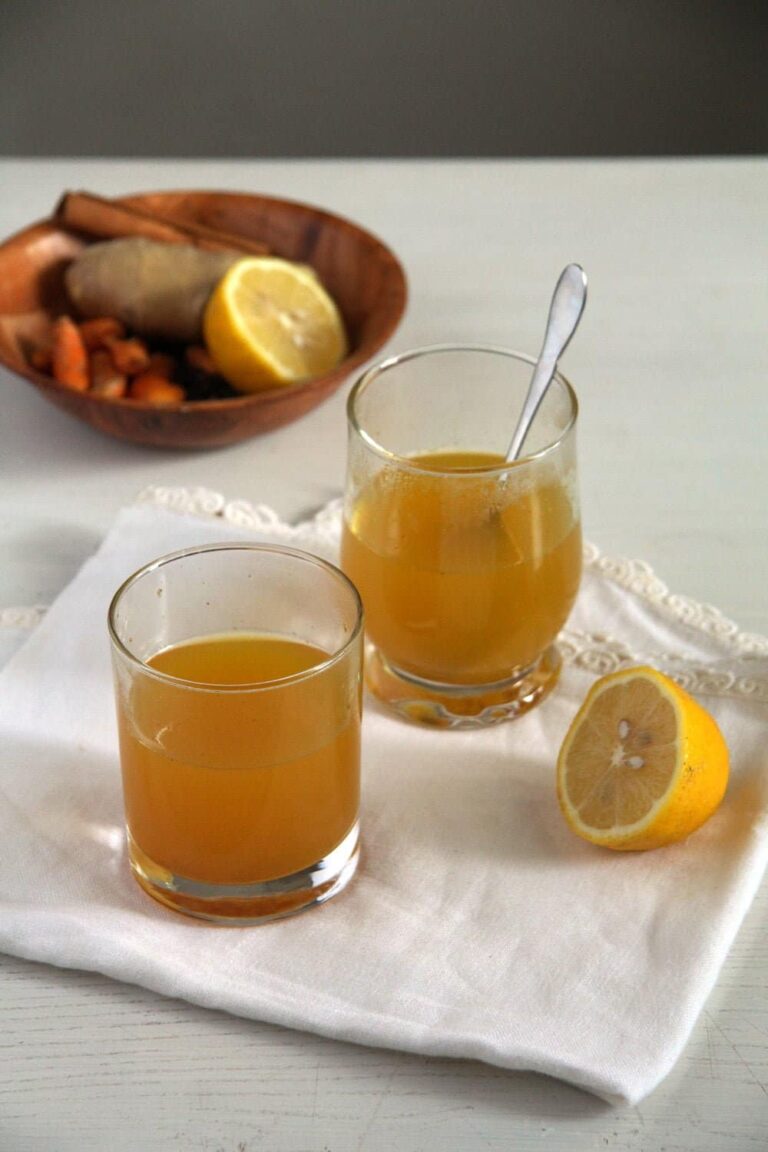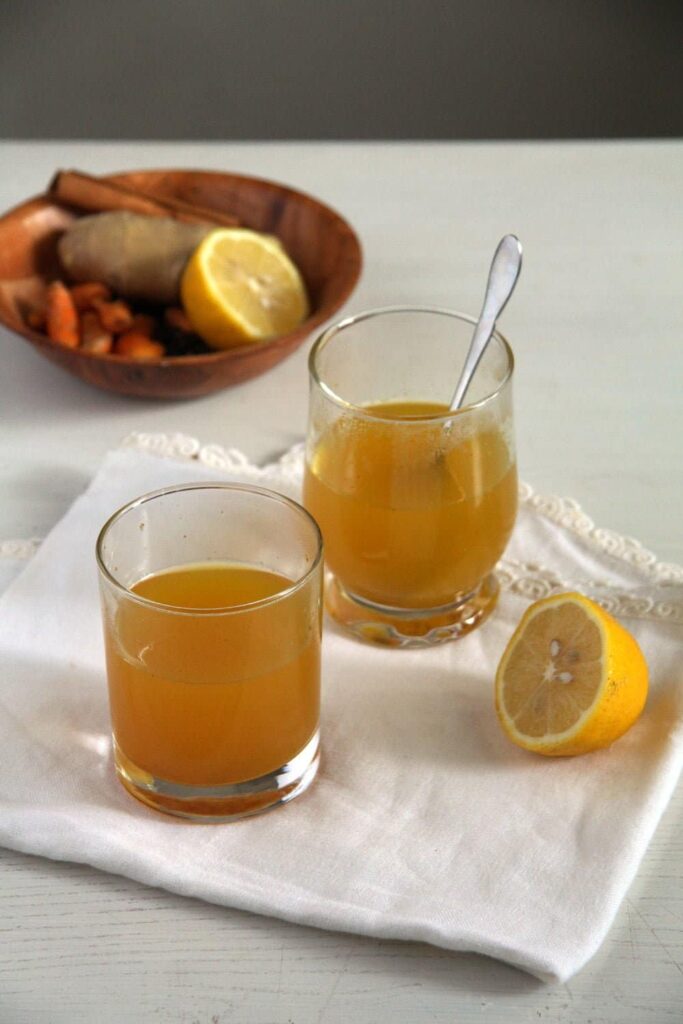 HOW TO REPLACE FRESH TURMERIC WITH GROUND TURMERIC?
Turmeric is a ginger-like rhizome. It is bright orange and stains everything, you might think about wearing gloves when preparing fresh turmeric.
You might find it in some supermarkets, but it is not that easy to find. At least not that easy as it is to find ground turmeric.
When replacing the fresh turmeric with ground turmeric, you should use about a third of the needed amount of fresh turmeric.
So, in this recipe, you will need a piece of fresh turmeric about as long and thick as your little finger. I replace that with about ¾ teaspoon ground turmeric.
MORE TURMERIC RECIPES
TURMERIC PASTE FOR GOLDEN MILK - How to make turmeric paste to stir in your Golden Milk.
SPICY MEATBALL CURRY - A spicy meatball curry with turkey meatballs, turmeric and lots of other spices:
TURMERIC HUMMUS - A great hummus made with turmeric paste, tahini, and pretty much garlic.
APPLE TURMERIC SMOOTHIE - How about starting your day with this delicious and super healthy Apple Orange Turmeric Paste Smoothie?
PUMPKIN TURKEY CURRY - An easy to make, healthy curry recipe with Hokkaido pumpkin or butternut squash, turkey and a creamy and spicy coconut milk sauce.
PIN IT FOR LATER!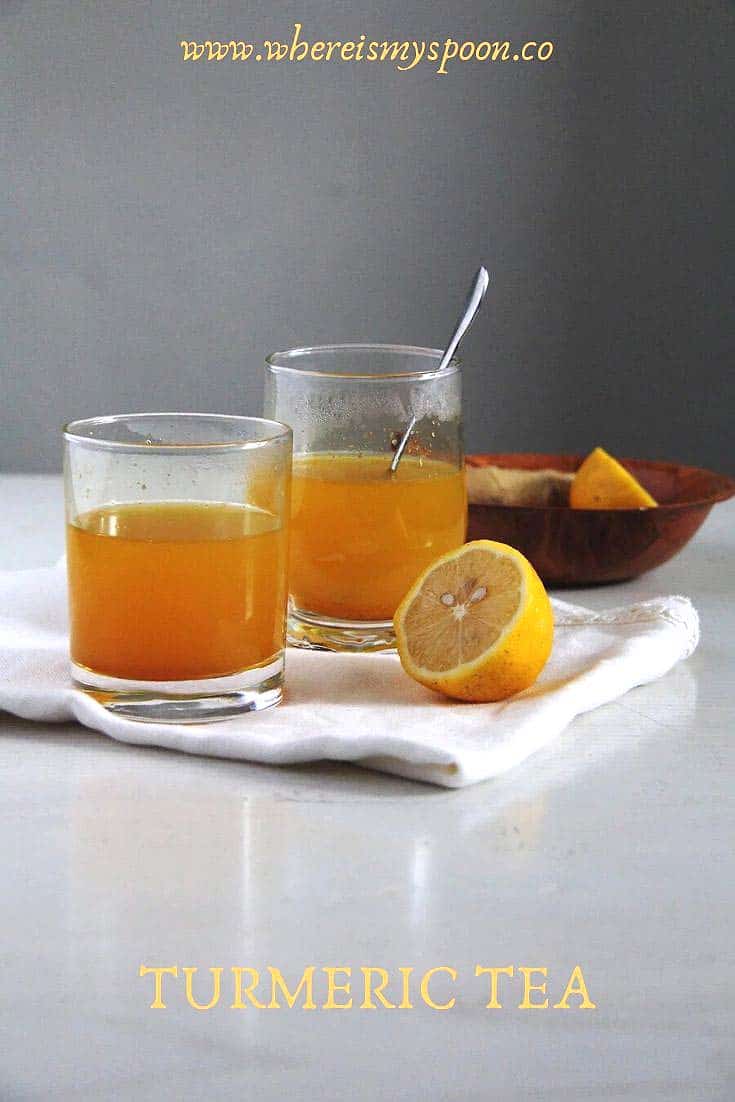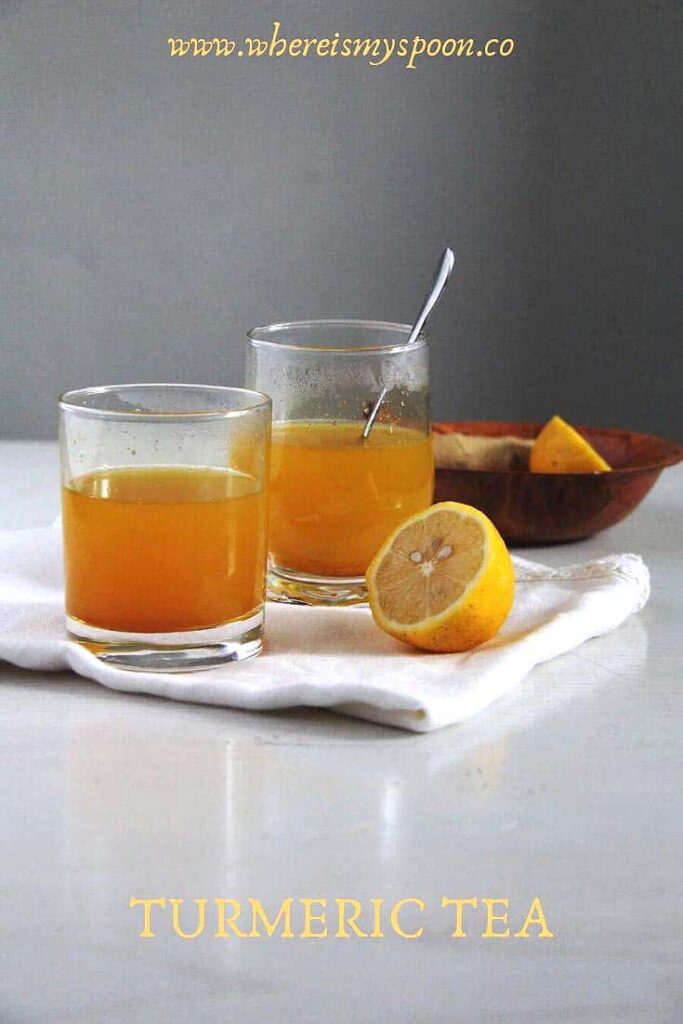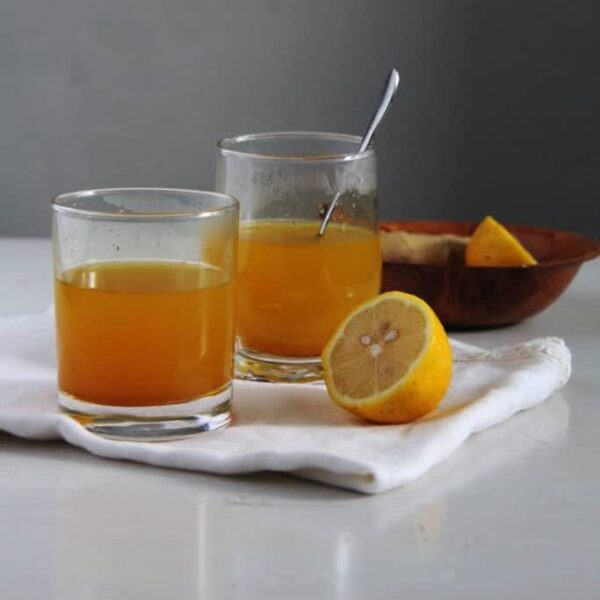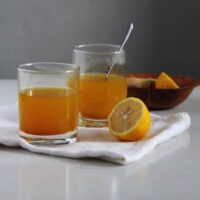 Ginger Turmeric Tea - Golden Tea
Soothing ginger turmeric tea with lemon and black pepper. Healing, warming, and comforting tea full of benefits.
Print
Pin
Share
Grow
Saved!
Rate
Ingredients
1

piece

of fresh turmeric

as long and thick as your little finger or ¾ teaspoon ground turmeric

1

piece

fresh ginger

about as large as half of your thumb

1

pinch

cinnamon

a few grindings of black pepper

1

teaspoon

honey

1

teaspoon

fresh lemon juice

to taste

1

cup

water

250 ml
Instructions
Boil water: Measure the water in a large mug, pour it into a small pan, and bring it to a boil.

Slice: In the meantime, slice the turmeric and the ginger into thin slices.

Simmer: Turn the heat down and add the turmeric, ginger, cinnamon, and pepper to the pot. Simmer gently for 4-5 minutes.

Sieve the tea through a fine-mesh sieve back into the mug, add honey and fresh lemon juice to taste. Stir well and enjoy it.
Nutrition
Serving:
1
cup
|
Calories:
45
kcal
|
Carbohydrates:
11
g
|
Protein:
1
g
|
Sodium:
12
mg
|
Fiber:
1
g
|
Sugar:
6
g