A quick, vegan recipe for sweet and sour tofu with broccoli and sesame seeds. Serve over any kind of noodles or rice.
BROCCOLI TOFU STIR FRY
Another quite healthy dish, perfect for a January lunch or dinner, very easy and quick to make: broccoli florets and tofu cubes in a sweet and sour sauce, a very tasty vegan dish, which you can make as hot as you want by adding more chilies or chili flakes.
I have a soft spot for dishes made with pantry/freezer ingredients.
I like shopping for food but it is often the case that although I only need a few fresh ingredients or one or two missing things, I end up spending way too much on things I don't immediately need and which usually find their way directly to the pantry/cellar/freezer.
All of these places are overcrowded most of the time, so I am always happy to find recipes that allow me to use several of these stacked goods in one go.
This sweet and sour tofu with broccoli is one of those recipes.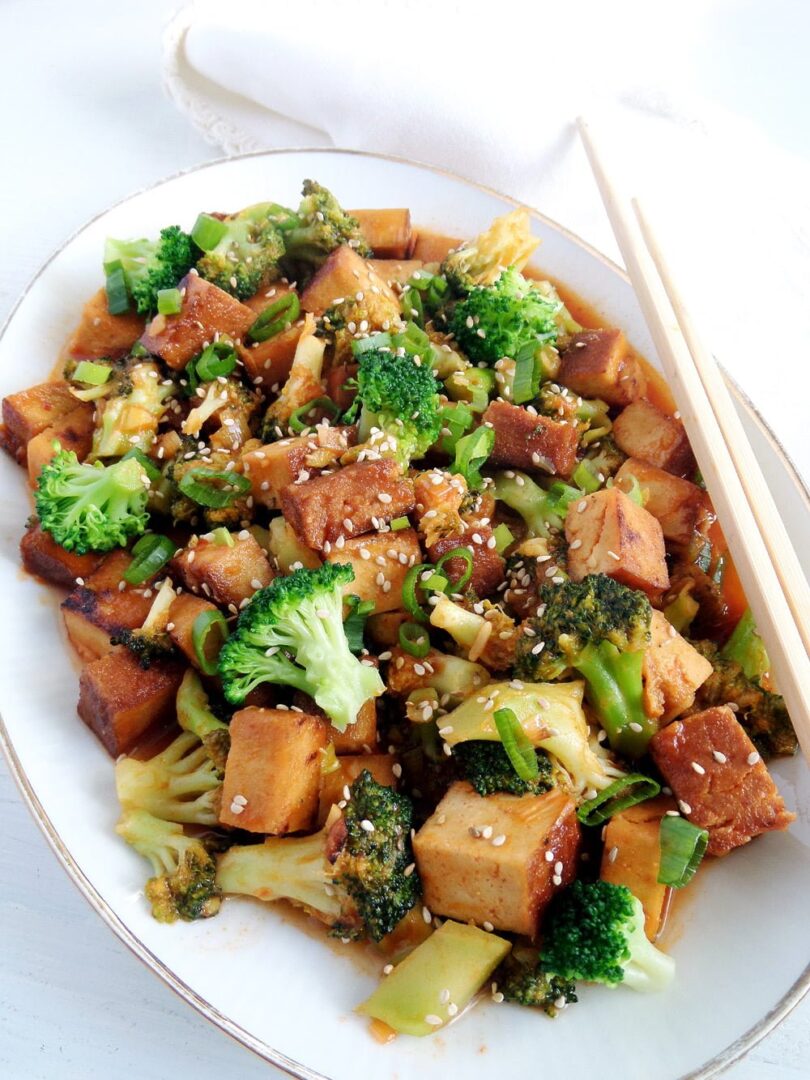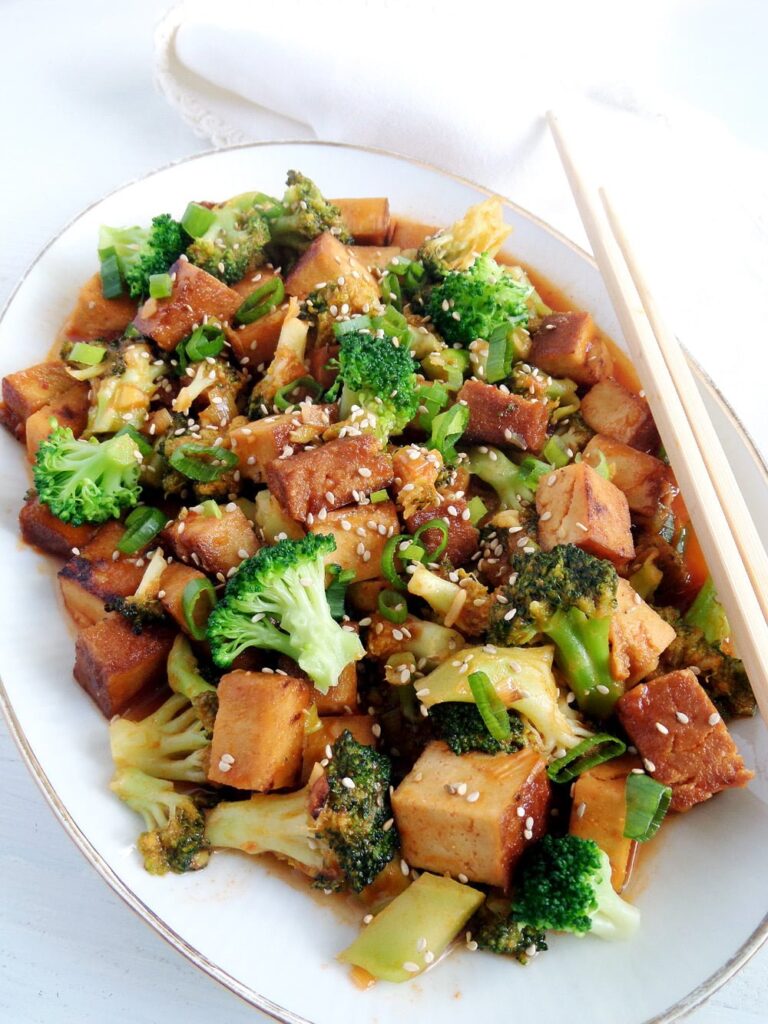 INGREDIENTS FOR SWEET SOUR TOFU
Tofu:
Although we are not vegan or vegetarian, we try to eat that way most days of the week and we love tofu, so I have at least one package of tofu in the fridge most of the time. Well, I happen to have three right now: plain, smoked and almond tofu.
I pan fry it or bake it and use it for sandwiches, add it to salads, I make stir-fries or I add some to soups.
Tofu might be pretty neutral in taste, but it is like a sponge for other flavors. Although I do love pure smoked tofu, pan-fried and sprinkled with some salt and pepper...
But otherwise, I always take the time to marinate the tofu or at least make sure that it is covered in a good sauce.
Sauce:
Like this sweet and sour sauce. A hot, sweet and sour mixture of ingredients, a Chinese inspired one.
All you have to do is to mix the sauce ingredients together, add it to the almost finished broccoli tofu stir fry and coat the ingredients with it. So good!!!
What you need for the sauce:
Tomato paste – thick tomato paste, not tomato sauce.
Ketchup – to make the sauce slightly sweeter
Light soy sauce
Rice vinegar – it can be replaced with the same amount of white wine or apple cider vinegar + ½ teaspoon sugar.
Hoisin sauce
Chili sauce – I use Sriracha or Sambal oelek, I am not very particular about it. Whatever I happen to have in the fridge.
Sesame oil – you will only need a small amount, as sesame oil has a very strong flavor.
Sugar
Chili – use to taste, you can make this dish as hot as you like. I normally use red chili flakes (often Korean chili flakes, because I bought a huge bag last year and half of it is still full...).
The list of ingredients might seem long as it is often the case with Asian recipes. But they are all ingredients that are pretty much available everywhere (even here in the super rural part of Germany where I live).
And they are all cheap ingredients, with a very long shelf life.
What else do you need?
Broccoli – one broccoli weighs about 500 g/ 1 lb in Germany. I tend to use the florets to make this broccoli and tofu stir fry and keep the stem for making soup. But nicely chopped broccoli stems are perfectly delicious as well, they will just not look as nice as broccoli florets.
Garlic
Fresh ginger
Scallions/green onions
Sesame seeds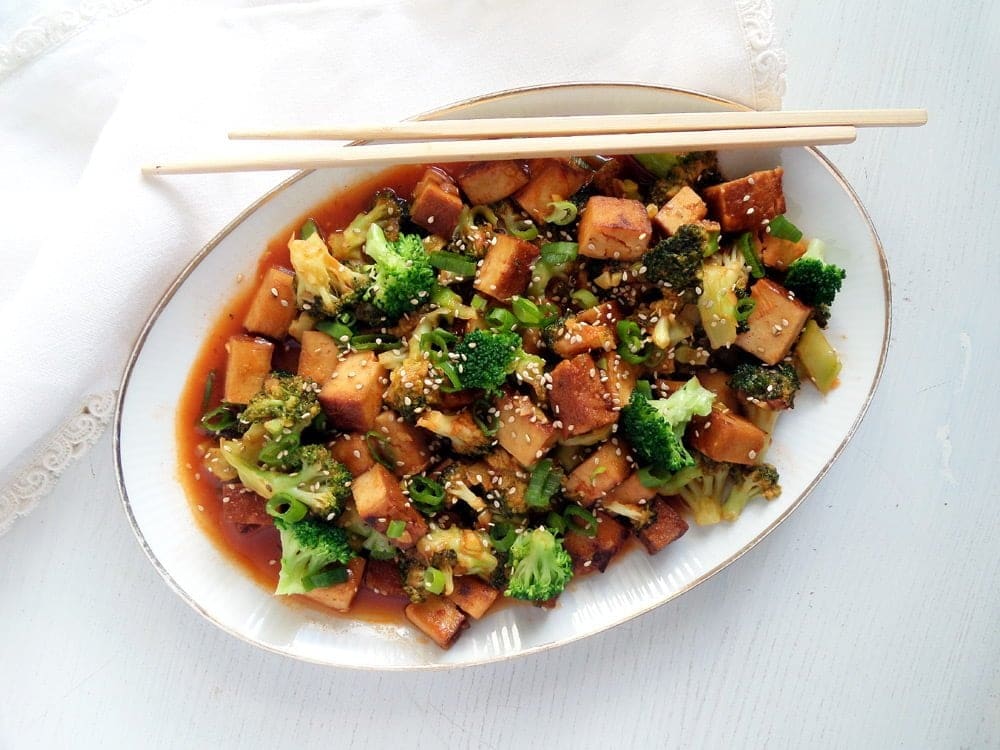 TIPS FOR MAKING A GOOD STIR FRY
Make sure that all the ingredients are prepared before you start cooking. Making a stir fry is all about quickly frying a list of ingredients, and you don't want to overcook one ingredient because you are not finished with chopping the next one.
Before you start cooking:
Bring a large pot of water to a boil and blanch the broccoli florets for about 2 minutes. They should remain very crunchy, so don't cook them any longer. Drain, let some cold water run over the broccoli, it helps the broccoli retain its bright green color. Drain very well again.
It is recommendable to pat the broccoli dry with some kitchen paper. An excess of water might make the sauce watery, so I actually always take one minute to pat dry the broccoli.
Press the tofu with kitchen paper to remove as much water as possible. Cube the tofu.
Mix the ingredients for the sauce in a small bowl.
Finely chop the garlic and the ginger. Finely slice the green onions.
Now you can heat the vegetable oil in a wok or a large pan and stir fry the ingredients.
HOW TO SERVE?
Serve the sweet and sour tofu immediately.
You can reheat the leftovers and they will still taste good, but a stir-fry should not be cooked in advance.
Serve over rice or any kind of Chinese noodles.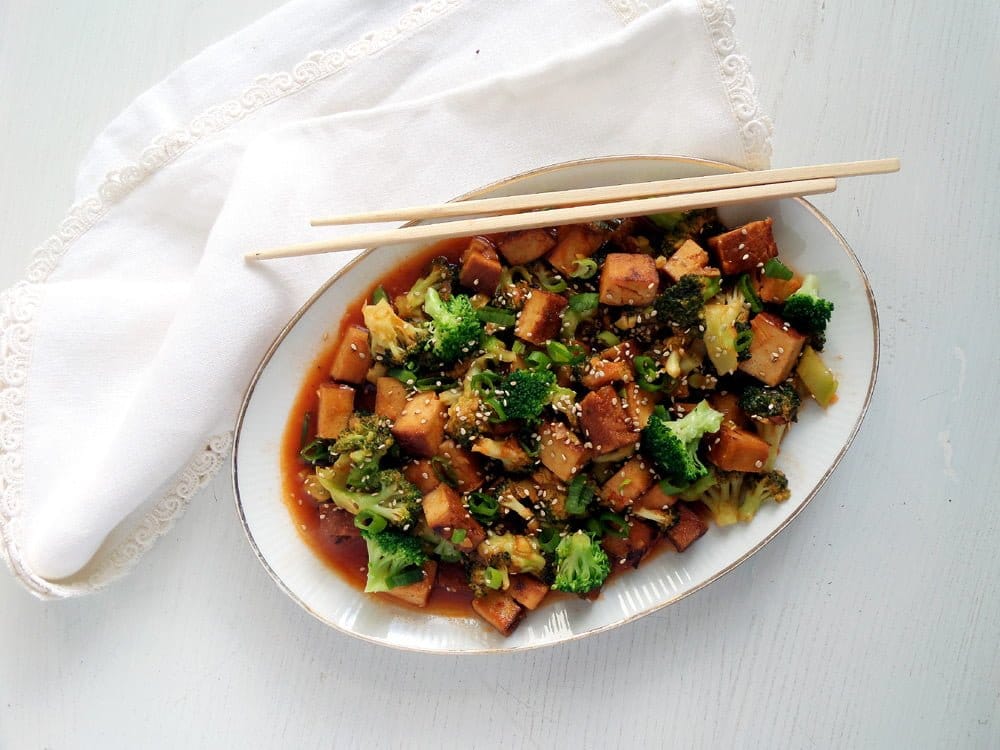 MORE TOFU RECIPES?
VEGAN POTATO CURRY WITH TOFU - An easy and quick vegan recipe for potato curry with tofu and peas.
SILKEN TOFU TAHINI SPREAD - Velvety, soft silken tofu spread with tahini, a vegan delight that even meat-eaters will love.
SOBA NOODLES TOFU SOUP - Quick, vegan soup with noodles, tofu, kale, and carrots to keep you warm on a rainy day.
PIN IT FOR LATER!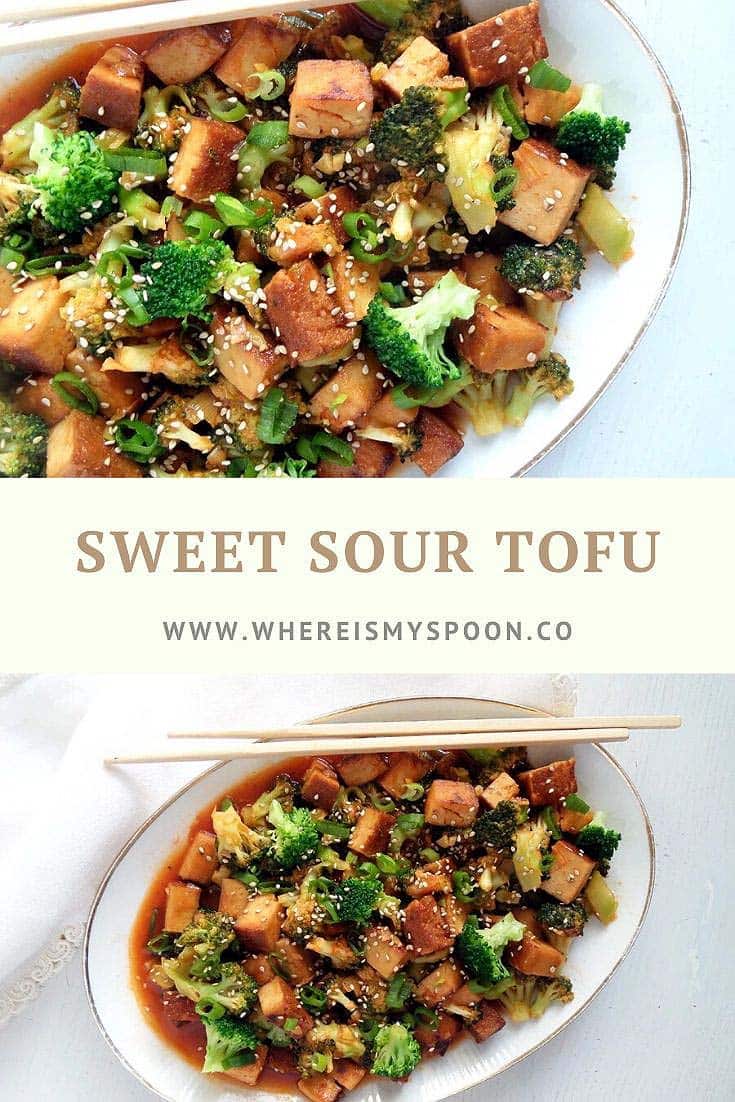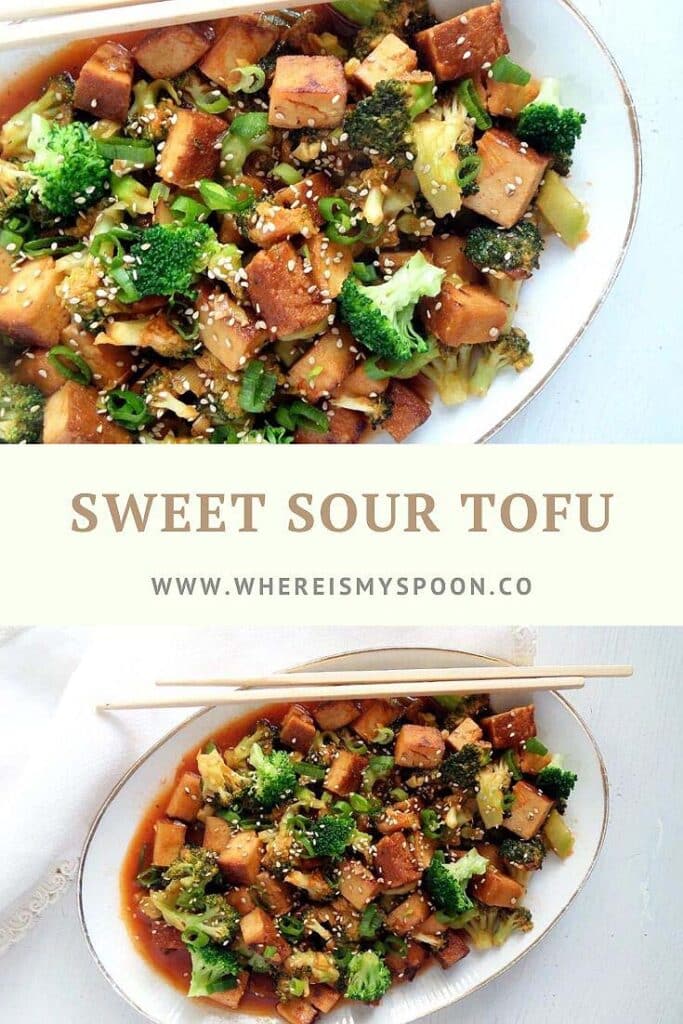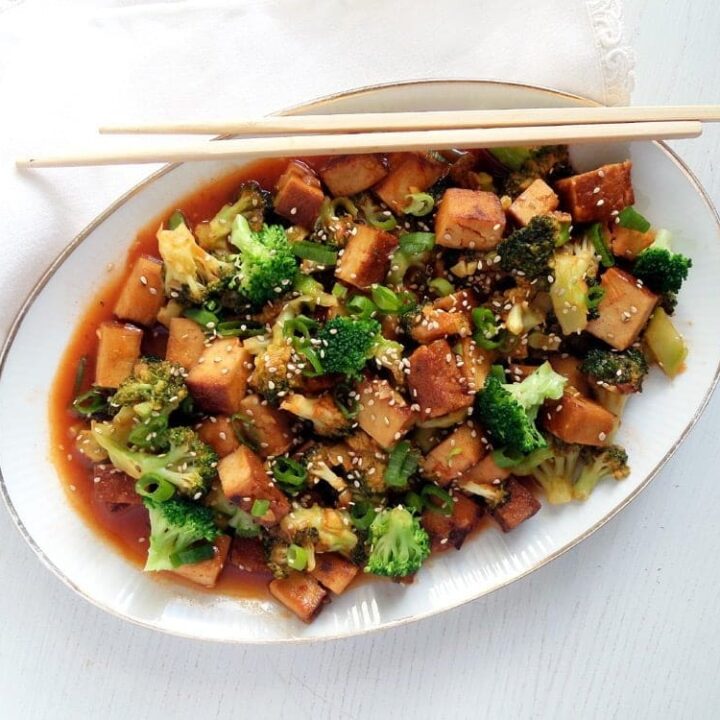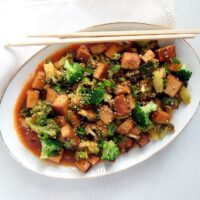 Broccoli and Tofu Sweet Sour
A quick, vegan recipe for sweet and sour tofu with broccoli and sesame seeds. Serve over any kind of noodles or rice.
Print
Pin
Share
Grow
Saved!
Rate
Ingredients
12

oz

broccoli florets

1

lb

extra-firm tofu

2

tablespoons

tomato paste

1

tablespoon

ketchup

2

tablespoons

light soy sauce

2

tablespoons

rice vinegar

2

teaspoons

hoisin sauce

2

teaspoons

chili sauce

2

teaspoons

sesame oil

2

tablespoons

granulated sugar

2

tablespoons

vegetable oil

divided

dried chilies or dried chili flakes

to taste

2

garlic cloves

1

small piece of ginger

2

scallions

1

teaspoon

sesame seeds
Instructions
Cook broccoli: Bring a pot of water to a boil and blanch the broccoli florets for 2 minutes. Drain in a colander and rinse with cold water. Let drain very well. Pat the broccoli dry with kitchen paper. This step is not entirely necessary, but it is recommendable. Too much water would thin down the sauce.

Dry tofu: Place the tofu between two layers of kitchen paper and press down with the hand to absorb as much moisture as possible. Repeat the procedure a couple of times with new kitchen paper. Finally, cut the tofu into 2.5 cm/1-inch cubes and set them aside.

Sauce: whisk the tomato paste, ketchup, soy sauce, rice vinegar, hoisin sauce, chili sauce, sesame oil, and sugar. Set aside.

Chop: Finely mince the dried chilies, the garlic cloves, and the ginger. Slice the scallions into thin rings, keeping the white and the green parts separated. Set aside.

Cook tofu: Heat 1 tablespoon of the vegetable oil in a wok or a large pan. Add the tofu and cook for about 5 minutes, stirring, until golden brown all over. Transfer to a plate.

Stir fry spices: Heat the remaining oil. Add the chilies, garlic, ginger, and the white scallion parts to the wok and stir fry for 30 seconds.

Add the sauce and stir until thickened, about 1 minute. Add the tofu and stir to coat. Add the broccoli and mix carefully but thoroughly to coat everything with the sweet-sour sauce.

Serve: Sprinkle the dish with sesame seeds and the green parts of the scallions. Serve immediately.
Nutrition
Serving:
1
/4 of the dish
|
Calories:
262
kcal
|
Carbohydrates:
20
g
|
Protein:
15
g
|
Fat:
16
g
|
Saturated Fat:
2
g
|
Polyunsaturated Fat:
13
g
|
Sodium:
709
mg
|
Fiber:
5
g
|
Sugar:
11
g