A simple, healthy and delicious soup recipe with sweet potatoes, coconut milk, ginger and chili.
This is one the easiest soups you can imagine. Do a bit of chopping, let the ingredients simmer for a while and add some spices and coconut milk. In no time at all and with barely any effort, you will have a delicious and healthy soup on your table.
I've made several versions of a sweet potato soup over the years, sometimes with coconut milk or regular milk, sometimes without any milk at all, sometimes I've added regular potatoes, I've spiced the soup with cumin and coriander and sometimes only with salt and pepper. I liked all the versions very much, but this one is my favorite now.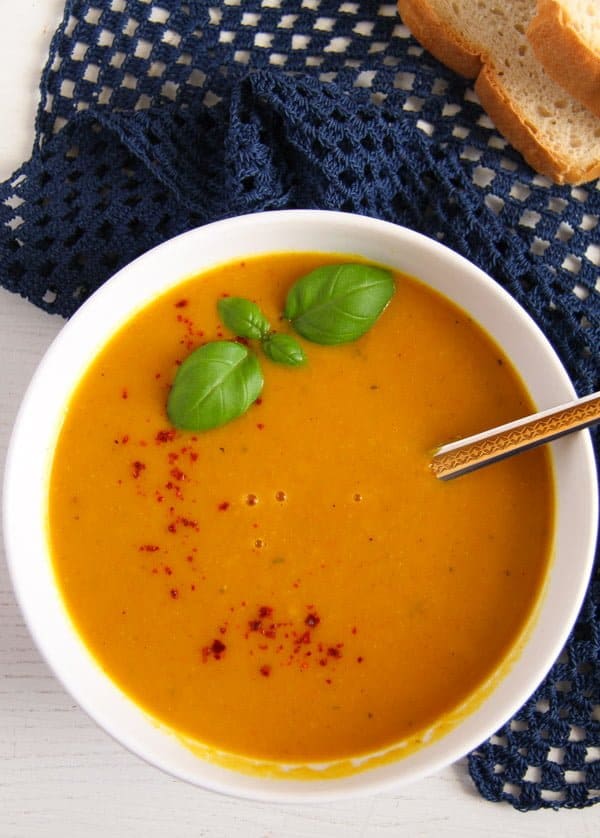 It must be the chili and the ginger, they give this Sweet Potato Soup with Coconut Milk and Ginger a particular touch, it is hot but not overwhelmingly so, it is sweet due to the potatoes, it has that delicious coconut milk taste and velvety consistency and it is so spicy due to that yellow curry paste. I can only recommend it.
I made the Sweet Potato Soup with Coconut Milk and Ginger for my husband's birthday party at the beginning of January. As I have mentioned in this post for the Spicy Split Lentils and Beef Soup with Vegetables, I cooked three different soups for my husband's birthday and they were all a success. One was one of my favorite soups, this Turkey Meatball and Vegetable Soup and the other one a traditional German lentil soup with frankfurters.
The Sweet Potato Soup with Coconut Milk and Ginger was the "women' soup" so to say. All the women present at the party ate this sweet potato soup, some of them didn't even bother to try the other two ones, because they would rather take seconds of this potato soup. Same with me, I've only eaten the sweet potato soup on that evening and ate from the other two soups the next day, we had some leftovers. 🙂
So, keep this Sweet Potato Soup with Coconut Milk and Ginger in mind, it is wonderful on a cold winter evening, when you don't feel like spending much time in the kitchen, but you still want to have something comforting and delicious for dinner.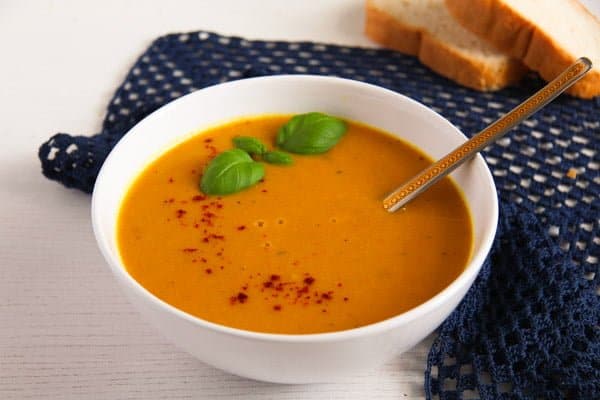 Other easy and vegan soups: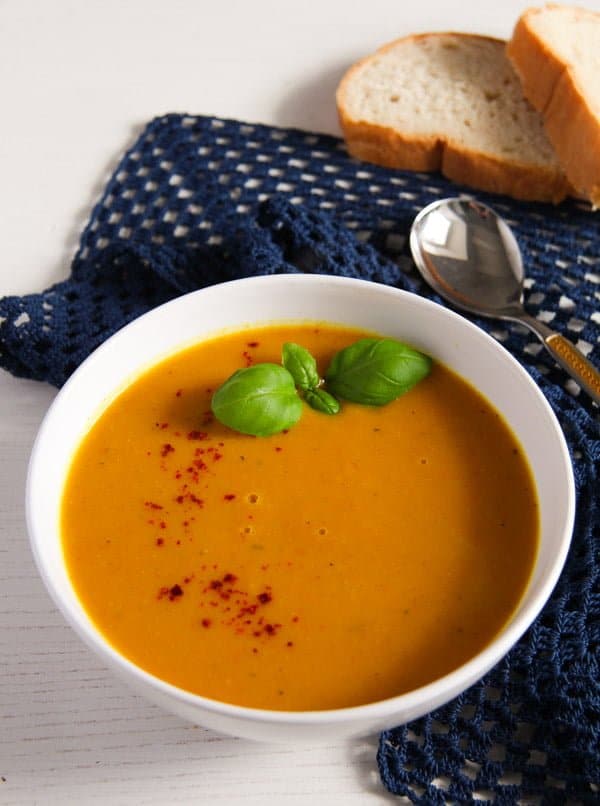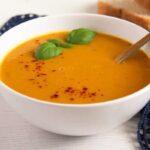 Ingredients
1 kg sweet potatoes

2 medium carrots

1 onion

2 garlic cloves

1 piece of ginger, mine was about as long as the thumb

1 tablespoon olive oil

2 teaspoons yellow curry paste

1 liter/ 4 cups vegetable broth

1 can coconut milk (400 g/ 14 oz)

chili powder, to taste

salt and pepper
Instructions
Peel and chop the sweet potatoes and the carrots into small cubes. Finely chop the onion, garlic cloves and ginger.
Heat the oil in a soup pan and cook the onion until translucent. Add the garlic, ginger and yellow curry paste and stir well. Add the sweet potatoes and carrots and stir for about 2 minutes.
Pour in the vegetable broth and stir well. Cook for about 20-25 minutes or until the sweet potatoes and the carrots are soft. Blend the soup.
Add the coconut milk, stir well and bring the soup to a simmer again. Let simmer for another five minutes or so.
Adjust the taste with some chili powder, salt and pepper.
This post contains affiliate links. The price you pay as a consumer does not change, but if you make a purchase we will receive a commission which helps support the blog.